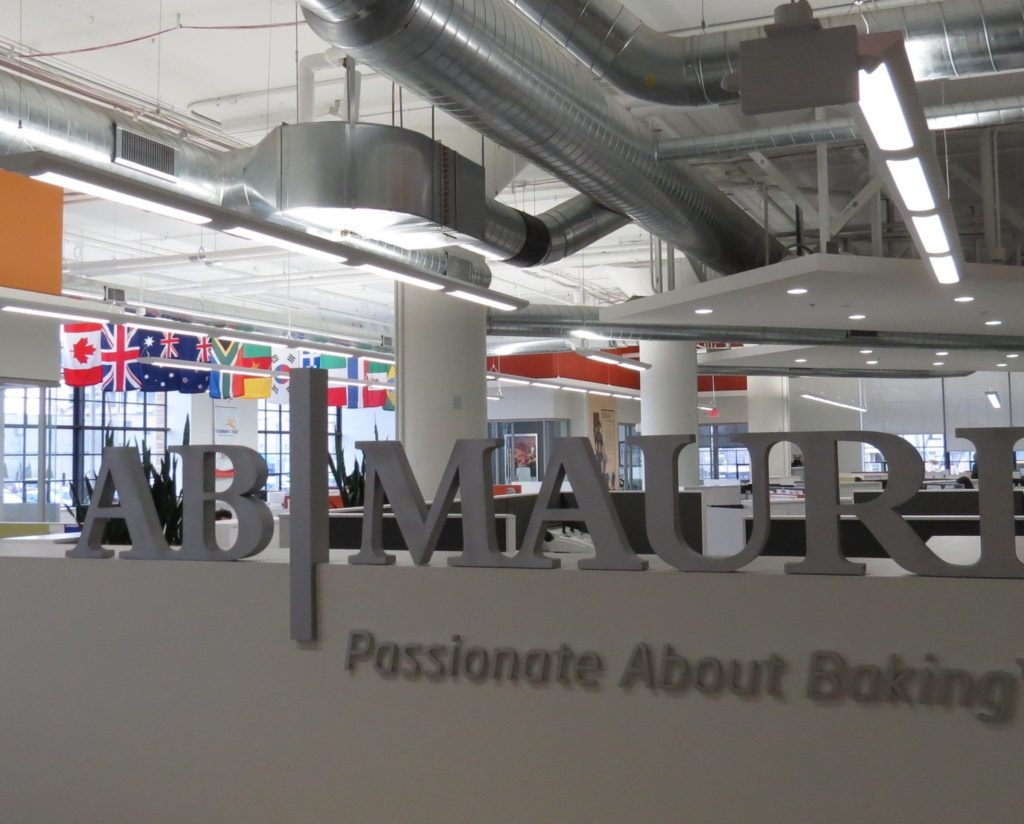 After CWEnder Meredith Ramm won tickets to a Savor Saint Louis Food Tour offered on this blog, I noticed on her winning email that she works for AB Mauri, located in the @4240 building in the Cortex Innovation Community. As many times as I've been to that building I had never noticed the company's entry, which is located on the first floor. What really caught my eye in her response was the company's tagline, "Passionate about Baking," because I too am passionate about baking.
More than curious about what the company does and why a business that's associated with baking would be located at Cortex, I set up a meeting with AB Mauri's Vice President of Marketing Rick Oleshak, to learn more. The first thing Oleshak asked, when I mentioned that I loved to bake bread, was what brand of yeast I used. Luckily my response, Fleischmann's, was the correct answer as that brand is AB Mauri's largest consumer product. I also learned that 2018 is a banner year for the company, as Fleischmann's Yeast is celebrating its 150th anniversary.
AB Mauri moved from West County to Cortex a little over 3 years ago after Australian Mark Prendergast became president. Prendergast, a biking enthusiast, lived at The Chase Park Plaza for a while and would bike around the Central West End after work. When he discovered Cortex, he decided to move AB Mauri's North American headquarters to a 23,000 s.f. space (which includes 8,000 s.f. of lab space called the bakingHUB) at @4240, Duncan and Boyle.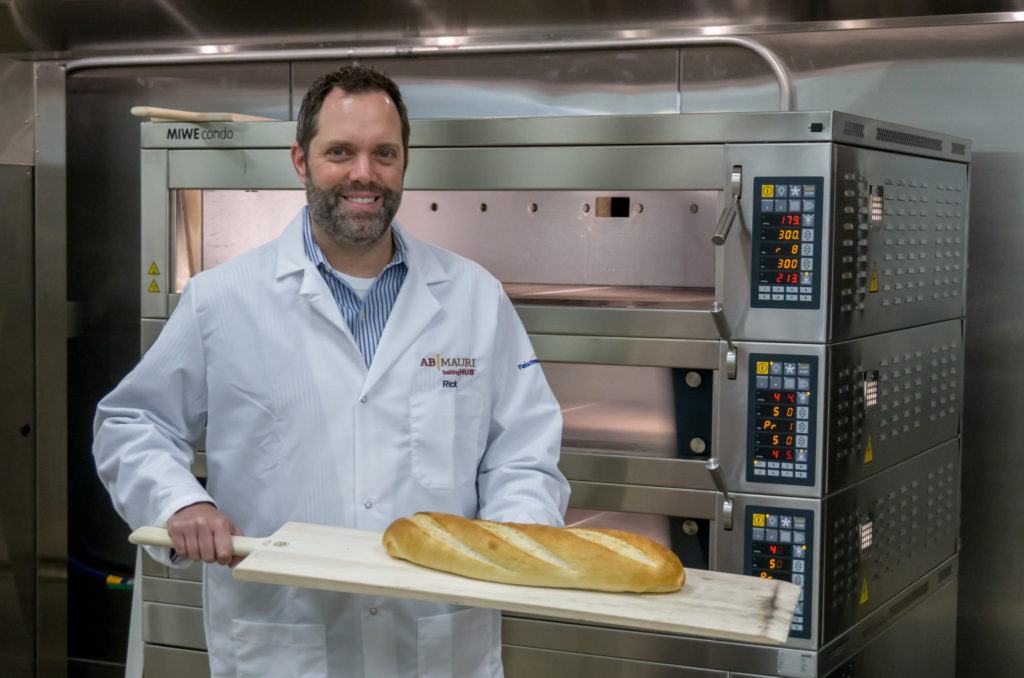 photo courtesy of AB Mauri
Rick Oleshak, photographed in the bakingHUB above, said the change in location has also changed the attitude of the company's 80 employees. The West County location didn't have the personality Cortex has, and employees now enjoy interaction with other tech company innovators @4240.
AB Mauri is a baking technology company that delivers service, yeast and bakery ingredient solutions to large industrialized bakeries, local grocery chains and many restaurants as well.  The company also has artisanal partners around the country including several in the St. Louis  area.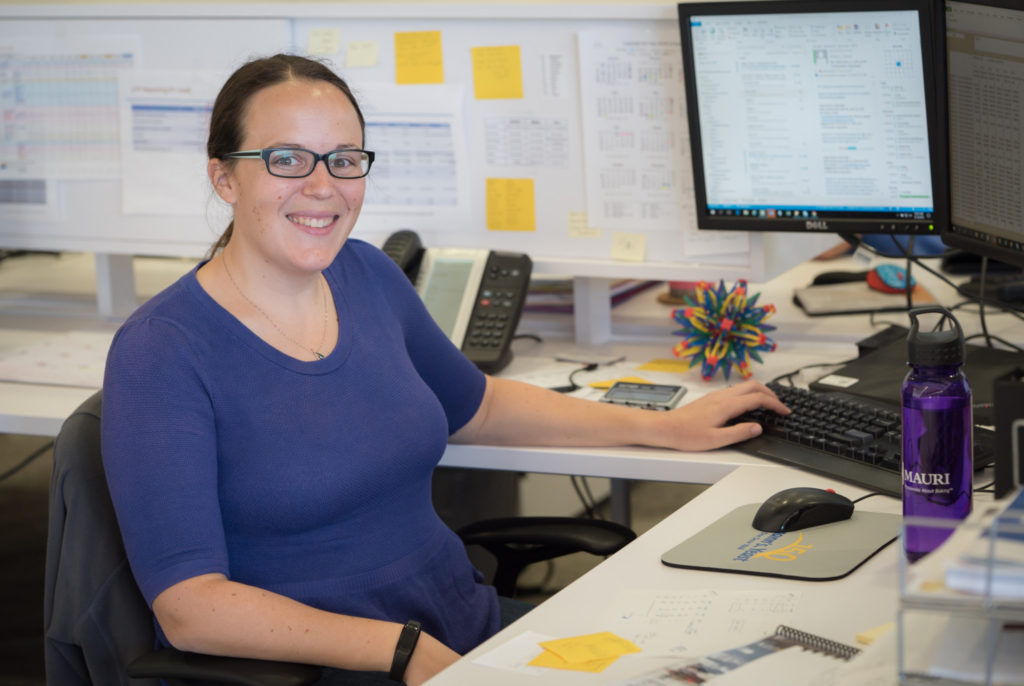 CWEnder Meredith Ramm, above, became AB Mauri's Financial Planning & Analysis Manager in March of 2017. "I own forecasting, budgeting, etc. on the financial side," she said.  "My husband and I love living in the Central West End and I couldn't imagine turning down a job offer in the neighborhood too." Ramm added that the work environment is fabulous. It's easy to appreciate, once you step inside the handsome space, why AB Mauri was named one of the coolest working spaces by the St. Louis Business Journal and one of the top workplaces in a 2017 St. Louis Post-Dispatch poll.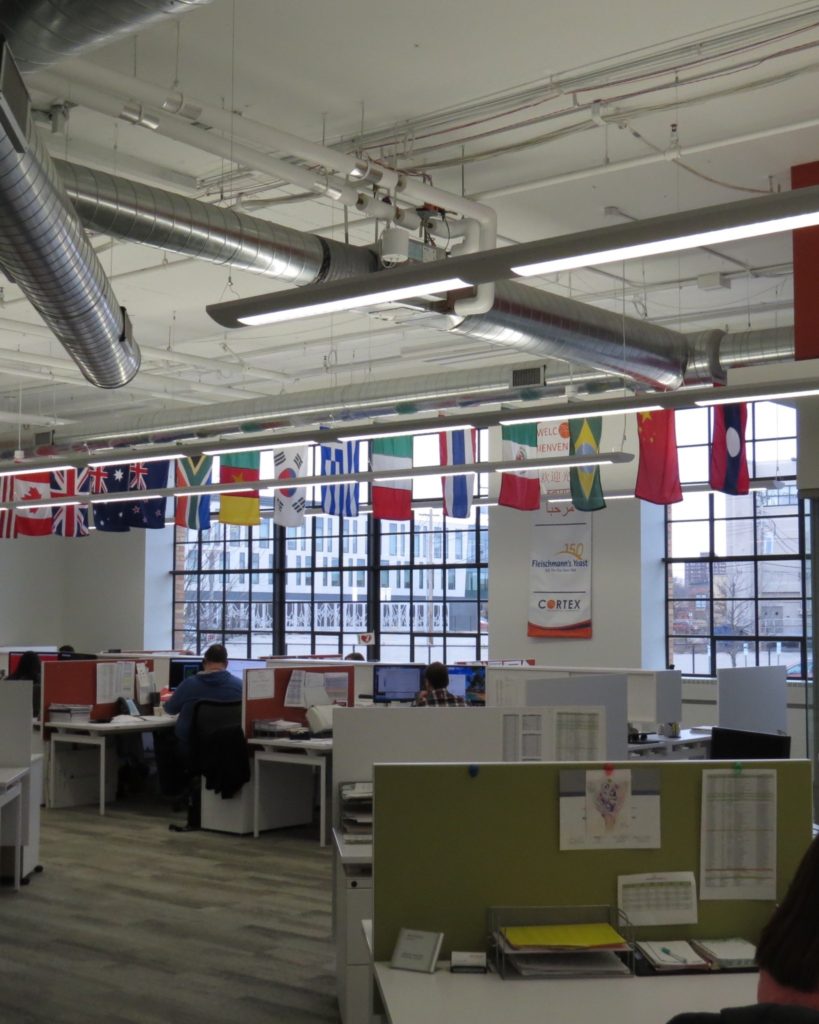 A row of flags along a north wall represents 15 countries of origin for the 80 employees at AB Mauri North America.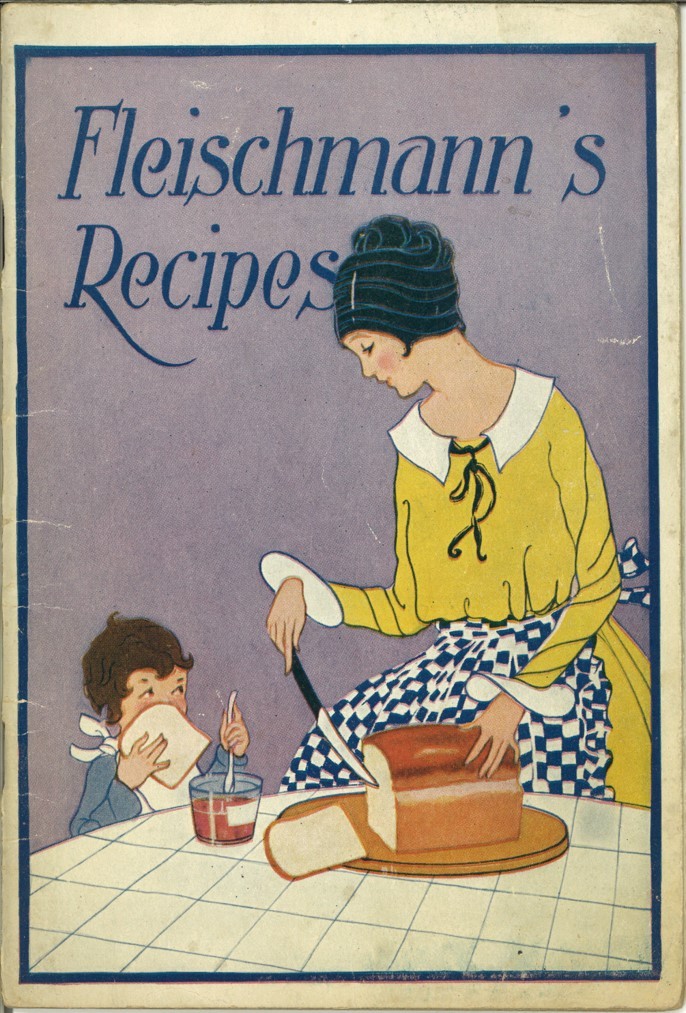 Fleischmann's Yeast was founded in 1868 by two brothers in Cincinnati, and quickly became a staple in American pantries. Note the charming cover of a 1917 cookbook above, which hangs on a wall in the company's dining area. When Fleischmann's was acquired by Associated British Foods (ABF) in 2004, AB Mauri was formed as an operating division. From the website: "Around the world, AB Mauri operates in more than 50 locations in 32 countries (and employs 7,000 people) with global headquarters located in Peterborough, United Kingdom."
With 1700+ strains of yeast in its fermentation lab, AB Mauri North America makes yeast for the production of many products including bread, beer, wine, spirits and nutrition. The company recently expanded its yeast production to include biofuel.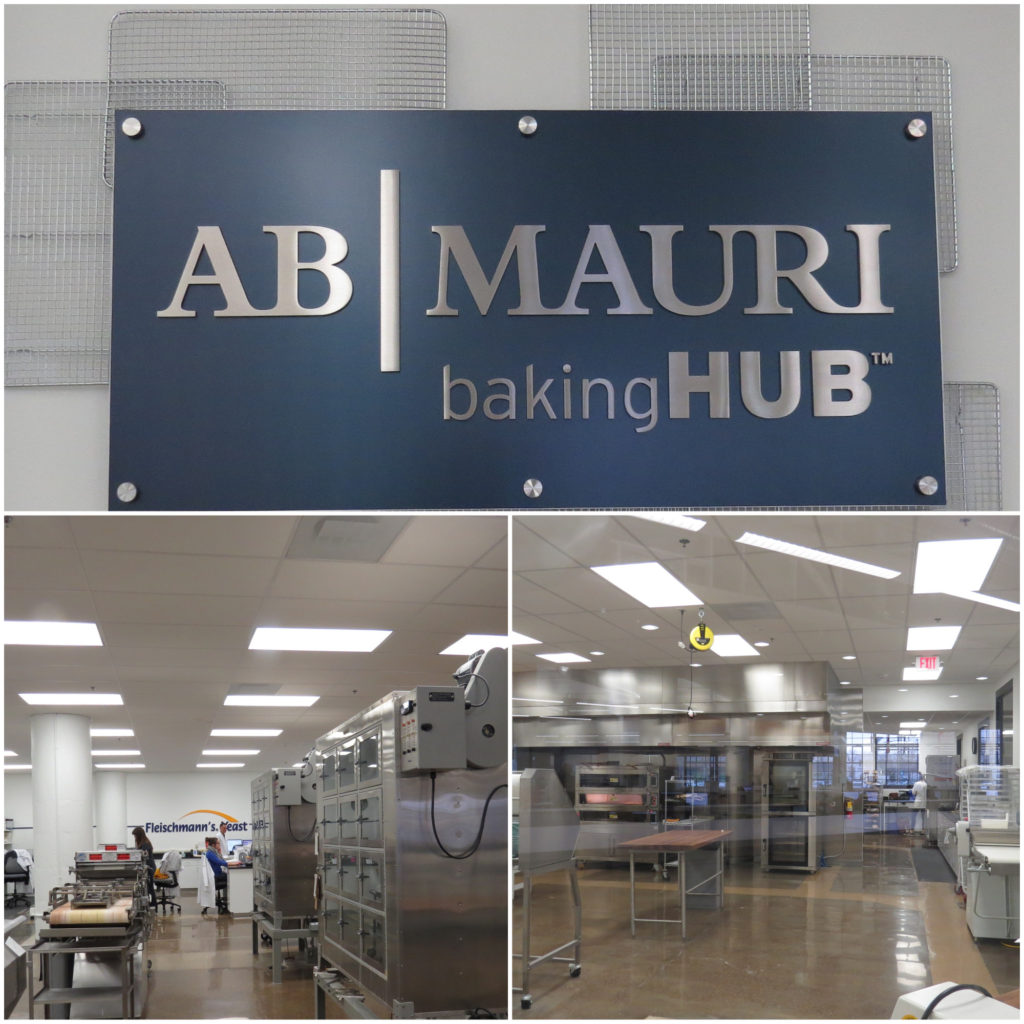 The 8,000 s.f. bakingHUB is the largest lab in the area. Technicians have 500 ingredients available in the AB Mauri system to assist clients in creating a unique bakery mix so their product will stand out from the competition.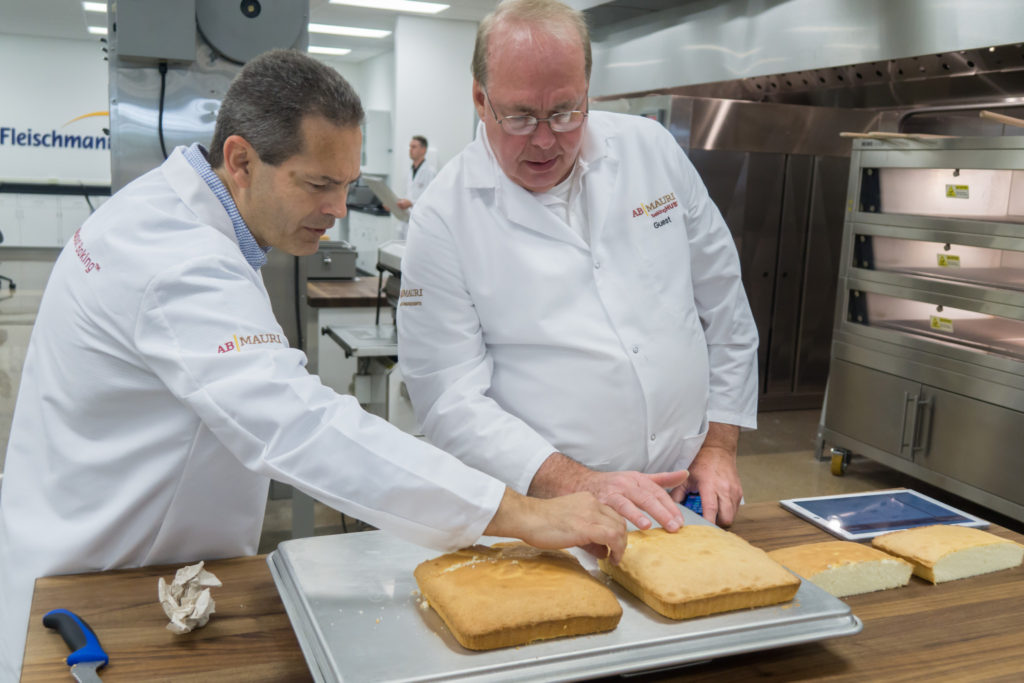 photo courtesy of AB Mauri
The bakingHUB is also used to help bakeries find solutions to problems. Technicians at AB Mauri can program the HUB's equipment to mimic conditions at a bakery's factory and figure out what's wrong. It could be as simple as a conveyor belt being out of whack.
The photo above shows AB Mauri North America Innovation Manager Paul Bright, and Technical Sales Manager Ed Livesey, evaluating a finished yellow cake during a recent baking session.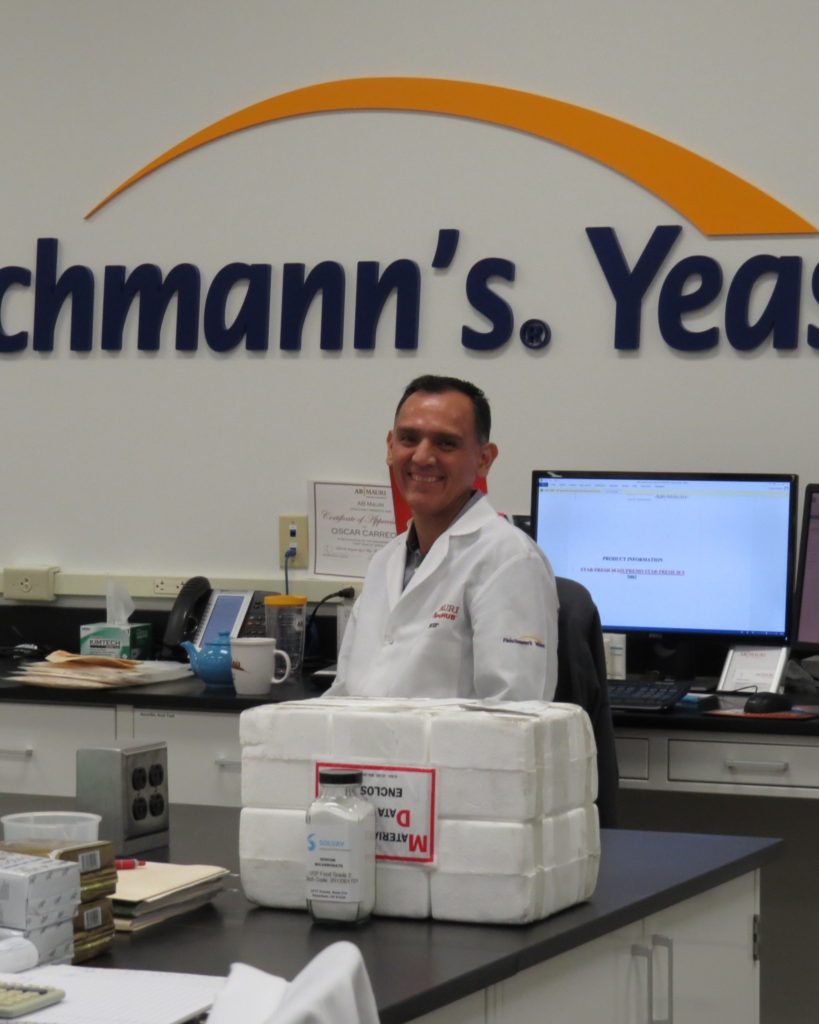 Americans' tastes have broadened with exposure to foods from different cultures. With that in mind, meet Oscar Carreon, above, technical service manager for AB Mauri North America. Carreon moved to St. Louis from AB Mauri Mexico to work expressly on the tortilla segment for North America.  In Rick Oleshak's opinion, "Carreon is outstanding and is regarded as one of the top technical bakers for tortillas in the industry."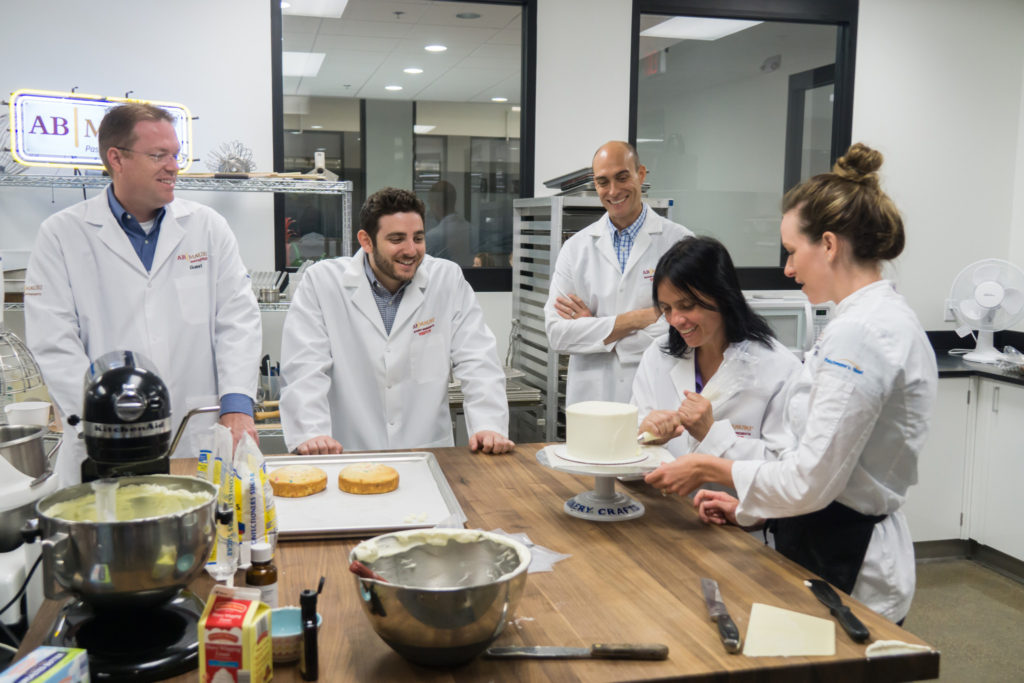 photo courtesy of AB Mauri
The photo above shows another example of the variety of activity going on in the bakingHUB.  AB Mauri technicians are shown practicing cake decorating skills led by Lia Weber Holter, far right, who uses the facility for her wedding cake business, Made. by Lia (found on The Knot). Lia, who travels to trade shows as an AB Mauri representative, was the winner of TLC's Next Great Baker.
Thank you to Rick Oleshak for the wonderful visit—and for his patient responses as I tried to make sense of my copious notes—and to Meredith Ramm for acting as the catalyst for letting us explore a company I never expected was headquartered in the neighborhood.  It all started with a Savor Saint Louis Food Tour.
AB Mauri North America, 4240 Duncan.