March 12, 2020 - 2:00 pm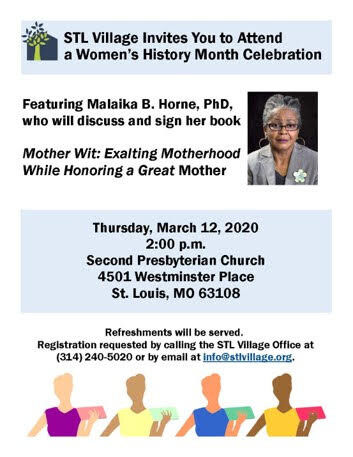 In honor of Women's History Month, STL Village presents author Malaika B. Horne, PhD who will discuss her book "Mother Wit: Exalting Motherhood while Honoring a Great Mother," Thursday, March 12, 2020, 2:00 p.m., Second Presbyterian Church, 4501 Westminster Place, St. Louis MO 63108. Free, registration requested by calling STL Village at 314-240-5020 or email info@stlvillage.org.
Horne's book is a tribute to her mother, an African American woman who was dedicated to inspiring her children to believe in themselves, overcome racial and economic obstacles and achieve success. "This book is to recognize all parents who love selflessly and give so much to their children." – Horne.