November 15, 2019 - 8:00 pm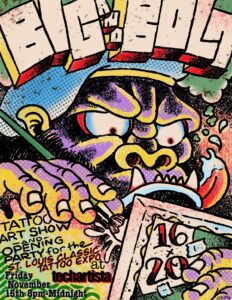 From 8 to Midnight, 4818 Washington.
Join TechArtista and the St. Louis Classic Tattoo Expo for Big and Bold: 16×20.
Come join us as we kick off the STL Classic Tattoo Expo with over 40 different tattoo artist showing work.
Curated by tattoo artists Omar Mahmud and Ahmed Eldarrat, who have a collective 30 years of tattooing experience, this show will display big and bold tattoo pieces founded in the traditional Americana, Japanese, Illustrative, and Tribal. Come meet some of the Expo's best artists in person and get to hear about their inspiration and their work. Artists will be announced in the weeks prior to the event.
From 8 to Midnight, TechArtista, 4818 Washington.
Food and Drinks will be provided.