Spring has arrived, and along with it we're on the precipice of a renaissance of sorts in the local commercial arena. From the heart of the CWE to a new project in the Delmar Maker District, there is lots of activity bringing new life to the neighborhood, following what seemed a very long winter.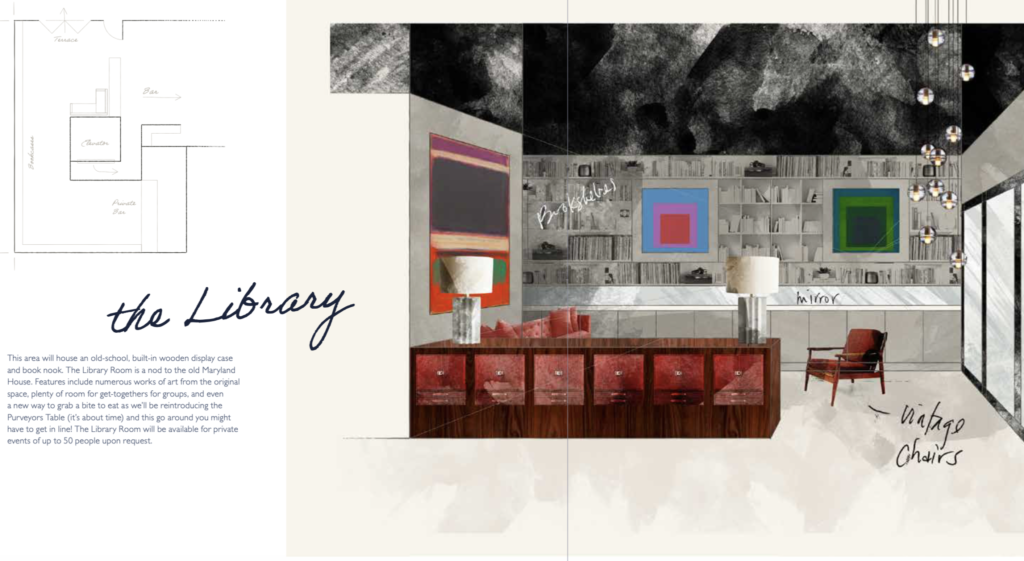 Kevin Brennan, proprietor of Brennan's, emailed that the long-anticipated opening of his latest venture, The Maryland House at 44 Maryland Plaza, is scheduled for the end of this month. "It's taken a long time, but we're happy with the look and feel of the new space above the fountain." (A rendering of "The Library" seating area is shown above.)
Reservations will be available soon, so visit the website for updated information as it becomes available.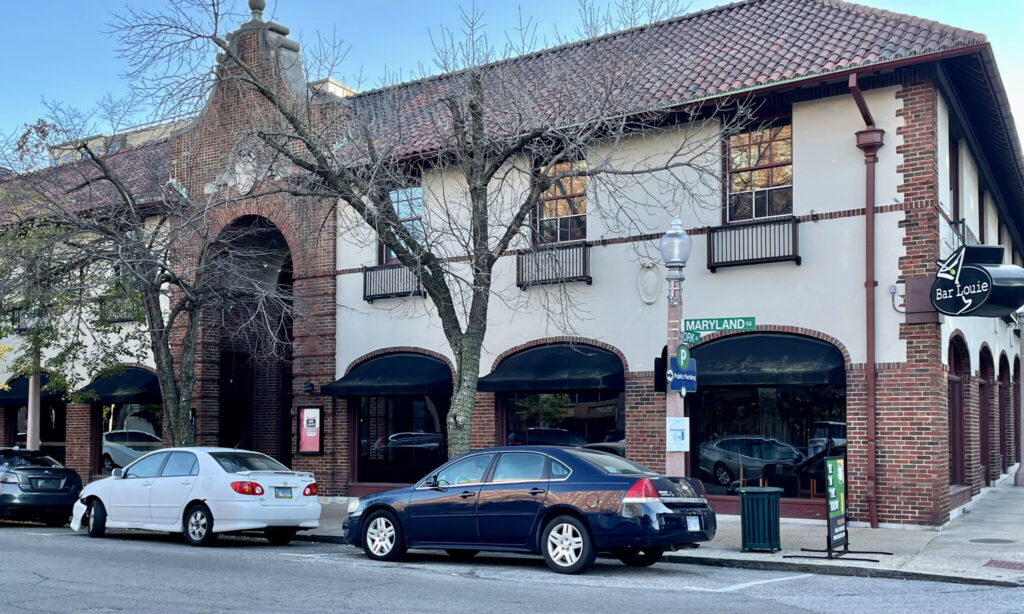 Nothing's easy, is it? Especially if you're trying to open a restaurant in the City of St. Louis. The proprietors of Twisted Ranch, who signed a lease for the former Bar Louie space at Maryland and York in December, are still waiting for their liquor license to be approved. Other businesses have experienced similar long waiting periods, including Black Mountain Wine House at 356 N. Boyle, a subject of an upcoming post.  It's been such a widespread problem that KMOV recently reported on the issue, view that clip here.
When I stopped in Twisted Ranch last week, I was informed they are second in line for approval of their license, so it could be any day. In the meantime, the restaurant is open for food service only, Monday through Saturday, 1 to 8 p.m. and Sunday from 11 to 5 p.m.
Twisted Ranch, 14 Maryland Plaza, (314) 833-3540.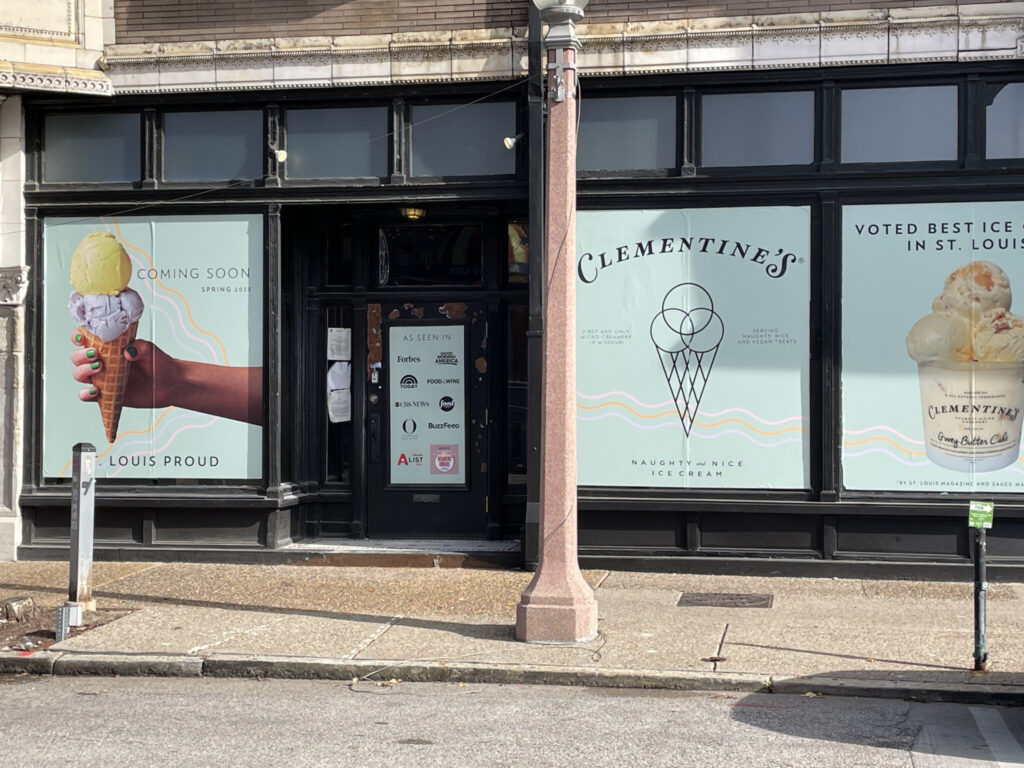 Work has finally begun on Clementine's Naughty and Nice Creamery at 308 N. Euclid. Frank Ubile, a partner in the business, emailed that  "there have been some delays, and it will be late spring or early summer before we open." Since there is now a "Help Wanted" sign on the door, we hope that indicates it will be soon.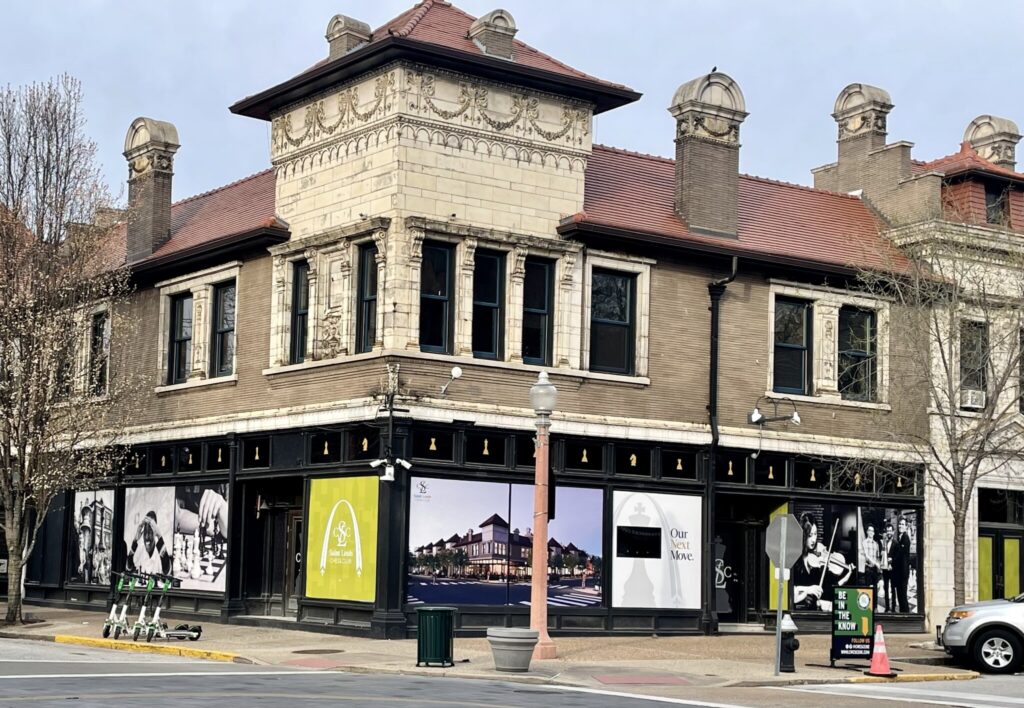 It has been three years since Culpepper's closed following a long run at the corner of Euclid and Maryland in December 2019.  The space has sat vacant ever since, with the result that energy has been greatly diminished from that formerly vibrant and highly visible corner of the neighborhood.  Culpepper's had been a popular neighborhood establishment spanning many decades (read history of the storied space in STL Mag here).
A short time after the restaurant closed The Chess Club, 4657 Maryland, leased the space (in addition to the former Brennan's location) and architectural firm HOK was hired to design a new restaurant space on the corner. Now, after months of seemingly no action, Maryland Avenue neighbors and other CWE residents have understandably become concerned at the lack of progress, with some viewing that empty corner as a safety concern.
I reached out to The Chess Club's Joy Bray to inquire about the status of reported plans for a restaurant. She replied: "We received approval from the city over 7 months ago, have our permits paid for, and are eager and ready to go! Unfortunately, the lender approval through MAC Properties (the building's owner) has been a very long process on their end. Once we receive lender consent approval, we will begin construction!"
I was unsuccessful in reaching out to MAC Properties for a comment, but Kate Haher, executive director of the CWENCID, learned from MAC's Kyle Bozoian "that the Chess Club is proposing a major renovation and the lender is appropriately reviewing." No further information is available at this time.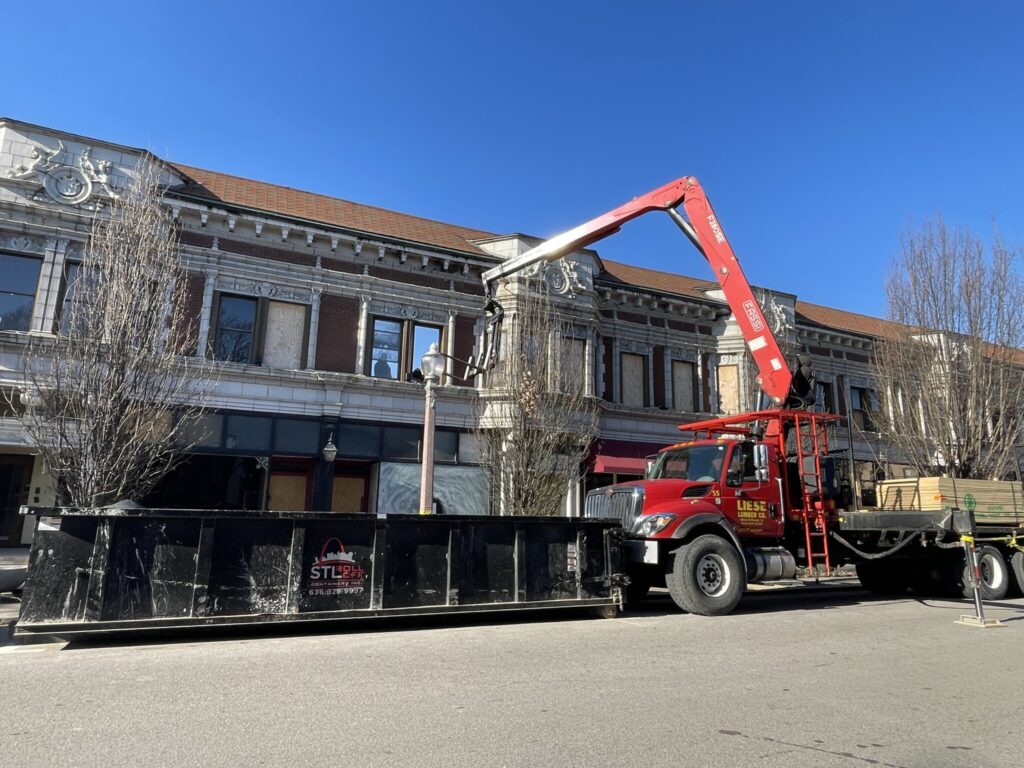 Red Brick's Scott Sturdevant sent news about the status of restoration of the building at Euclid and McPherson that sustained extensive damage in a devastating fire at the end of June 2022. "We've signed a contract with RG Ross to be the general contractors for Euclid East.  They've been participating in architecture and construction meetings for months, so they'll hit the ground running.  Most of the subcontractors have been selected but it will still be a few weeks before we have an official schedule.  RG Ross has said eight months – We hope that is the worst-case scenario and construction wraps around the seven month mark," which means toward the end of the year, unfortunately.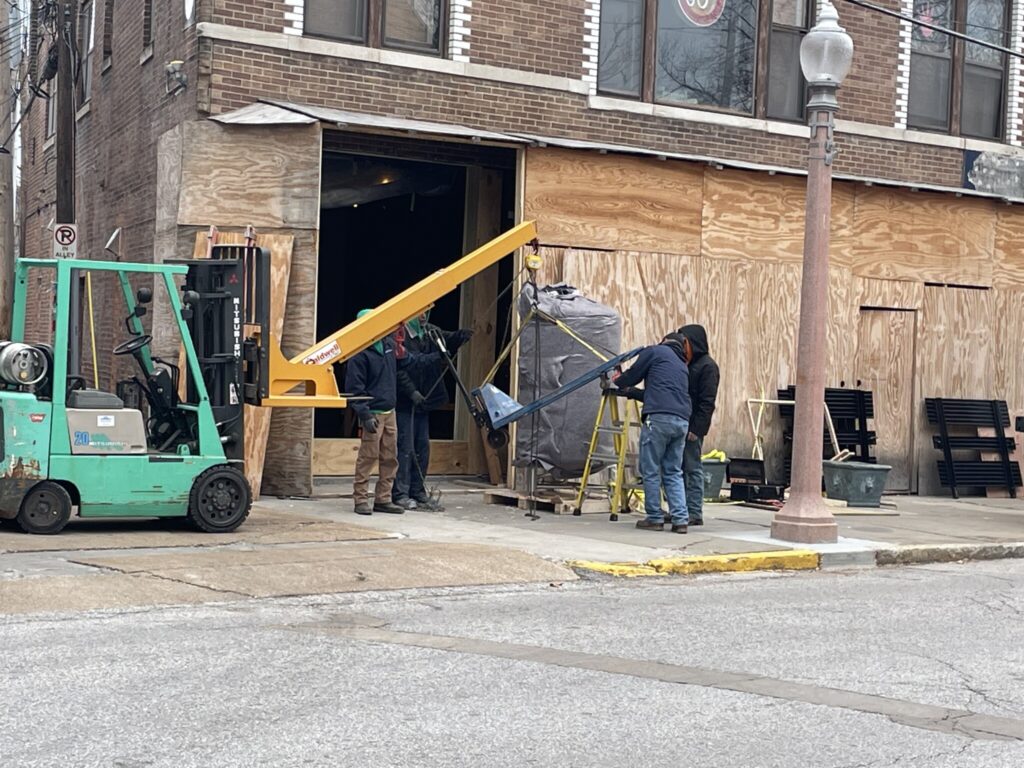 When the pandemic hit in 2020 Ben Dressel temporarily closed Dressel's at 419 N. Euclid. Three years later, after extensive renovation, Dressel's Public House will (hopefully!) be reopening in early May.  I ran into Ben at Straub's recently and he said he is delaying the opening until everything is in place. "I want this to be done right."
The renovated Pub will be back in its former location with a new circular bar and an updated look, while a new business concept will occupy the larger room to the south and the lower level. The photo above offers a hint of what Ben has up his sleeve.
Look for news of reopening on Dressel's Public House website, which is at present showing only a newly designed logo.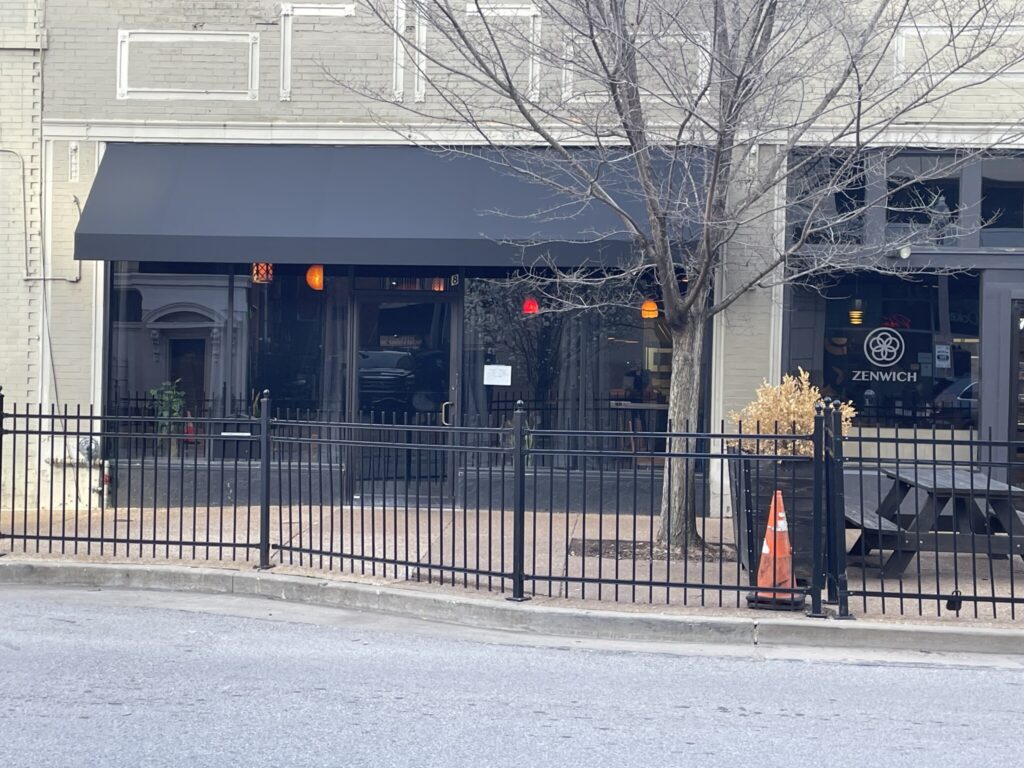 Farther south on Euclid, The Mainlander will be opening soon at 8 S. Euclid in the former Poke Doke location. (Poke Doke relocated across the street to the west side of Euclid).
According to Feast Magazine, The Mainlander is a "modern twist on a 1960's supper club. More information can be gleaned from the Q&A on the restaurant's website. From what I understand, there will be two seatings a day available by ticketed appointment only. The fare, described as Modern American, will change each month and be posted on Instagram. That's where you will also make a reservation. Check the website for more information.
Next up: Part II on new businesses and development news.