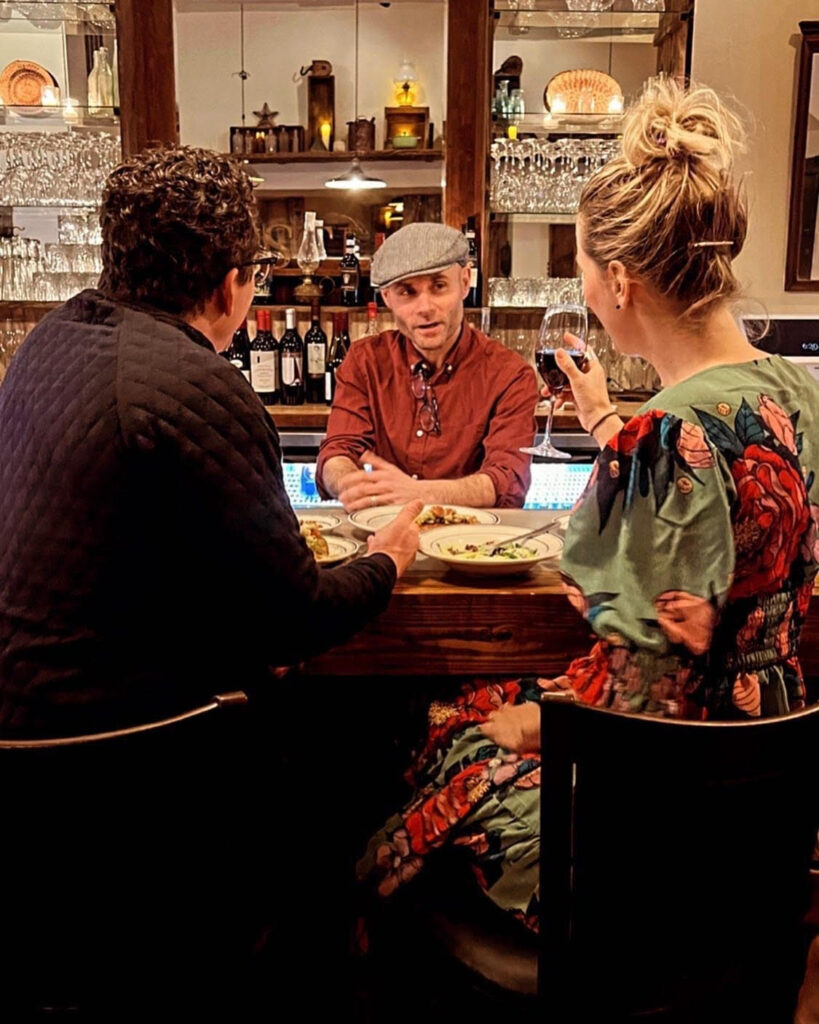 Joe Baker, above, and his wife, Elizabeth Watt, a former St. Louisan, moved from Los Angeles to St. Louis to open a second location of Black Mountain Wine House at 354 N. Boyle, formerly occupied by West End Grill & Pub.  The original wine bar ( named after Led Zeppelin's Black Mountain Side, a moody acoustic number), created by Baker's friend Tyler Magenzini,  is located in (surprise!) Brooklyn, more specifically, Carroll Gardens.
Baker had wanted to open a second location for about 10 years and eventually found the perfect opportunity in the Central West End. When I stopped by to visit, Baker said he was relieved that he could finally open the doors after a 7 month wait for a liquor license. (I mentioned this inexplicable slowdown by the Excise Commissioner's office in a previous post.)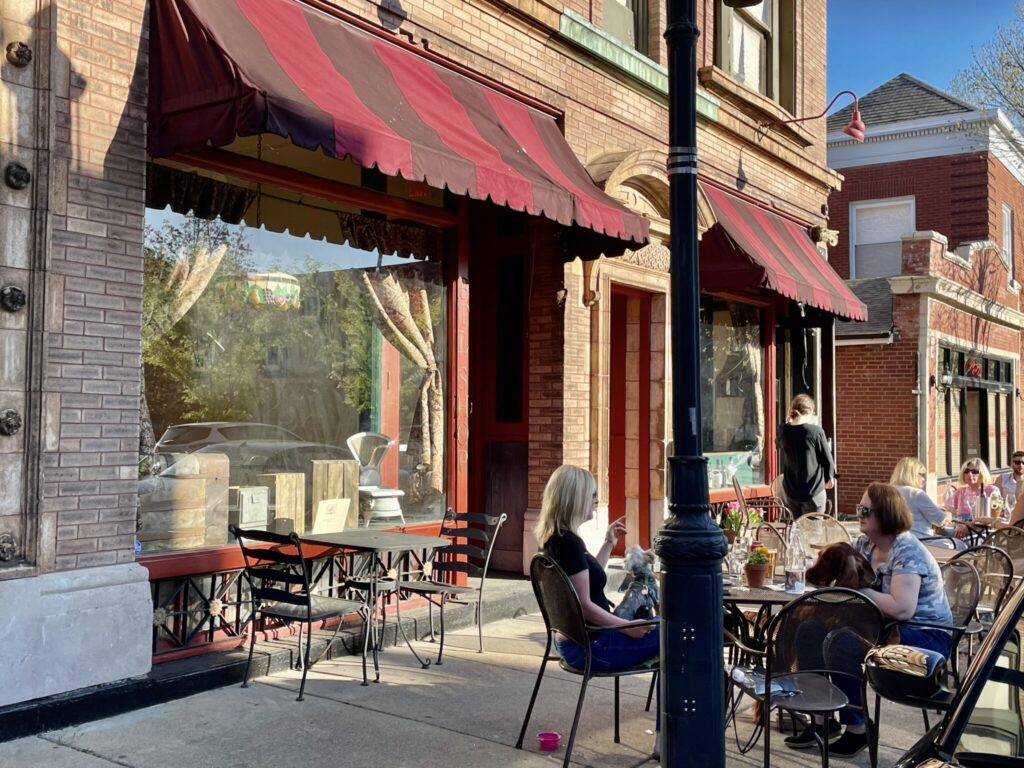 Baker describes Black Mountain as an unpretentious wine bar offering 20 wines by the glass and 10 half bottles.  Black Mountain also features a full kitchen helmed by chef Justin Newsome, formerly of Blood & Sand.  Menu items are served family style and meant to be shared.
From the sight of the crowd on the patio last week, it appears that many have found a suitable replacement for the beloved West End Grill & Pub, which was known to regulars as the neighborhood "Cheers."
Black Mountain Wine House, 354 N. Boyle, Open 7 days. Mon. to Fri. 3 p.m. to 12 a.m., Sat. 12 p.m. to 12 a.m, Sun. 12 p.m. to 10 p.m.
Quarrelsome Coffee, 33 N. Sarah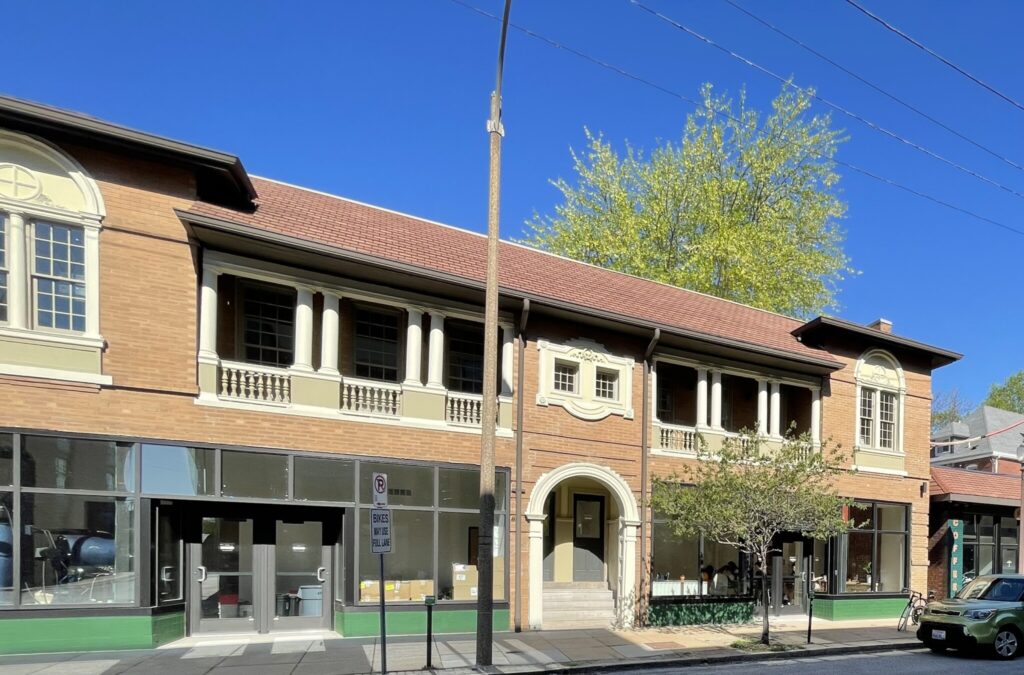 "If you build it, they will come," seems to be the public's reaction to Quarrelsome Coffee which opened last month on Sarah between Lindell and Laclede. St. Louisan Mark Schwarz, a co-owner of Chicago-based Omega Yeast, purchased the building which once housed Terrene, and more recently The Block, and transformed the space into a handsome, inviting spot.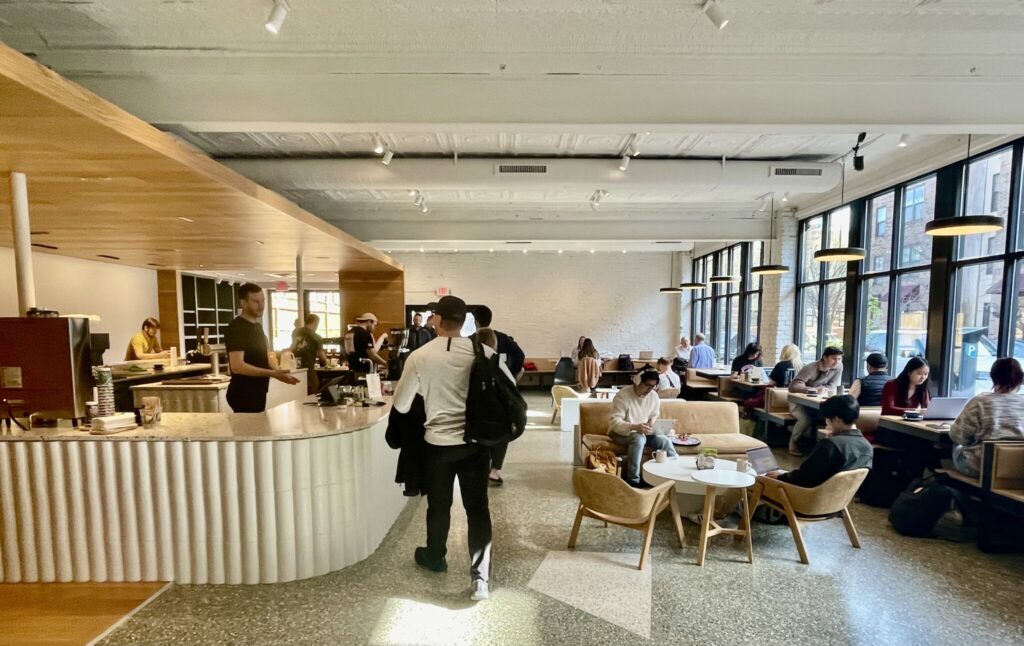 Manager Evan Jones explained that the name "Quarrelsome" comes from old English public houses where people would gather to discuss ideas. According to the website, Quarrelsome paired with coffee means "defiant exploration."  No one I saw crowded into the space on a couple of visits looked anything other than happy that there is another coffee bar near SLU where students, faculty, and neighbors from the area can gather. Though I've seen people sitting on the beautiful patio, it is part of Phase II in the renovation process and will be open soon.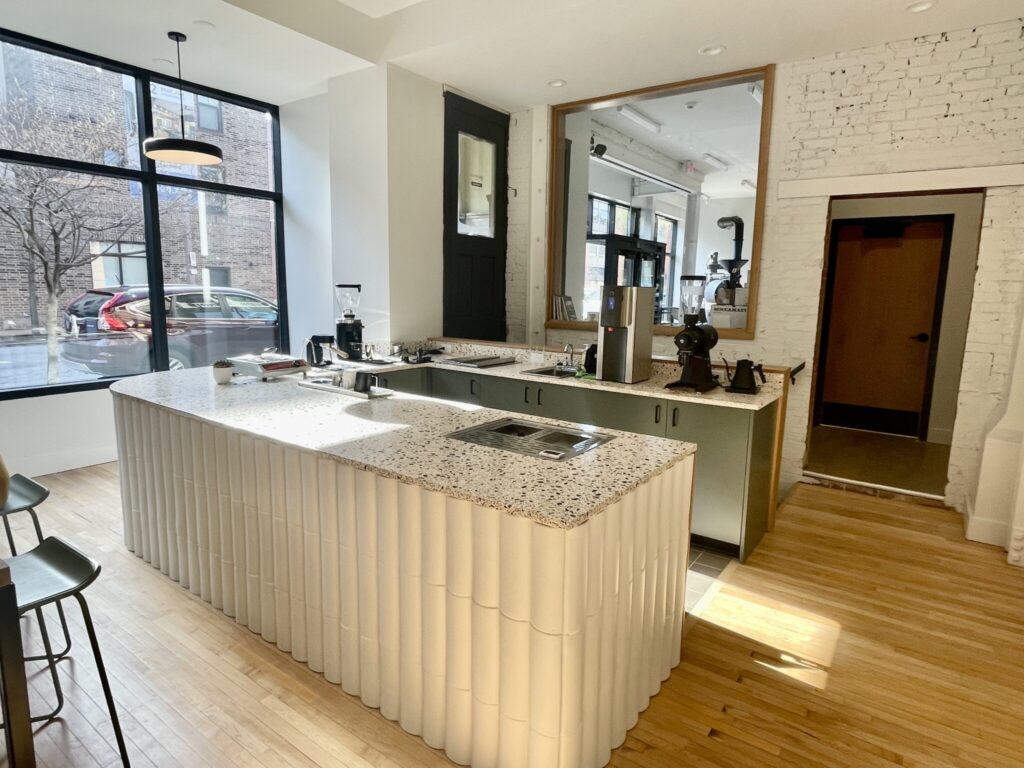 A middle room contains more seating and a smaller brew bar which will be used for barista trainings, coffee classes, and special events. Through the window at the back you can see part of the roasting operation, where Quarrelsome's coffees are roasted. According to the website, "Quarrelsome Coffee employs innovative processing methods in collaboration with our producing partners (Omega Yeast) unlocking a world of unique and brilliantly complex flavors and aromas. From farm to lab to cup, this is Quarrelsome Coffee."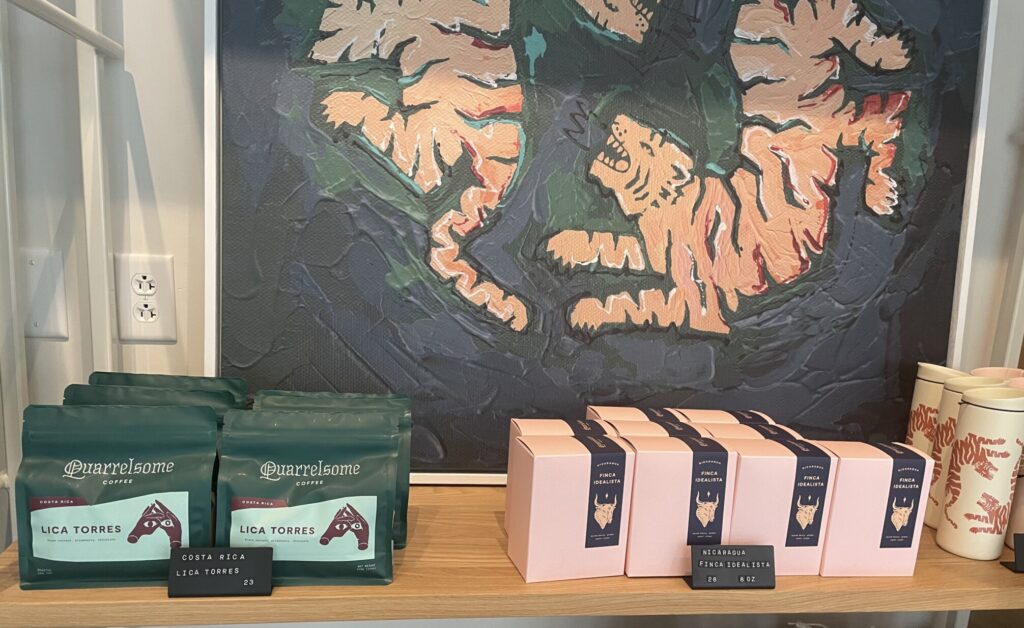 There are currently two Quarrelsome Coffees available for purchase: Lica Torres from Costa Rica, $23, and Fina Idealista from Nicaragua, $28 for 8 oz.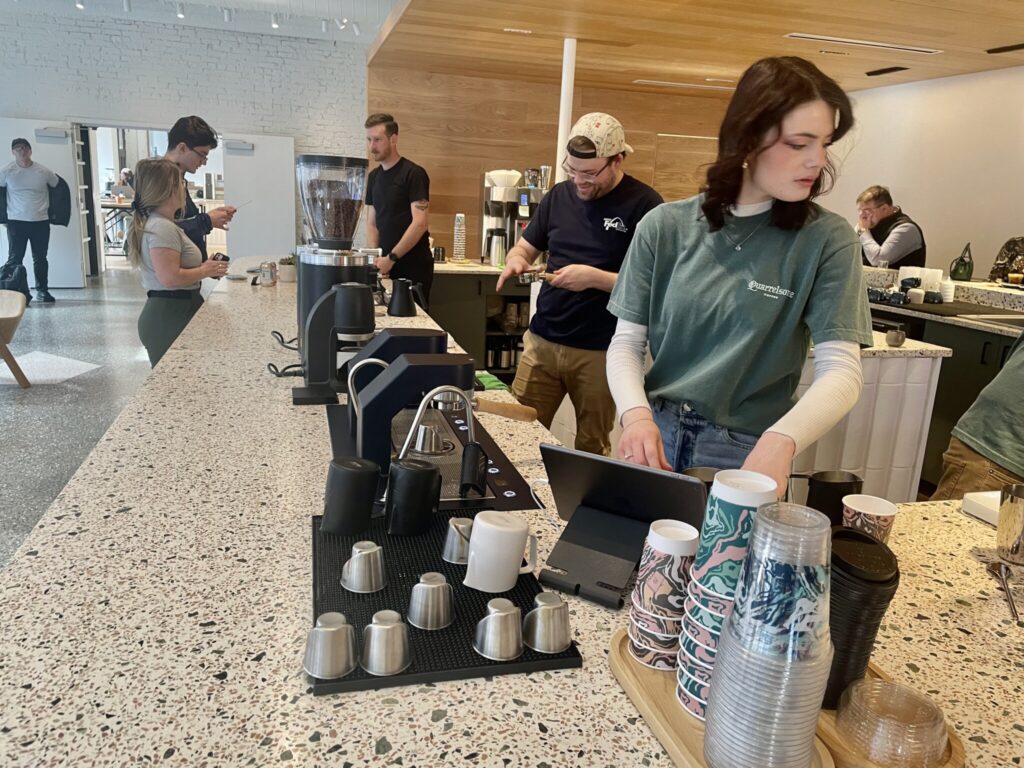 General Manager Evan Jones, mentioned earlier, is photographed middle above. Most of the coffee making equipment is built into the counter,  and watching the process is part of the fun of experiencing Quarrelsome Coffee.
Quarrelsome Coffee, 33 N. Sarah, is open 7 days week from 7 a.m. to 4 p.m.
Cafe Ciao Pizzeria & Gelato, 4501 Maryland.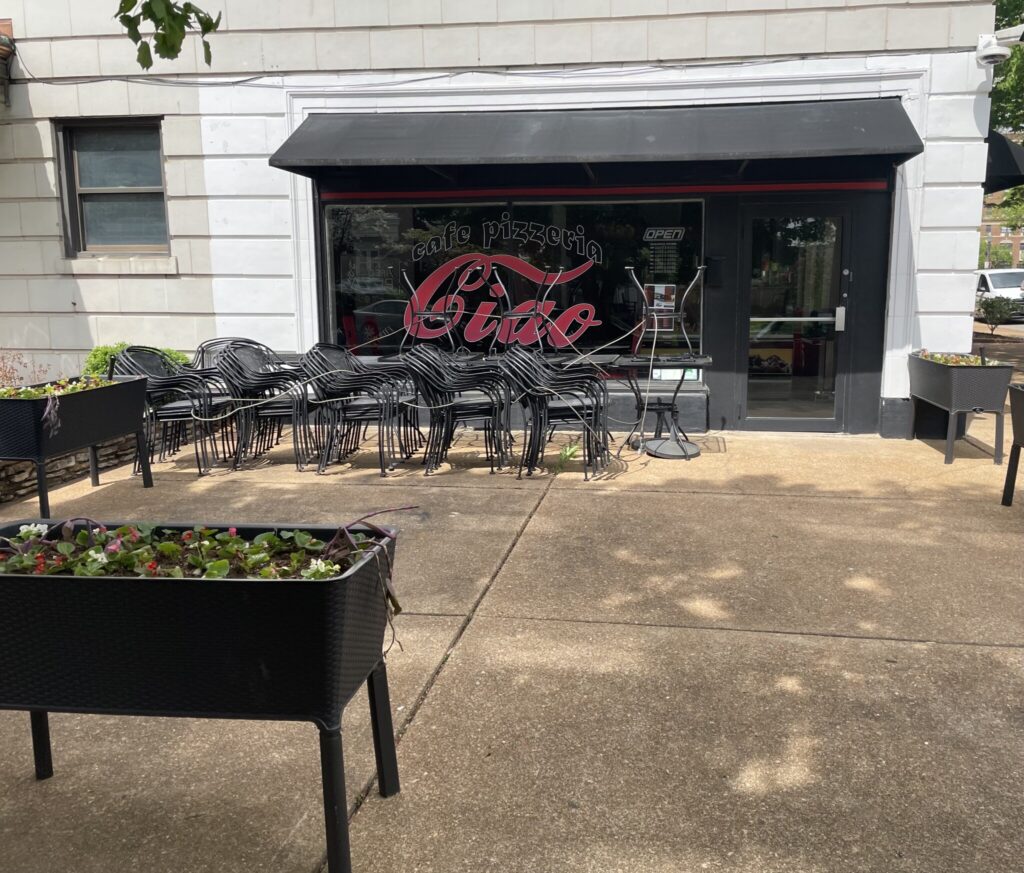 Earlier this week, Darmin "Dado" Berganovic opened Cafe Ciao Pizzeria & Gelato at 4501 Maryland.  In 2014, Berganovic was the proprietor of Ciao Mia in the same location, at the corner of Maryland and Taylor. (An earlier post on Ciao Mia can be found here.)  Berganovic closed the café in 2016, according to building owner Mark Jaffe, because of other business ventures, and later the pandemic prevented him from returning to the space, which he said he really loves. Dado is thrilled to be back, and judging from the reaction of neighbors I encountered leaving the restaurant, it seems the pizza and gelato are delicious.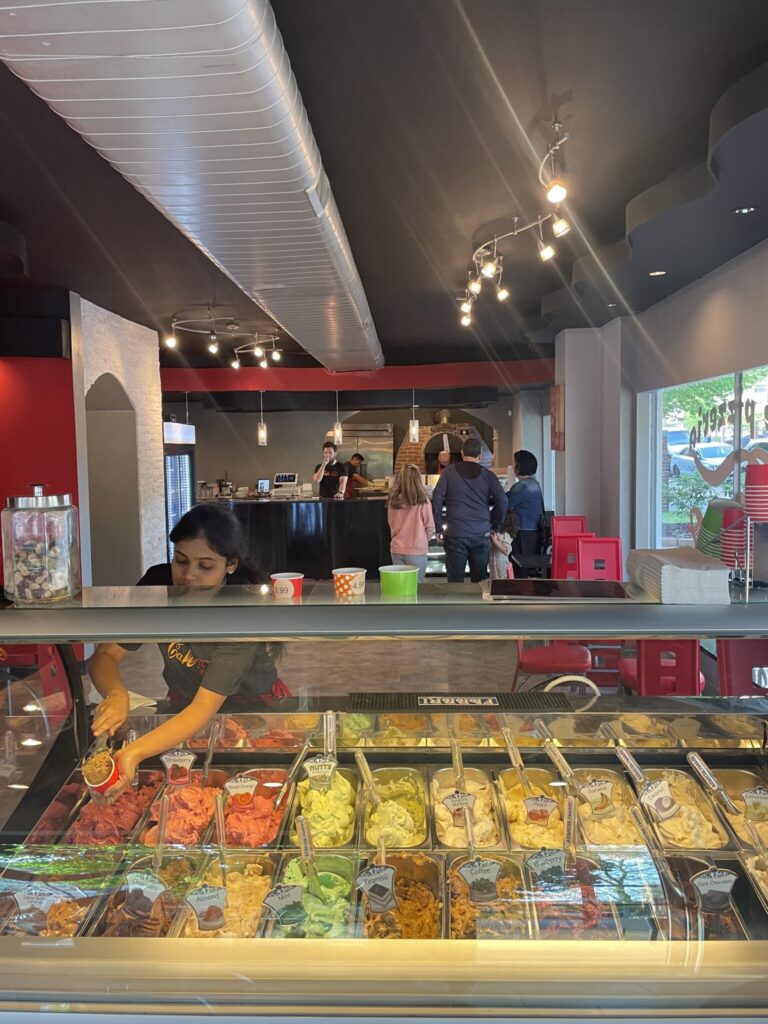 Twenty flavors of gelato are made onsite, $3.99 to $5.99.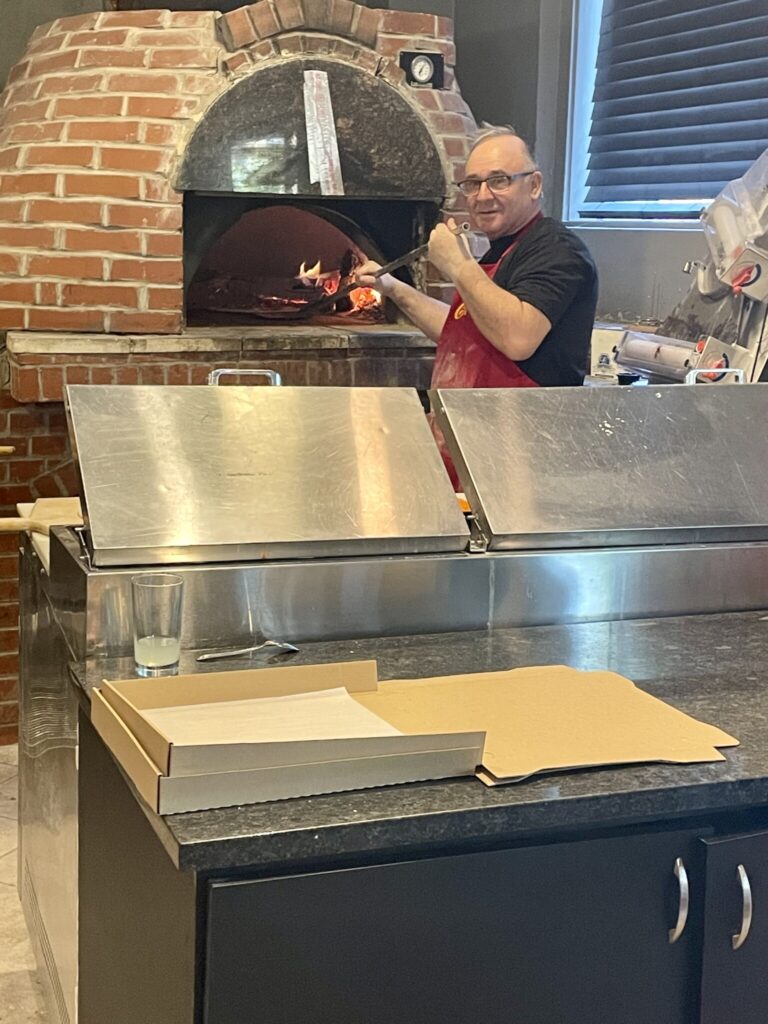 Dado pulling a pizza out of the oven.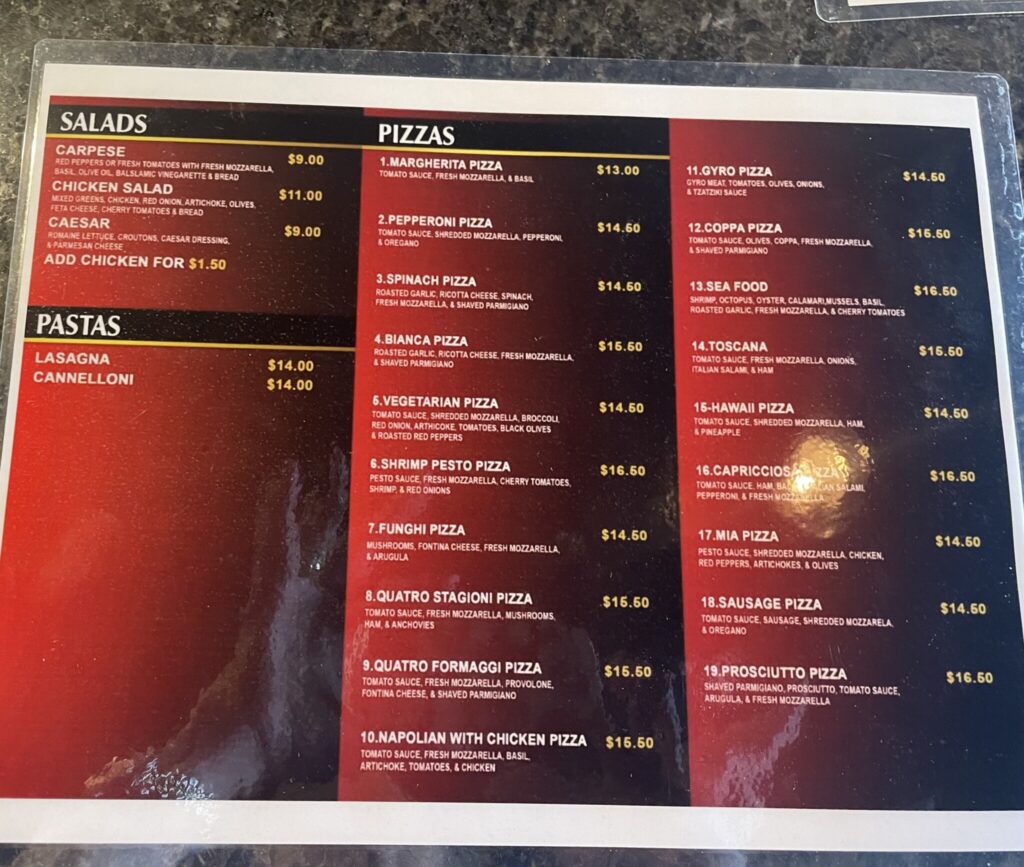 The menu features salads, pastas and 19 pizzas ranging in price from $13 to $16.50. There are pastries available too, prepared with the help of Dado's mother.
Cafe Ciao Pizzeria and Gelato, 4501 Maryland, (314) 899-0119. Open Tues. through Sun. 4 p.m. to 10 p.m. Closed Mondays. (At the time of this posting, there is no website.)