In April, the number of wards in the City of St. Louis will be reduced from 28 to 14.  In the Central West End, current wards 17 and 28, which have been separated for decades by Lindell Blvd., will combine to become part of a greatly expanded new Ward 9.
The City of St. Louis will hold a primary election for candidates for the Board of Aldermen on March 7, to be followed by the general election (for aldermen and the community college board) on April 4, 2023. Current 28th Ward Alderman Mike Gras, and the 17th Ward's Tina Pihl, along with Michael Browning, former VP of Forest Park South Neighborhood Association, are running in the primary race to represent the newly created 9th Ward.
Goodeye Photoshare's Bruce Seymour sent the following video showing the new boundaries of the 9th Ward. (If your organization could use some new technology to help spread its mission, CWEnder Seymour is a good resource. He generously offers this service pro-bono. For more information visit the website here.)
Here are two opportunities to meet the candidates on February 16 and February 28. There's a possibility that a third candidate's forum might be announced soon. I'll be sure to let you know if that occurs.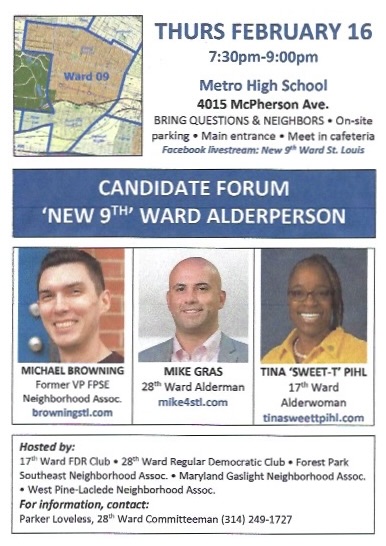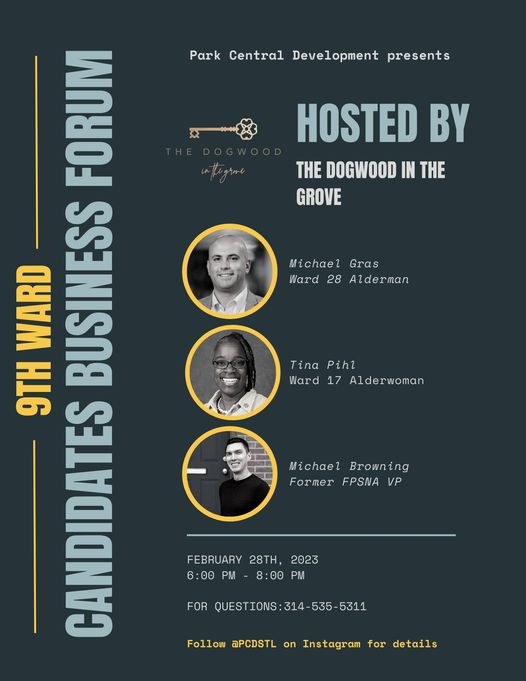 Another view of the new 9th Ward is shown on the map below.