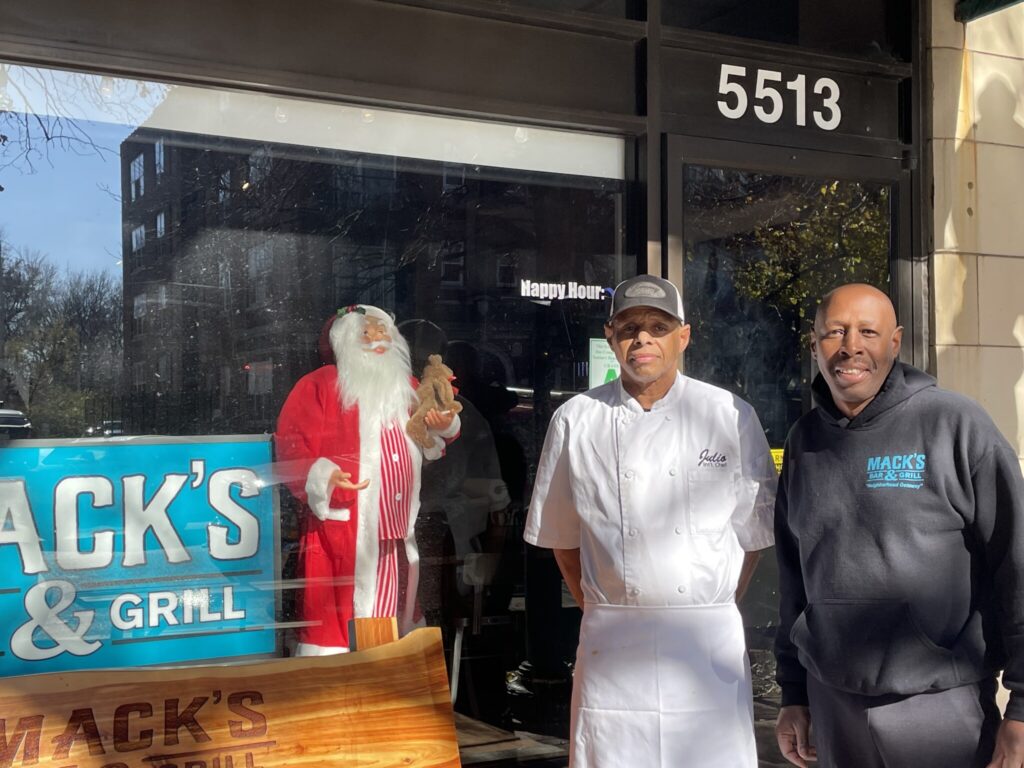 There are many versions of Julio Shankle's story, those he spins (which are sometimes embellished), and those I gleaned from interviewing CWEnders and others who have befriended him over the years. The common denominator in all of those conversations has been that Julio is immensely talented, and one of the kindest people they know.  A comment I received from a CWE restaurateur may be the most humorous description of this neighborhood character: "Interesting topic…he can be a real knucklehead, but I really like him."
For sixteen of Julio's 40 years living in St. Louis, he's been a ubiquitous presence in the CWE.  It never fails, and others will attest to this: wherever you are, there's Julio, shouting "hello" from across the street or a half-block away, and adding without fail in my case, "how's your husband?"
In one of those recent encounters, Julio announced that he is now a part-time chef at Mack's Bar & Grill, 5513 Pershing, and invited me for lunch. I took him up on the invitation just before the holidays. (Julio, and Mack Hill, the restaurant's proprietor, are shown in the photograph above.)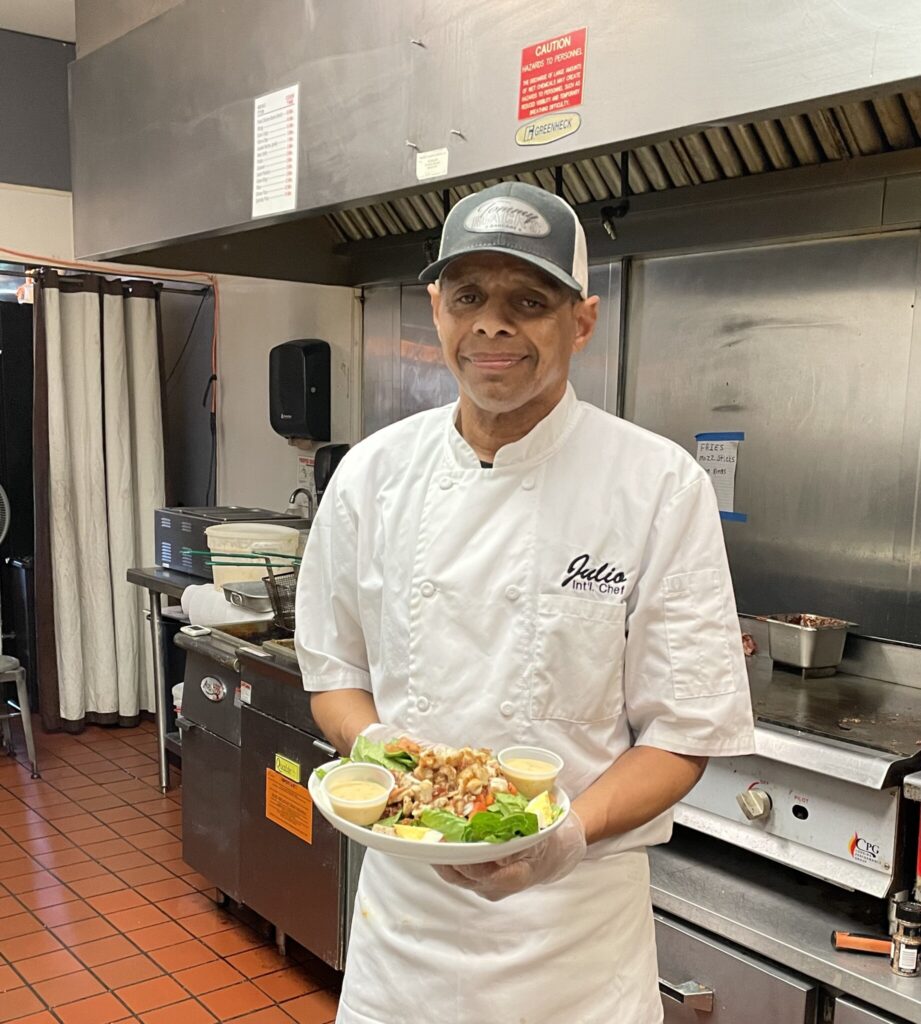 As I watched Julio, clad in his monogrammed "Int.'l Chef" coat, prepare a delicious Cobb salad for me (his choice), I sensed how serious and proud he is about this job. Julio, a vegetarian, whose go-to dish is tofu and rice when he's cooking for himself, was hired on the strength of his preparation of corned beef & cabbage.
Julio's delightful friend Clarence Jones, who operates Aaron Jones Towing, was having lunch with Julio at Mack's when Mack Hill said he desperately needed a cook to fix the St. Patrick's Day special the following day. Julio said he could do it, and with some trepidation  Mack said, "okay, what do you need?" Mack called Clarence later that evening and asked if he was sure Julio was up to the task.  Clarence replied, "If he said he could do it, he can." The corned beef & cabbage was such a hit that Mack's ran out before the day ended, and Julio wound up as the day chef on Wednesdays and Thursdays.
Julio grew up among wonderful cooks in Louisiana, including all of the women in his family, and especially his father who started teaching his son to cook at age 7.  Later, Julio moved to St. Louis and found work in various restaurants from Downtown to West County, including the Red Sea in University City.  He has lived in many parts of the city and county, but decided to put down roots in the CWE because "it's convenient, and I enjoy getting together with many friends in the restaurant industry who live in the neighborhood."
Julio was also a drummer who performed with bands around St. Louis and, according to Clarence Jones, accompanied St. Louis-based vocalist Angela Winbush on a world tour. He said he doesn't have time for that life any more. Besides working at Mack's a couple of days a week, he runs the concession stand at Steinberg Rink in Forest Park on Mondays and Tuesdays, and does odd jobs around the neighborhood to keep him going.
There's another side to Julio Shankle, and that's the focus of the rest of this post, which explains how the CWE community and friends, such as Clarence Jones, have stepped up mightily when Julio needed help the most. Julio was arrested five years ago under what people who have knowledge of the situation say were dubious circumstances. He sat in the  City Justice Center for months because he couldn't post a $50,000 bail bond, and finally pled guilty just to be released.  He was then placed on probation for 5 years, which will be completed this summer.
While he was incarcerated, a neighbor, who had gotten to know Julio when he shoveled her walk and did other odd jobs, noticed that Julio was missing and wondered what had happened to him. When he finally resurfaced, he was "stick thin and in poor health." The family was one of a group of concerned neighbors who helped him as he navigated the justice system.  They raised money via Go Fund Me to secure an apartment for him, Clarence brought him clothing, and the neighbor and another friend of his took him to probation appointments. She said, and an attorney who works in the justice system confirmed, that "It's ironic that the only time Julio could get the help he needed was when he was on probation."
The neighbor found the system extremely difficult to navigate, "so imagine what it's like for someone with street smarts but little education."  She found help through Barnes-Jewish Hospital and a local correctional program. Julio was assigned a caseworker who worked magic to help him, as did the correctional program. "While it's been a difficult experience for this proud man, I'm not sure he would have made it without this help," the neighbor added.
It took that neighborhood attorney 2 1/2 years to obtain Julio's birth certificate. With the birth certificate, Julio could finally get a social security card, a State ID, and a bank account. "He's such a kind soul," the attorney said, "and one of many who need help. We can't arrest our way out of this," he continued, "mental health services should be more available."
"This is really about the community rallying around and standing up for people in the neighborhood that don't have the advantages that many of us do," the neighbor said.  "Julio's paying his own rent now and making better choices.  We're trying to help him build credit so he can rent his own place, and put utilities in his own name. My kids have known Julio for most of their lives. They see firsthand what it means to be part of a meaningful community…It's necessary for them to understand the struggles of those around them."
Restaurateur Kevin Brennan sent the following statement and sketch which was recently added to Brennan's Hall of Fame:
"Julio is a staple and a true character dropped smack dab right into the middle of the Central West End of the World. He's always asking how everyone in your family is doing, smiling about what's been happening in the hood, and telling stories that make you feel like you were there even though sometimes you're glad you weren't. He might know more about the neighborhood than anyone I know."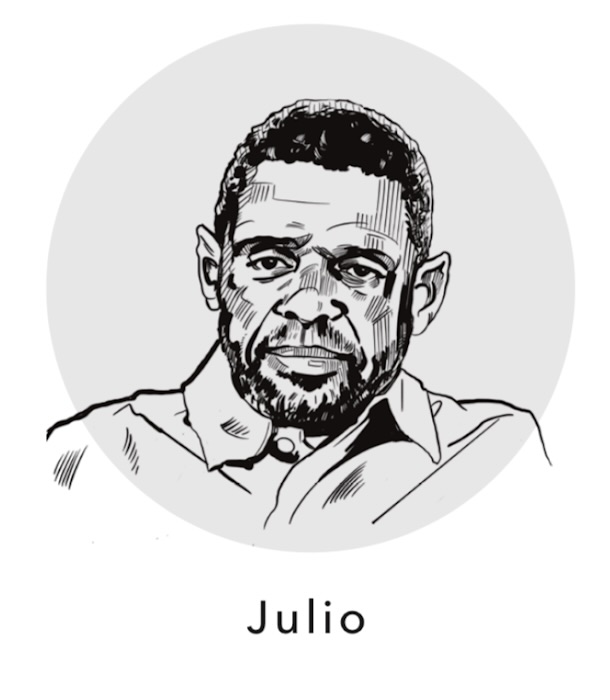 Thanks to Julio for sharing his story, and to all of the kind neighbors who shared their own stories about Julio too.  He's just one of many who find themselves in unimaginable circumstances, and who don't have the resources he has had to help him get back on course. The CWE-based Neighborhood's Security Initiative's Outreach Program, run by Alvin Ferguson and Melissa Brown, is doing good work getting help for those who are struggling with homelessness and mental health issues, as are two neighborhood churches—Trinity Episcopal and Second Presbyterian Church—that run food programs.