Each holiday season I promise myself that I'll get started on this gift guide earlier than a few days before Christmas, and each year my best intentions are dashed. What I will tell you though, as I'm scrambling to get this off to you, is that I've so enjoyed my visits with each of our neighborhood shopkeepers. For me, and I hope you will experience the same, that human connection is as valuable as whatever treasures you'll find inside.
At Holliday Boutique at Bowood Farms,
No decoration needed on Holliday's assortment of miniature trees. Feathery Rainbow Trees are available in two sizes, $8 and $14, glass trees (gold and silver above) also available in assorted sizes, $12 to $45. (As of this posting, all Christmas items are 20% off, including trees, ornaments, gift tags, etc.)
Holliday Boutique, 4600 Olive St., (314) 454-6868, Xmas week: Tues-Sat. 10 t0 4.
At Big Muddy Adventures Guideshop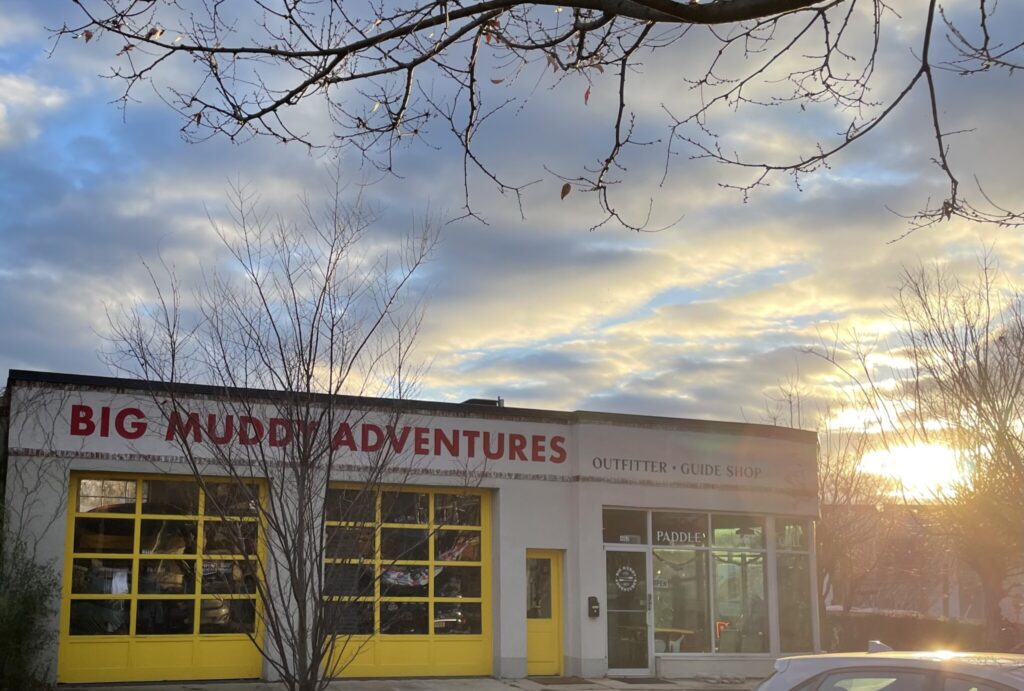 Big Muddy Adventures Guideshop, 4662 Washington (behind Bowood Farms). Closed Tues. & Weds., open Thurs., Fri., Sat. 9 to 5, but call first to check on holiday hours, (314) 896-4262.
At East·West:
While I was taking photos of the assortment of jackets shown below, I mentioned to Sam Compass, who was working that day, that I could picture women wearing a lot of the shop's clothes. "Actually many women do buy their clothes here. We consider ourselves unisex, and choose merchandise accordingly."
East•West, 387 N. Euclid, Mon.-Thurs. 12-6, Fr. 10-7, Sat. 10-3.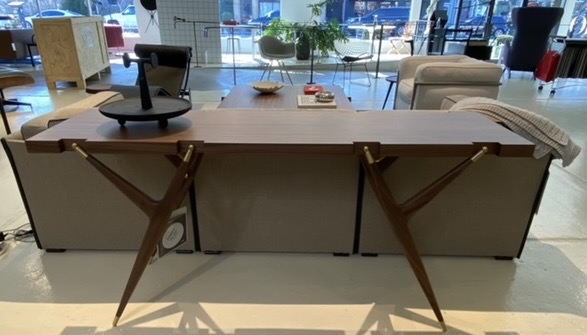 Just today, Centro's Todd Lannom unpacked a shipment of furniture from Italy, including a PA' 1947 49.4″ x 15.7″ x 29.3″h console by Ico Parisi. Shown in walnut, $7014, the console is also available in ash, $6080.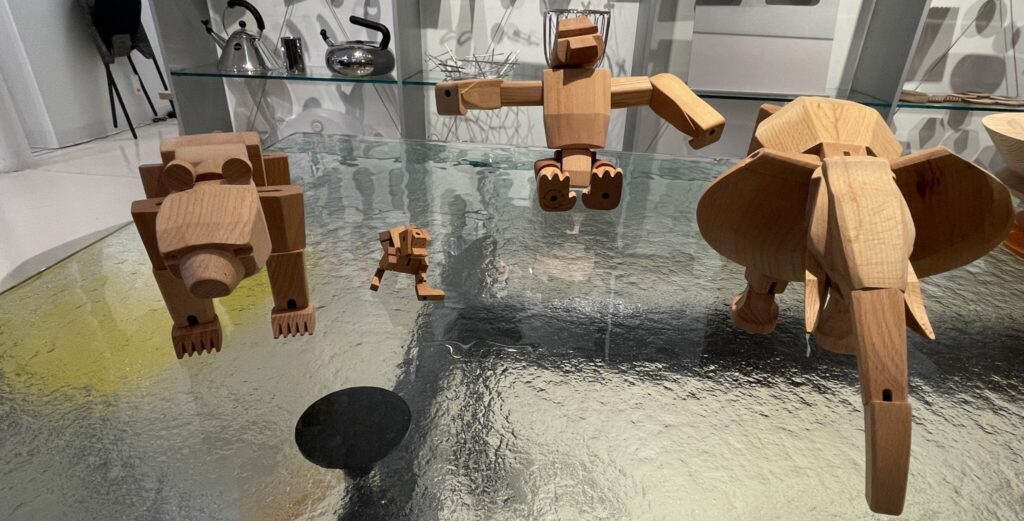 David Weeks' Wooden Animals for Areawear, have moveable parts. From left: Ursa Minor, $190, small animal, $12, Hanno the Guerrila, $120, and Elephant, $190.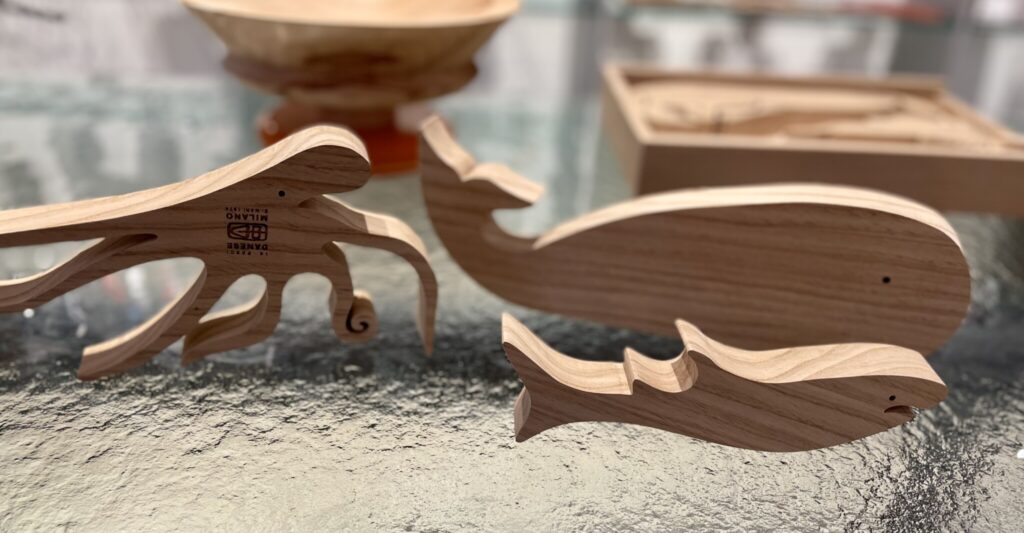 Danese Milano by Bruno Munari "Land" and "Sea" 16-piece wooden puzzles, shown above and below, function as a toy and a work of art. The Land version, $395, below, was designed by Munari in 1957, the Sea creatures, $425, in 1974.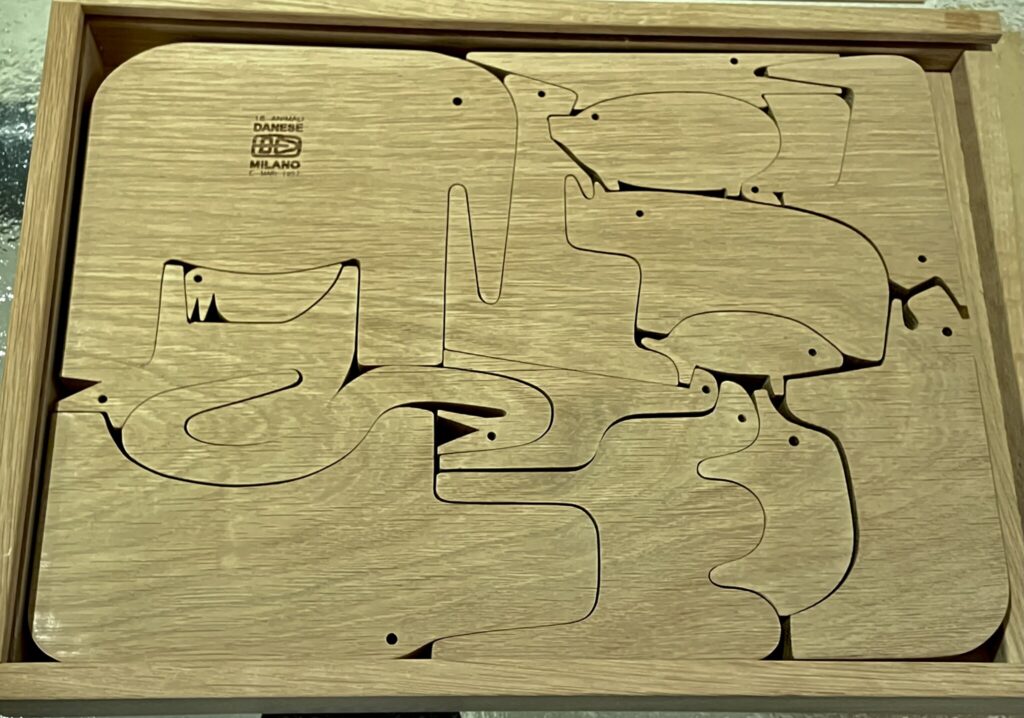 Centro Modern Furnishings, 4724 McPherson, Mon.-Sat. 10 to 6.
At The Silver Lady in The Chase Park-Plaza Hotel:
Lori Shifter, proprietor of CWE's The Silver Lady (there is also a location in UCity) has temporarily set up shop inside The Chase, in the former flower shop located north of the lobby and gift shop.  The Silver Lady was one of the businesses affected by the devastating fire at Euclid and McPherson in late June.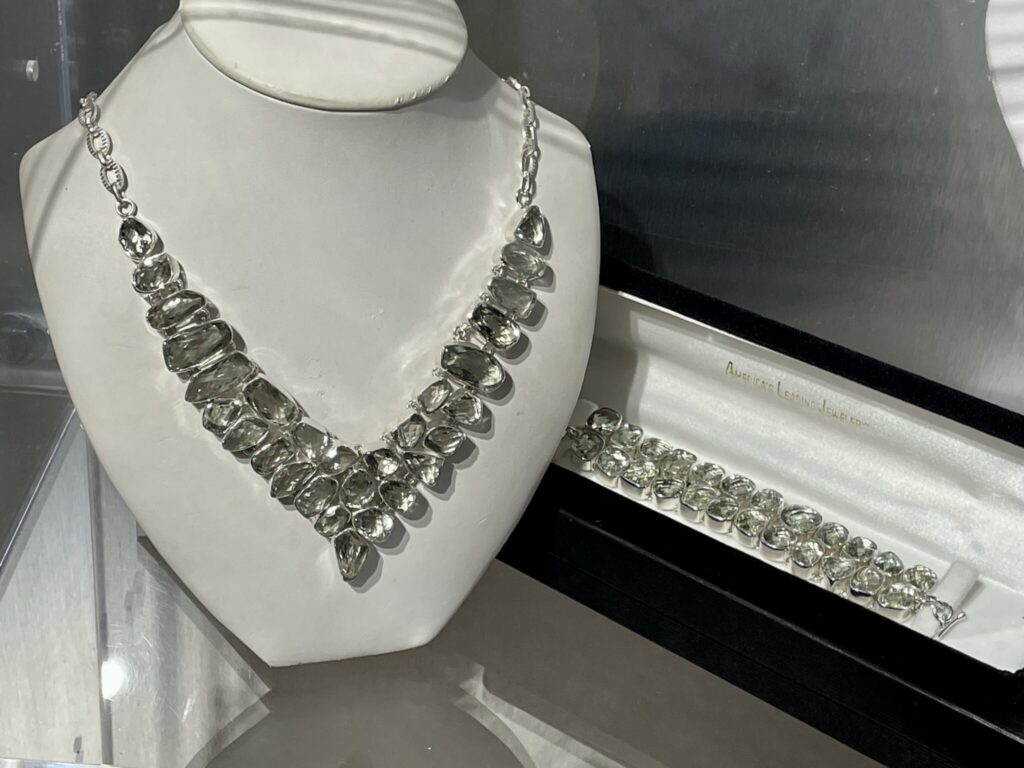 Mint amethyst necklace set in sterling, $1695, matching bracelet, $995.
The Silver Lady at The Chase Park-Plaza Hotel, 212 N. Kingshighway, (314) 633-6910. Open this week Weds. through Fri. 12 to 5, Xmas Eve, 11 to 3.
Up next: Part II