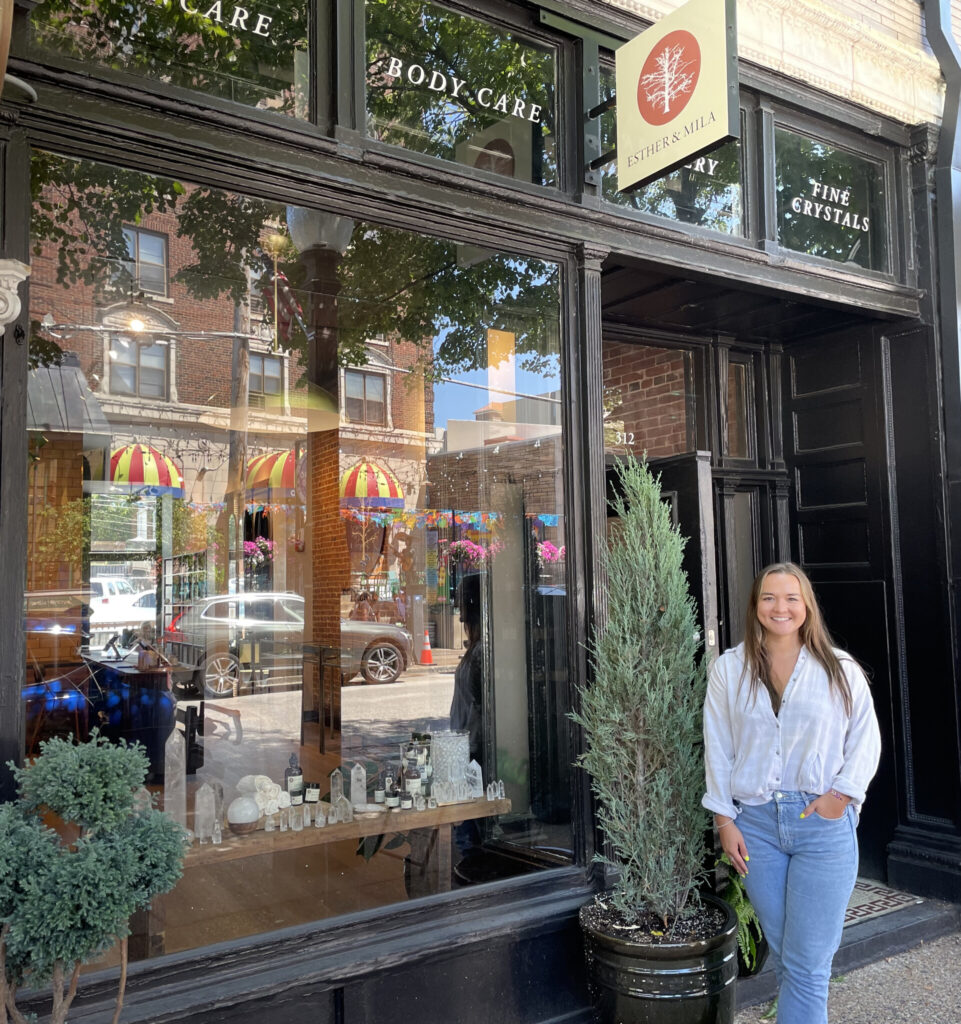 When signage announcing Esther & Mila appeared in the window at 312 N. Euclid earlier this year, speculation swirled around the neighborhood about who was behind the skincare, jewelry and crystal shop. Rumors emerged that two St. Louis friends were involved, so after the shop opened in July, I stopped in to meet them.  That's when I learned that Esther & Mila are auctually proprietor Trenna Edwards cats, who said the shop's namesakes are "like furry little people with a Zen-like nature," which seems to fit well with her business.
Shop manager, Brooke Lowrey, is photographed in front of the shop.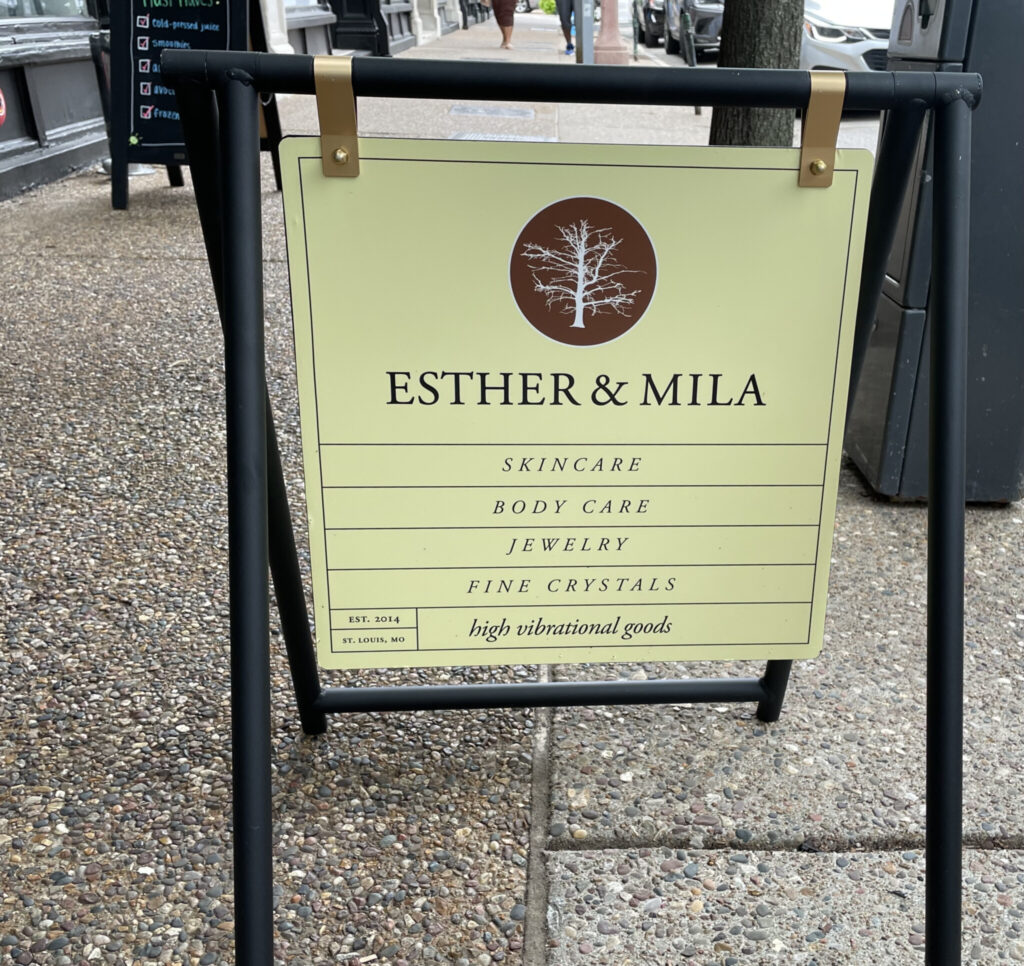 Trenna said she and her husband, Andy Quevreaux, looked all over St. Louis for the perfect location, and settled on the CWE. "We like the energy here. This is a neighborhood where people are living, working, walking, and dining, and I felt my handmade product line just fit into the mix.  Since we opened, we've gotten so many comments about how happy people are that we are here." She's noticed that St. Louisans are very supportive of small locally-owned businesses.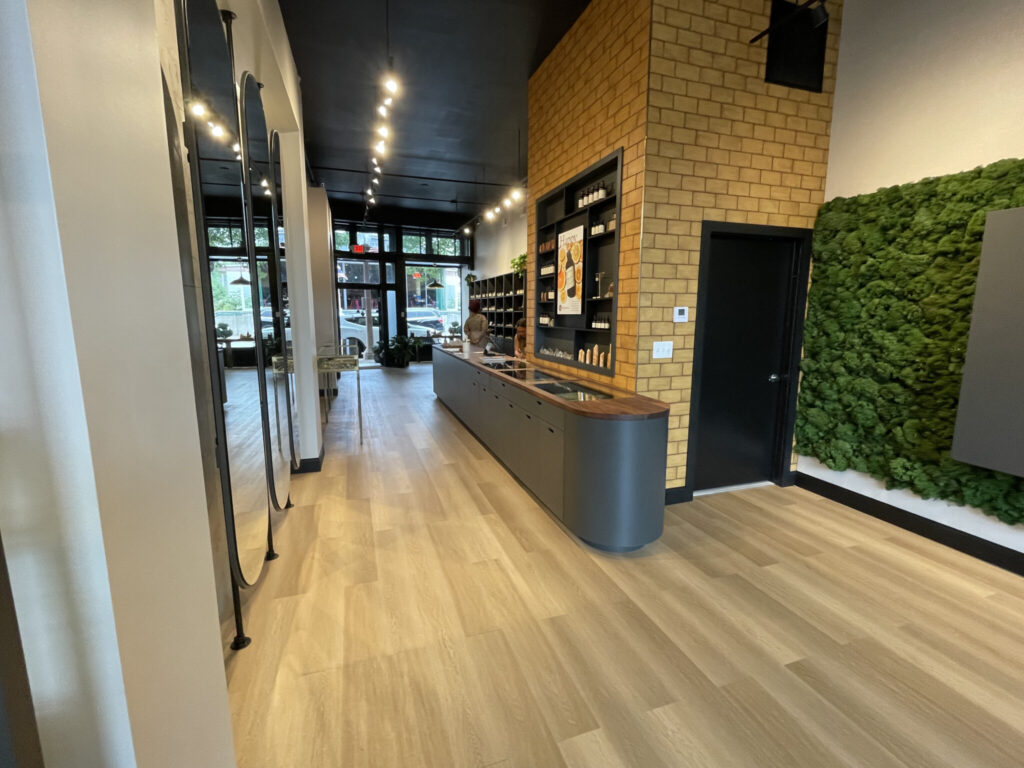 The spare, dramatic space, located between Main Squeeze and Brennan's, features sleek handmade cabinetry and display cases built by Trenna's husband, Andy, who has been designing furniture for about 20 years.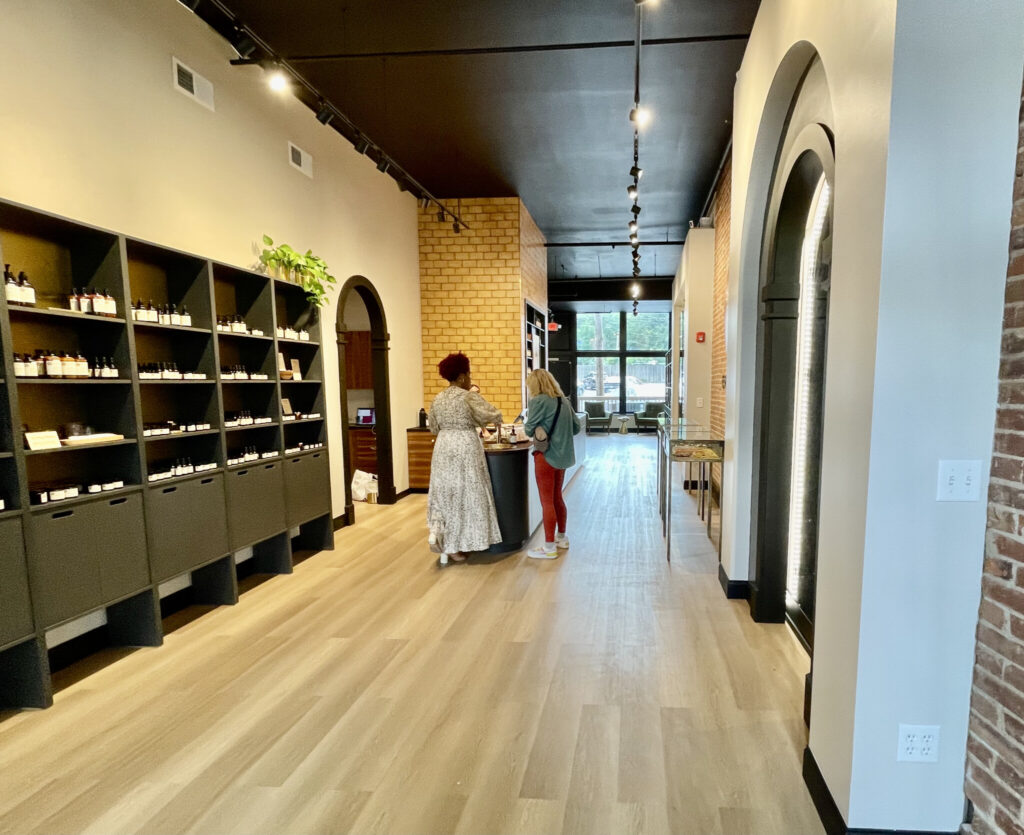 Trenna makes all of  Esther & Mila's skin and body care products. "I grew up obsessed with skincare products, and at the same time was really concerned about the food I ate. Putting all this perfect food and supplements into my body made me question what I was putting on my skin. I did a deep dive into what was in the products I used."
"The ingredient list looked good, but I thought I might be able to make a difference by looking at the physical properties of the plants and extracts they contained. I was studying metaphysics at the time so I was also interested in the metaphysical properties of the ingredients."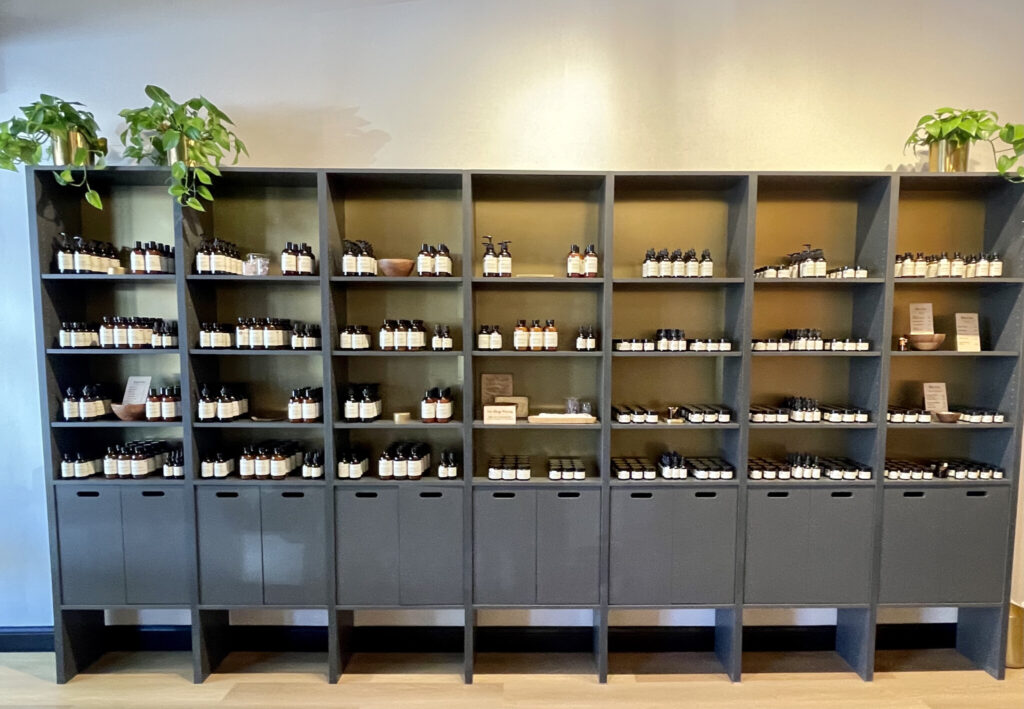 Her interest was serious enough that her husband built a lab attached to their house, and she started "playing around blending oils, then essential oils, studying the molecular structure to find what made a harmonious blend, finding what smelled good. What are the healing properties, and do they perform?"
After years of research, tinkering and testing, she sent her products out for review to cosmetic chemists. The results were overwhelmingly positive. Trenna launched her business in 2014 and found a market for her all-natural products with plant-based ingredients—"handmade in tiny batches in St. Louis"—in small shops around the country and, surprisingly, in Iceland too.
The business model was successful,  but Trenna realized she was missing direct contact with her customer base. She decided to pull everything out of retail outlets and open a flagship store in the CWE.  (There are plans to open more Esther & Mila shops in the future.)
Esther & Mila skincare products, above left, a "luxury brand," come in 5 formulas for different areas of concern. Products labeled "Firm" are for skin that has lost its elasticity, "Bright" is targeted to skin discoloration and hyper-pigmentation, "Super Moisture" is for very dry skin and deep wrinkles, "Repair," for general anti-aging, and "Radiant" for extremely sensitive, reactive skin, $32 to $100.
There are 7 Esther & Mila body care products, above right, including hand soap, hand & foot cream, body wash, and bubble bath. These are available in 7 fragrances, such as orange & cedar, rosemary & clary sage, and oak moss & coffee, $22 to $44.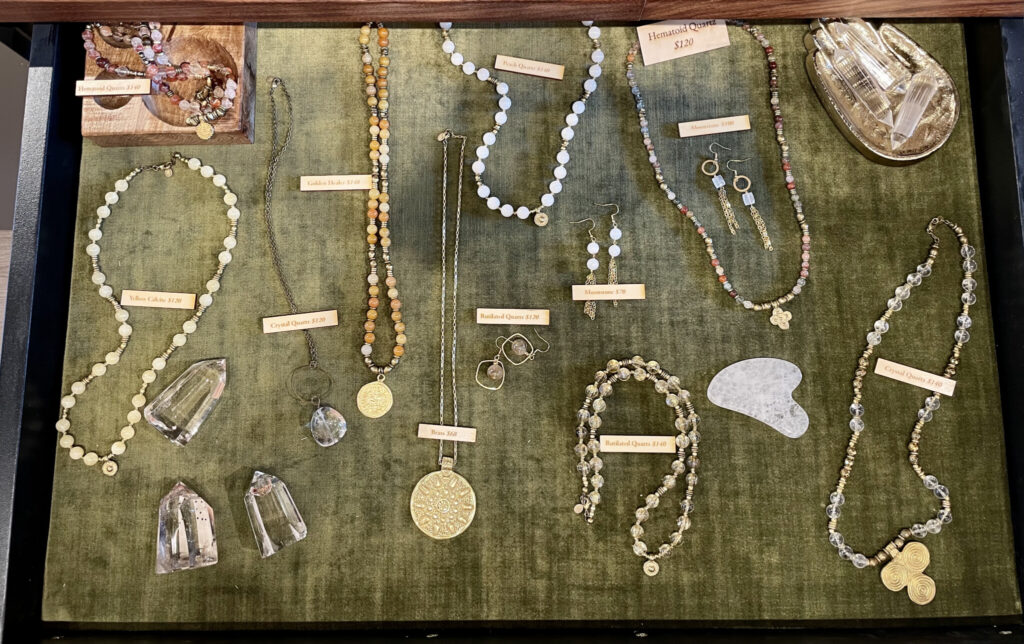 Trenna also makes all of the jewelry that's on display at Esther & Mila, examples above. When I asked how long she's been making jewelry, she said her mother recently gave her a box that contained the first necklace she ever made while in preschool.
She makes her pieces with all brass or crystal beads and brass, $58 to $600. According to Trenna, brass, which develops a patina over time, has tremendous energy.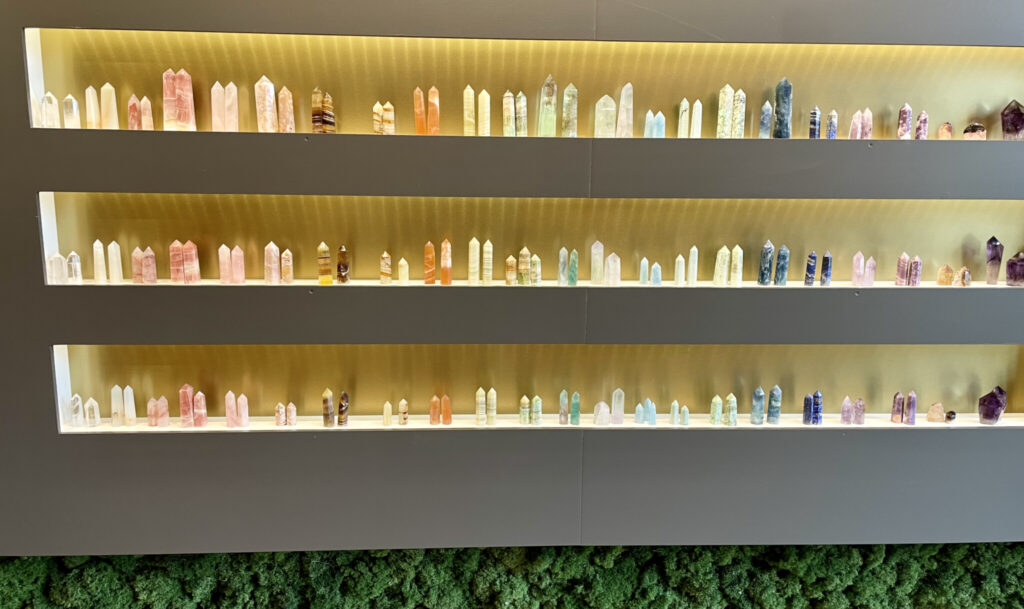 When Trenna was planning what she would carry in the shop, she wondered how the public would respond to a crystal room in a skin & body care shop. She need not have wondered. The first thing that sold was a crystal.
She says the response has been extraordinary. People have purchased birthstones, many have walked over from BJC to buy crystals to put on patients' windowsills, and little kids love to pick out crystals shaped like marbles.

There is plenty to choose from. When I asked how one chooses a crystal, the answer was to see what you are drawn too.  "You are always going to choose a crystal that's complimentary to you." Most crystals range in price from $10 to $100, though there are some that are much, much more.
It's a delight to have Esther & Mila in the neighborhood. The staff is very friendly and extremely helpful choosing which products are best for you.
There is an open house at Esther & Mila tomorrow evening (Friday, August 26) from 5 to 7. Product samples and refreshments will be available. Here's a link to that event.
Esther & Mila, 312 N. Euclid, (314) 312-6928, cwe@estherandmila.com. Open Tuesday through Saturday, 10 to 6, Sunday, 11 to 5, closed on Monday.