Due to this week's record-breaking rainfall and subsequent flooding in the St. Louis region, many businesses were flooded. Two that I am aware of, Third Degree Glass Factory, 5200 Delmar, and Left Bank Books, 399 N. Euclid, sustained serious damage and are closed for repairs. There are ways that you might be able to help.
To give you an idea of what happened inside Third Degree Glass Factory during yesterday afternoon's downpour, follow this link to the Facebook page, where there is video of the terrifying scene inside.
This morning, co-founder Doug Auer sent a heartfelt note to friends and neighbors:
"Unbelievable.
A massive thank you to all the people that showed up last night to help.  It was amazing to have that support.  I was ready to quit and you all changed that.  Solid progress and it kept me from crying myself to sleep.  (The whiskey helped too)
We have many days of clean up and rebuilding ahead.
Those of you that have reached out to offer help.  Thank you.  We need it.  I'm trying to get a plan together this morning to continue the clean up.  If you show up, we'll do our best to direct you.  But frankly it's hard to decide where to start.  Just be ready to throw things away.  Find something dirty and do your best to clean it.  What should you bring?  Gloves for yourself, maybe a bucket, rags, sponges.  Whatever you think you would use to clean dirt off of anything.
We had 3 events scheduled this weekend.  Our hearts ache for those clients.  I think my team found venues for most of them to have their events.
Our priority will be getting the galleries and event spaces and equipment ready for clients.  We made a great first pass last night.  Our goal is an event scheduled for August 8th.
What will likely be most helpful is supporting the artists whose work was all but destroyed.  In the coming months they will need people to buy new work.  As soon as we can get them working.  Our furnace was taken out as well.  So right now they can't work.  But when they do, we'll want to help them first.  Maybe we'll sell some NFTs. of the work destroyed.  Who wants to create NFTs of glass?  Feel free to just buy something off our online store.  If it exists you get it, if not, well you bought the memory of it and we'll send you a cookie or something in it's place.
As for insurance and everyone talking about that-well, floods are excluded from our policy.  But this wasn't a flood.  This was a failure of our sewer system.  But we all know how this goes. I'm not holding my breath.  I'm afraid, we just have to keep swimming.
Thank you all for the texts, emails and hugs.  We'll figure this out.
Happy 20th Anniversary Third Degree.  Purge."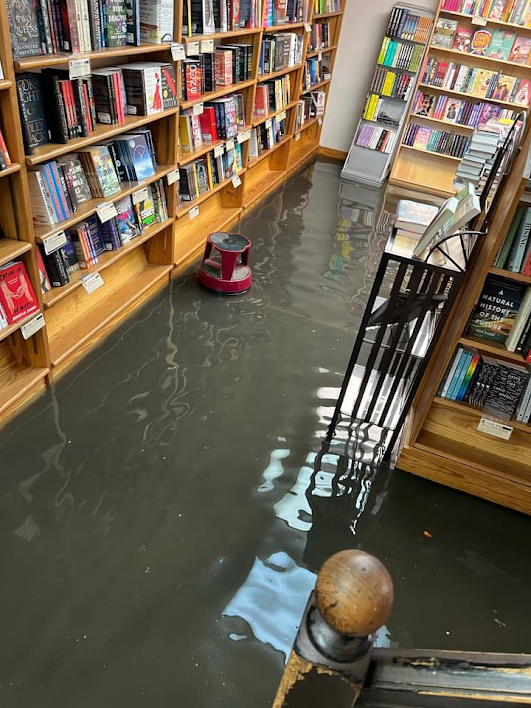 Then this afternoon, Kris Kleindienst, proprietor of Left Bank Books, posted an update about what happened to the lower level of the neighborhood bookstore and how the staff is coping with clean-up efforts:
"Like many St. Louisans, Left Bank Books was impacted by the severe flash flooding around the area. Our basement flooded in the early morning hours on Tuesday, July 26th.  Our staff banded together to complete the necessary cleanup and sanitation processes.  Then on Thursday afternoon, July 28th, our basement flooded again, only this time much, much worse. Our entire downstairs was flooded with about 6 inches of sewer water, which includes the sales floor with new and used books, the staff offices, overstock, supply, and storage areas.
We are accepting phone and online orders while we ready the store to resume in-person business."

"If you'd like to support Left Bank Books' recovery efforts, you can make a donation in any dollar amount by clicking here. We appreciate our community's support during this time!"
Thank you, Kris Kleindienst
P.S. – Check Left Bank Books website for updates on reopening to in-person shopping.