In March 2020, a week before stay-at-home orders were instituted by the City of St. Louis due to Covid19, St. Louis Art Supply's co-owners Xena Colby and Carson Monetti saw the handwriting on the wall and closed the shop and adjoining Cornflower Cafe to the public.
What's happened since then defies expectations.  Almost two years later St. Louis Art Supply remains closed to the public, yet the business is thriving. There are several factors that led to this turn of events, chief among them was the chance discovery of a drawerful of watercolor paper which was used to create notebooks that attracted artists and hobbyists from Europe, Japan, California, New York, and not surprisingly, the Show-Me-State.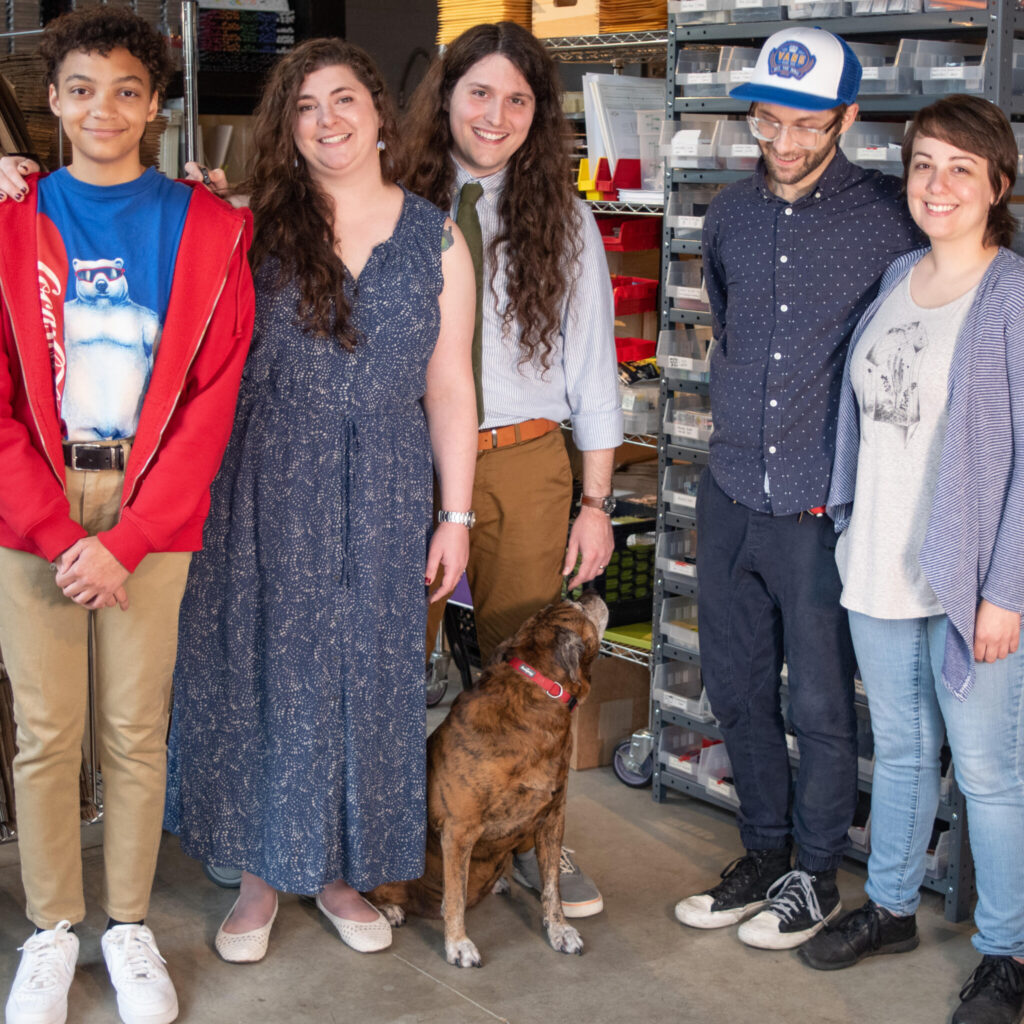 "At the time," Carson explained,  "we wondered if we were crazy. Closing to the public cast a pall over everything—we were all freaked out, but we thought the shutdown orders would just last a few weeks, and then everything would be back to normal."
Instead, what has become normal is that the staff is extremely busy filling orders online—they still offer curbside pickup—and Xena and Carson (2nd and 3rd from left) have no plans to reopen the shop to the public in the foreseeable future. "The question is actually more complicated than 'opening to the public,' we simply don't have room now that the space has become a warehouse," Carson explained. "We've filled the space with all kinds of different products you won't find elsewhere."
As for the Cornflower Cafe, Xena has said several times since it closed how much she misses running the restaurant, and hopes to open another someday, but doesn't know where or when.
The uptick in business enabled Carson and Xena to hire 2 full-time staffers: Curtis Tinsley, 2nd from right, as Fulfillment Manager, and Tricia Williams (far right) as Production Manager.  Jeremiah Miller, far left, a high school student, works part-time. Ellie, in red collar, continues in her role as VIP and Comforter-in-Chief.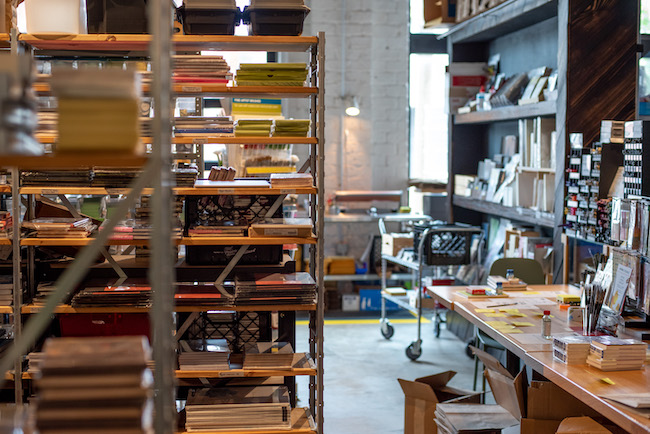 Now, instead of the buzz of customers and cafe patrons filling the space, there are well-organized rows of shelving filled with bins of merchandise occupying the middle of the space. Other areas are devoted to testing product, shipping, photography, chess (everyone learned to play during the pandemic), accounting, and a cozy back corner where the staff meets to discuss products they'd like to develop, take lunch or video game breaks—and the occasional nap.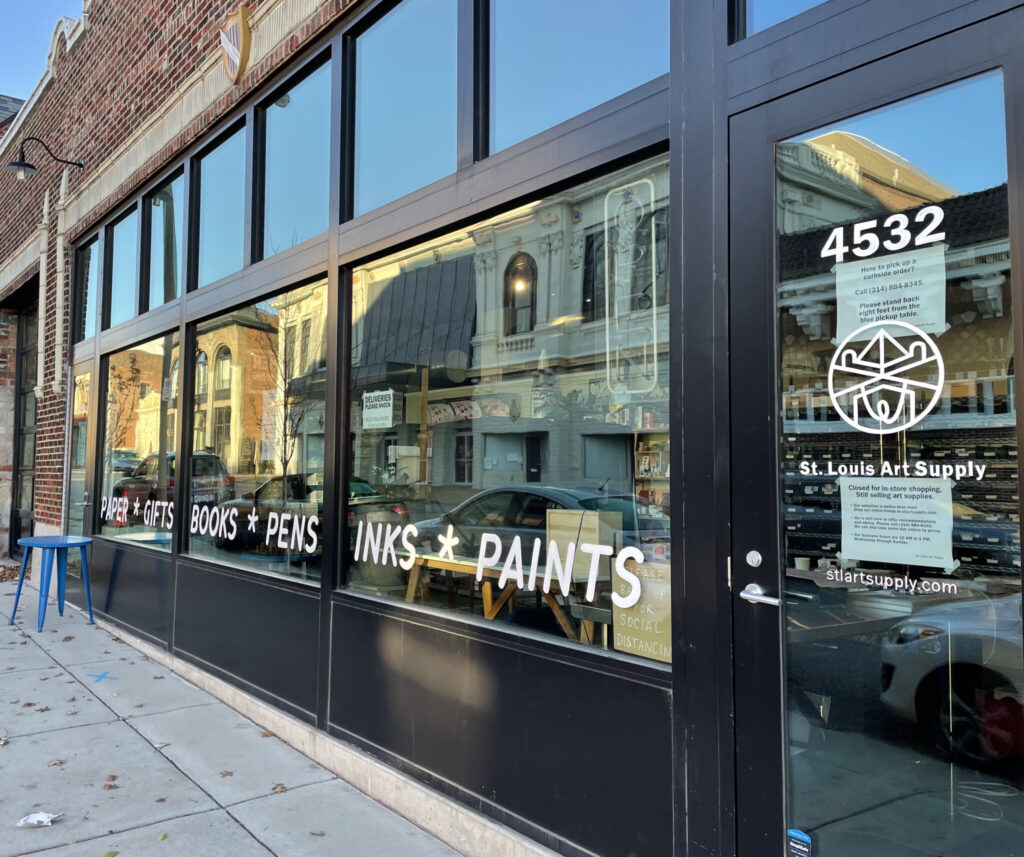 When they first closed the store to in-person visits, Carson and Xena took orders by phone and offered curbside pick-ups—or delivered merchandise to customers' front porches. They quickly realized that approach was not sustainable and they needed a plan to survive.
"Those were scary times, but we held on tight. We applied for a PPP loan which enabled us to pay our part-time employees to work from home listing every single item on the website—down to the tiniest eraser." Carson explained. The co-owners were determined that none of their employees, who were all part-time, would be laid off, and while hours were cut, all remained employed.
At one of their lowest points Carson happened to discover a drawer filled with sheets of Fabriane watercolor paper, and another filled with card stock.  Inspiration struck. Carson designed and created a prototype of a watercolor notebook, which was added to the website.  The handmade notebooks became wildly popular.  "That humble design is what single-handedly saved the business," said Xena.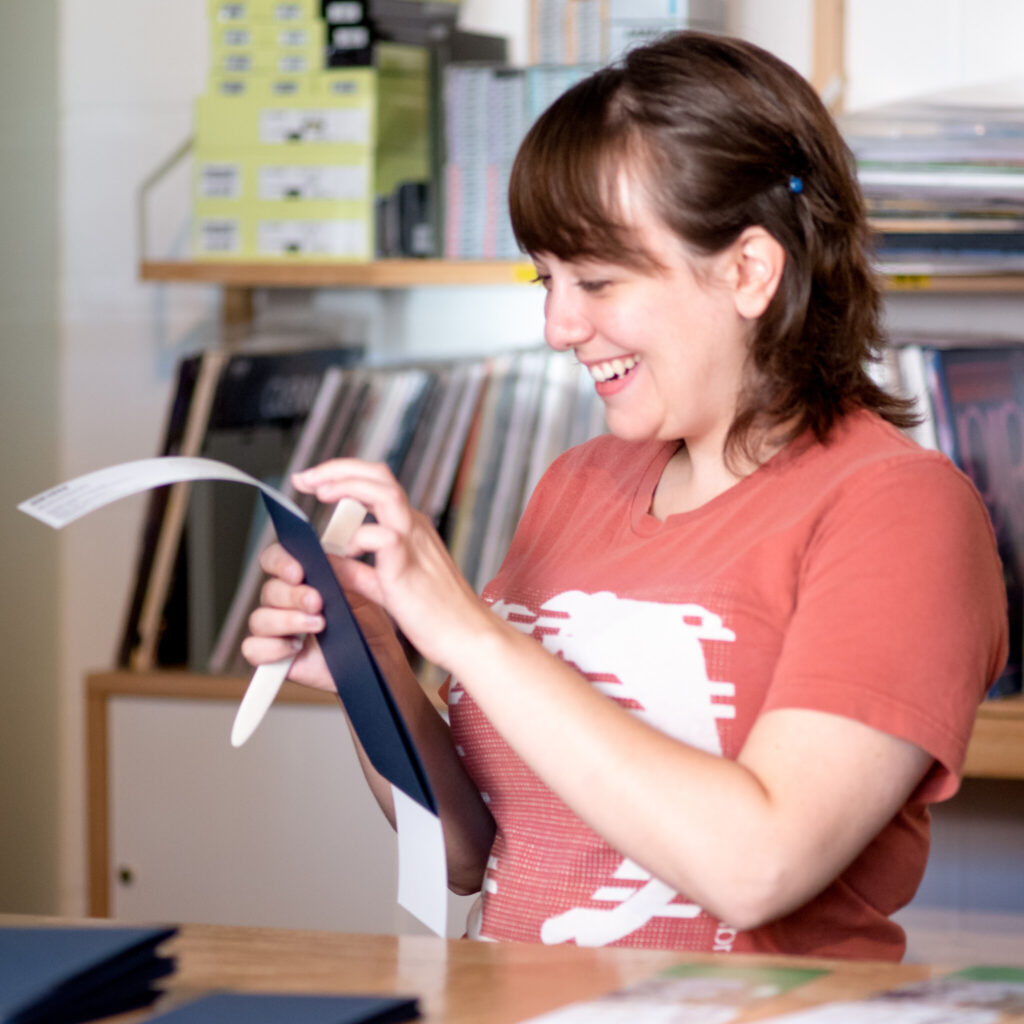 They purchased a spiral-binding machine and now Tricia, above, assembles all of St. Louis Art Supply notebooks—there are now 8 different styles.
Another factor that contributed to the uptick in sales was that people everywhere were stuck at home and many were ordering art and craft supplies. By October 2020, the business was attracting 5 times as many customers to its website as pre-pandemic, and they started turning a profit.  2020's Holiday Season was the best ever. And they were amazed and honored to be named 2021's Best Art Supply Store by The Riverfront Times.
St. Louis Art Supply has adopted a boutique-type business model which is attracting design-minded customers who want the best, most innovative products. The staff is constantly searching out new products, including some heritage brands made by small 200-year-old European manufacturers.  It takes a lot of guesswork to select products—online photographs can be grainy, and descriptions are often in unfamiliar languages. "Sometimes, we just order blind," Carson said.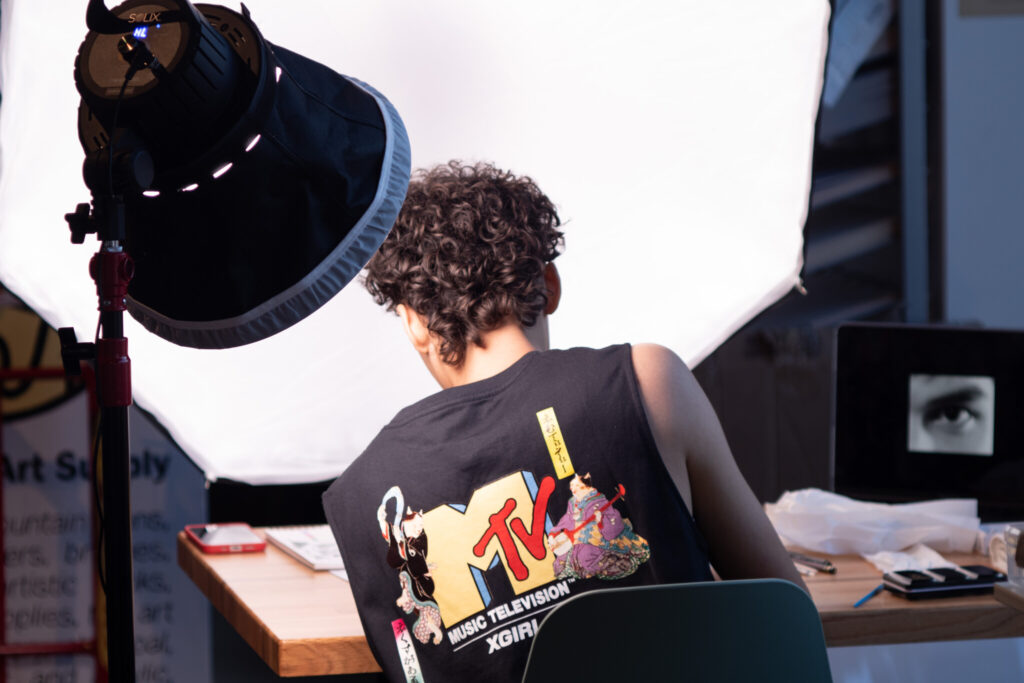 Jeremiah testing product
"We test everything and if something doesn't work, we'll pull it," said Carson. "It's a responsibility to operate this way, we want our customers to love their purchases."
What follows are photos of just a few of the many watercolor products available at St. Louis Art Supply. While watercolor is a hot medium right now, there are so many more products available. Check out the cleverly-written Annual Gift Guide 2021 to explore more of what's available.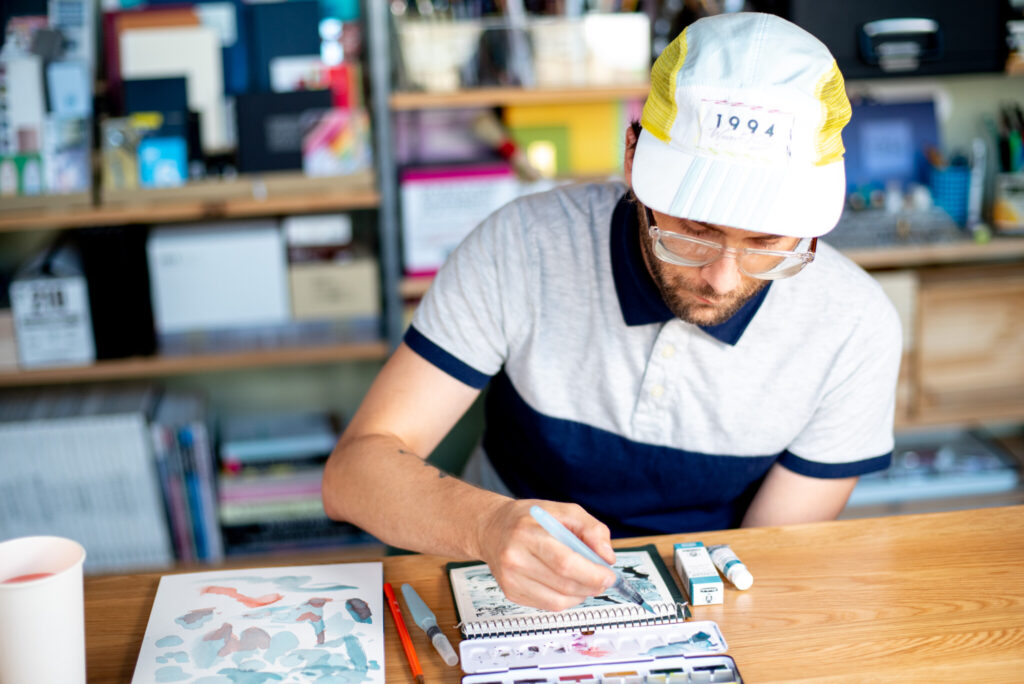 Curtis, who wears many hats (as does everyone else in this small business), is a self-taught artist who "is insanely talented," according to Carson. "He can draft anything from stickers to a new St. Louis Art Supply antigravity tote bag."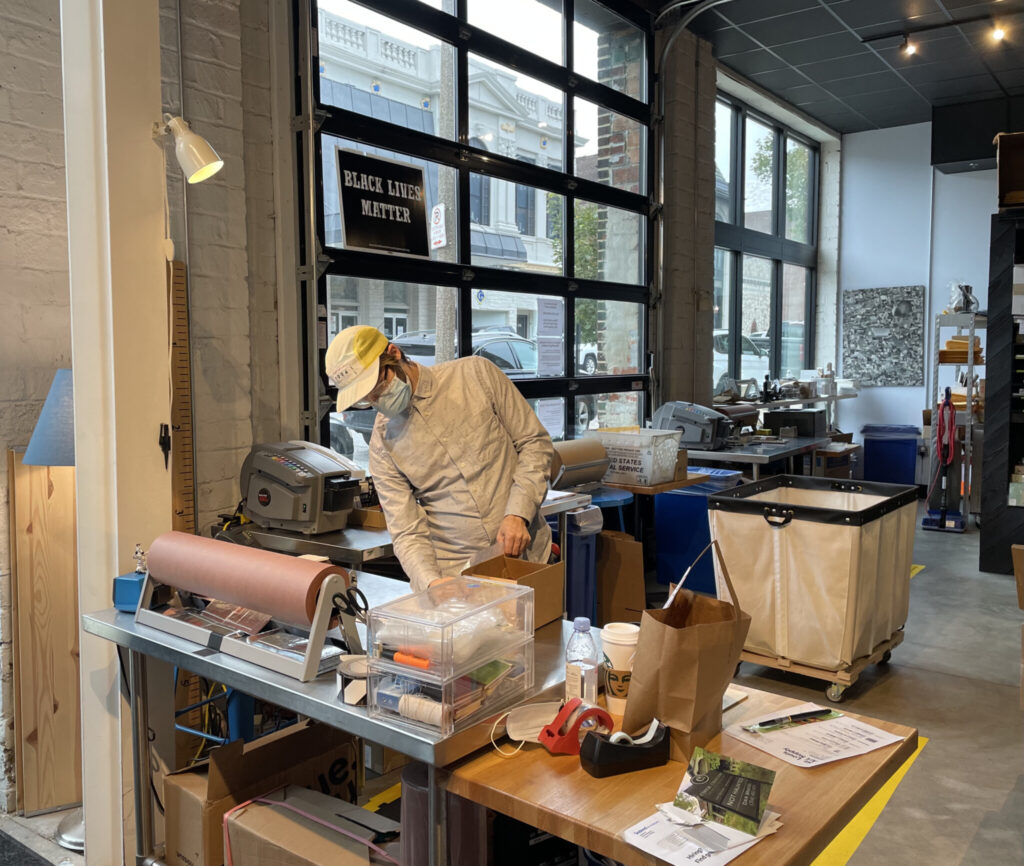 The shipping station is recognized as the nerve center of the business. Curtis remembers the day the postage machine arrived, and was thrilled that it immediately streamlined the process of filling orders. While most orders are shipped to customers, there are 10 to 15 orders packaged each day for local pick up.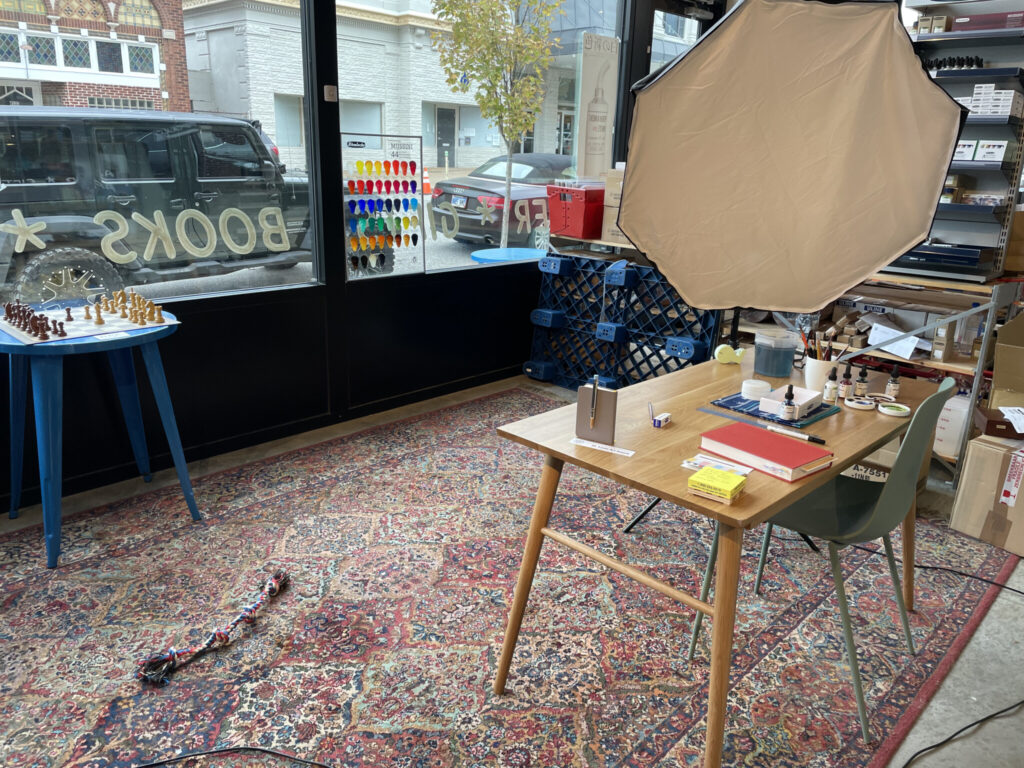 The photographs in this post were provided by Carson Monetti, who   understands how important great photography and detailed, engaging descriptions are in selling products online. The Instagram site is filled with more beautiful photographs and fun, instructional videos on latest products.
In a recent email Xena said that all their dreams are coming true, and that she and Carson are excited to come to work each day. "With Curtis and Patricia onboard, both of whom are full of amazing ideas, we hope to continue running the business together for decades. We're a tight knit group and are amazed by the way it's worked out."
St. Louis Art Supply, 4532 Olive Street, email: hello@stlouisartsupply.com, (314) 884-8345, Weds. through Sun., 10 to 5.
P.S.: It's always interesting to me to learn how shop owners who aren't from St. Louis wind up here. Here's Xena and Carson's story. 
Finally, I'm grateful to the staff of St. Louis Art Supply for letting me visit, masked and vaccinated, to bring you this report. I'm honored to be the first "outsider" allowed in since the pandemic began.