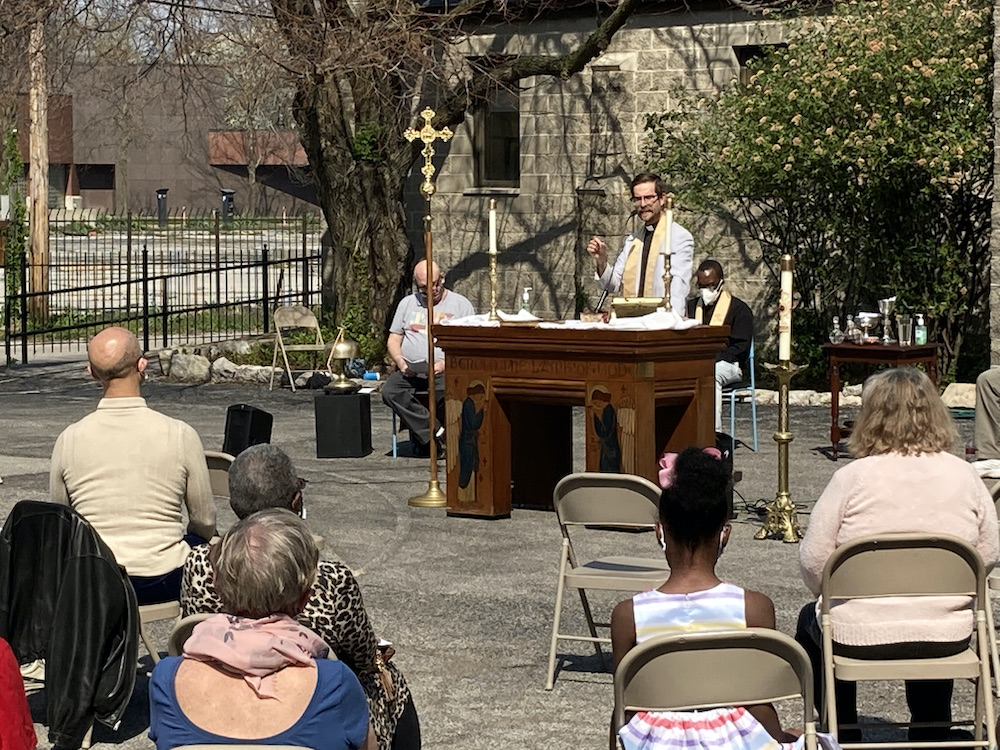 Photographs courtesy of Michael Shepley
Trinity Episcopal Church,  600 N. Euclid (at Washington), is hosting a Sacred Solidarity Festival this Saturday in advance of Pentecost Sunday the following day. The photo above shows Rector Father Jon Stratton and Associate to the Rector, Reverend Aaron Rogers, above right, during the socially distanced Easter service Sunday, April 4.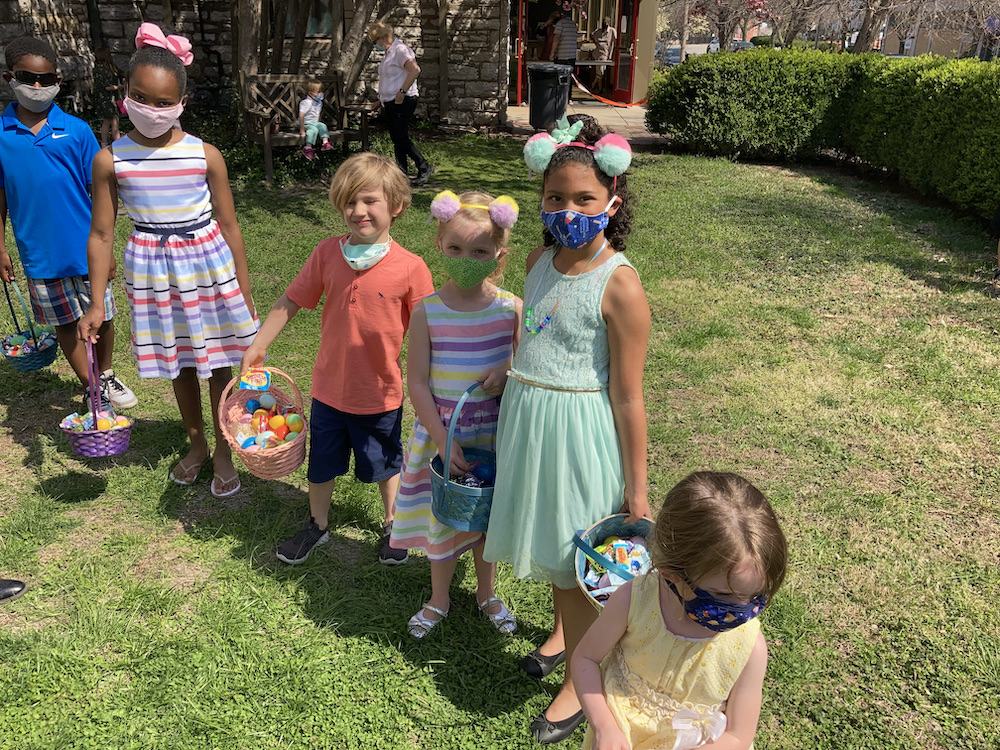 The photo shows the children of the community following an Easter Egg Hunt on Easter Sunday.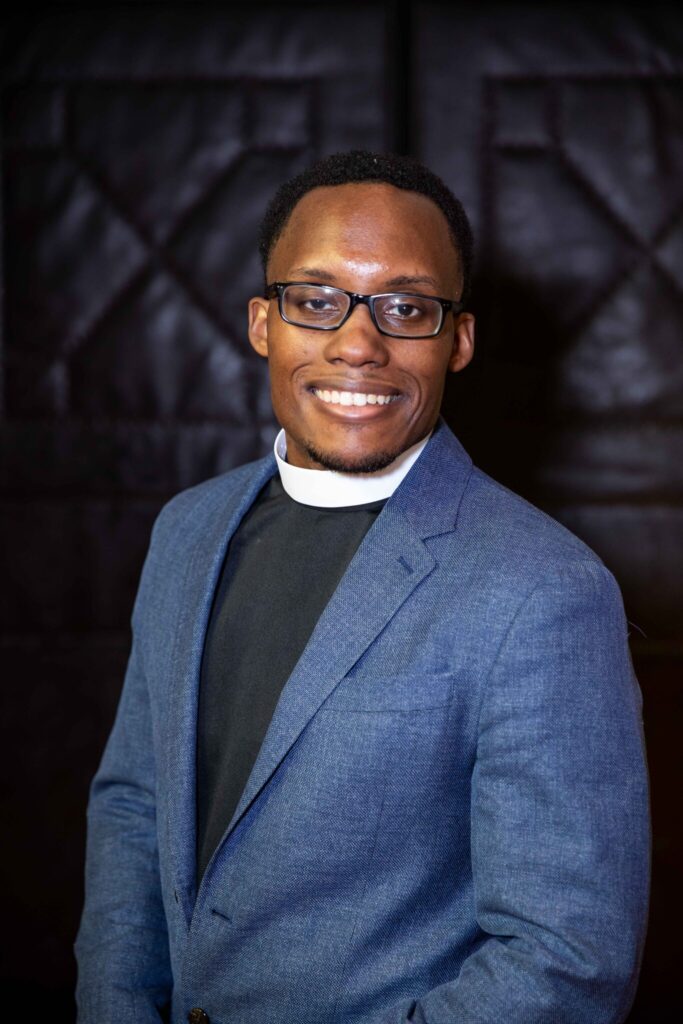 The purpose of the upcoming Sacred Solidarity Festival, according to Reverend Rogers, above, is to celebrate the diversity of both the people who live in the CWE and the gifts each contributes to the community.
Photograph courtesy of Lela Shepley-Gamble
The festival is scheduled for 11 a.m. to 4 p.m. on Trinity's Euclid parking lot, shown above. There will be a "chalk-in" so children (and adults) can decorate the lot in advance of Sunday's final 10:30 a.m. outdoor service.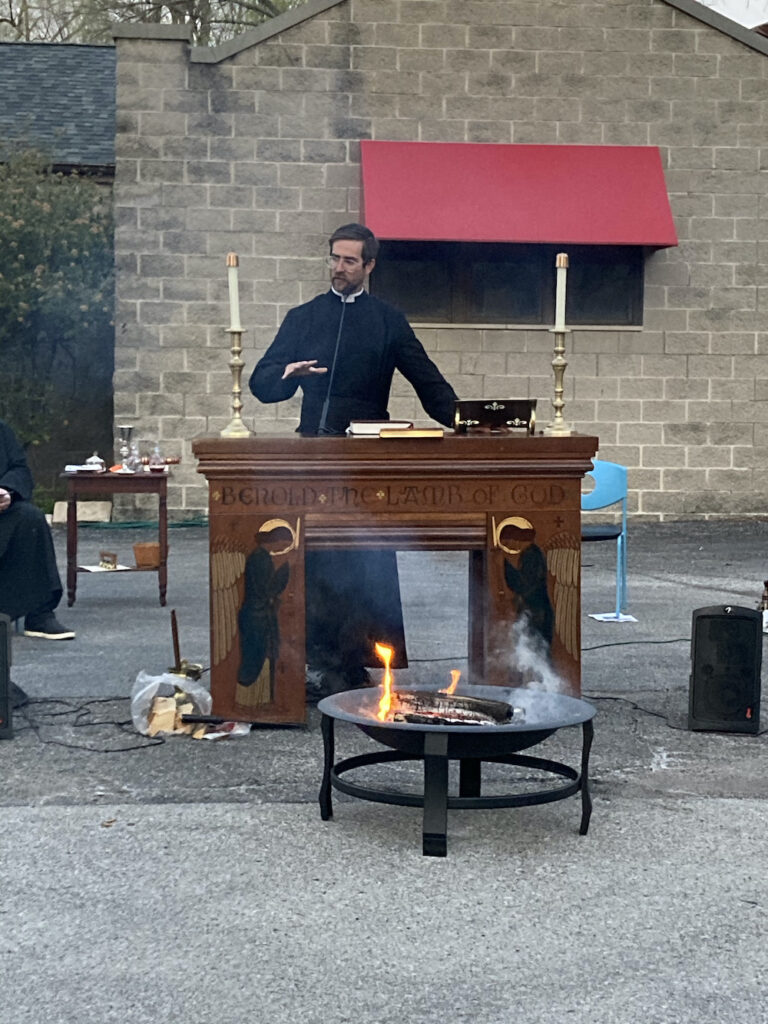 Services have been held outdoors during the pandemic, above, and will move indoors beginning on Sunday, May 3o.
There will be information on micro-loans which are funded through the Holy Grounds Collaborative, an initiative formed by 7 churches in the area "who wanted to be part of a vision not only as individual congregations, but as a diverse and inclusive, multi-racial, and interfaith partnership." HGC has raised $30,000 for the micro-loan project.
Anyone in St. Louis City is eligible to apply for a loan of up to $500.   Reverend Rogers said their first priority is people who live in the neighborhood. Initially the loans were used to help people get out of predatory lending situations, but are now geared to those who may have fallen behind in rent, or who have encountered other emergency needs.
There will also be resource-sharing information available for those looking for volunteering and community gardening opportunities, and food sources as well.
All are invited. Hamburgers, hot dogs and beverages will be available.
Sacred Solidarity Festival, Saturday, May 22 from 11 to 4. Trinity Episcopal Church, 600 N. Euclid.