Photo courtesy of Vicki Friedman
For my continuing series of posts on how CWE-based artists are faring during the pandemic, I reached out to gallery owner Duane Reed, above, to find out if he'd like to contribute.
"I just love that you assume I'm artistic," Reed replied. "The reason I have the gallery is to surround myself with art since I can't really do that myself. I guess the creativity I have is curating and arranging exhibitions—which I absolutely love to do.  Aside from that, I've done a lot of cooking during the pandemic, and am getting really good at jig-saw puzzles and Netflix."
Reed opened Duane Reed Gallery, 4729 McPherson, in 1994, and since then: "I've survived a recession, two moves, and multiple changes in the art market.  I feel fortunate that we have had such amazing artists and collectors who have encouraged and supported us for these past 27 years.  It has been a remarkable adventure."
The pandemic has presented an interesting challenge Reed said, but they were surprisingly somewhat prepared for it.  "For the past few years the business of art has gone more and more online, which has offered us lessons on getting ourselves out in front of larger audiences, the bizarre world of social media, and maneuvering through internet sales platforms. So, we had already been transferring much of our focus to an on-line presence." (The "we" here includes Assistant Director Ethan Meyer, and Gallery Assistant Michelle Rigell.)
"We had also started working on a new website in January (2020) and were able to launch that right after we closed to the public.  That was a fortuitous moment which instantly made us more available to the clients who were not able to visit us in person or at any of the art fairs due to cancellations."
"When March 2020 came around, there was a moment of panic as we had numerous projects going on and feared they would dissolve, and of course, no one knew how our artists or clients would react or be affected by the shutdown.  Fortunately, our ongoing projects did not get cancelled, and our artists and clients rallied."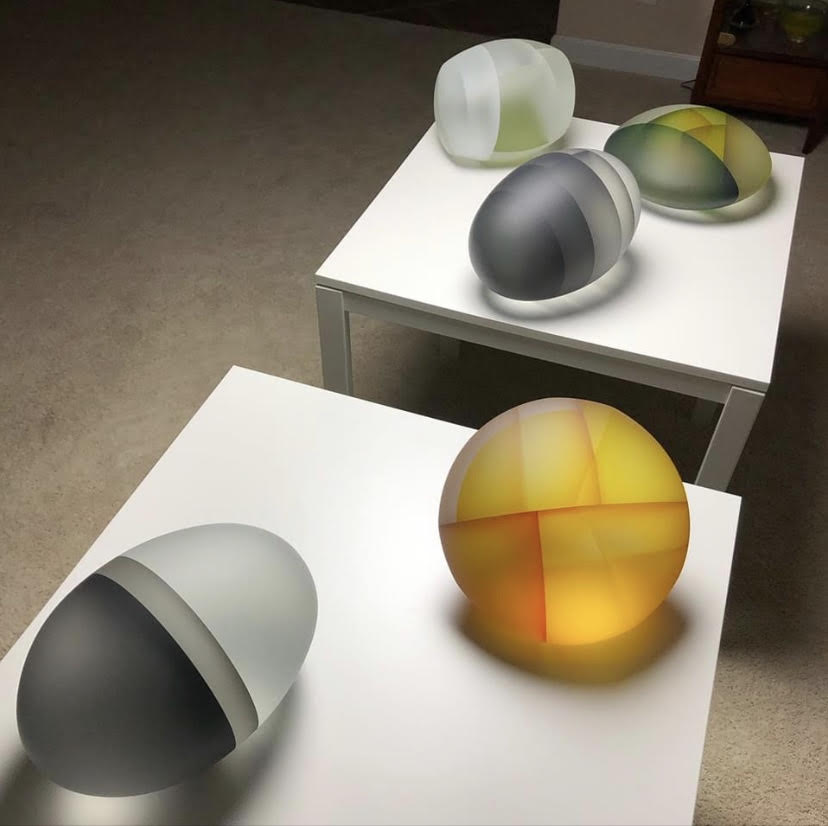 "We also decided not to cancel a major ceramic exhibition that had been planned since mid-2019.  We went ahead in April 2020 with a combination of work that had been shipped prior to the shutdown and showing "virtual" work that was still in the artist studios.  It was an online-only event and we ended up selling pieces by each of the 5 artists who were included," examples above and below.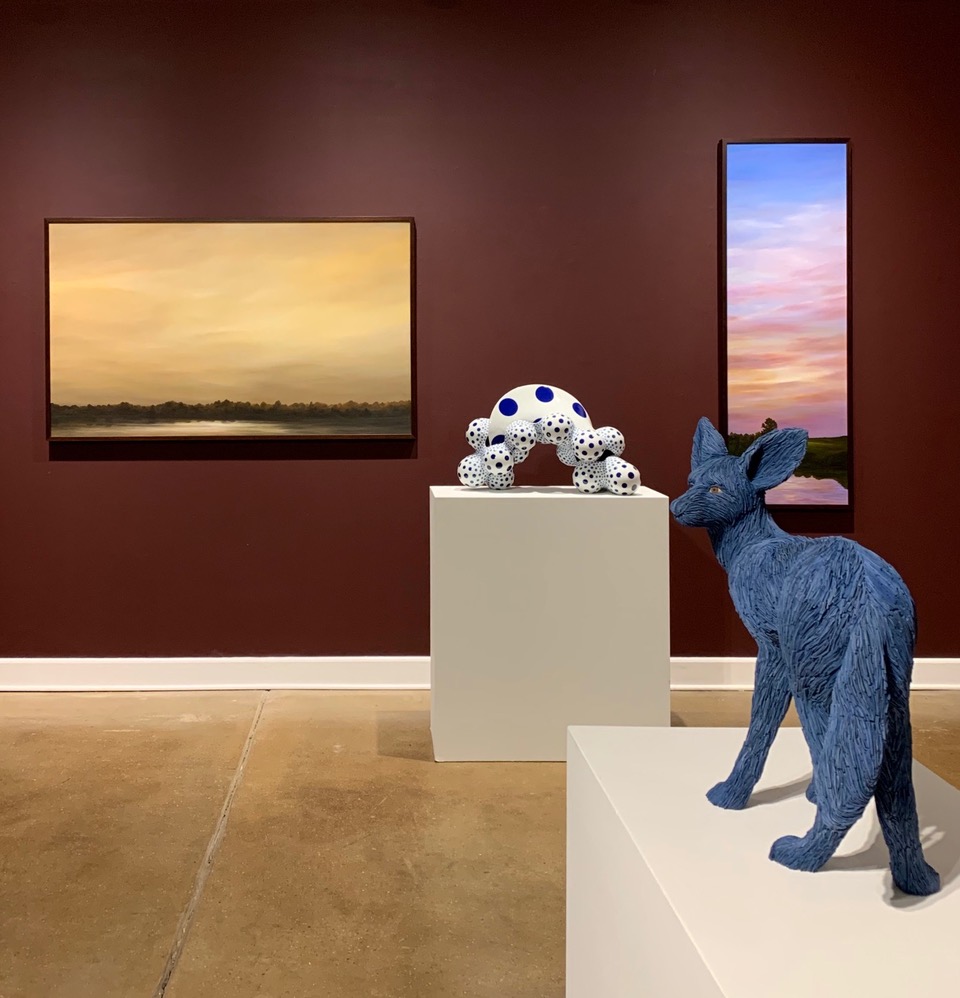 The gallery is now open for public viewing.  The following photos are of the current exhibition, which closes this Saturday, March 6.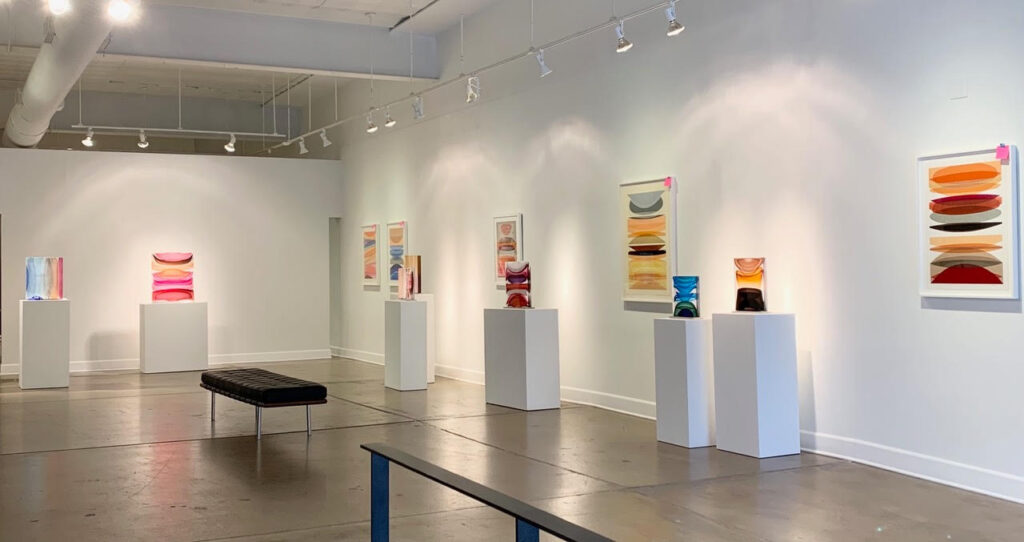 It includes work by Jamie Harris, titled Glass Infusion Blocks and Collages,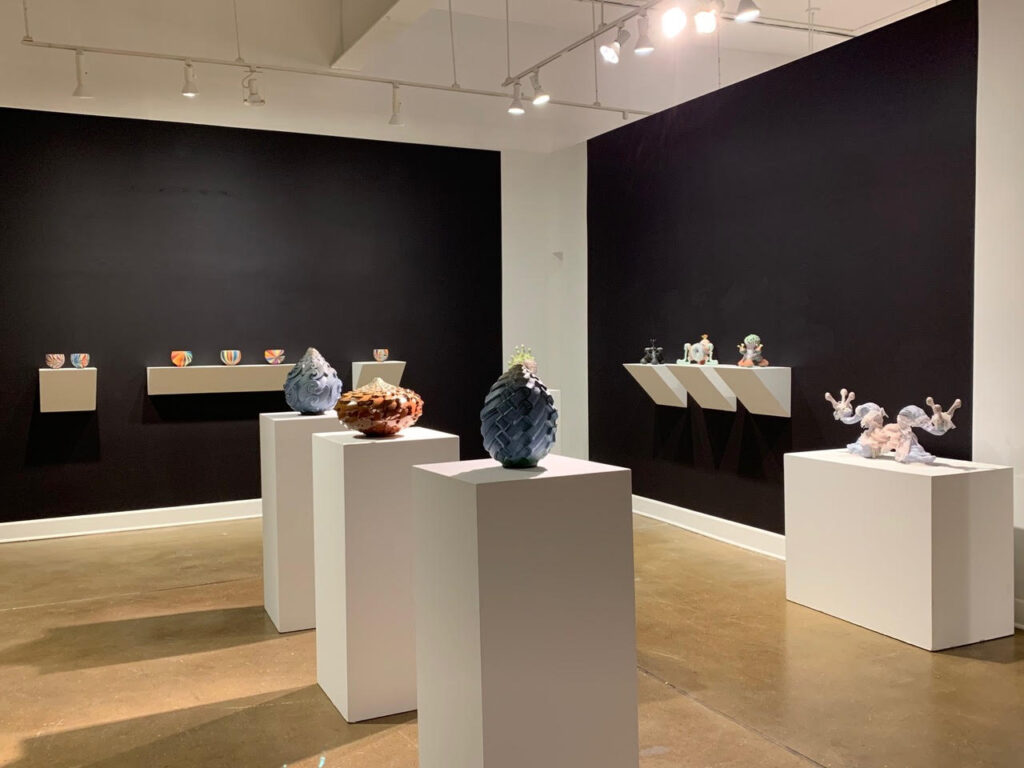 and, Innovative Ceramics, above, featuring works by Jeremy Brooks, Judith Ernst, Kyle Johns, Matthew Mitros, Peter Pincus, and Joey Watson.  For a look at the full list of ceramics in the exhibition, click here.
Reed concluded: "We haven't broken any records but we're still here. We're working harder at maintaining strong relationships and seeing out exhibitions, regardless of the global situation.  We seem to be weathering the storm.  Our schedule is filled through 2021 with some very exciting and risky exhibitions."
Thanks to Duane Reed for the behind-the-scenes look at the gallery business in the time of the pandemic.  I know we'll all be glad to get back to the days when gallery openings on McPherson are regular occurrences.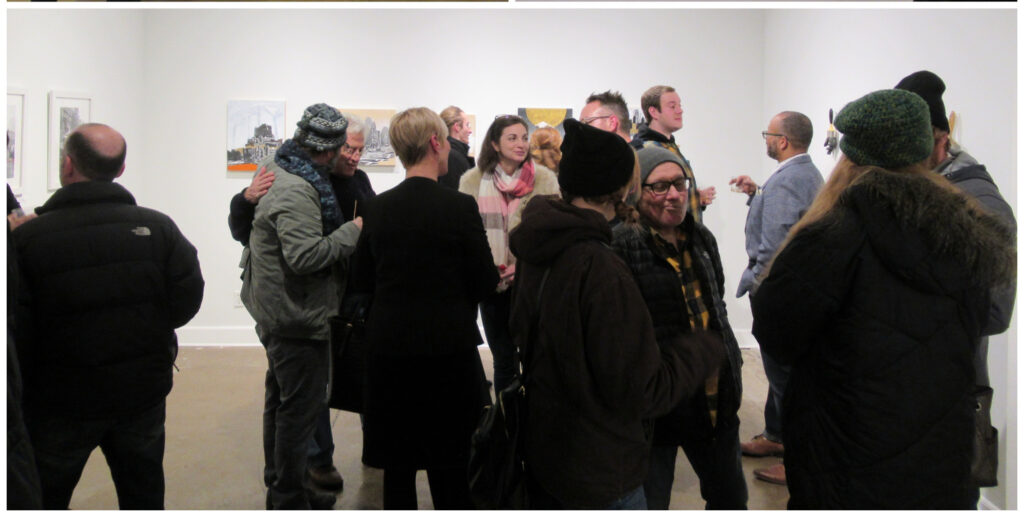 Here is a photo from a February 2019 opening at Duane Reed Gallery when the neighborhood was covered in ice and snow, and expections were that the opening would be a bust.  Instead, the gallery was packed with people happy to be out to view the art, and each other.
Duane Reed Gallery, 4729 McPherson, is open Tuesday through Saturday, 11 to 4.  The current exhibition closes this Saturday, March 6.  Opening March 13, Carol Shinn, internationally known for photo-realistic machine-stitched images.