This post on GiftAMeal is brought to you by CWEnder David Strom, who writes for a number of national IT business publications. (Strom was a mentor to GiftAMeal founder Andrew Glantz, below, when the app was in its infancy.) To learn more about Strom, visit his website: strominator.com or follow him on Twitter at @dstrom.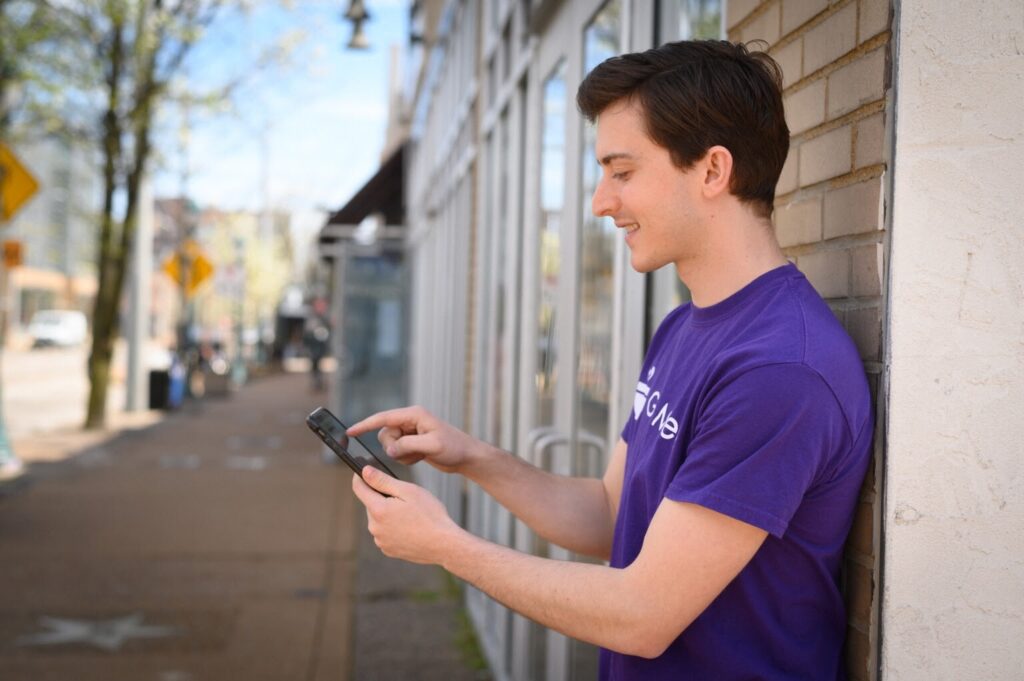 One of the more interesting startups based in the CWE Cortex complex was started by a Washington University student five years ago. Called GiftAMeal, its premise is simple: when you dine out, you take a picture of your food, drink, or receipt with your phone and send it to them. (Here is a short video that shows you how to do it.) That simple act will cause GiftAMeal to donate funds to Operation Food Search and have someone in need receive a meal (1.2 pounds of food). GiftAMeal handles all the mechanics: the restaurant just has to pay a small monthly subscription fee to participate, ranging from $49 to $149.
The idea came from Andrew Glantz. Since he launched the effort, he graduated from Wash U in 2017 and has become a darling of the St. Louis startup scene. He now has 200 restaurant partners — almost all of which are in St. Louis — and has recently passed 500,000 meals given to charity. He has five staffers, several of them full-time, and is hiring a couple of interns as well.
"The pandemic has reinforced what it means to be an entrepreneur," he told me recently. "In other words, to stay scrappy and quickly adapt to changes in the market." One thing that is interesting is that almost all of his restaurant partners have stayed in business during the pandemic. "Two restaurants joined during the pandemic (Zenwich and Revoaked on Euclid). We only had five of them go out of business, including two closed by the Gamlin brothers, sadly. Our partners are relatively stable businesses," he said.
GiftAMeal has been the beneficiary of number startup programs in St. Louis, one of the reasons why Glantz decided to open his business here. His coursework at the Washington University Skandalaris Center exposed him to the startup ecosystem. "Even though I grew up in LA, this ecosystem made sense for me to stick around and build my roots here," he said. Since establishing his venture in 2015, he has raised a $50,000 investment from Capital Innovators in 2016 and won an Arch Grants award in November 2018 and this past May won a $20,000 Global Impact Award at W. U. After having raised $165,000 from angel investors he is now in the middle of a second funding round.
I asked Glantz what he thought was the most unexpected thing he has learned in his five year stint at CEO. "Most definitely it is the power of community support. Being able to get introductions, advice and mentorship (including from David Strom) has made our startup a lot easier," he said. "It is also great to hear personal stories from our patrons on how we have touched their lives, those stories have given us the motivation to grow." What is interesting is how often he hears from potential partners and diners from around the world that want him to expand to their cities.
Another thing has been how the Central West End Association has figured in his support strategy. "The CWEA has been awesome in their support. They discount GiftAMeal subscriptions for their local restaurant members. It is easy for restaurants to become partners: there is a simple online signup form, which will have them working with GiftAMeal the next day.
You might think that GiftAMeal is mainly for smartphone-carrying millennials. And you would be right, but you would also be surprised that some of their most active users are over 55. Partly because of this generational spread, GiftAMeal just completely redesigned their app to make it even easier to use.
Certainly, having more people review menus and pay for their restaurant meals (including takeout and dine-in) via their phones helps to make the GiftAMeal process easier.
Finally, Glantz says even if you don't donate a meal, there are still ways you can help support your favorite restaurant in other ways. "They need your support now," he said." There are links on his website where you can purchase gift coupons to his partnering restaurants.
Thanks so much to David Strom for the update on Andrew Glantz' GiftAMeal app. And many thanks to the many patrons who have been using the app, and to partnering restaurants who while facing stressful times themselves during the pandemic, still manage to help those less fortunate.