Word spread across social media like hotcakes last Friday after a group of St. Louis-based bakers announced they were planning an old-fashioned bake sale to benefit ArchCity Defenders. Campaign Zero, and STL Mutual Aid.
The bakers, Tai Davis (Alchemy Bakery), Meaghan Coultrain (Formerly of Niche Food Group), Simone Faure (La Patisserie Chouquette, the link is to an entertaining Sauce Magazine interview), Sharon Harter (Bellwether and Polite Society), Hannah Kerne (formerly of Vicia), and Shimon Otsuka (Nathaniel Reid), named the fundraiser Bakers for Black Lives and enlisted Alex Head, proprietor of The Vino Gallery, to host the event on the patio at 4601 McPherson.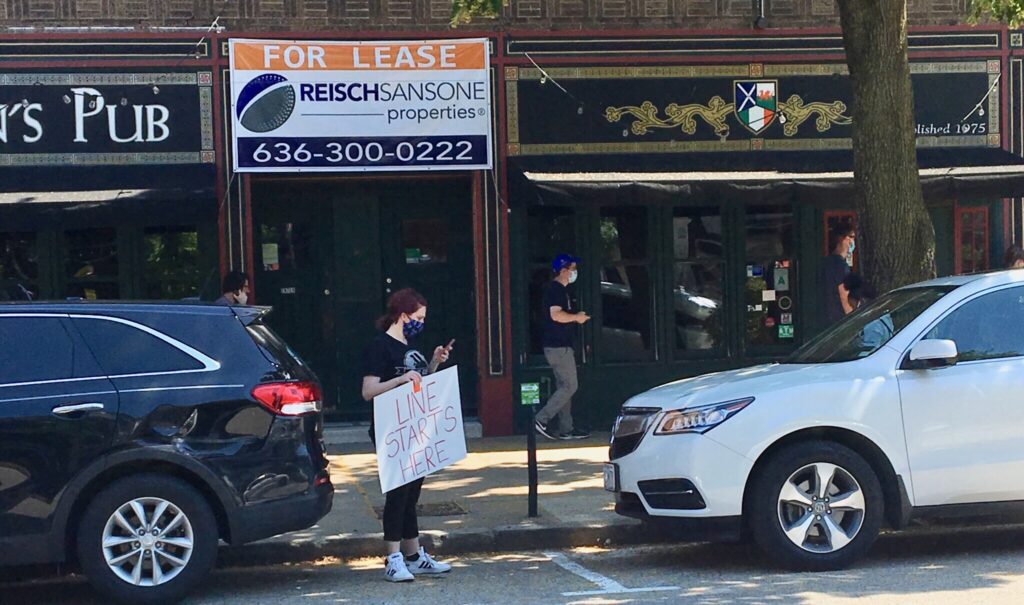 The event began at 10 a.m. By 10:20 a line stretched from The Vino Gallery to the former Llyweyln's Pub.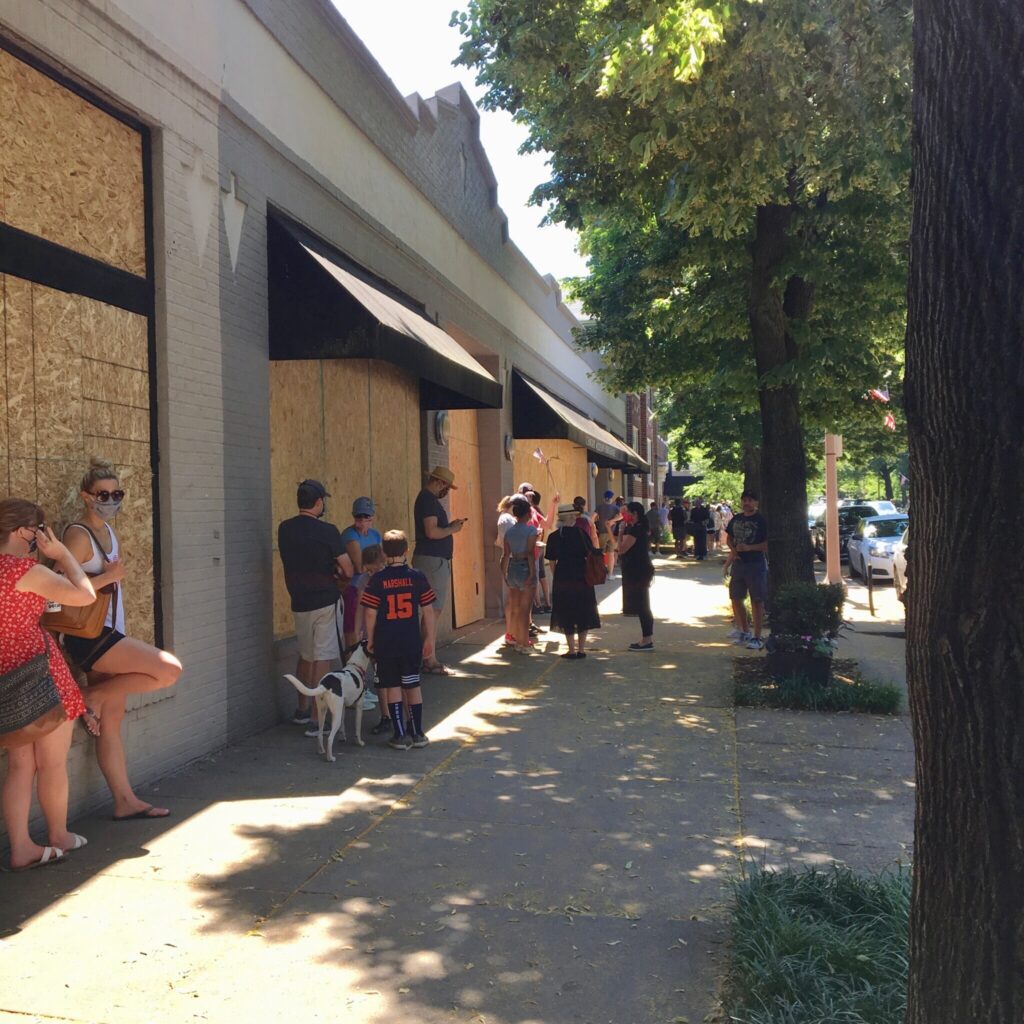 Examining these photographs as I post them, I realize how quickly I've adjusted to the latest version of normal. People wearing face masks standing 6′ apart alongside boarded-up galleries and shops.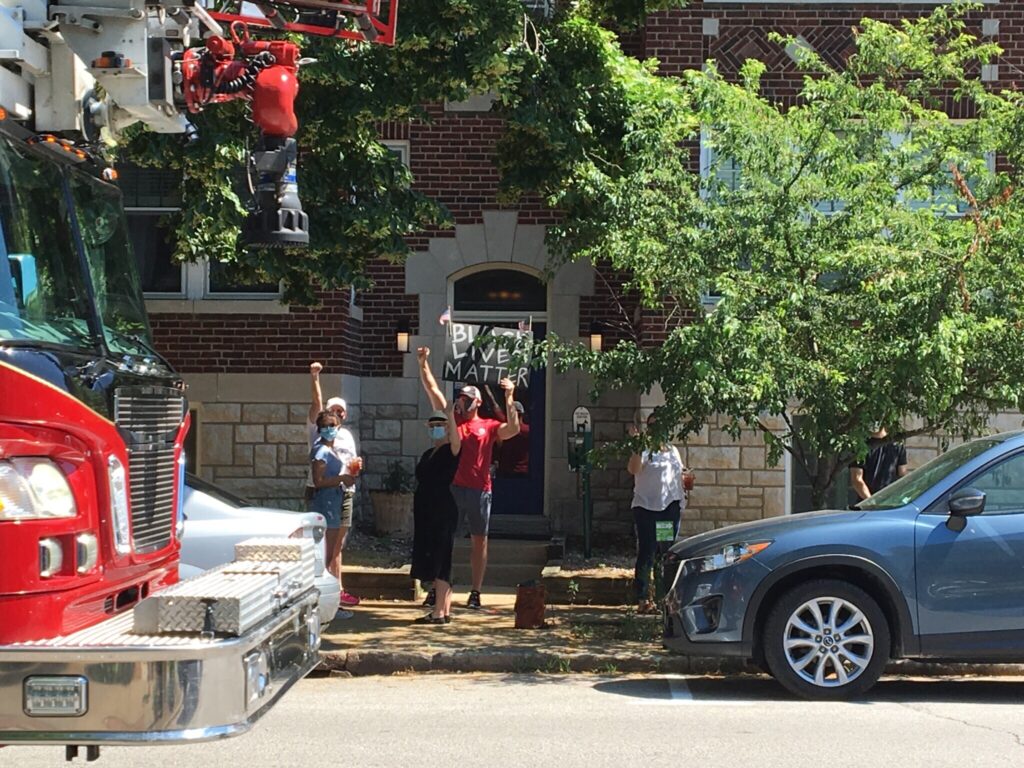 Cheers erupted from the crowd when a fire truck from the neighborhood's Engine House 28 traveled east on McPherson.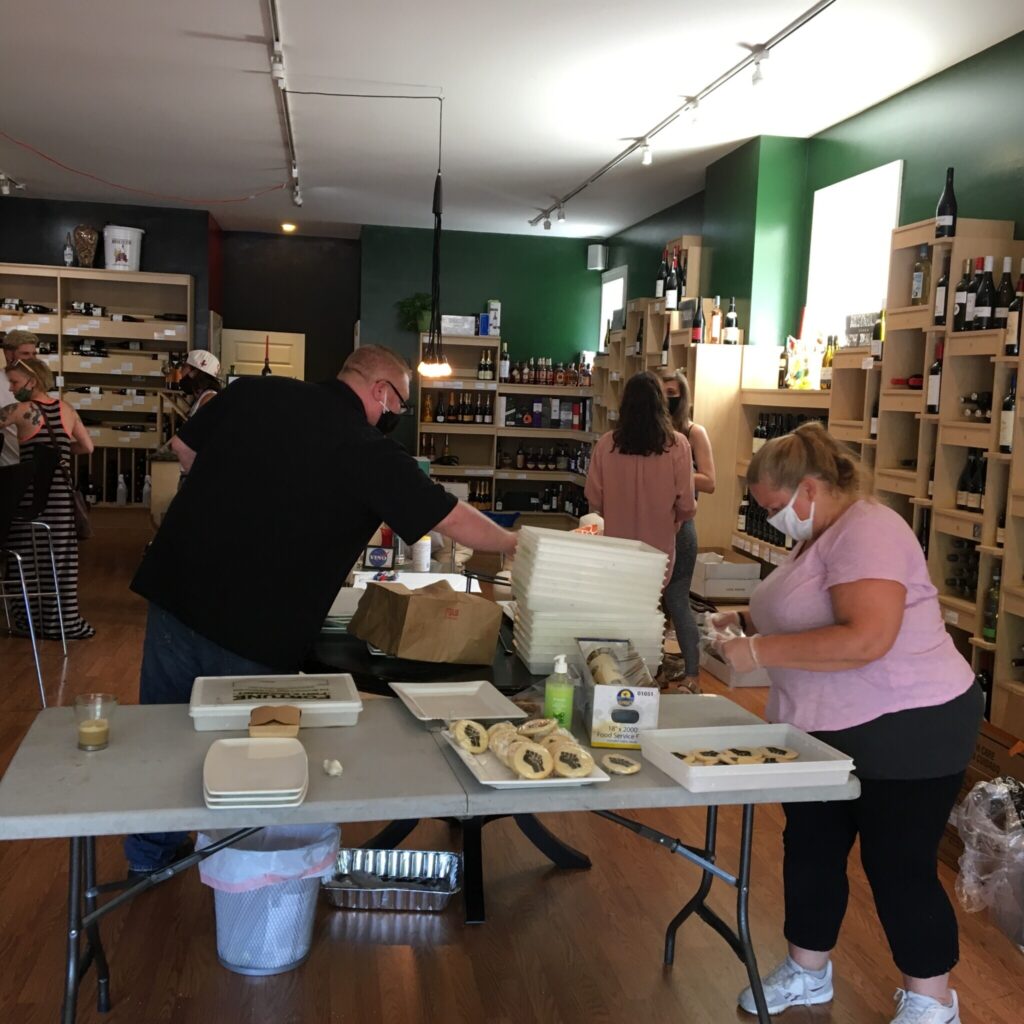 This was the scene inside The Vino Gallery as organizers arranged baked goods to bring out to the patio for sale. The CWE's The Cup donated cupcakes and Insomnia Cookies participated as well.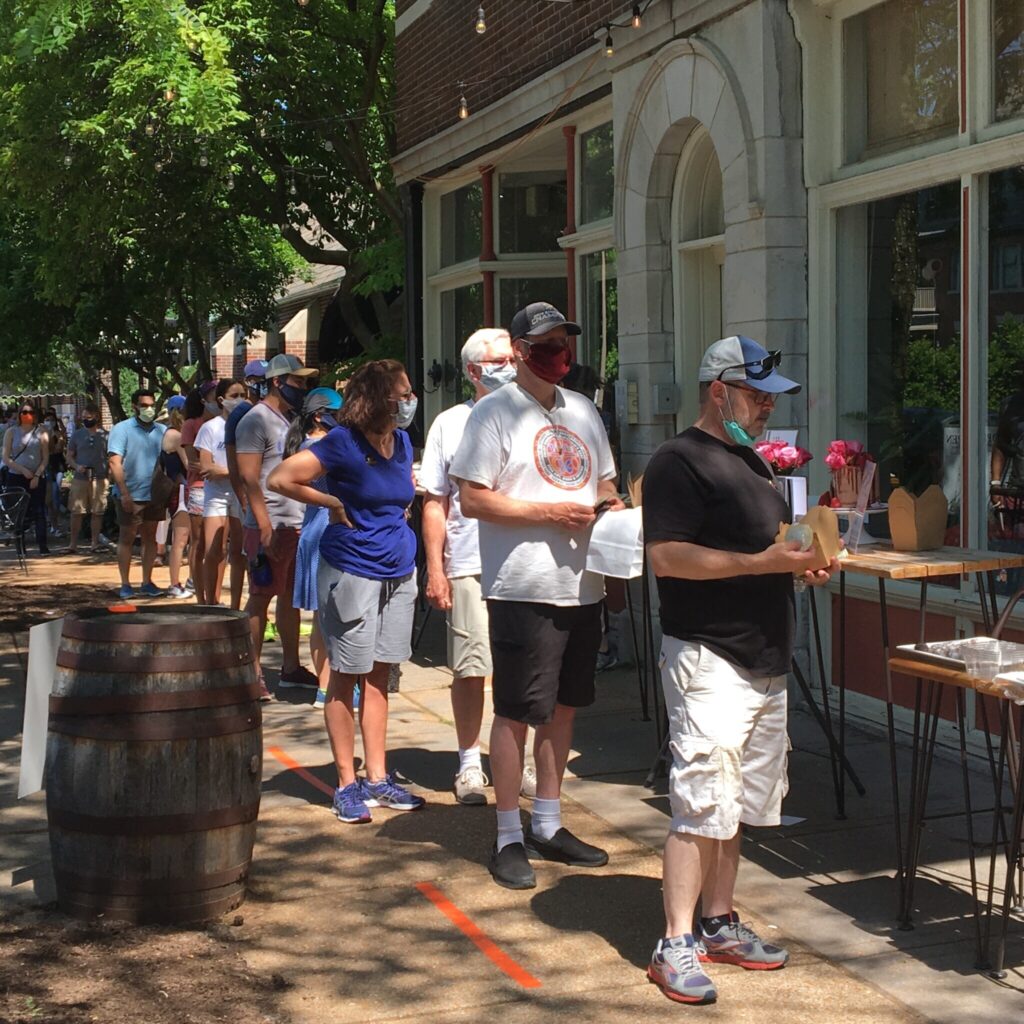 The event was scheduled to last until 2 p.m. but by noon all the pastries were gone, and because shoppers were invited to pay what they wished Bakers for Black Lives raised $12,000 in 2 hours!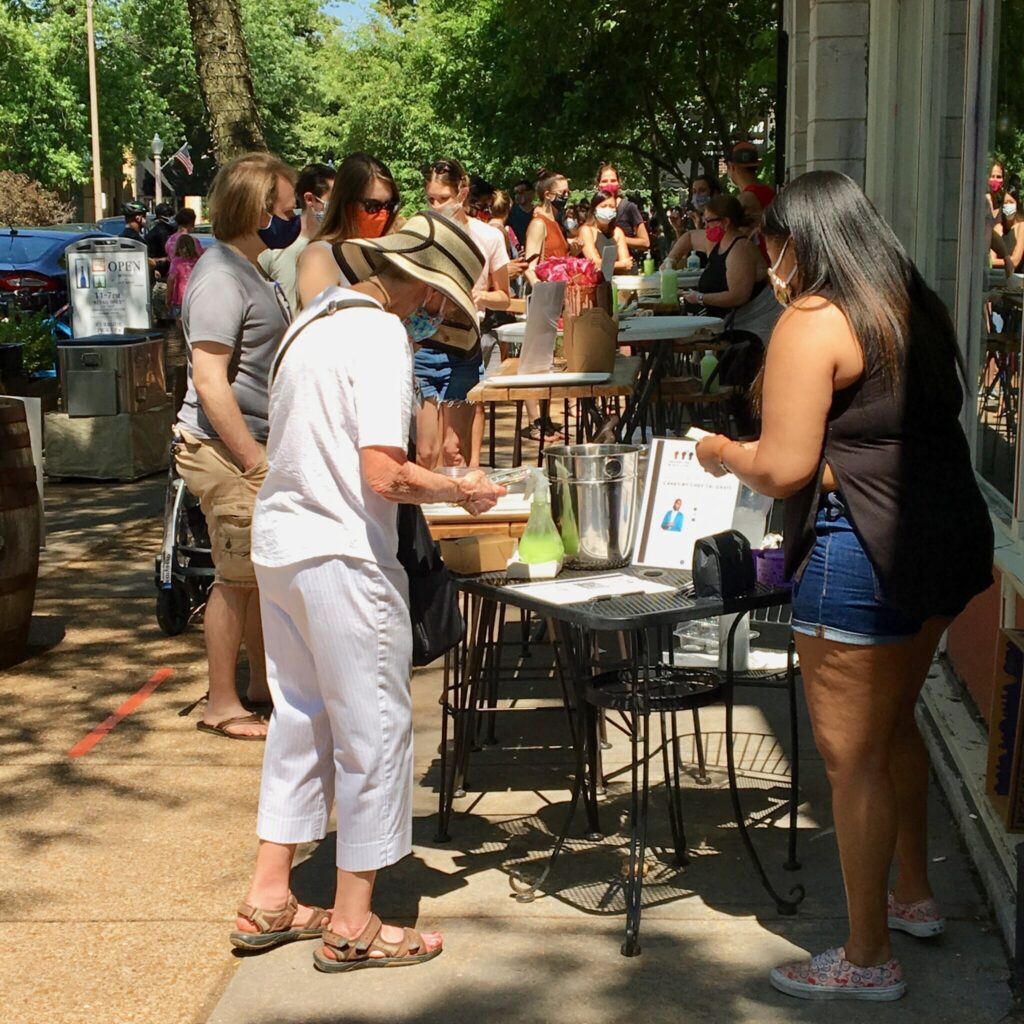 People continued donating long after the pastries were gone. I've copied part of organizer Hannah Kerne's post on Facebook describing how the morning went. For more information, and how you can still donate, here is the link to Bakers for Black Lives Facebook page.
Within 2 hours, we raised more than $12,000 for ArchCity Defenders, Inc., STL Mutual Aid, among other racial justice organizations. I wish Facebook allowed us to bold that number. Before we opened at 10am, people had donated $1,000. By 10:30am, we were at $5,000 and had to cut off curbside pickup because our 1,500 inventory of baked goods was running out and the line was more than 2 blocks long. 1 hour into the event at 11am, we had raised $7,000. By 11:15am, we had to tell people they may not get baked goods but encouraged everyone to still donate. By 11:30am, we ran out of baked goods and were at $8,000, but people wanted to stay in line to donate for the cake raffle. By noon, people were still stopping by to donate and donating online. We soon realized that we had raised more than $12,000.
Reminder that this event was supposed to go until 2pm, and dozens of people continued to donate to get us to this number. Hundreds of people respectfully wore masks and socially distanced the entire time and joined in chants and applause as we ran down the sidewalk to announce the new donations numbers.
St. Louis showed the f*ck up today, and it's clear there is a hunger to do more to ensure that tomorrow, and every day after that #BlackLivesMatter, and that the anti-racism work goes so far beyond a bake sale and its roots live far deeper than police brutality.
Also, we started this because food is our love language, and it turns out, it's everyone's love language.
We have already received messages from chefs and bakers around the country wanting to have similar events, and we plan to have future events, (hopefully around Juneteenth!), so please follow us on Bakers for Black Lives and on Instagram at @Bakers4BlackLives.