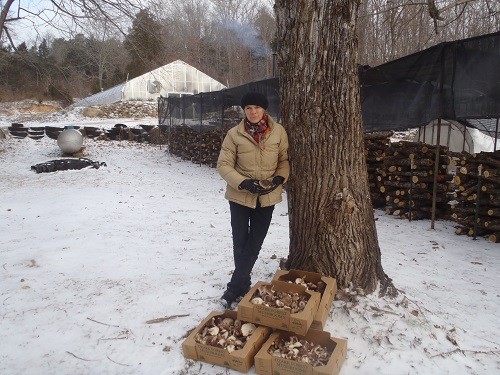 In March of 2017, I interviewed Nicola MacPherson, founder of Ozark Forest Mushrooms, at her CWE home office, which you can read again here. Her products were sold to many St. Louis area restaurants as well as grocery and healthfood stores. This is the email that arrived in my mailbox this afternoon:

With the closing of restaurants due to the coronavirus we have lost 80% of our business.
" From our Porch to your Table" is available at our CWE home office location!
Fresh from our farm mushrooms, dried mushrooms, condiments and frozen products placed in sterile coolers.
One person has picked and packed the orders. No supermarket here!
Just email us your order (nicola@ozarkforest.com) and we will take credit card payments over the phone Tel 314 531 9935 (9am-5pm), or Venmo, the link on the form!
Pick up this Friday 4/3/2020 between 3-5pm
Please share this email with friends, family, and neighbors.
CLICK ON LINK below for ORDER FORM
https://docs.google.com/spreadsheets/d/1Myqu9yp3ygXq6FFHcaN6MZv7aGtBPrYASFNTmzNZe3A/edit?usp=sharing
PS: I asked if Nicola had any mushroom logs so we could grow our own mushrooms outside. She thought she might and if so, will add them to the list next week. In the meantime, she has lots of fresh mushrooms she needs to move, so check out the list above.