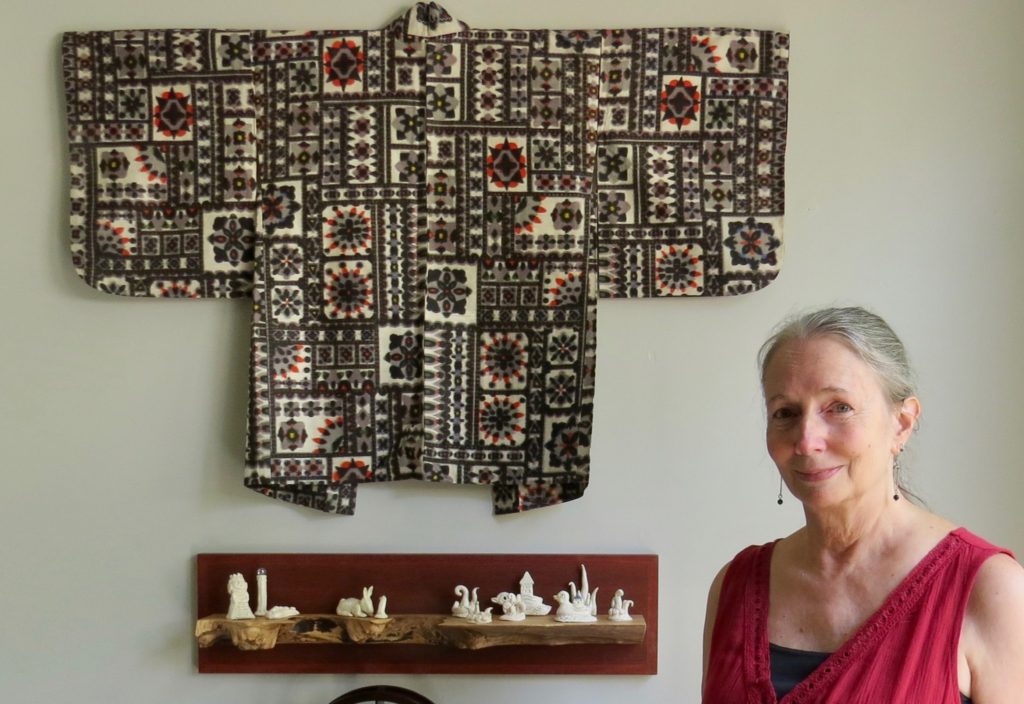 Every 4 years Innovations in Textiles, a celebration of contemporary fiber art and its makers, takes place in the St. Louis area. Starting in August, over 45 regional non-profit and private art galleries, art organizations, museums, curators and educators have collaborated on exhibitions and programs to showcase contemporary fiber art, textiles and fashion.
This Friday, September 27, CWE-based artists Wendy Wees, above, her husband Milo Duke (see earlier post here), and Linda Horsley (see post here) are presenting Japanese Meisen Kimono & Needle Festival Tributes at HorsleyArts Gallery, 4374 Olive St. from 5 to 8 p.m. 
Additional textile exhibitions can be found at Duane Reed Gallery, Barrett Barrera Projects,  St. Louis Art Museum, Contemporary Art Museum, and 25 other venues (information here).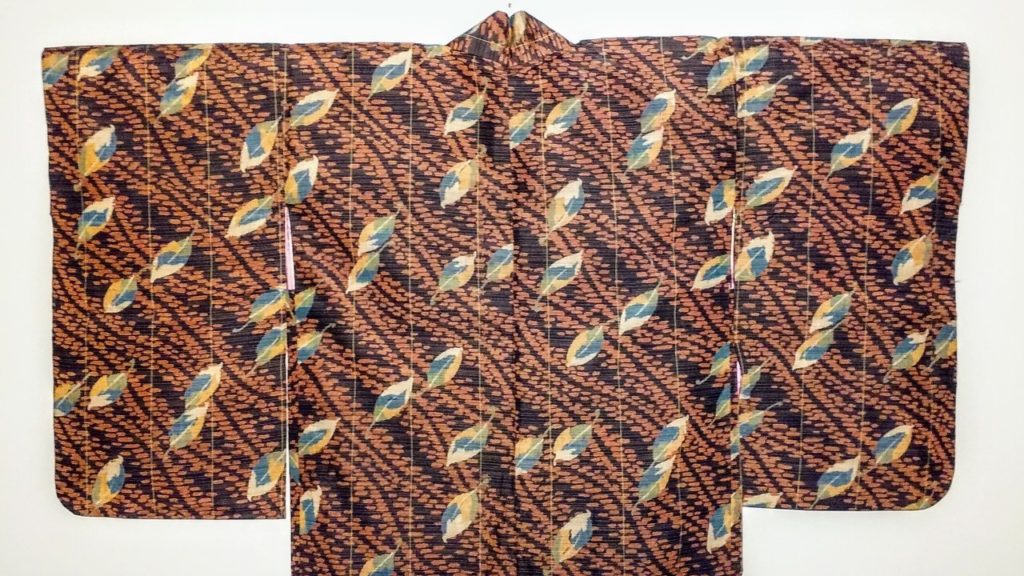 Wendy Wees began collecting kimono in 1980. From 1986 to 2006 she was gallery assistant for Kagedo Japanese Art in Seattle. Kagedo specializes in fine Japanese art, with a focus on the transition to modernism from the end of the 19th through the 20th century.  During her years with Kagedo, Wees had the opportunity to acquire an inspiring and eclectic group of textiles including hand-woven Tamba-fu, Oshima silk, and Asa, cloth woven from bast fiber.
For this exhibition, Wees chose 20 meisen kimono from her collection of 50 Japanese kimono and textiles.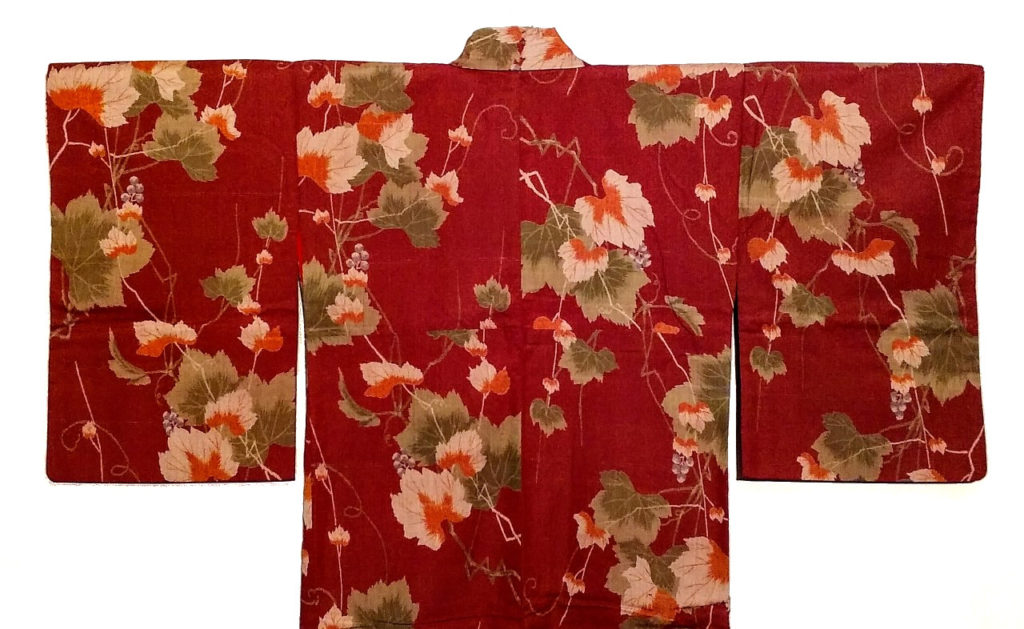 When they were first created in the early to mid-20th century, meisen kimono, examples above and below, represented a huge textile innovation. Following WW I mechanization brought new spinning, chemical dyeing, and weaving technologies to the fashion industry in Japan. During that period textile designers were inspired by bright colors and bold geometric designs found in Western art movements including Art Nouveau, Art Deco and Abstract Art. They enjoyed a huge following among young urban working women who loved their bright colors and lower cost.
I learned so many more fascinating things about meisen kimono on my visit to Wees' and Duke's CWE studio. Meisen patterns are stenciled onto warp threads prior to weaving. Unmarried women wore big, bright patterns. And, I learned, there is a difference in how the sleeves on men's and women's kimono were constructed. Women's kimono have open sleeves that serve as pockets, while men's sleeves are sewn closed.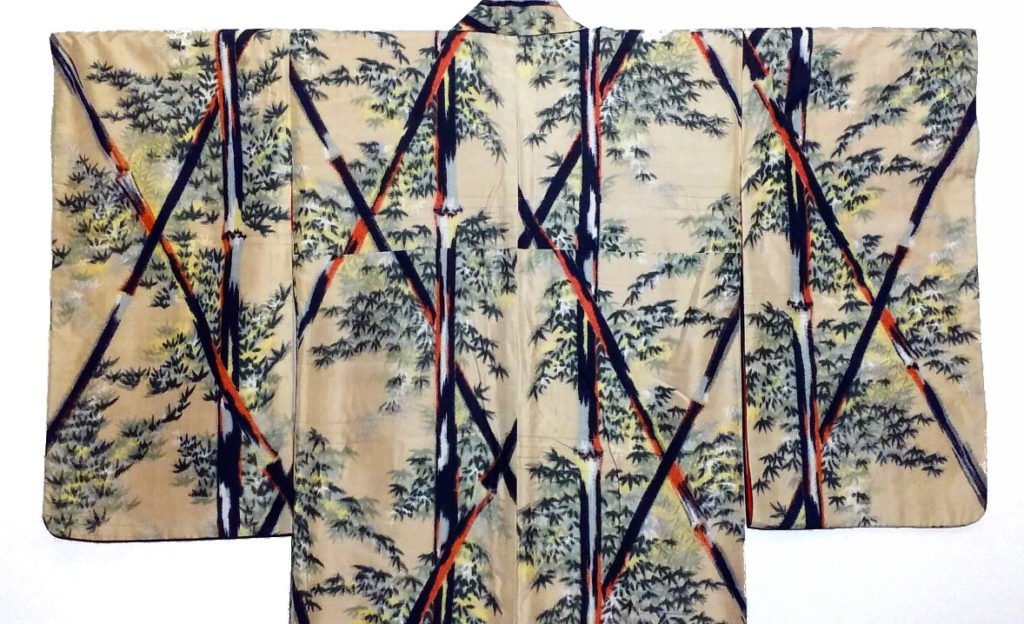 After World War II meisen fell out of fashion, and currently only a few artisans produce this fabric. By the end of the 1950s there was a decline in kimono wearing altogether.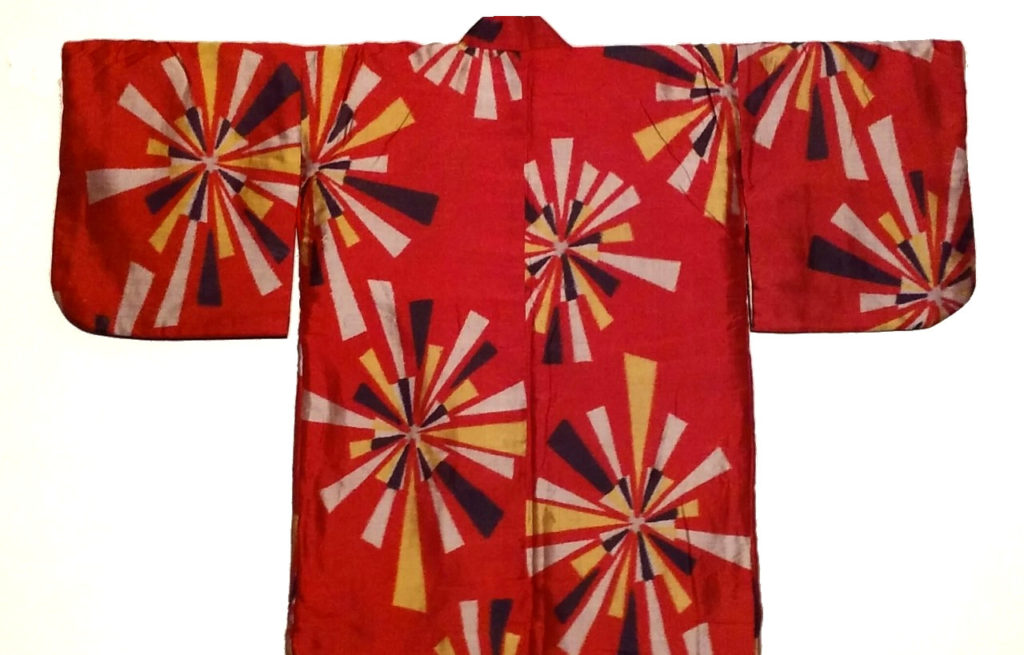 Nevertheless, over the past decade meisen kimono have seen a resurgence in popularity. Some museums have assembled meisen collections, and art collectors use them as wall art.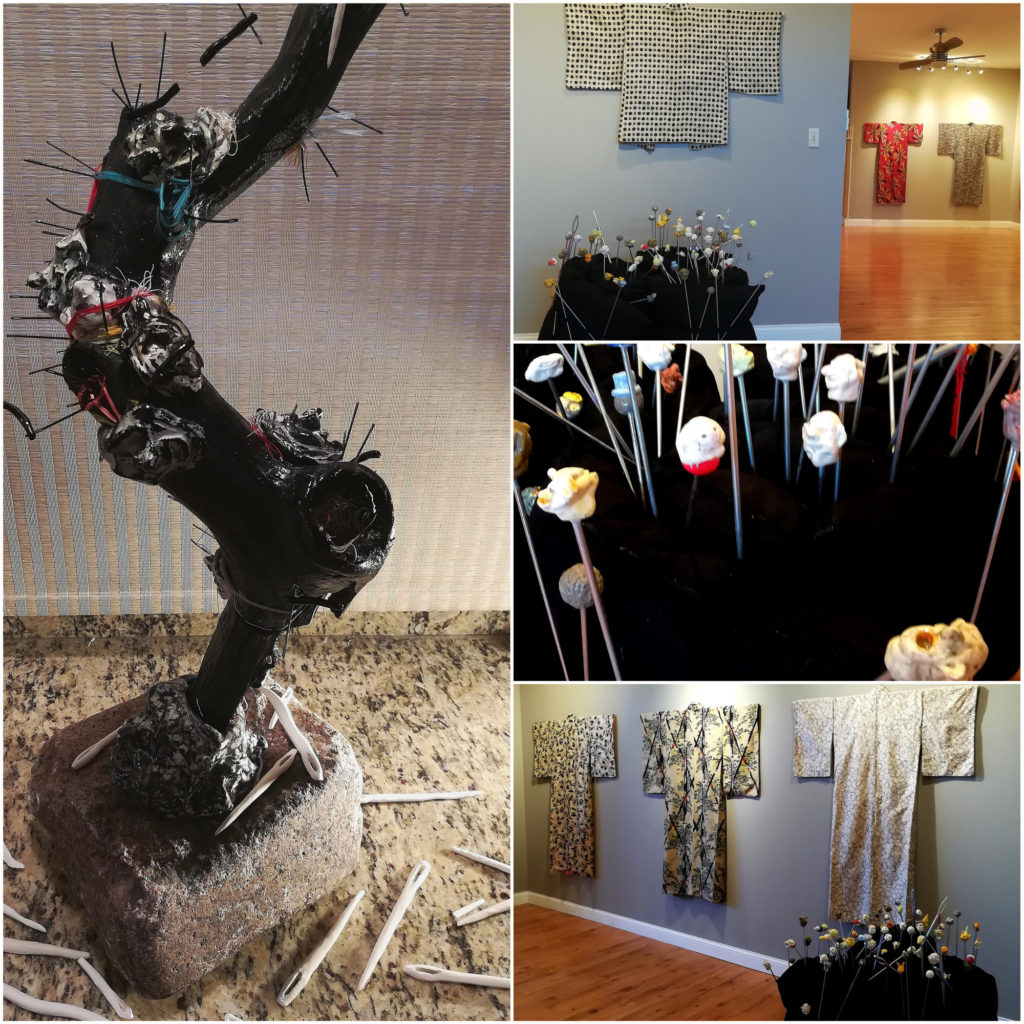 A related exhibition will also be on view at HorsleyArts Gallery this Friday. Linda Horsley has created an homage, above left, to Hari-Kuyo, the Festival of Broken Needles, a 400-year-old Japanese memorial service held to comfort the spirits of old or broken needles. People bring needles that were used during the previous year to designated Shinto Shrines and Buddhist Temples to celebrate the service of these small inanimate objects.
Visitors to the gallery are welcome to bring their bent and broken needles and place them on the shrine to honor this tradition.
There is also Of Pins and Needles, an homage to Sewists (sew+artists). The artists have topped knitting needles with unusual clay sculptures (see middle photo above).
Japanese Meisen Kimono & Needle Festival Tributes opens at HorsleyArts Gallery, 4374 Olive St., Friday, September 27 from 5 to 8 p.m. Until the exhibition closes on November 2, viewing is by appointment, (314) 243-3879. The gallery will also be open during the international Surface Design Association's biennial event October 3 to 6. SDA is partnering with St. Louis-based Innovations in Textiles 2019.
Finally, Wendy Wees is interested in selling her collection of 50 Japanese kimono and textiles. For information, contact her at weeswendy@hotmail.com.