It's been a while since I've assembled information about shop and restaurant news in the neighborhood. There have been occasional comments on the nextdoor website that the neighborhood seems to have lots of vacancies. Yes some shop windows have been covered in brown paper, but that doesn't mean nobody's home. In fact, there is lots going on. Here's the good news: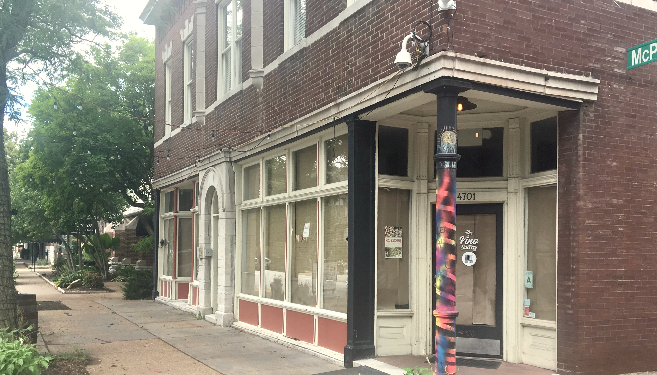 For instance, The Vino Gallery closed last Friday, August 9th, for "a mini-makeover" that included a few repairs, some fresh paint, and a little rebranding. Proprietor Alex Head also mentioned that they will be adding small plates to pair with their stellar selection of wines. The new art on a post at the entry is a sign of what's to come. There is a soft opening tonight, but the big reveal is in full bloom tomorrow, Saturday the 17th, starting at 1 p.m.
The Vino Gallery, 4901 McPherson.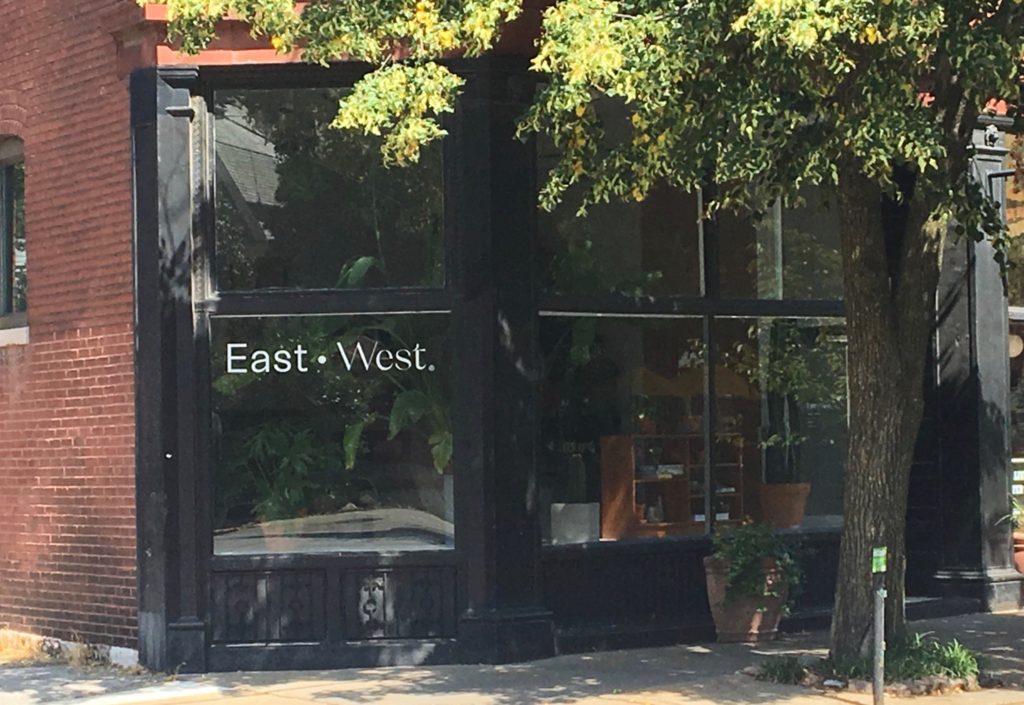 East•West. at 387 N. Euclid closed in July for some renovations and rebranding after the business sold to Roy Brady, a customer of the original owner, Brian Simpson. Simpson opened the upscale men's clothing and furnishings shop in August 2016.
Brady said that as he and Simpson chatted during his visits to the store to shop, they discovered that each was looking for a change in career. Brady wound up purchasing the business. Simpson remains in the background as an advisor.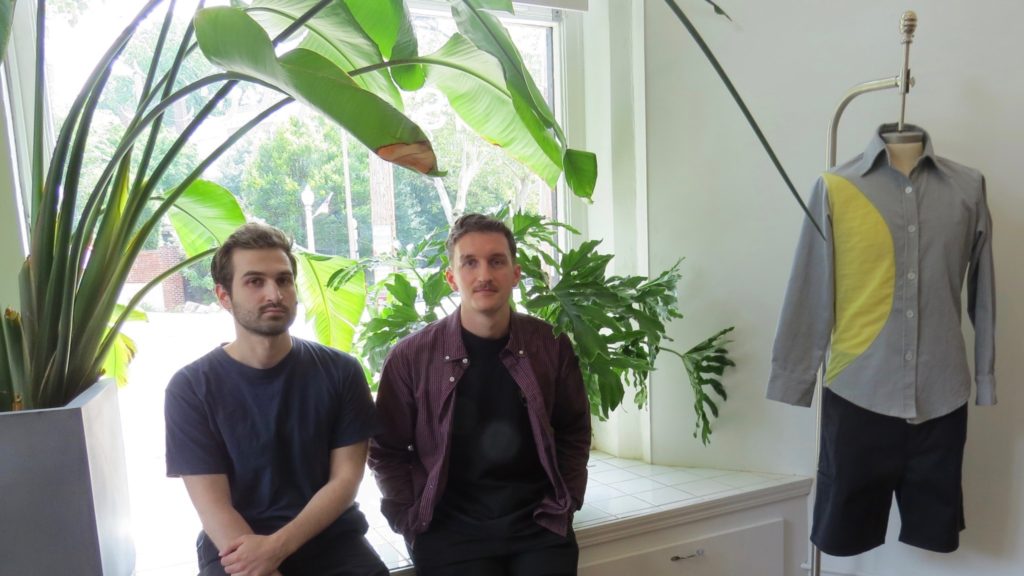 Owning a shop is quite a switch for Brady, right, who moved back to St. Louis from California and was working with his sister Nora at Blueprint Coffee. Brady said that the transition was seamless, thanks to Trevor Kirkland, left, who had worked for the previous owner.
Brady will be adding more brands over the next couple of months but said he envisions East•West. as much more than a clothing store. He is bringing local designers and makers into the merchandise mix and wants the shop to be a welcoming space for the community, hosting events to attract an eclectic group of people.
The event aspect got off to a great start when the shop reopened earlier this month. A former St. Louisan brought his line of clothing called Huey Lewis USA from LA for the celebration. A Huey Lewis USA design is featured on the mannequin above.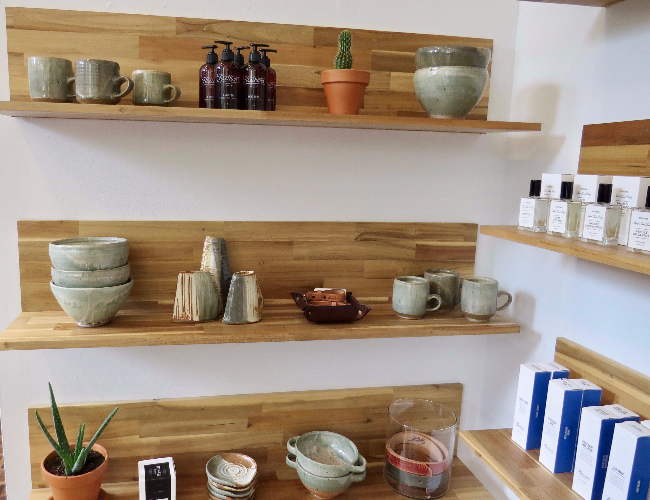 East•West. stocks home goods too, including Boda Clay  pottery created by Brady's girlfriend, Molly Svoboda. Prices for spoon rests, mugs, bowls and colanders range from $18 to $54.
Branding for the shop, including a new logo and website design, is by CWE-based Visitor Assembly.
East•West. , 387 N. Euclid, Tues.-Sat. 11 to 7, Sun. 12 to 5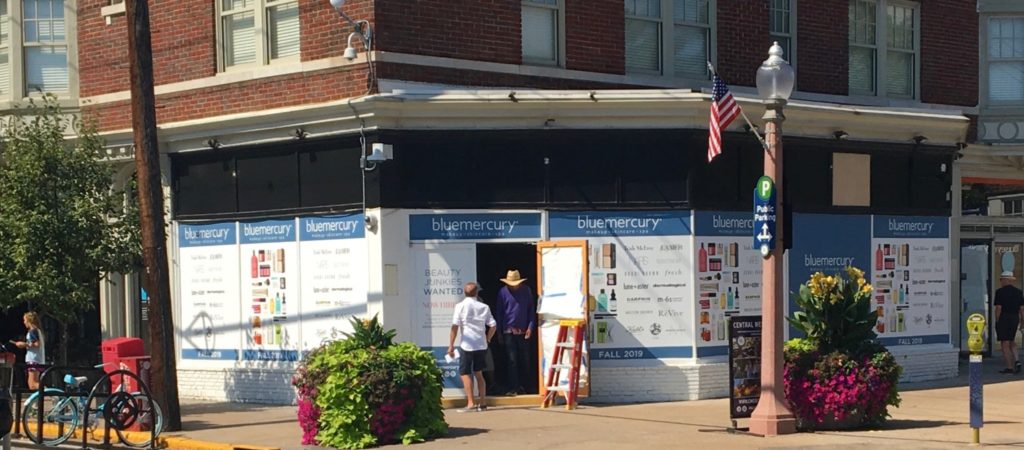 After months of speculation regarding who would succeed Coffee Cartel in the prime corner location at Euclid & Maryland, construction has begun in preparation for a fall opening of bluemercury, a national make-up and skin care chain that has 30 locations around the Midwest and Texas.
There's been a cry for more retail businesses in the CWE for years, so I was a little surprised when a male neighbor asked, "Do you think this 'blue' thing is going to work?"
My response: "Are you kidding? You've obviously never had to drive to the Galleria for a lipstick. Make-up in the CWE? I know I'm not alone when I say I can't wait!"
There are more openings on the horizon. News is expected soon about Barrett Barerra's (projects+gallery) latest projects on McPherson, where they are re-purposing the former Shelton Davis Gallery at 4724, and Arlene Lilie's building at 4739, which most recently housed Selkirk until the auction house moved downtown to Washington Avenue last fall. Cocina Latina, a Peruvian restaurant, has opened at 508 N. Euclid. Balaban's is returning to the CWE and opening on the second floor across from its original location, now Up-Down. Salt & Smoke is opening next to Mission Taco. And Commerce Bank Connect has opened a fully automated facility at 54 S. Euclid, next to Shake Shack.
Good news indeed!
With all the hustle & bustle evident in the neighborhood, it's refreshing to stumble across a scene like the one that follows. At its essence, it's the people who live here that make the CWE such an interesting neighborhood. It was early one Sunday morning when I was delighted to find a dressed-up mother and daughter peering in the windows at Left Bank Books.  Simple pleasures are the best.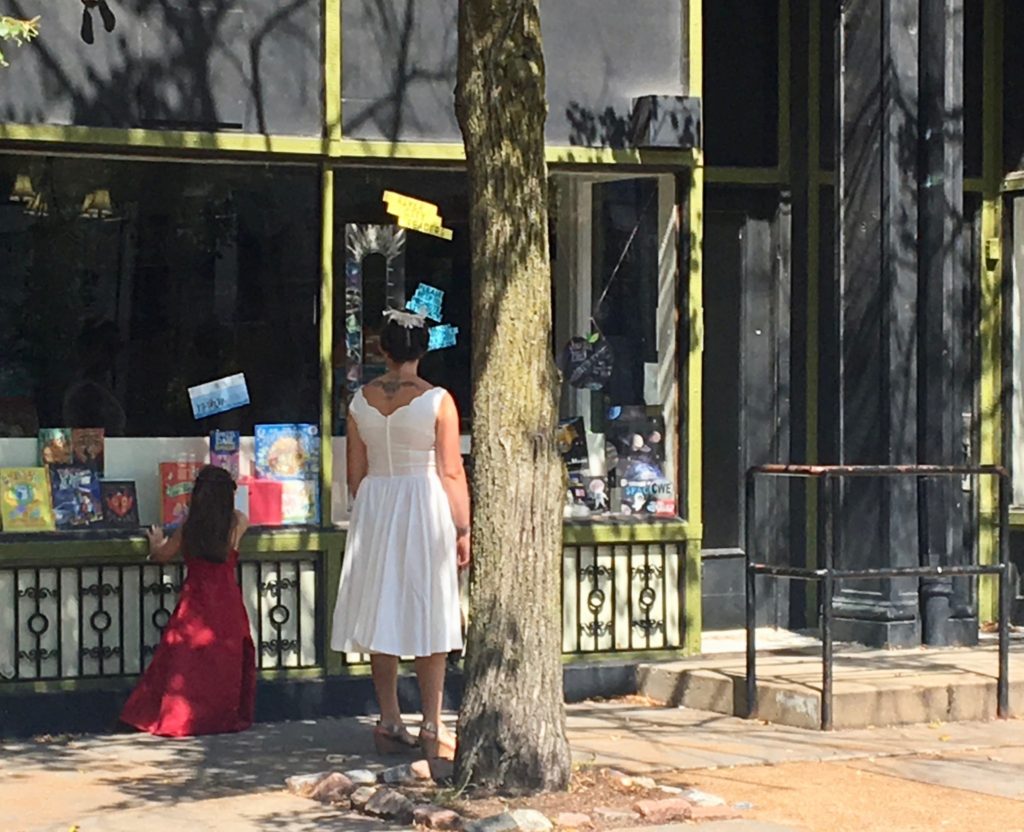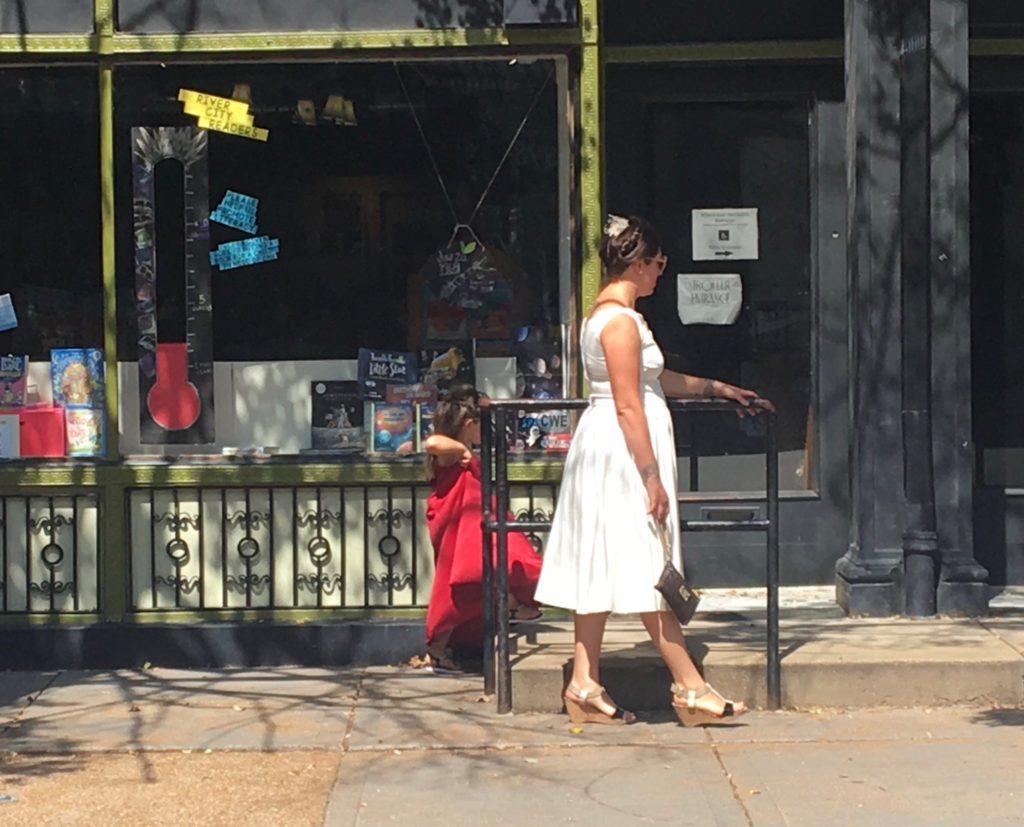 Have a great weekend.