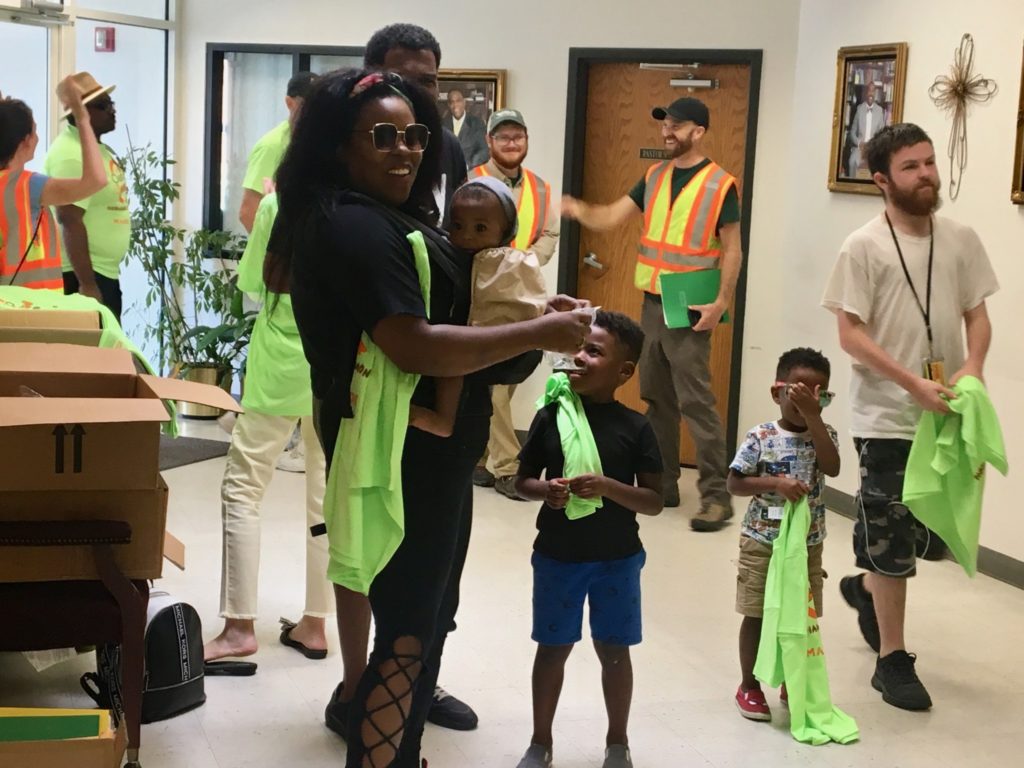 On a hot Saturday morning early this month, a large group of volunteers gathered at Lane Tabernacle CME Church at 910 N. Newstead to "Clean up and Green up the Hodiamont Tracks." The Tracks, a 3.5 mile former streetcar/bus right-of-way just north of Delmar, is being considered for development by Great Rivers Greenway, the public agency that connects the region with a system of greenways.
Residents of the 7 neighborhoods that border the Tracks, which extend from Vandeventer to Skinker (near Gwen Giles Park), have expressed overwhelming support for the plan. When considering an extension to their system, a major concern of Great Rivers Greenway is ongoing maintenance. To demonstrate how seriously the affected neighborhoods want the project to be adopted, Judith Arnold, a resident of the Vandeventer neighborhood, and a committee of about 20 people, organized the clean-up day for August 10, and sent out a call for volunteers.  Judith hoped for 200 people, 209 answered the call.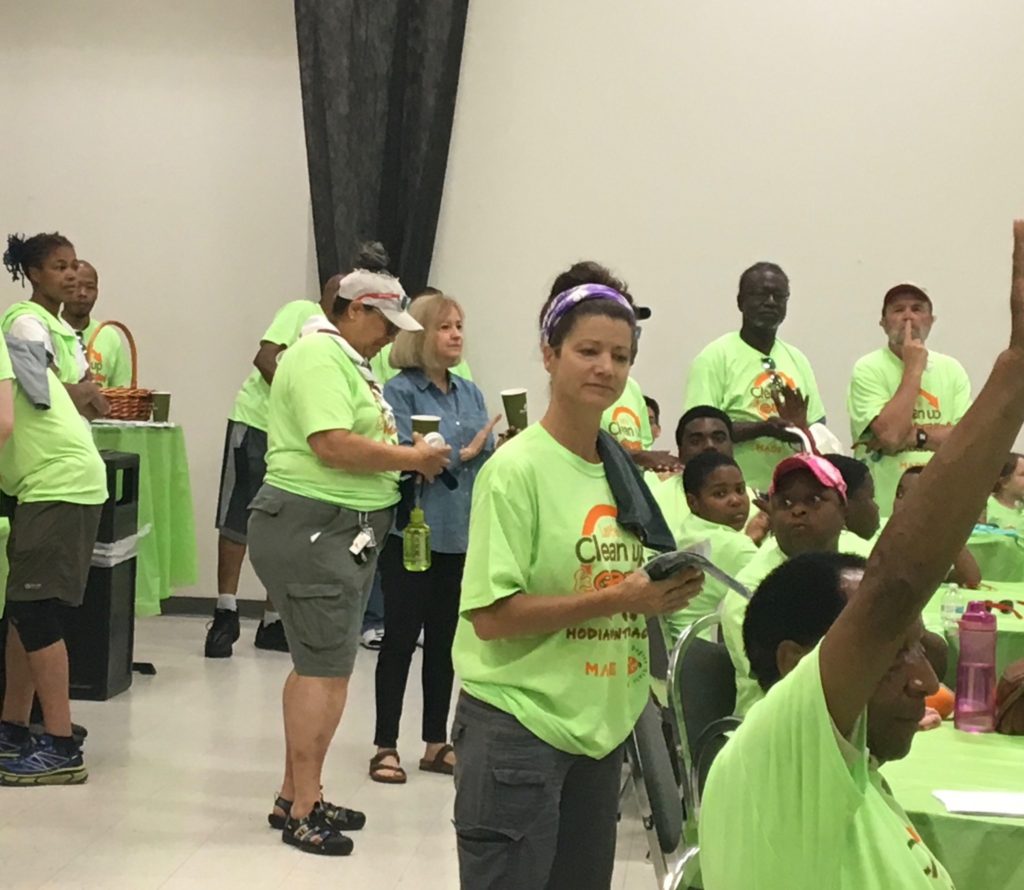 Mayor Lyda Krewson was there for the kickoff, middle above, and extended her gratitude to the volunteers for their participation. There were residents from the 7 neighborhoods that border the Tracks, groups from Churches United in the 18th Ward, several Boy Scout and Girl Scout Troops, staff from Great Rivers Greenway, Brightside St. Louis, and Mission STL.  I met a mother and her 10 year-old daughter who drove in from Fenton to participate after seeing the event on local news. And a few of us were there because we recognize what a positive impact the development of this greenway just north of us will have on the entire community.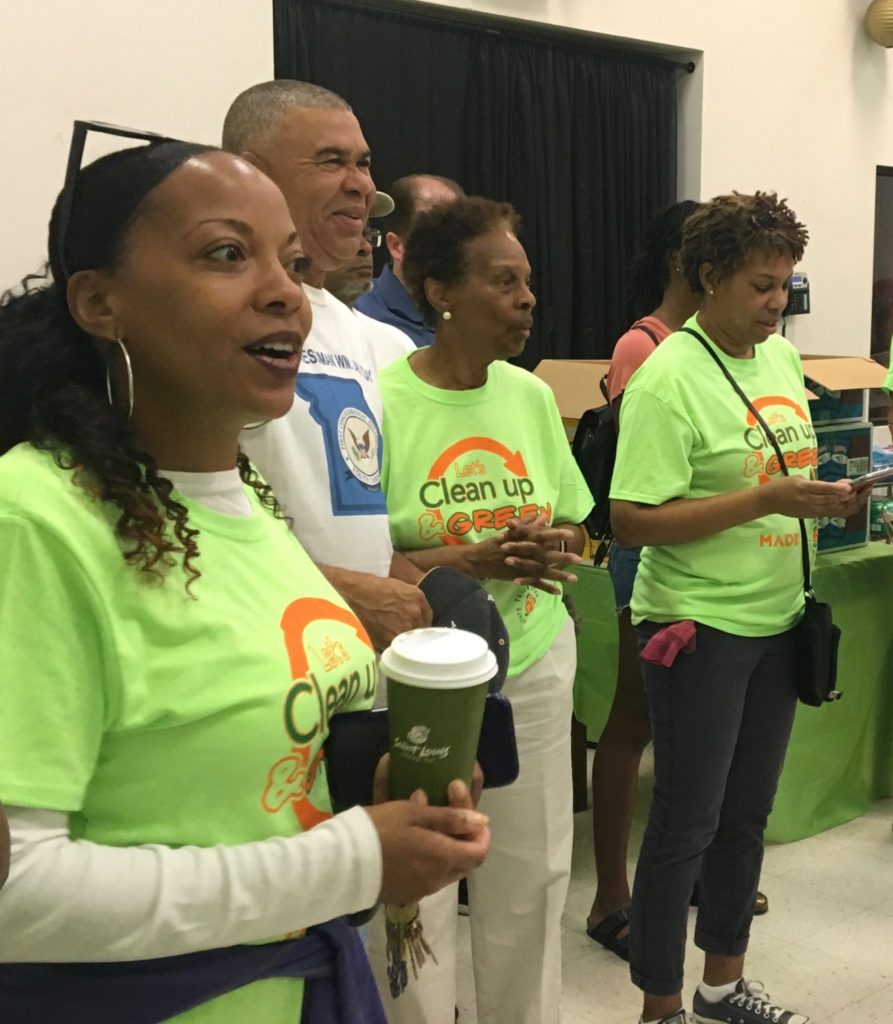 From left, 26th Ward Alderman Shameem Hubbard, whose Ward includes blocks that border the Tracks, and 1st District Congressman William Lacy Clay. Congressman Clay said he grew up on a block of Cabanne, which is in Hubbard's Ward.
Others who came to show support for the event included 18th Ward Alderman Jesse Todd, and 28th Ward Alderwoman Heather Navarro and her family.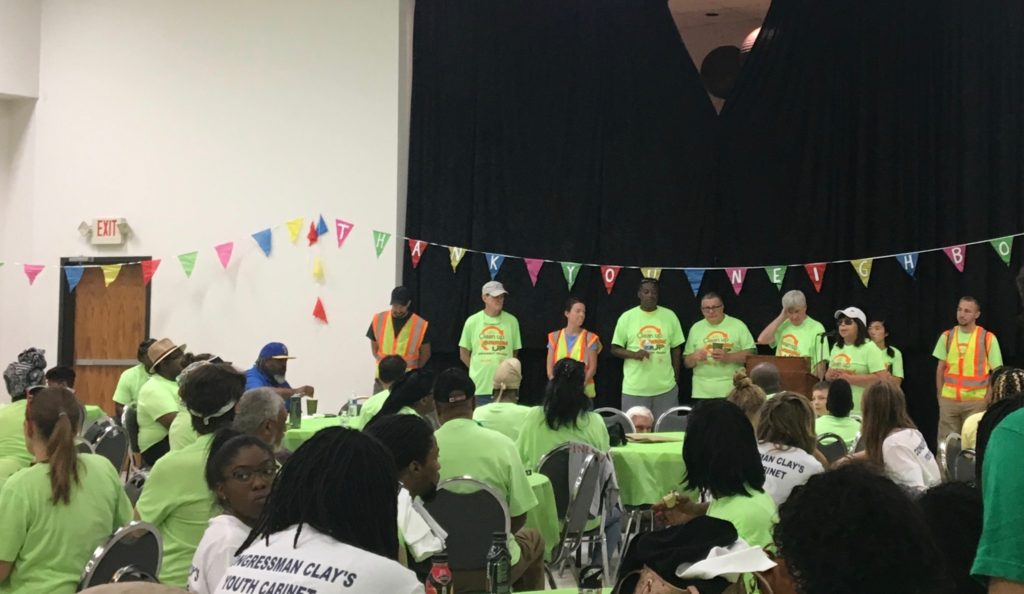 Volunteer Coordinator & Event Organizer Judith Arnold (at podium above right) introduced 9 field supervisors (standing behind her), who were each assigned a section of the Tracks and a team of volunteers.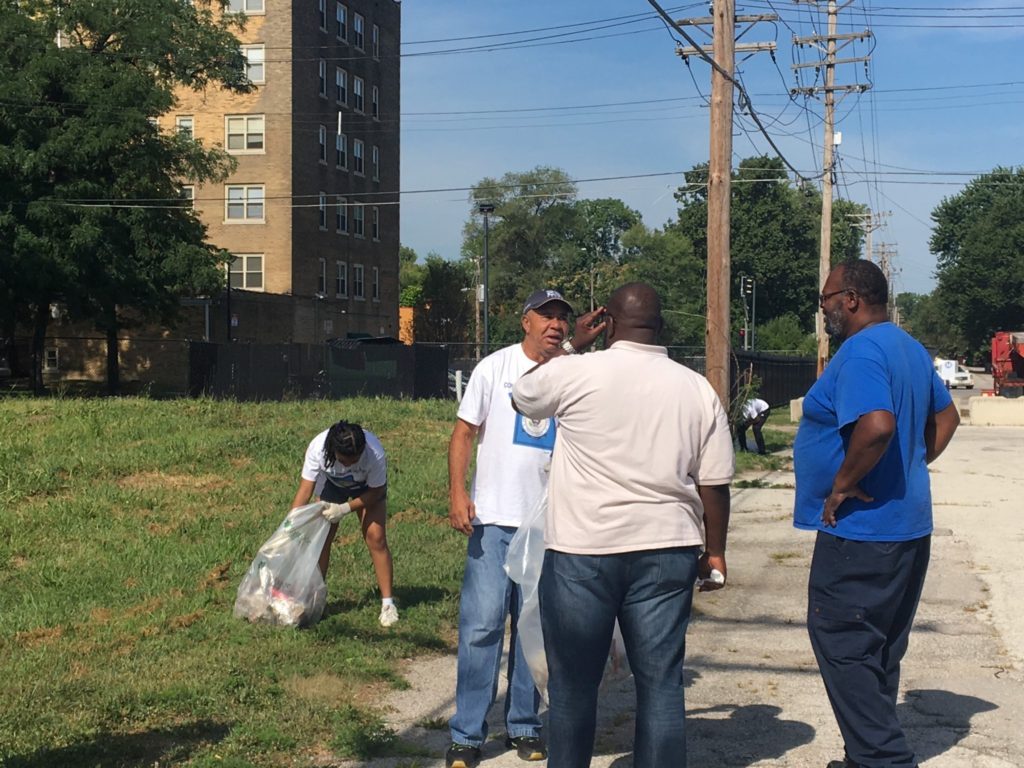 I got one of the plum assignments with a group that included Congressman Lacy Clay and 22 members of his Congressional Youth Cabinet, which was a wonderful experience. We were charged with picking up trash along the Tracks from Kingshighway east to Taylor.
I was impressed that the Congressman stayed for the duration of the cleanup and worked as hard as anyone. He stopped occasionally to chat with residents who would do a double-take and then walk over to visit, including Pastor Clinton Stancil (in white shirt above) from nearby Wayman AME Church, who kindly invited us over for barbecue.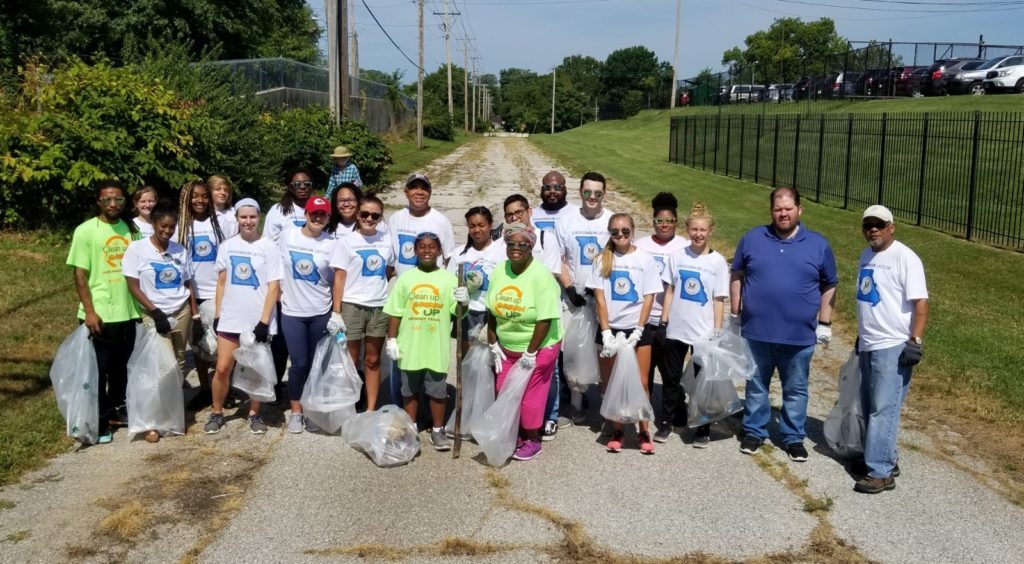 The photo above shows Congressman Clay, his Congressional Youth Cabinet (Jasmina Hadzic in red hat is in charge of the group), and several other volunteers wearing their "Clean up" tees. (I'm deep in the background.)
Arnold arranged for the City's Refuse Division to collect bulk items in advance of the clean-up day (illegal dumping is a persistent problem along the Hodiamont Tracks), and the Forestry Division to clear overgrowth and honeysuckle.
It's amazingly quiet along the Hodiamont Tracks—almost like a country road. On that summer morning there wasn't much more than the sound of birds and humming insects in the brush, which allowed for some nice conversations with my teammates. There was an opportunity to thank  Congressman Clay for sponsoring H.R. 3435, a bill in Congress that would give cities freedom to pass their own gun restrictions, and we chatted about how proud he is of the young people in his Youth Cabinet.
There was such a positive feeling among the people who worked together that day. Doing physical work for a common cause brought strangers together. It really is true that we are all basically alike and have shared interests and concerns. We want safe neighborhoods, good education for our children, clean streets, and most of all a solution to rampant gun violence.
If you haven't tired of reading by now, here is one more story:
In preparation for this clean up day my husband Jim made many trips along the length of the Tracks to take photos so Judith Arnold would know how many volunteers she needed to assign to each section.
On each trip he waved to the same group of people sitting in the shade on a trash-strewn stretch of the Tracks just west of Kingshighway. Apparently, they had gotten word that there was going to be a cleanup. To his great surprise Jim discovered that they had pitched in and transformed the area. When he stopped to thank them for their efforts they asked about the t-shirts they had seen on the volunteers. He said he would see what he could do and returned later with a shirt for each of them, which they proudly wore.
Bottom line: The collective effort of so many was nothing short of inspirational. Kudos to Judith Arnold for her capable leadership and to all sponsoring organizations for their contributions.
P.S. – Congressman Clay's Congressional Youth Cabinet is looking for the "Next Generation of Leaders in Missouri's First District." For more information on this opportunity, click 2019 2020 CYC Brochure. There is also a Congressional Internship Program for undergraduates and graduate students seeking professional experience while earning academic credit through their university. For more info, click Internship Pamphlet Fall 2019 Spring 2020
And finally, I'll leave you with this comment from Congressman Clay's local staffer Jasmina Hadzic in response to my thanking her for sending info for this post. It is another example of how the Clean up Day gave me so much more than I could ever give:
  "I feel obligated to serve the United States government and the party that saved thousands of refugees who were displaced by the war in Bosnia & Herzegovina. Similarly, I am grateful to Saint Louis and it's citizens for welcoming us in 1997 and for giving us the chance to make a positive impact.  Without a doubt, I want to do all I can to set a good example for our youth, and make our city a better place to live."