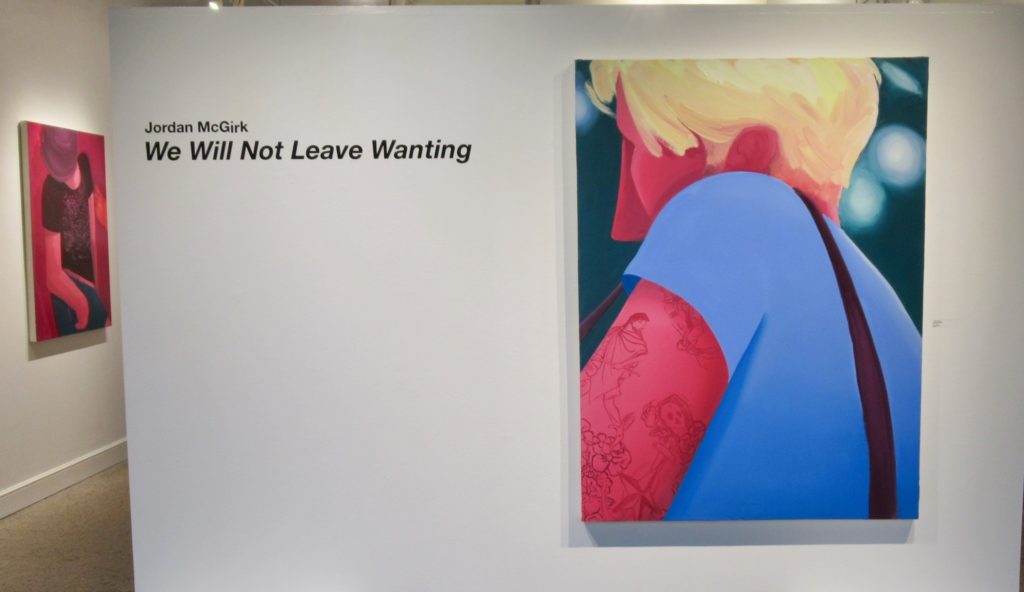 In an oft-repeated suggestion from these quarters, there are so many reasons to attend neighborhood gallery openings. They present an opportunity to get out for an evening, see old friends or perhaps meet someone new, and most importantly, be exposed to a variety of artists' work that will challenge your imagination with their creativity.
Last Friday evening, two galleries in the McPherson Arts District, Houska Gallery and Duane Reed Gallery,  held openings that should not be missed.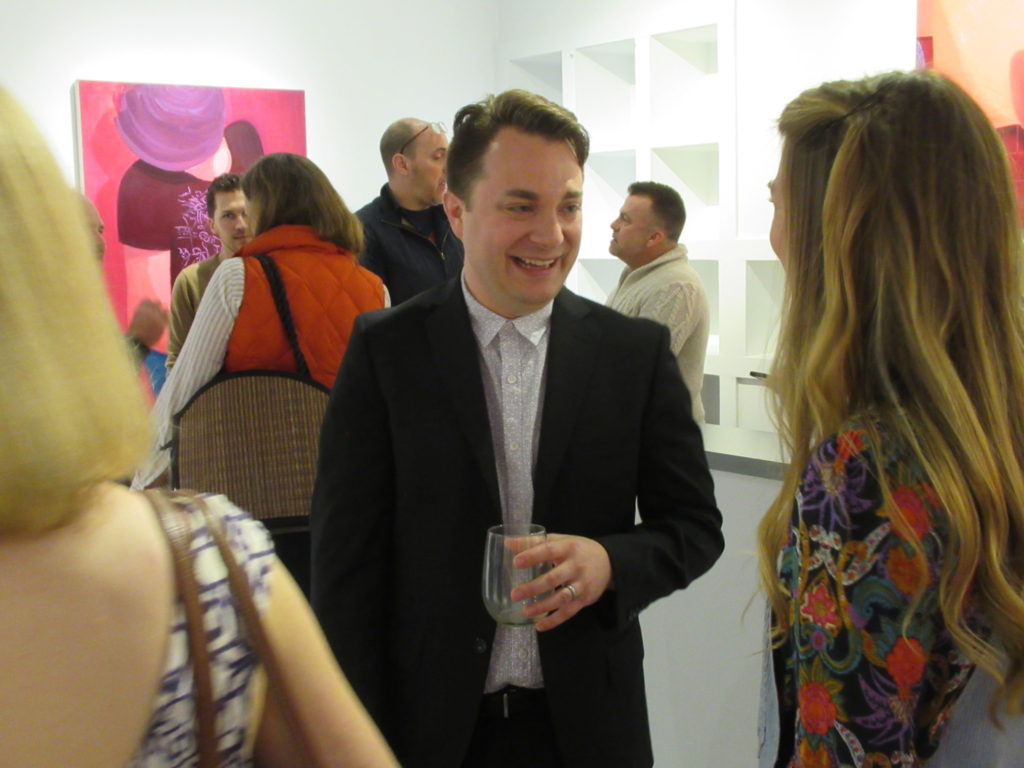 Houska Gallery is exhibiting St. Louisan Jordan McGirk's, above, They Will Not Leave Wanting, which will remain on view until May 11.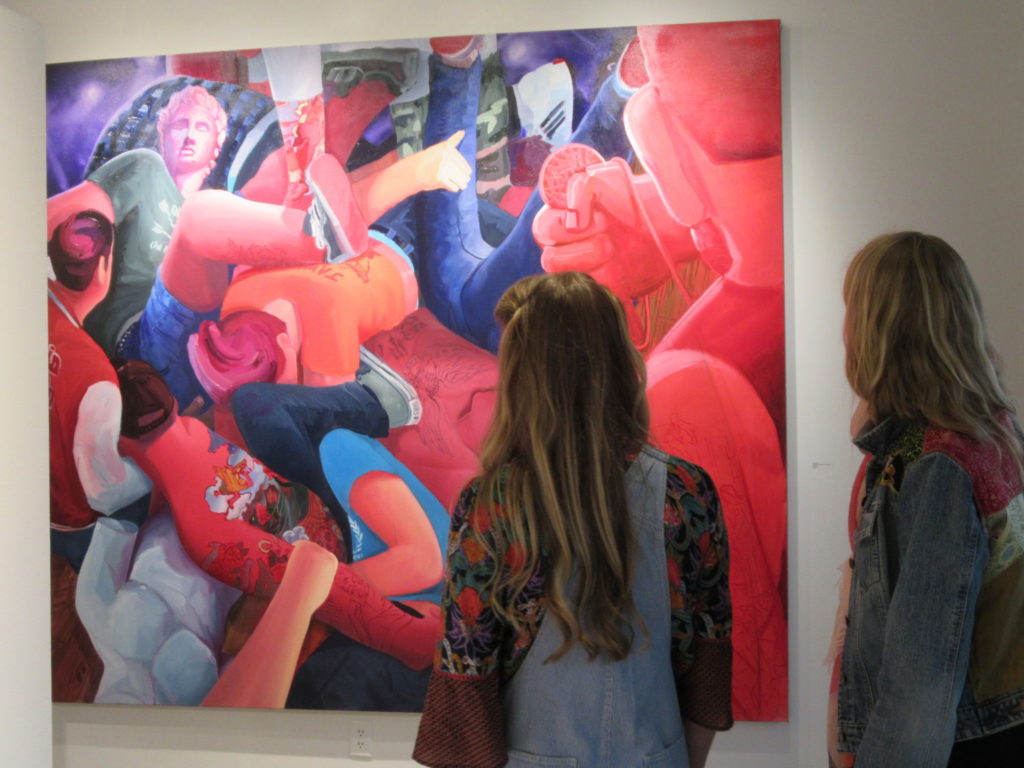 McGirk's 84 x 96″ oil on canvas, Endless Noise, is shown above. 
The artist's most recent paintings "investigate fantasies of power and privilege performed at hardcore and heavy metal shows by posturing young men." Read more about his thought-provoking exhibition here.
Houska Gallery, 4728 McPherson, (314) 496-1377, Tues.-Sun. 11 to 4 or by appt.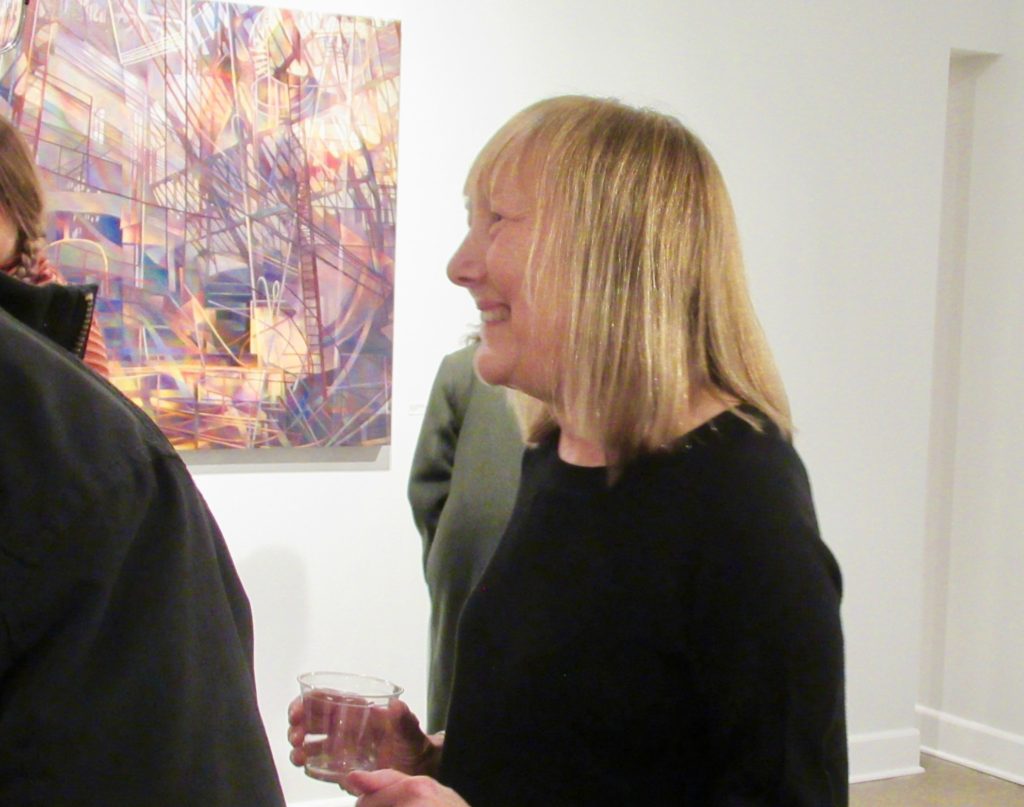 At Duane Reed Gallery, CWEnder Nancy Newman Rice, above, greeted many friends and former students at her exhibition titled My Reflections, another example of mind-bending creativity.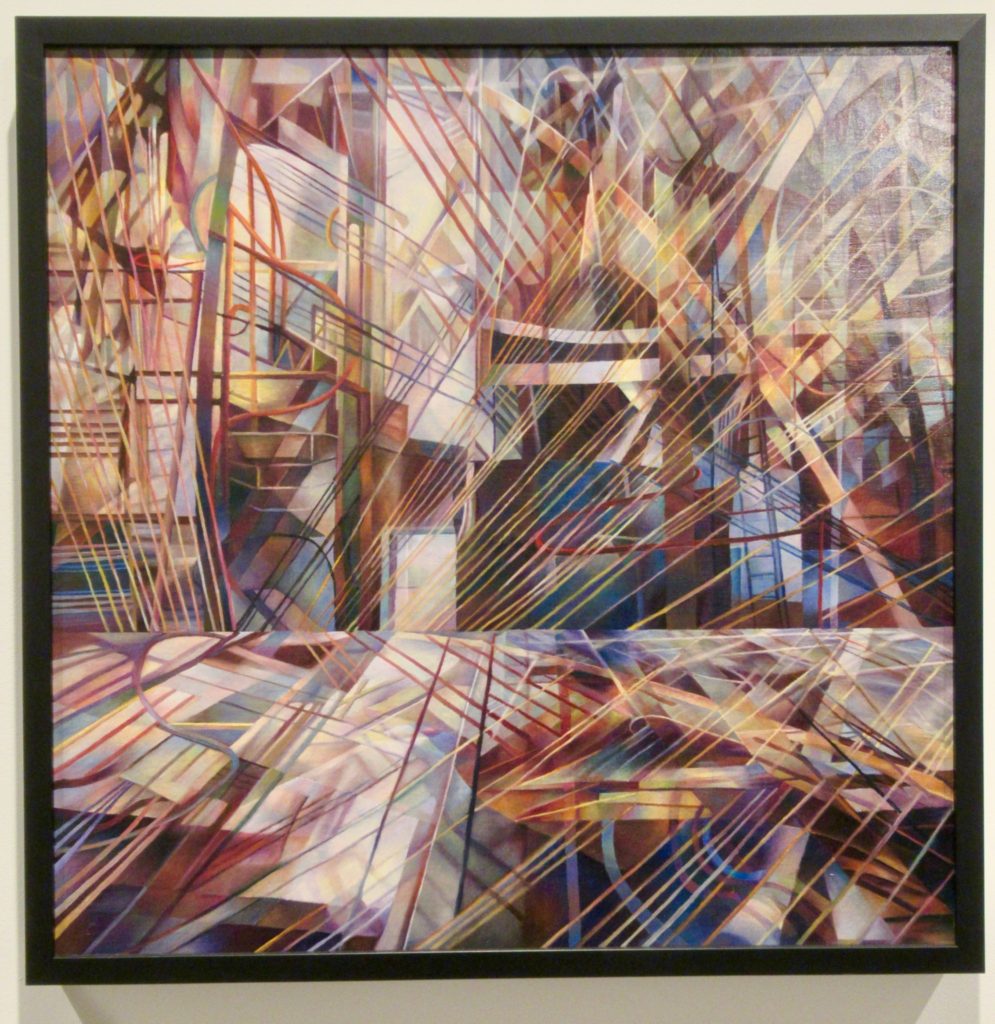 Rice's Illuminated Path, a 24 x 24″ oil on canvas on panel, is shown above. Whenever I attend one of her exhibitions, I find myself studying Rice's paintings trying to figure out how in the world she executes them.
Rice says of her current paintings: "They are compilations of geometric patterns that the winter sun produced as it was filtered through horizontal blinds on a blank wall, thus defining spatial limits."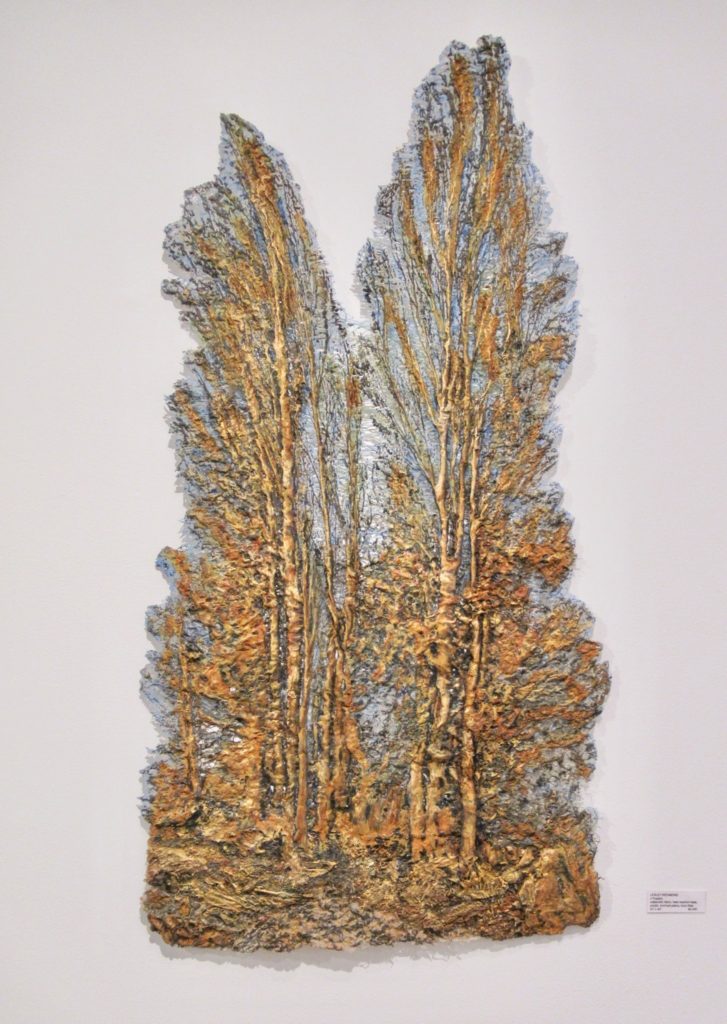 Proprietor Duane Reed was pleased to announce that Lesley Richmond, whose stunning work, Two Poplars, is shown above, is exhibiting at his gallery for the first time. The Vancouver-based artist's work looks sculptural, but begins as a photograph printed on cloth. To learn more about her process, click here.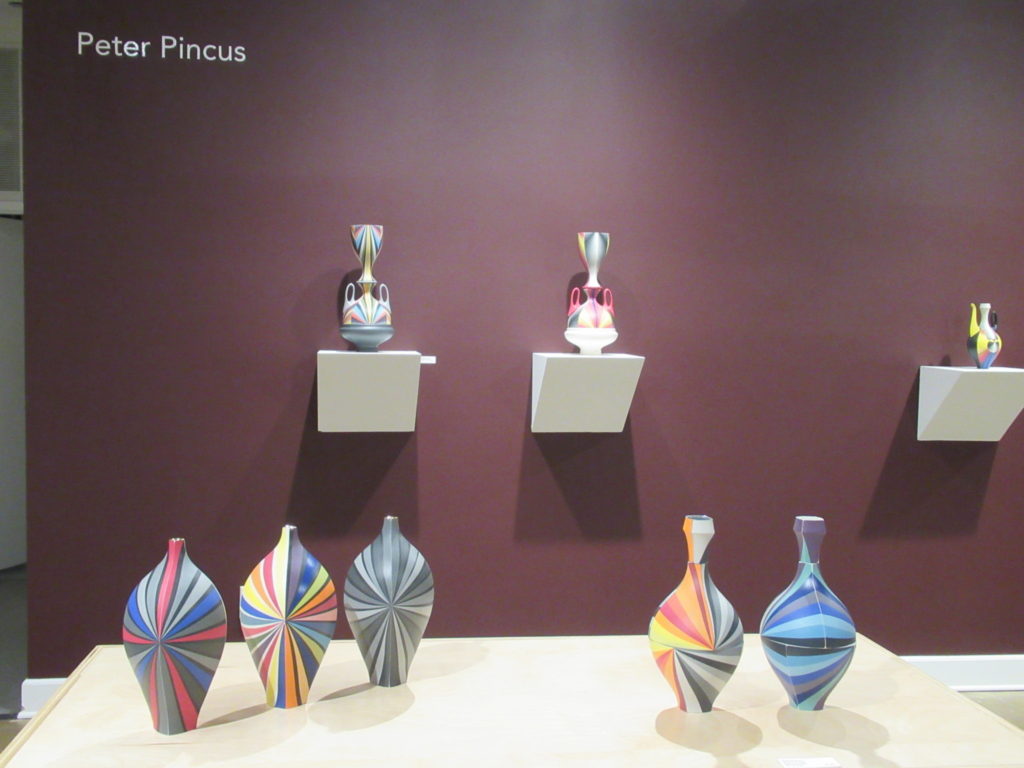 Ceramic artist Peter Pincus' beautiful work includes 10 x 5 x 5″ Bottles Tryptych, left, colored porcelain and gold luster.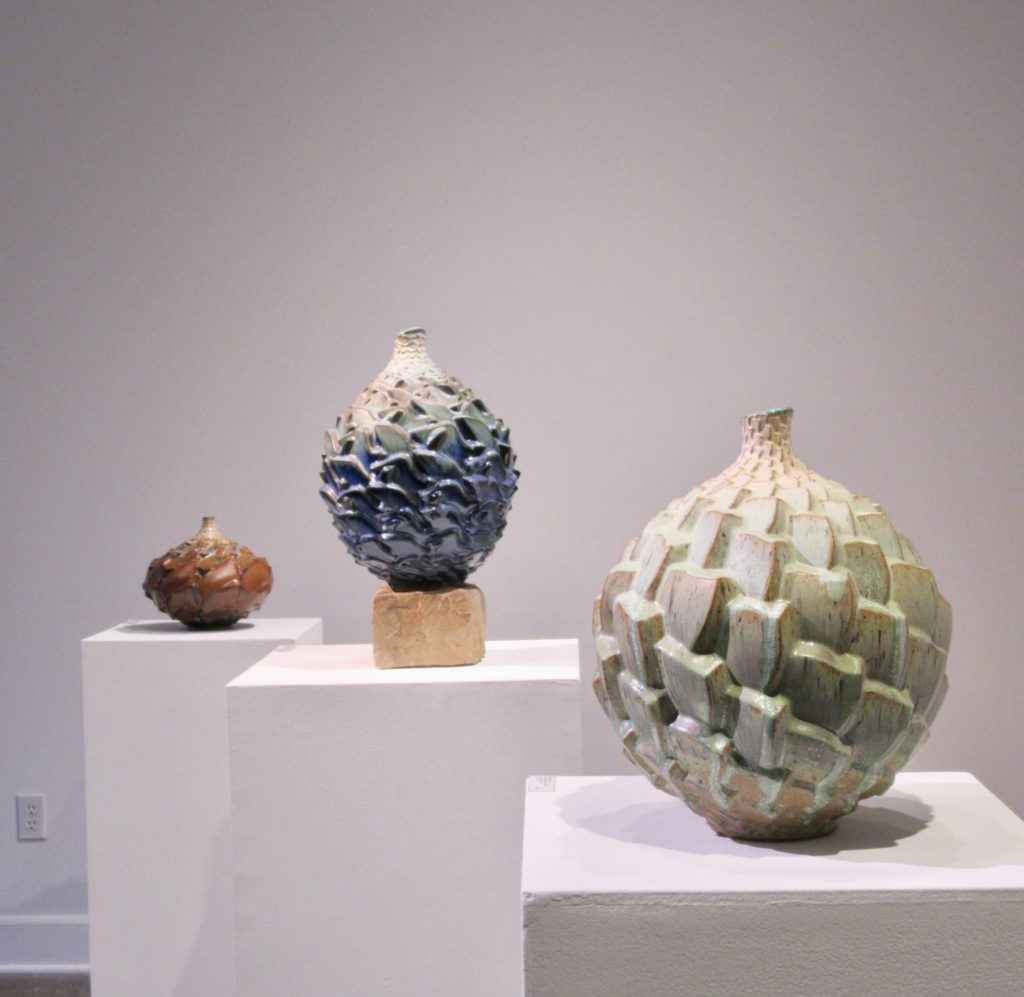 Also included in the current exhibition is glazed stoneware by Special Guest Artist Judith Ernst. The ceramicist's 15.5 x 17″ Autumnal Equinox 2 is shown above right.
The current exhibition will remain on view at Duane Reed Gallery, 4729 McPherson, until May 4. Open Tues. – Saturday 10 a.m. to 5 p.m., or by appt. (314) 361-4100.
You'll find announcements of future gallery openings on this blog's calendar.