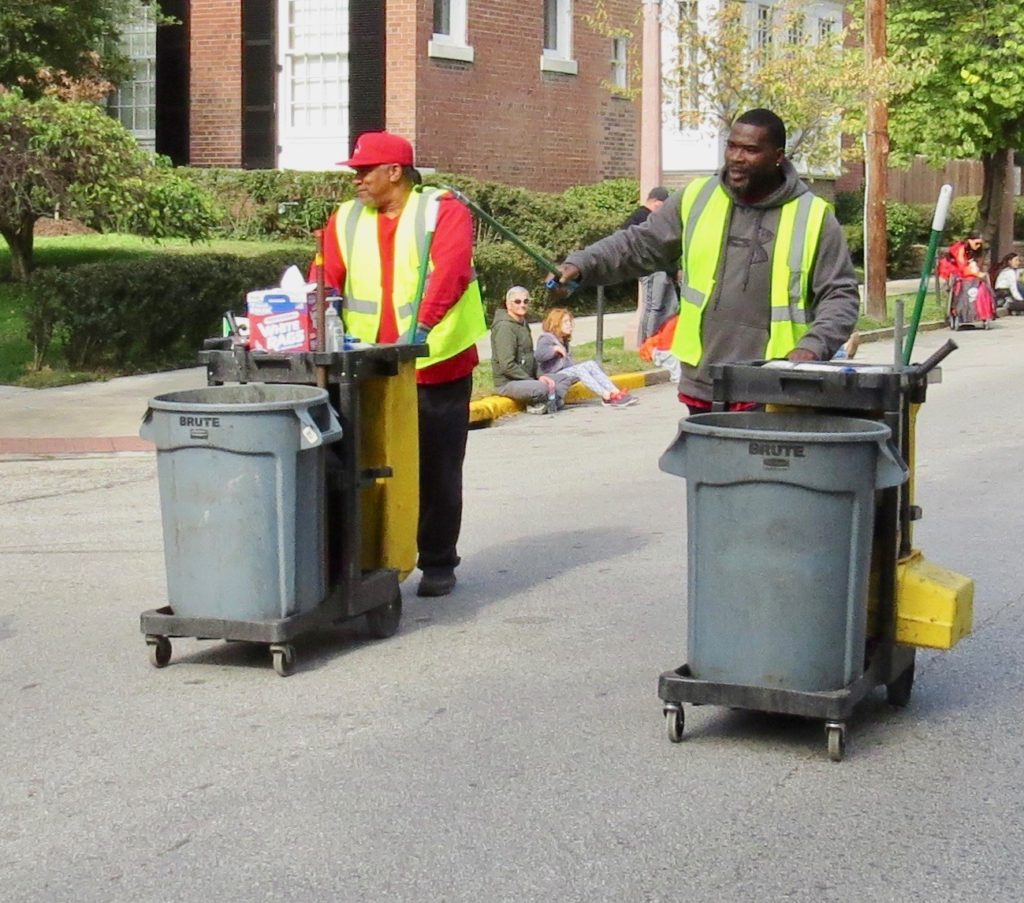 Meet the CWE North's Clean Team, Sean Anthony, left, and Christopher Pate, right, whom you have likely spotted clearing  debris and leaves from sidewalks and curbs in the business district, and this past week the unusually large amount of snow that blanketed the area.  (They are photographed above during 2018's Halloween festivities.)
Sean, who works full time, and Chris who is part-time, are on the job 7 days a week, 365 days a year, except for holidays and inclement weather (though that didn't prevent them from working last weekend). They are funded by the Community Improvement District North which gets its revenue from a 1% sales tax on purchases made within the CWE North CID district, which extends along Euclid from Lindell north to Washington, and includes commercial properties on Maryland and McPherson between Kingshighway and the residential zones east of Euclid. That includes restaurants, shops, Straub's and The Chase Hotel.
In addition to the duties mentioned above, the pair is responsible for emptying sidewalk trash cans, picking up litter, removing graffiti and stickers from public fixtures, and similar projects as needed throughout the District.
The friendly pair is always up for a chat and often find themselves offering directions to visitors as well. Whenever I see Chris and/or Sean I always thank them for what they are doing, and they always turn my thanks around and say, "no, thank you (that means all of you) for giving us the work."
Having clean streets and sidewalks may seem like a small thing, until you travel to other neighborhoods that don't have the luxury of a dedicated street cleaning crew. Thanks to CWE North CID's Executive Director Kate Haher and the CID Commissioners, and to everyone who patronizes the businesses here for making it possible.
Please say hello when you see Sean and Chris out and about.