Starting at 6 a.m. Saturday, Sept. 22, McPherson Avenue, between Euclid and Walton and Euclid north of McPherson to the parking lot just north of Dressel's, will be closed to through traffic. Vehicles will be able to access the parking lot on Euclid, by heading south on Euclid from Washington. 
The intersection of McPherson and Euclid will remain open for traffic traveling east on McPherson, turning south on Euclid and those traveling north on Euclid turning west on McPherson. Streets will open back up by midnight.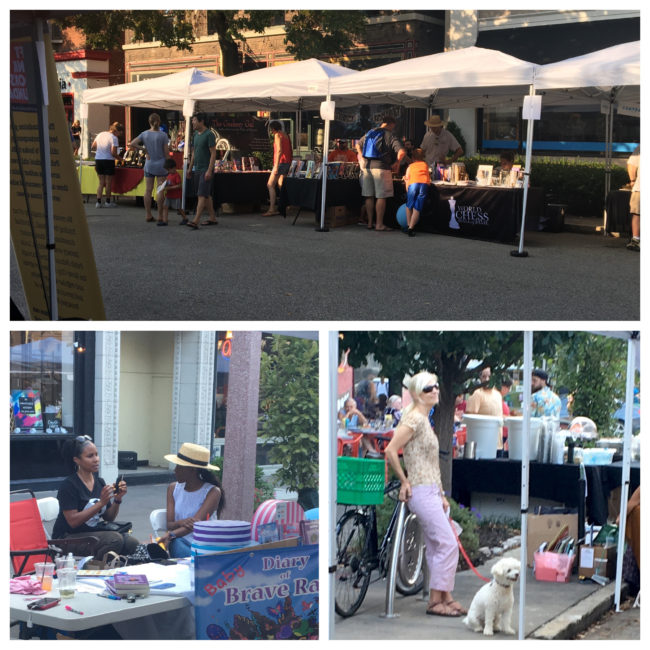 Photos from 2017's BookFest STL Festival Zone, above.
From the BookFest website:
In between BookFest St. Louis author events (see full schedule here*), be sure to check out the McPherson/Euclid Avenue festival zone, featuring live music, demonstrations, book sellers, local artisans and more! Open 11 a.m. to 6 p.m. on Saturday, Sept. 22.
What to Do
Festival-goers will enjoy music from Farshid Etniko, Mt. Thelonious and Sarah Jane & The Blue Notes while they color Central West End scenes (adult and kid-friendly coloring pages available!), craft poetry on a giant magnetic board and stroll through more than two dozen booths featuring book-themed crafts available for purchase and a variety of family-friendly activities.
Where to Eat
If you work up an appetite during BookFest St. Louis, be sure to check out the dine-in and grab-and-go options available at one of the Central West End's numerous restaurants. Dressel's Pub, Mission Taco Joint and Pi Pizzeria are all located inside the festival zone, while other great options — full list available here — are all within walking distance.
Participating Vendors
3rd Degree Glass Factory
AAUW Kirkwood-Webster Groves
Archon
BraveLovelyHeroBooks.com
Central Print
Chris Lynch
Dan Zettwoch
Diane Randall, M.A
december: A Literary Legacy Since 1958
Greater St. Louis Sisters in Crime
Issac Ludwig
Jennifer Gerald Goley
Jennifer Walker
John Bryant, Indie Author
The Kabine
LaQuita Cameron
Left Bank Books Foundation
May Ann Russum
Megan Singleton
Mike Murphy
Mission Taco Joint
The Novel Neighbor
River Styx
Stormy White
St. Louis Poetry Center
St. Louis Public Library
Witty Kids
World Chess Hall of Fame
The BookFest St. Louis festival zone is free and open to the public.
It is a real coup for the Central West End and St. Louis that following the success of the 1st BookFest event last September, word has traveled among the literary community that this is a top-notch festival, and one authors shouldn't miss. Neither should you.
Thanks to Left Bank Books, the Left Bank Books Foundation and the CWE North Community Improvement District for all the effort and care they have put into 2018's BookFest STL.
*There are still tickets available for actress Sally Field's appearance at the Chase Park Plaza Friday. Details here.