Is it my imagination, or does there seem to be an extra spring in everyone's step now that the weather has finally turned a corner?  The upbeat tempo was certainly evident last Saturday when the sidewalks were packed—a more frequent occurrence these days with the addition of so many new residents from recently-constructed apartment buildings.  I took advantage of the weather as well and headed out to enjoy a couple of events and found a surprise discovery along the way.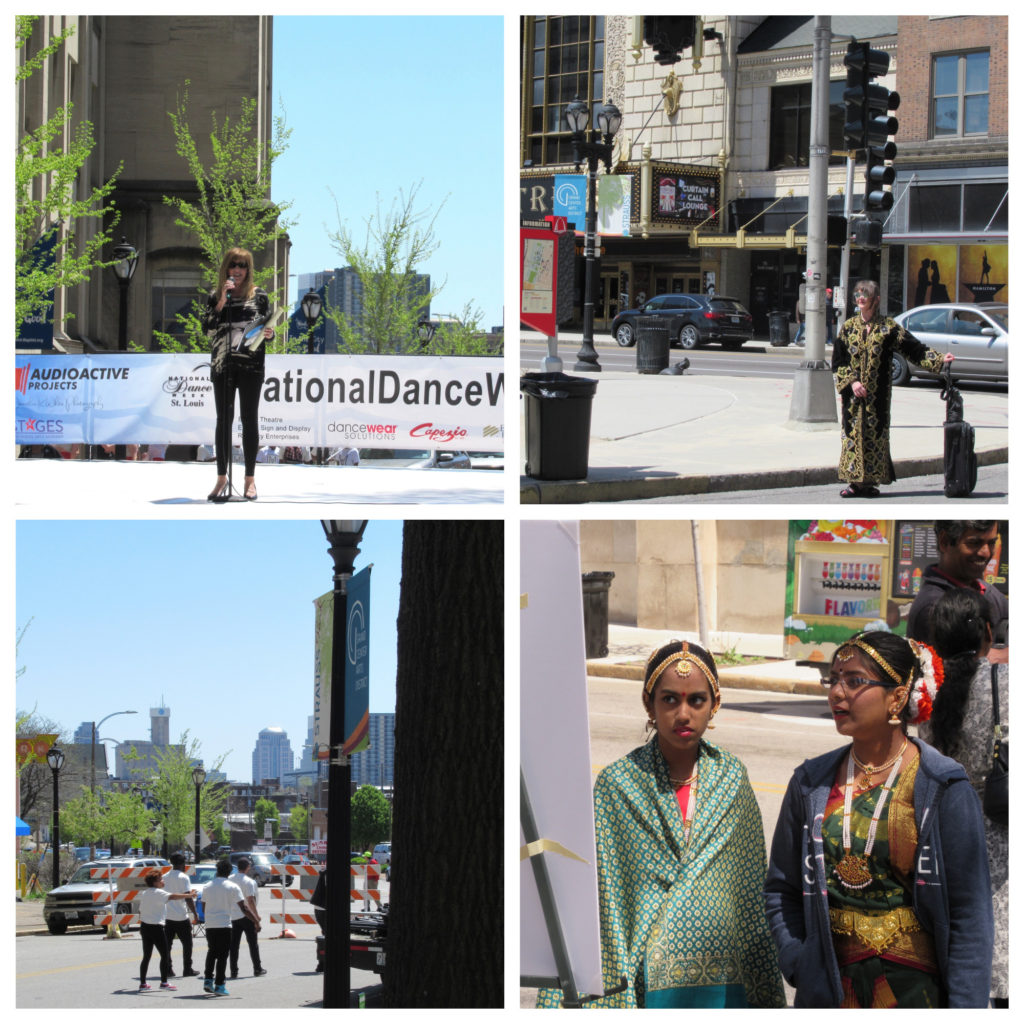 Fifty dance companies from the St. Louis area participated in National Dance Week STL which took place on Washington Ave. in Grand Center from Noon to 5 p.m. Linda Green, Missouri State Director of National Dance Week STL, upper left, delivered the opening remarks and welcomed the dancers and spectators. Other photographs show participants arriving at the event or, lower left, carving out a spot to practice their routine before their performance.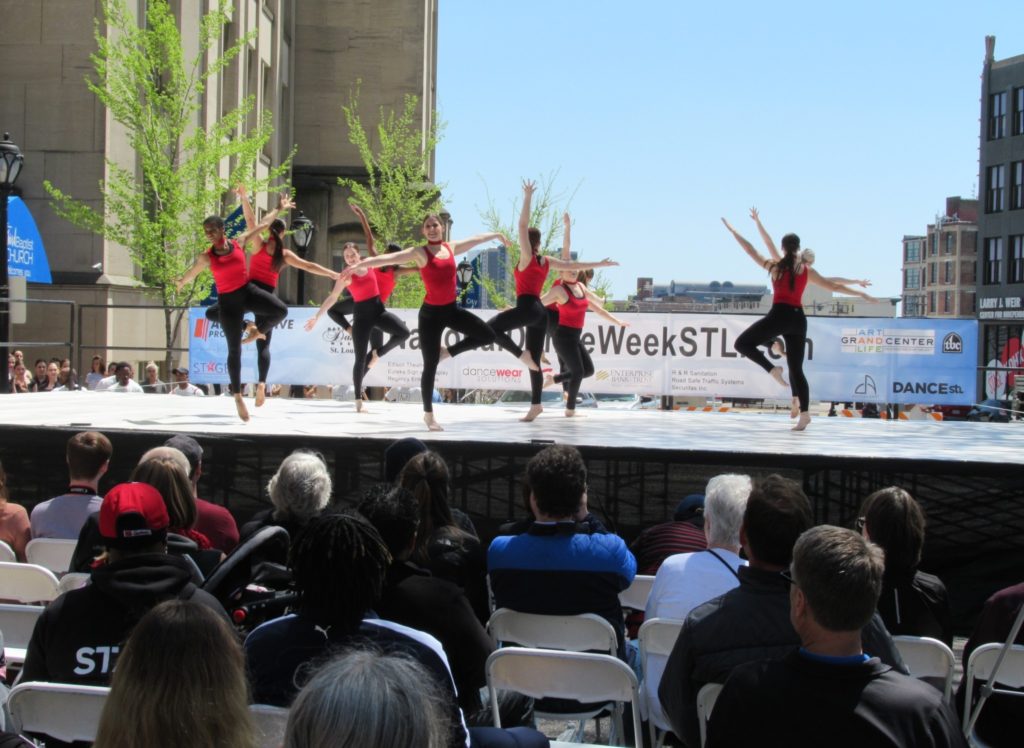 Lindenwood University's Dance Troupe, above.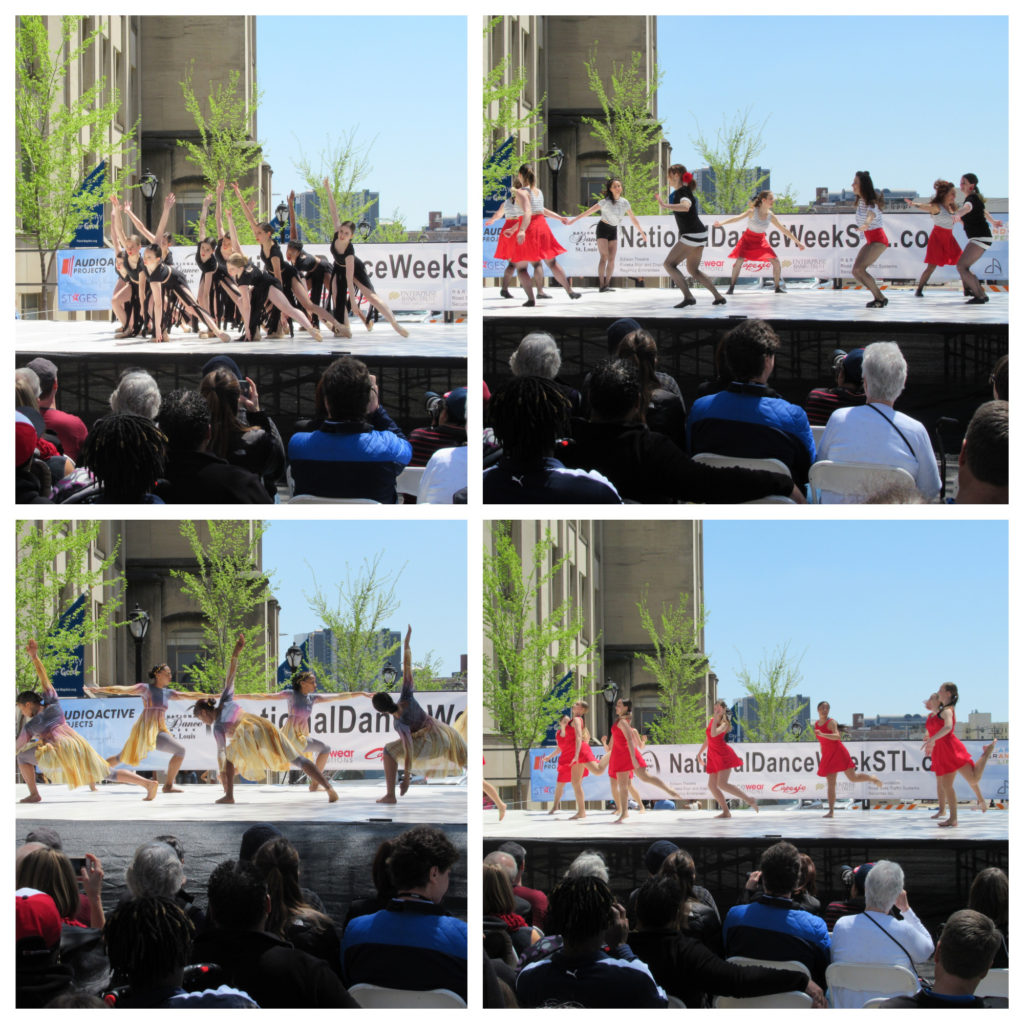 Clockwise from top left, Midwest Ballet Theatre, Kari James Dance Network (Kari teaches a DanceJam class at the CWE's City Studio), The Dance Co. of St. Charles, and FOXPACF St. Louis Teen Competition.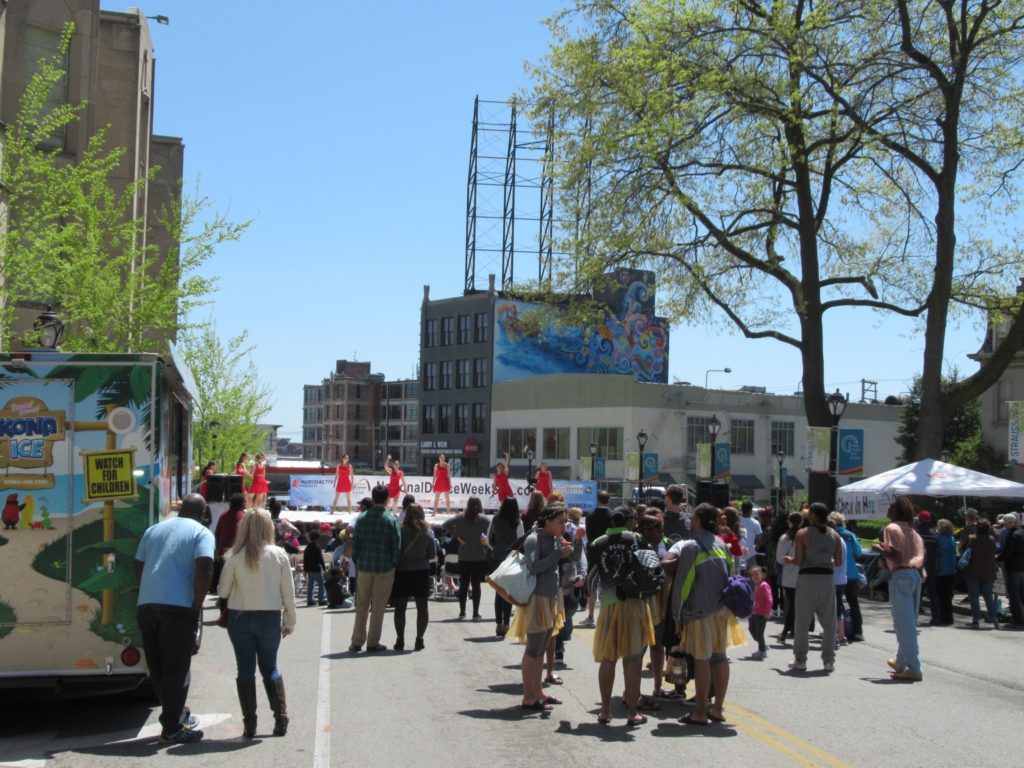 A view of the crowd watching the performances.
Walking west on Washington I had the good fortune to stumble upon "A Tiny Shiny Shop," a mobile stationery store parked across from the Pulitzer Arts Foundation.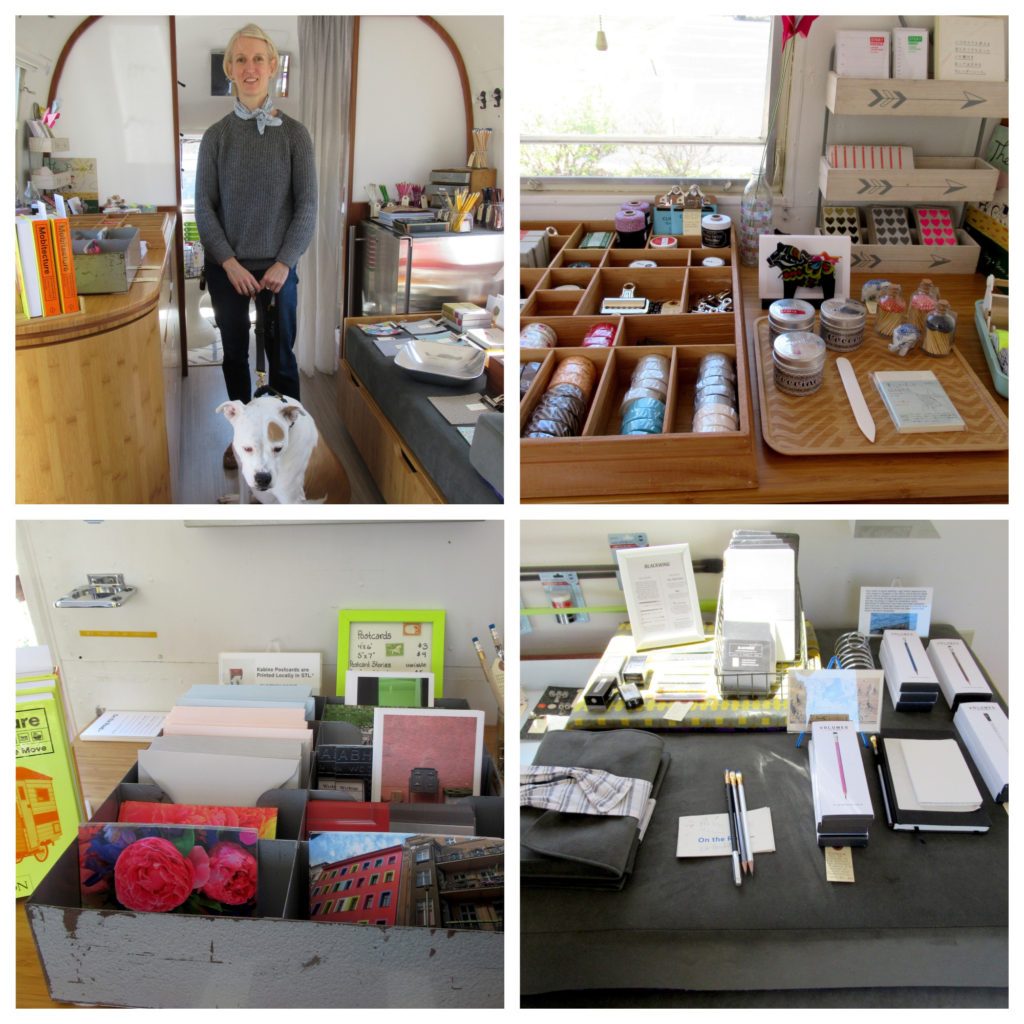 For the past 2 years Kim Hayes, who was on the staff at Centro until 2011, has operated her business in a 1965 Airstream called The Kabine. Accompanied by her sidekick, a gentle pit bull named Meri, Hayes takes The Kabine to festivals (she traveled to Palm Springs for Modernism Week in February), to museums such as the Contemporary and Pulitzer, and other locations around town including Cortex and MidTown Alley. Last fall she was a vendor at the CWE BookFest STL.
Hayes is hopeful that her mobile shop will "inspire unplugging, slowing down, and connecting in meaningful ways." Included in her mix of unusual items, or as the website says, "goods for your next adventure," are beautiful postcards featuring photos from her travels, a variety of clever notebooks, writing instruments, decorative masking tapes, off-beat paper clips, Japanese binoculars, and much more.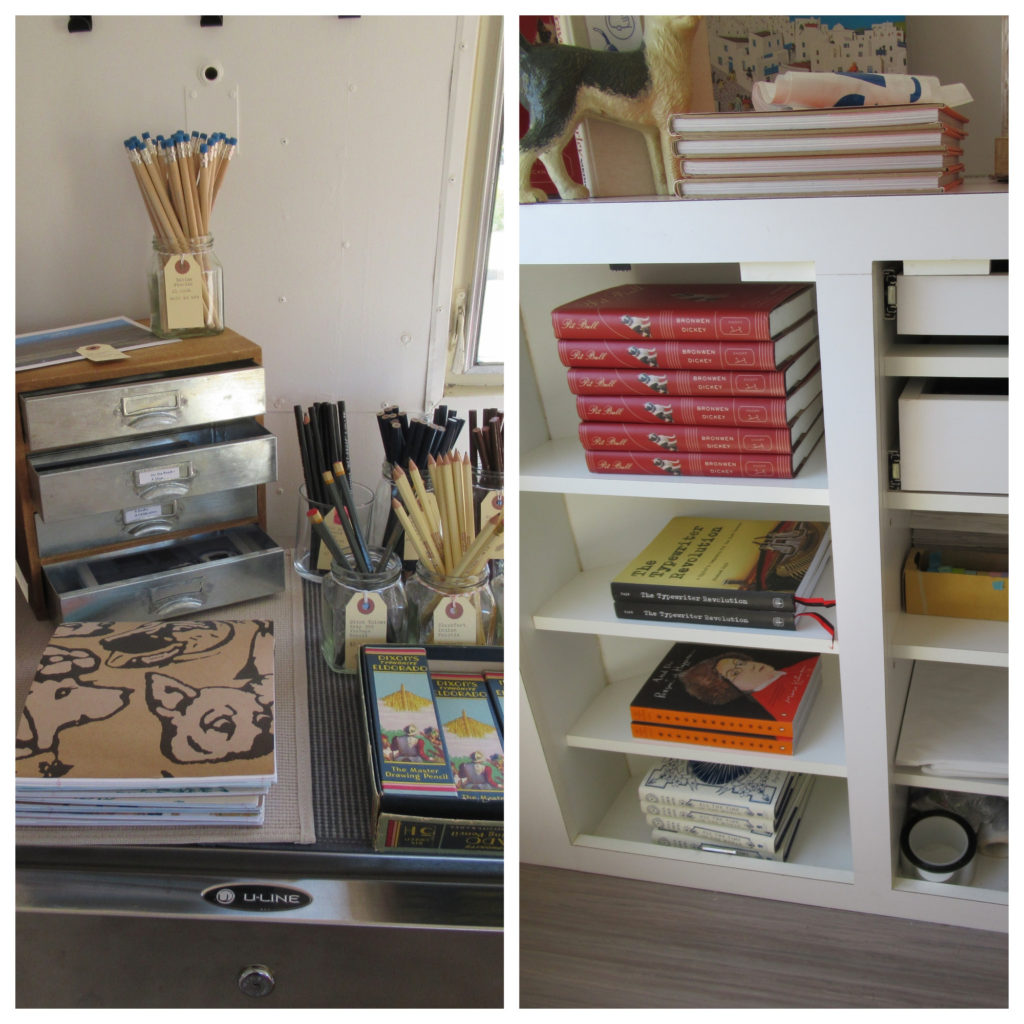 Hayes said her merchandise reflects what she would put in a suitcase when packing for a trip. "I always include books," she said, and unsurprisingly her small collection features one titled Pit Bull.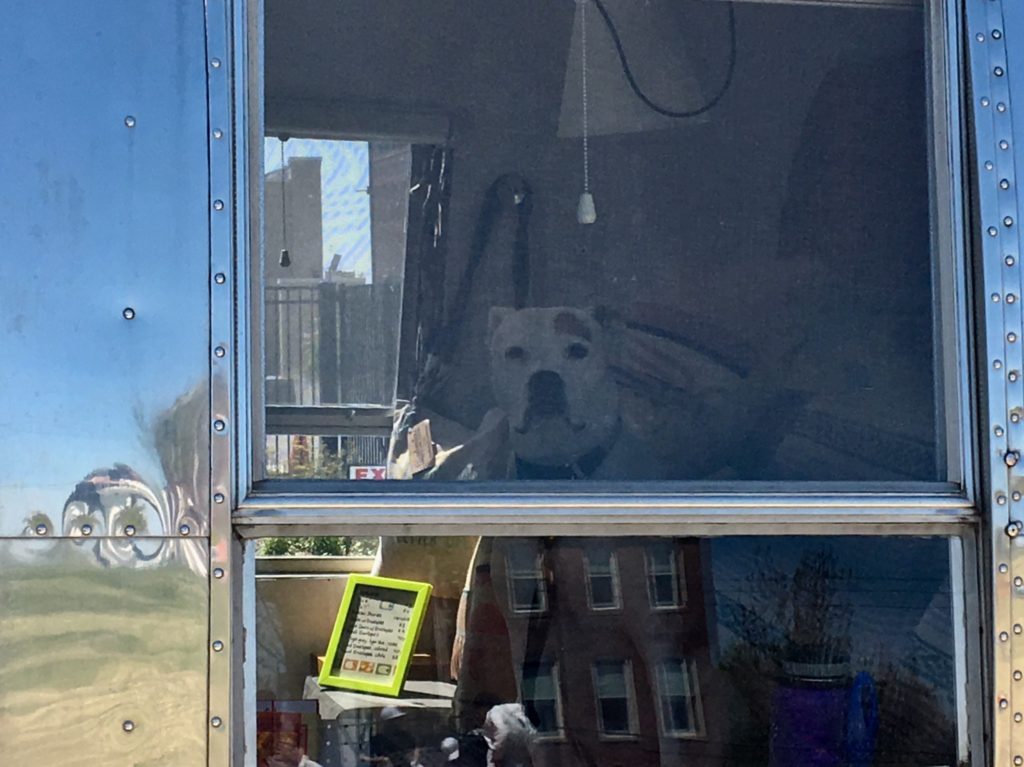 To learn more and to find out where The Kabine will pop up next, visit the website, Instagram or Twitter. Hayes also writes a blog called two girls (Kim + Meri) and a trailer.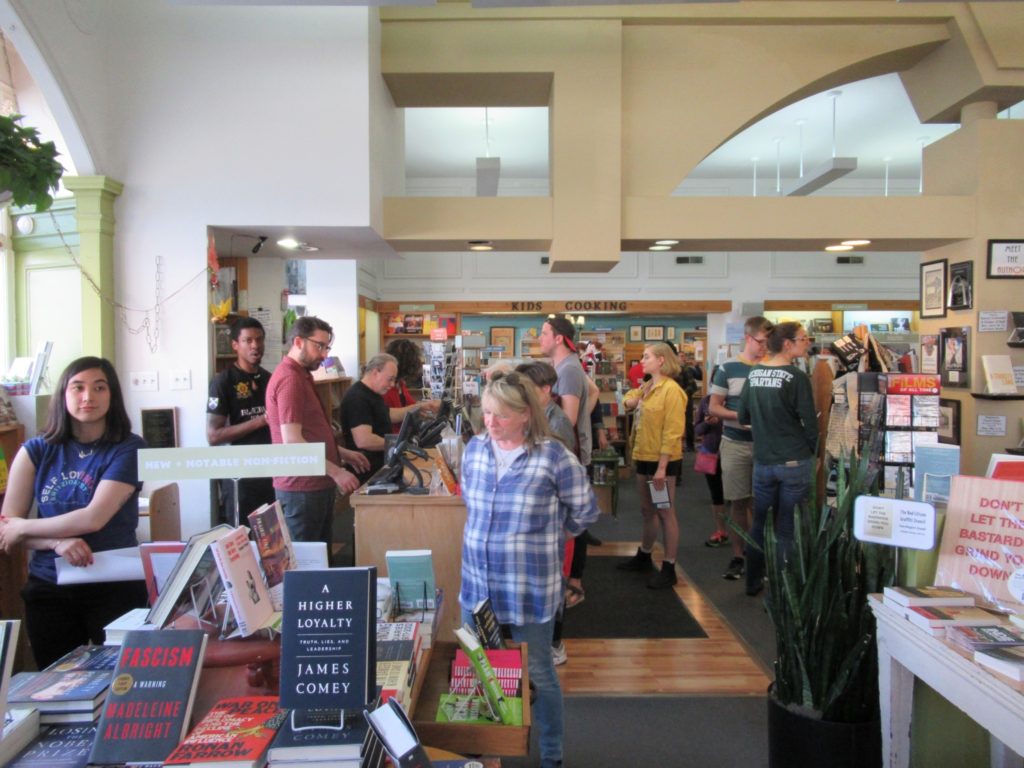 It was really heartwarming to see the huge crowd at Left Bank Books celebrating National Independent Bookstore Day.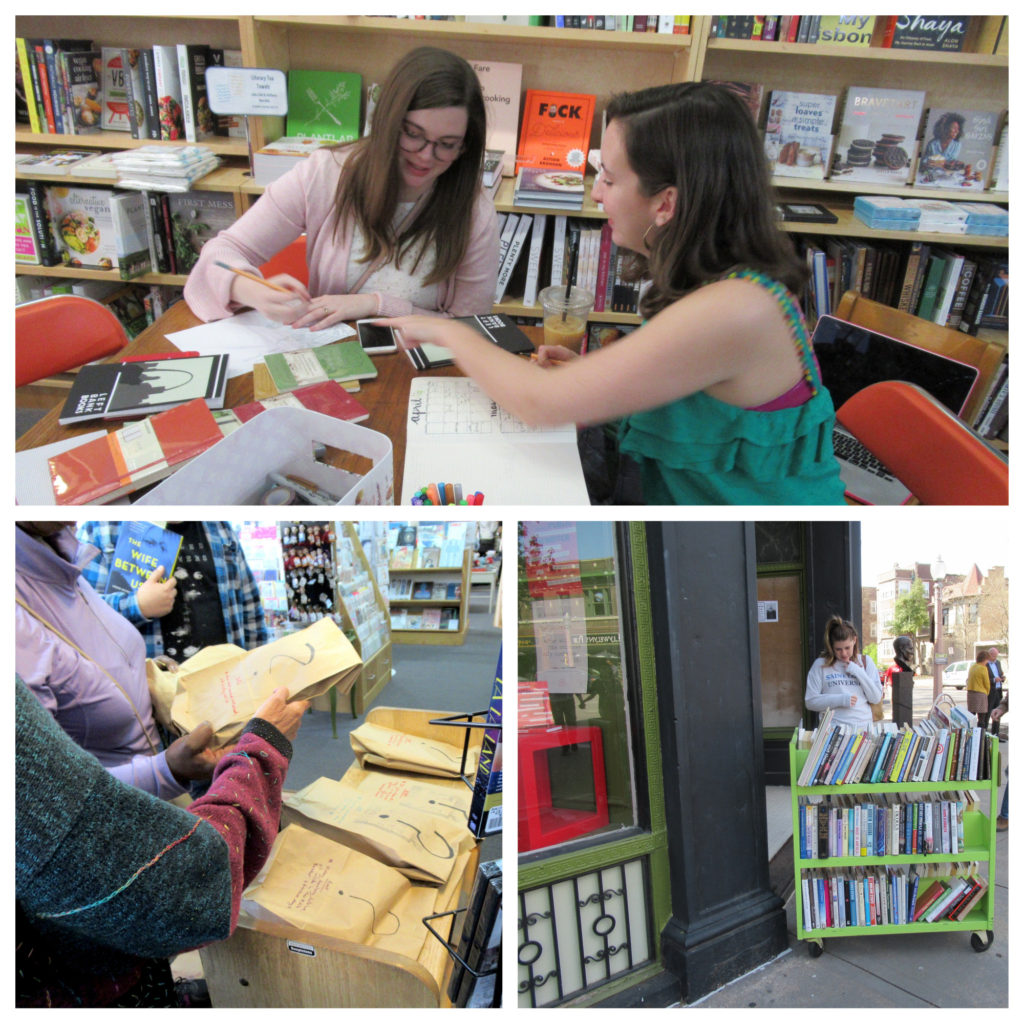 The bookstore's staff had planned many activities including a Bullet Journaling workshop led by Margaret Duncan, above right, a W.U. medical student. There was a pancake artist named Dancakes making literary themed pancakes, a group called the Magnificoes who read Shakespeare's Star Wars Part the Seventh: The Force Doth Awaken (not photographed), and bottom left, an Anonymous Autograph Hour with a chance to choose a book in a sealed bag with a purchase of $20 or more. There was also an hour-long special sale in the Used Book section.
Left Bank Books, 399 N. Euclid.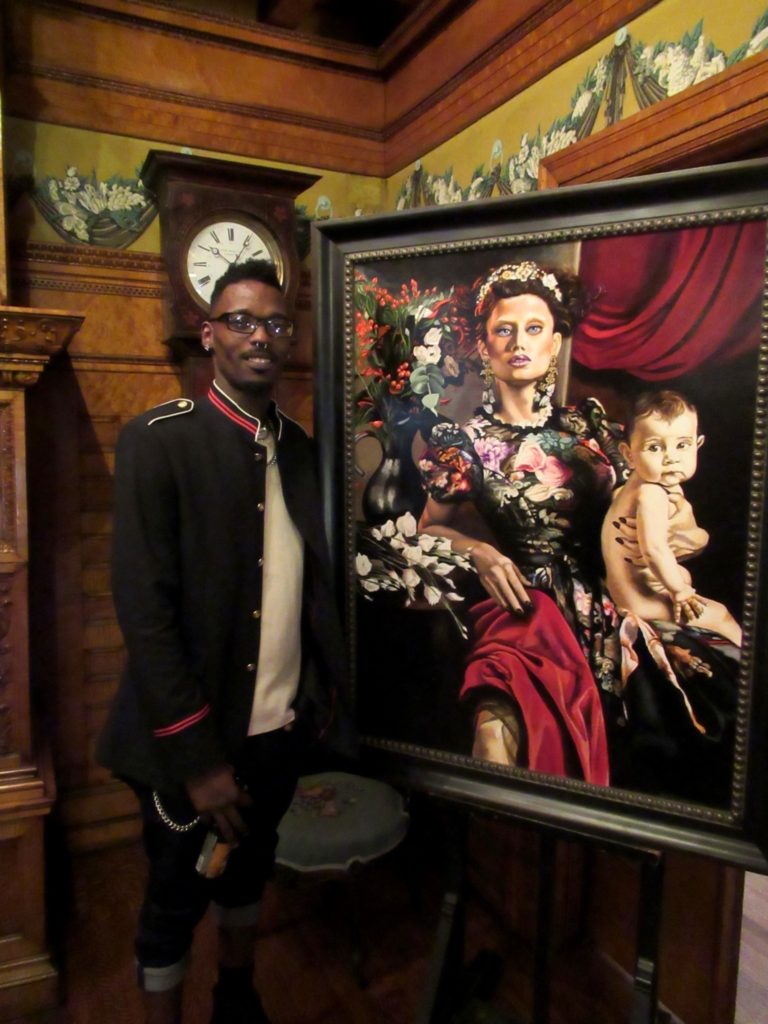 Saturday's activities ended with an introduction to artist Roland Burrow, above, who had been invited to exhibit his paintings in the home of a CWE couple he met through McCaughen & Burr Fine Arts in Webster Groves. The couple were so impressed with Burrow's work that they were eager to introduce him to some of their friends.
The artist, who earned a degree in Fine Arts Studies from UMSL in 2006, finds inspiration from the works of Michelangelo and Caravaggio and the Harlem Renaissance Painters. The painting shown with Burrows above is a 40″ x 30″ oil on canvas titled Madonna and Child.
"I love figure drawing" he said, "but consider the background to be just as important as the subject matter." He also said he loves fashion, which is evident in his choice of attire as well as the elaborate costumes depicted in his paintings. Burrow is also a fan of musicians who lived in St. Louis at the time of the World's Fair, such as Scott Joplin, Top Turpin and Louis "Birdface" Chauvin.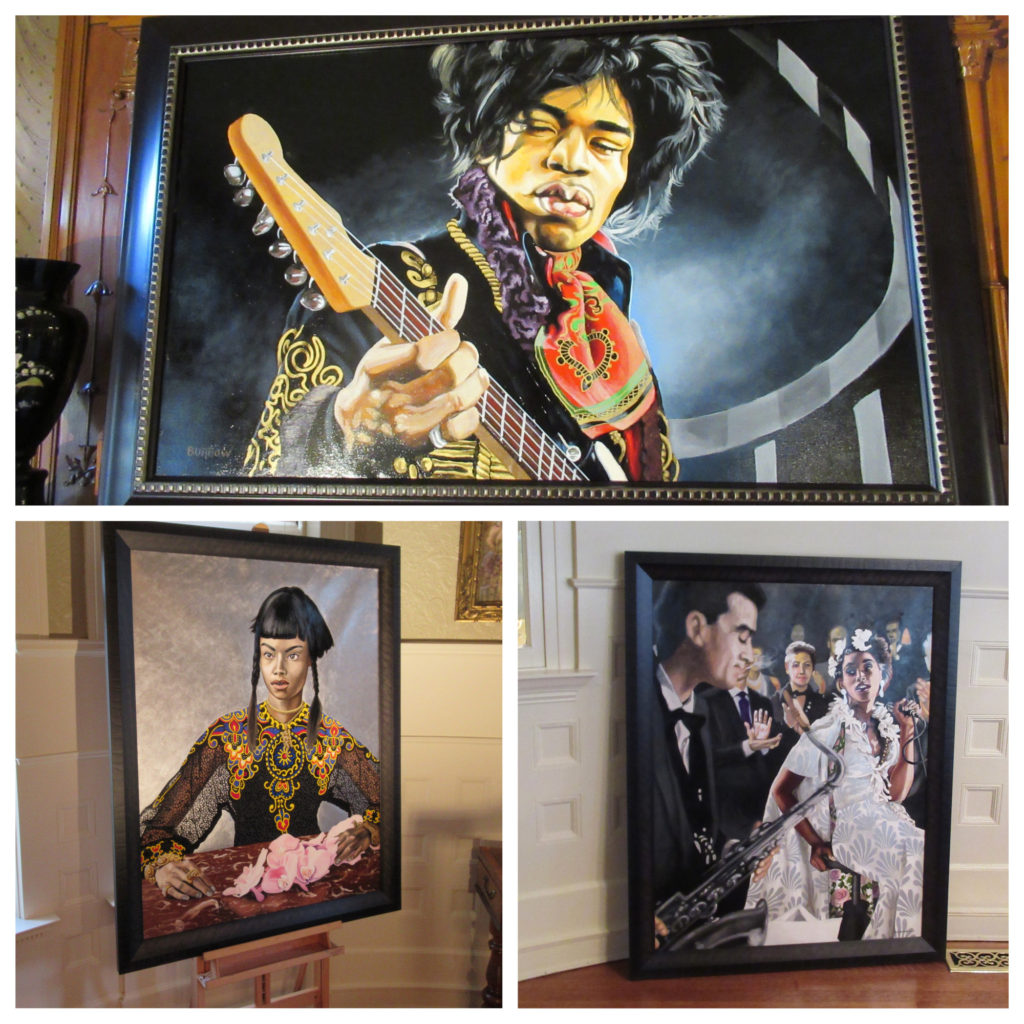 Other paintings that were exhibited were from top: Are you experienced, 26″ x 42″ oil on canvas. Lower left: Defiance, 30″ x 40″ oil on canvas and lower right,  Jazz Singer,  30″ x 40″ oil on canvas.
In the gallery's artist statement Burrow says: "Growing up on the North Side, growing up black, leaves little opportunity to view your community in a positive light…My goal is to portray the black community in a positive light as opposed to the historically represented theme of negativity…" The closing line is: "I intend to use my art to create a bridge of understanding between the black and white communities and begin to close the divide." 
For more information, contact McCaughen & Burr Fine Arts