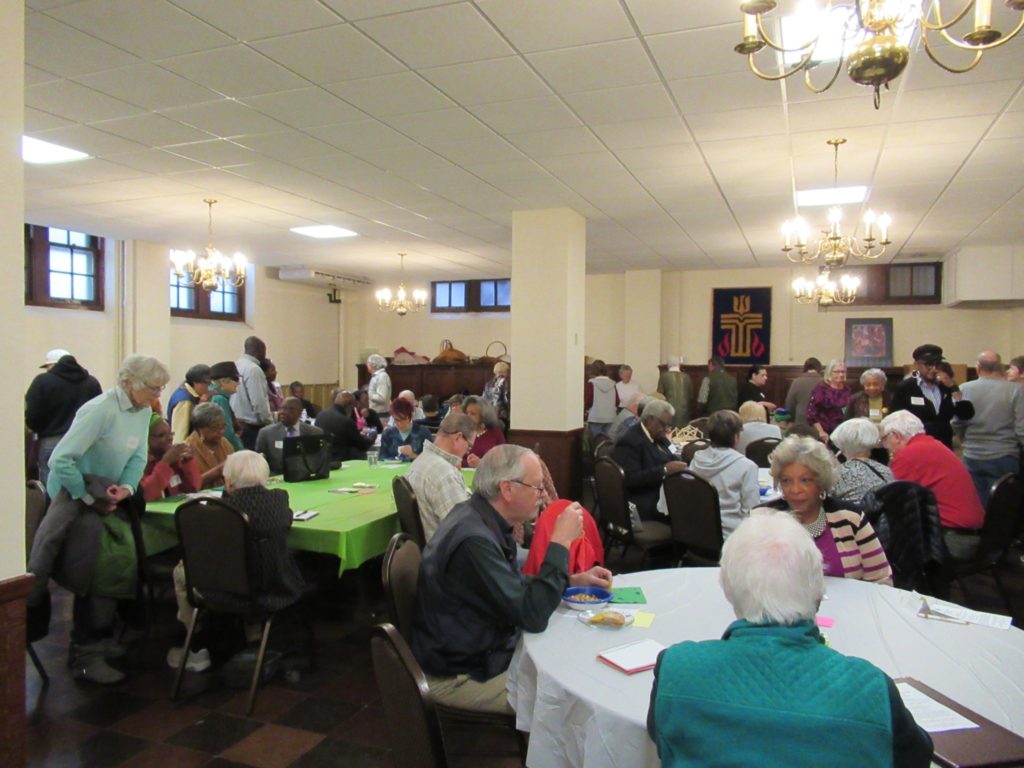 On a recent Sunday STL Village hosted a "Souper Supper" and panel discussion on Bridging the Delmar Housing Divide, a subject that's both timely and, coincidentally, related to a recent post introducing you to Kevin Bryant, who has a development plan for the Kingsway District north of Delmar. The topic was chosen by STL Village Community Engagement Committee members Gloria Gordon and Malaika Horne to continue the Village's goal "to strengthen the organization's footprint by strengthening the footprint's under-served areas."
The event, held at Second Presbyterian Church, 4501 Westminster Pl., which is also home of STL Village's new offices, was attended by approximately 80 people who enjoyed a variety of soups prepared by Village members.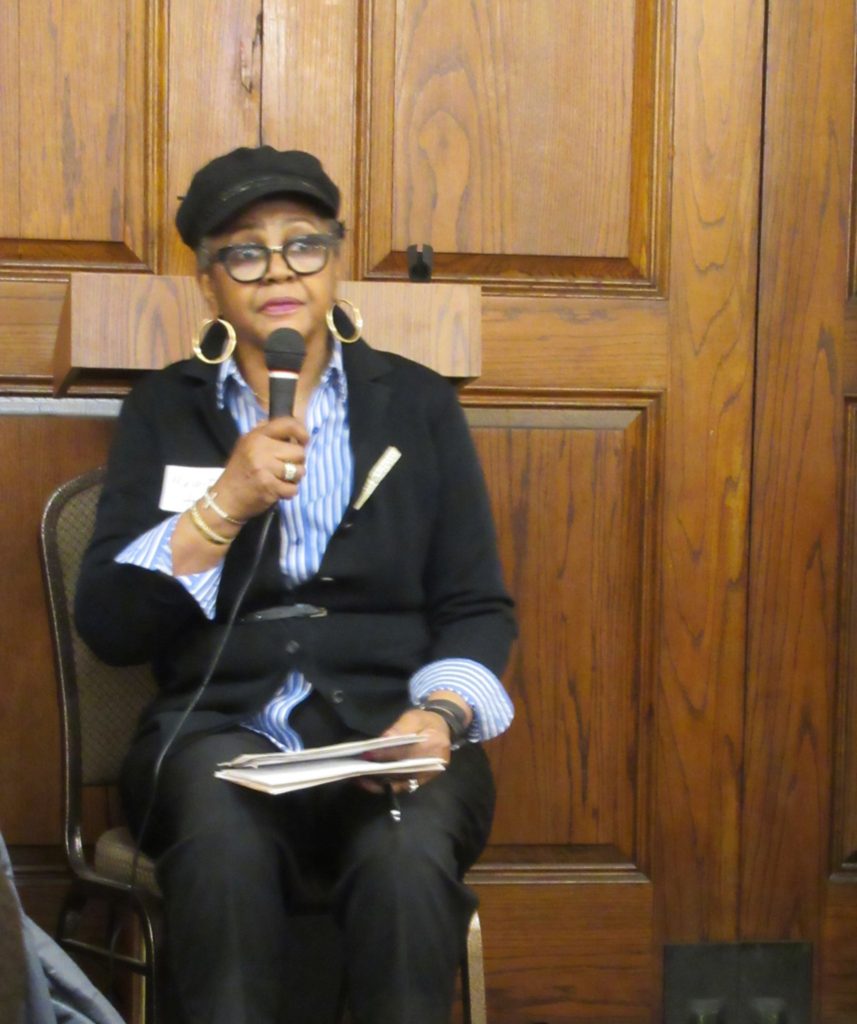 Malaika Horne, above, Director of Executive Leadership Consortium at UMSL, moderated the discussion. Her first question to the panel consisting of Gail Brown, Neal Richardson and Tyrone Turner was: "Why should this topic, Bridging the Delmar Housing Divide, be important?"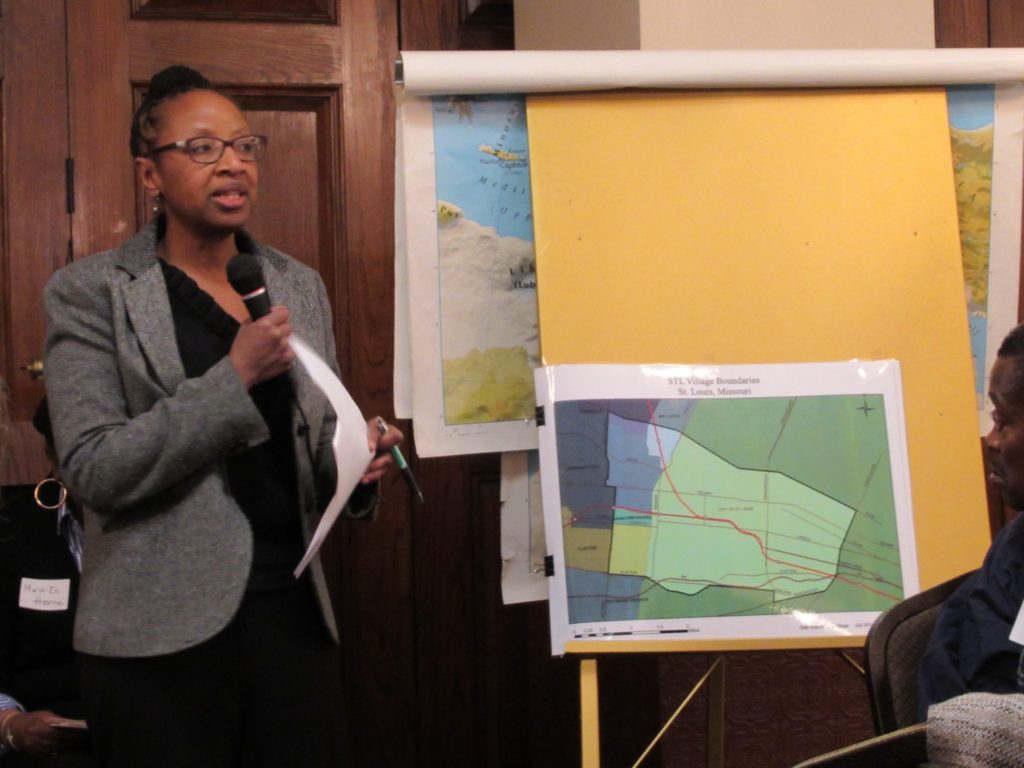 Gail Brown, above, president of Brown-Kortkamp Realty and Urban Planning and Development Corporation, founded by her father Elisha Brown in 1960, responded: "St. Louis is only as good as our weakest link, and we haven't gained much ground north of Delmar."
Standing alongside a map of the city's central corridor Brown explained the disparity in housing prices. North of Delmar houses range from a low of $3,000 to $428,000,  while south of Delmar prices range from a low of $57,750 to a high of $1.9 M.
"Families who live on the north side want the same things as families in more affluent areas of St. Louis," she said, "better schools and better services, things that come with higher property taxes."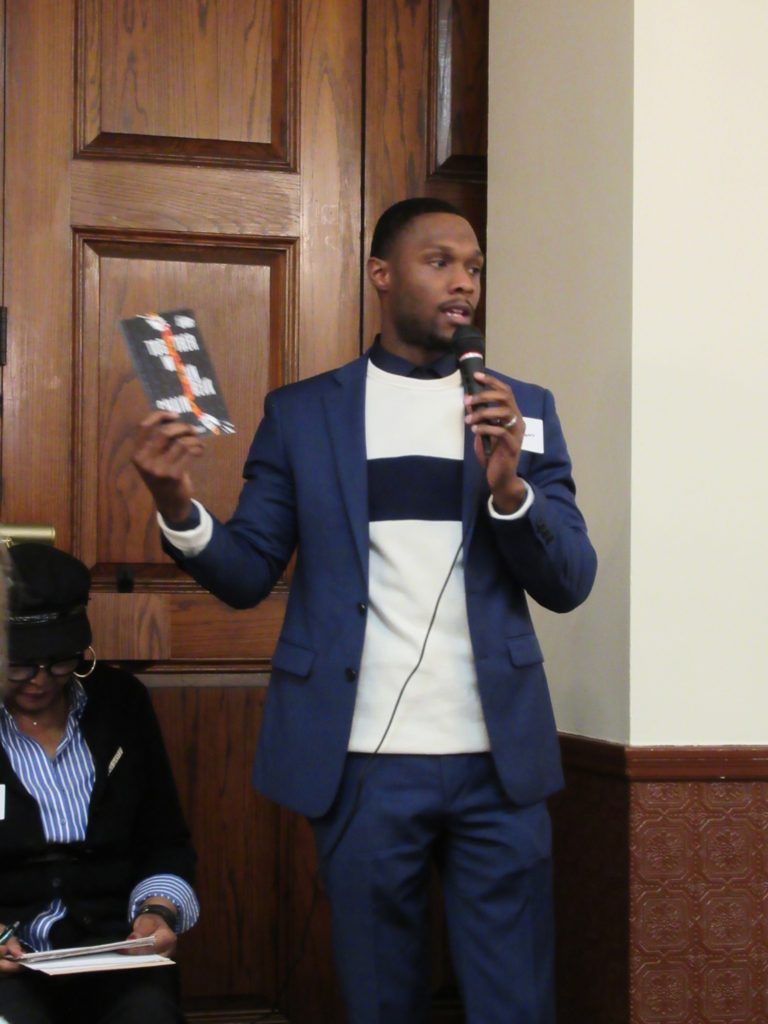 Neal Richardson, Assistant Director of New Market & Historic Tax Credits at U.S. Bancorp CDC, has worked in real estate finance for the past 10 years. As a side project he founded Dream Builders 4 Equity which teaches at-risk youth to succeed through mentorship, entrepreneurship, scholarship, and leadership training. It also affords them the opportunity to attain ownership in real estate in low-income, highly-distressed communities.  The 15-to 18-year-old high school students chosen for the program go from having "no clue about their future to at least thinking about it," Richardson said.
The "Dreamers" are currently rehabbing a 1,000 s.f. house on Lewis Place that had been vacant for 4 years. As part of their learning experience, students kept a journal which was then published in a book titled Together We Can Break Chains, see above, which is available on the Dream Builders' website. When the renovated house is sold, 30% of the profits will go into a college fund pool for the participating students. Here is a link to a description of what this inspirational program does and whom it serves.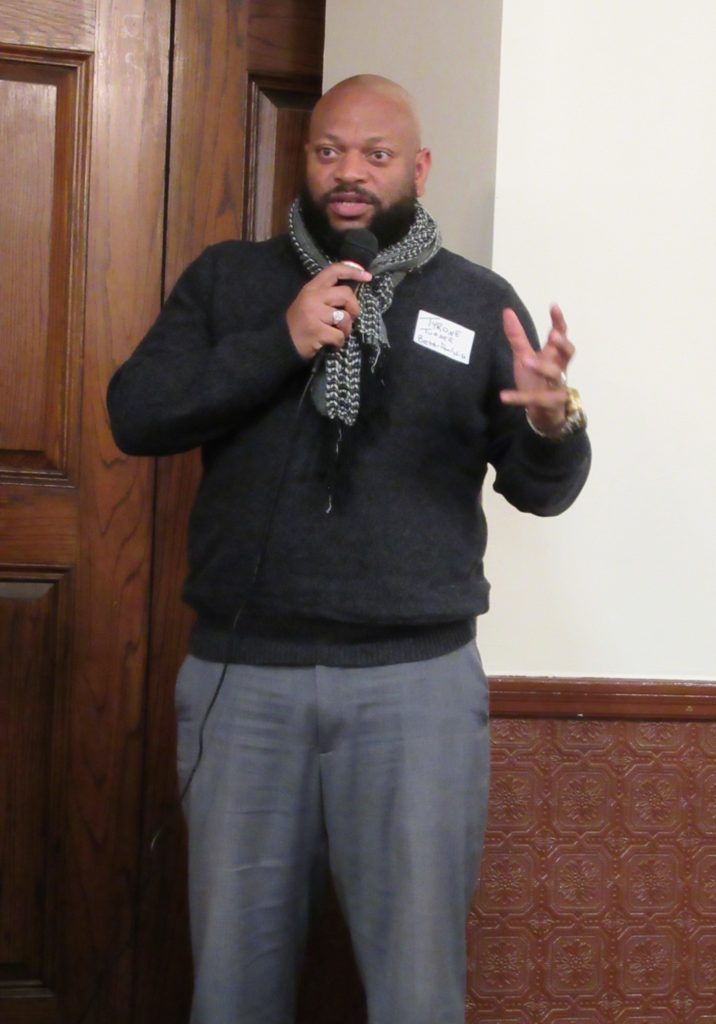 Another member of the panel, Tyrone Turner, Vice President of Better Family Life's Housing and Asset Development, earned a Bachelors in Finance from S.E. Missouri State. He's been working in housing development for the past 15 years.
Better Family Life has constructed a hub for low income families to meet at 5415 Page Blvd. There residents can take micro classes on a variety of topics including financial literacy. BFL also helps with home repairs. The organization has established de-escalation centers, and sponsors entrepreneurship training for youth in schools from East St. Louis to districts in West County. You can learn more about Better Family Life's work on the website.
On the housing front, the organization has developed a revitalization plan to create more affordable housing by rehabbing 100 homes along Page Boulevard. "When you get to Page, the 'divide' becomes a cavern. Redlining by the banks in the 50s & 60s still affects the area," Turner said.  "Considering that the largest share of one's wealth is tied up in housing, you can see what a disadvantage it is not to be able to own a home."
A few other things that Turner mentioned were also quite interesting. "As much as we focus on race, it's really about money. Decisions by business leaders long ago affected  the control of wealth in St. Louis."
Before moderator Malaika Horne wrapped up the discussion she suggested: "Let's call it the Delmar "Bridge," not the "Divide."  Then she asked the panel to describe what their hopes are for the future.
Gail Brown dreams of a safe, walkable community north of Delmar, with Fountain Park and Lewis Place becoming destinations. She also wondered if St. Louis couldn't put a lending fund together targeted toward home ownership, as Detroit has created.
Neal Richardson added: "There needs to be more ownership in the area north of Delmar, but right now a lack of supply and a lack of demand in those communities does not attract investors. We must create opportunities for people to own property."
Asked what we can do to help in the short term, Turner suggested a neighborhood cleanup, which would help residents begin to appreciate where they live.  Many in the audience thought that was a great idea. If a neighborhood clean-up is organized, I will be sure to post the information.