If you happened to miss the gallery openings last Friday in the CWE, the exhibitions, featuring a wide variety of art created by both local and internationally-known artists, will remain on view a while longer. I've listed closing dates below.
Internationally-known artist Judy Pfaff's New Prints will be at Atrium Gallery, 4814 Washington Avenue, until June 2.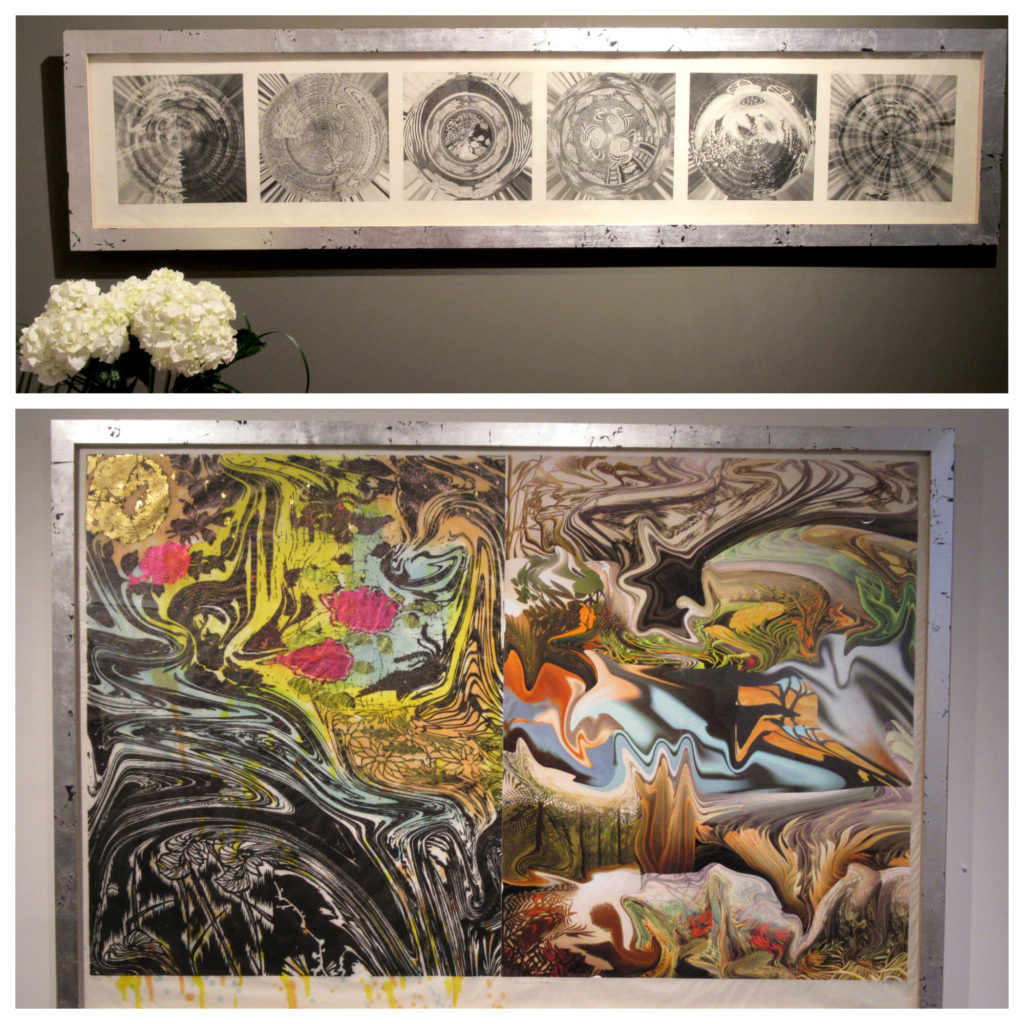 New Prints was inspired by the Pfaff's travels through India. Top photo: Spin, 16 x 72″ photogravure. Bottom photo: two foxes…, 46 3/4 x 68″ woodcut, archival inkjet, colored silver leaf, hand-painted dye. The frames are hand-painted too.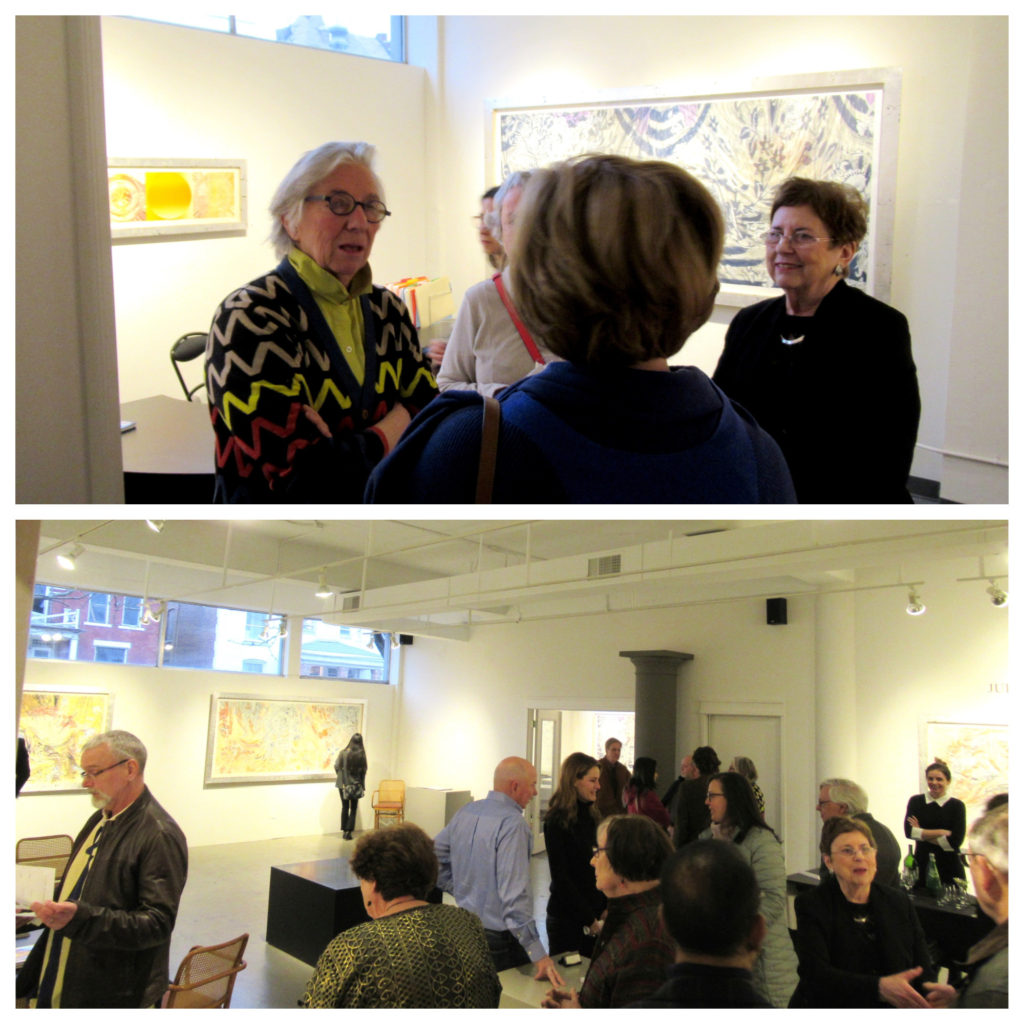 Top photo, left, Judy Pfaff, and far right Atrium Gallery proprietor Carolyn Miles.
Bottom photo: A view of the crowd enjoying the exhibition.
Pfaff earned a BFA from Washington University and MFA from Yale University. Her work is in the permanent collection of museums including the Museum of Modern Art, and Soonhwa Arts and Culture Foundation, Seoul, South Korea.
At Trinity Church's Parish Gallery, 600 N. Euclid, What We Remember, What We forget, a group fiber exhibition can be viewed Tuesdays, Wednesdays, and Thursdays from 9 to 5, Fridays, 9 to noon through May 17. Enter the gallery from the parking lot just north of the church.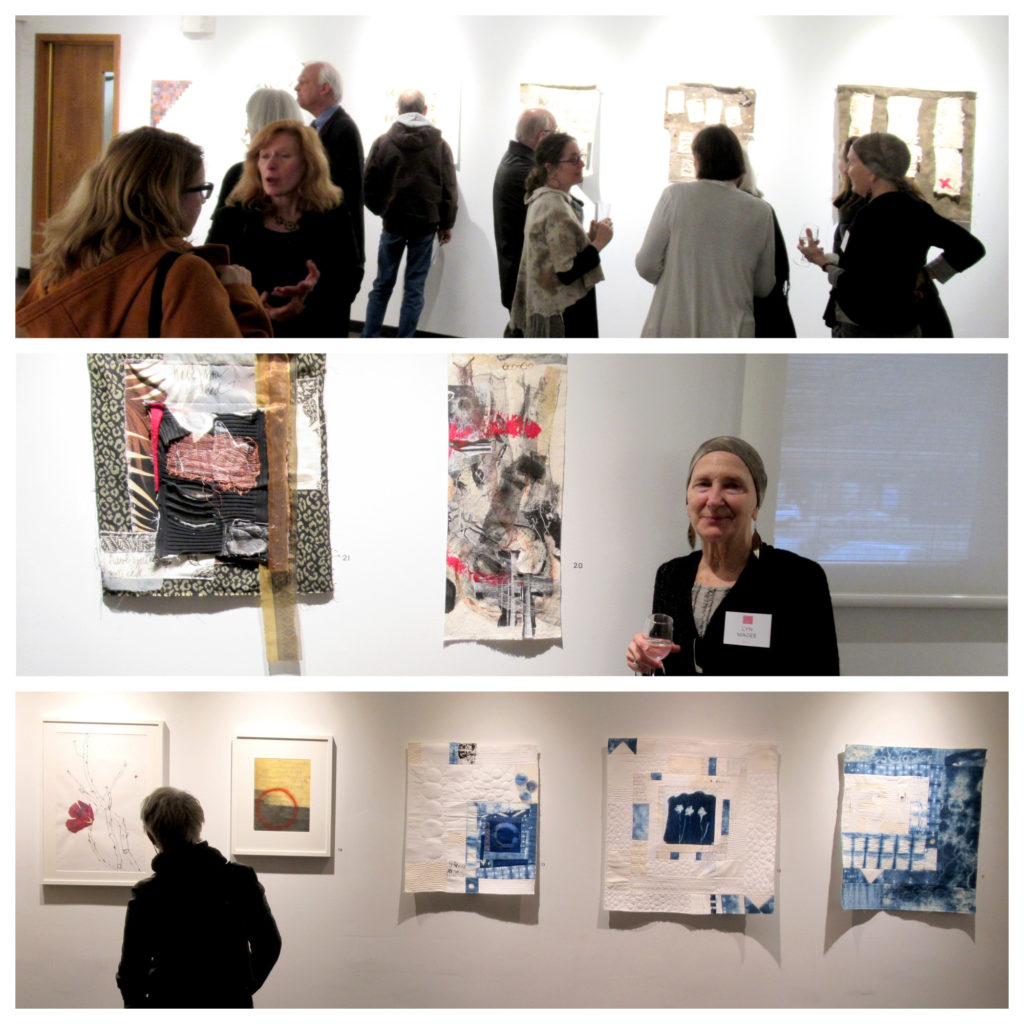 Exhibiting artists include: Lyn Magee (middle photo), Gina Alvarez, Kelly Larson, Suzy Farren, Carlene Fullerton, Eden Harris (a Trinity Church parishioner),  and Nadine Porter. Gina Alvarez is the Executive Director of Living Arts Studio in Maplewood, Kelly Larson is Creative Director of Living Arts.
The artists' statement: "For more than three years, we've met as a group twice a month to talk about art and life. Loosely formed as a way to critique one another's art, expand our knowledge of contemporary art, and broaden our art vocabulary, Monday Dialogs has deepened our collective understanding of why we—and others—create. Fueled by wine, our Monday dialogs are often animated, frequently funny, always interesting. Our discussions inform the artwork each of us creates. Though our styles, processes and materials vary, memory is a key component for each of us in the creative process."
STL Paints at The Vino Gallery, below, 4701 McPherson Ave. will remain on view until May 31. Stop by during shop hours and enjoy a glass of wine while you view art by Hex Triplet, 18andCounting, Bryan Walsh, Bryan Pease, Adam Sherman, Justin Dirks, Jeffrey Sass, Killer Napkins, Justin Tolentino, Phil Jarvis, Chabi Bayou and Myles Keough.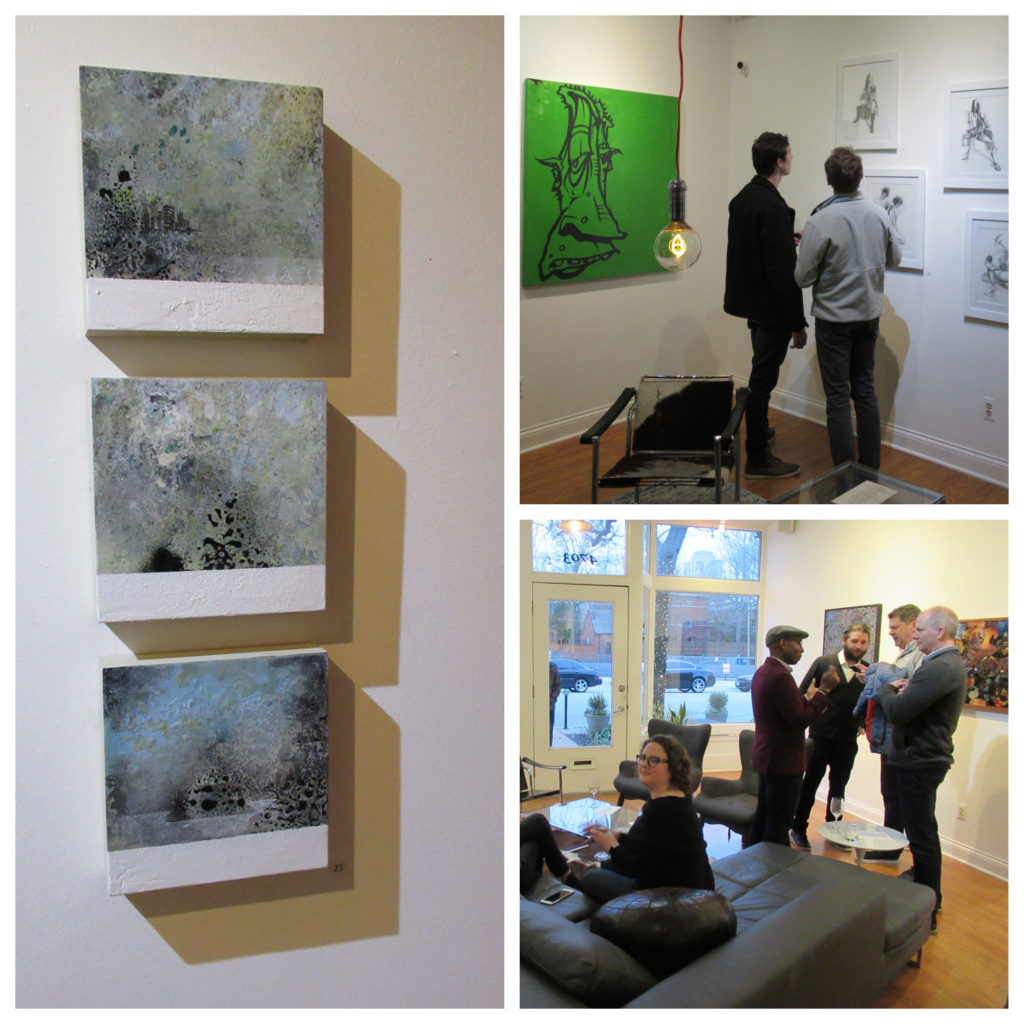 From left: Sim City by Miles Keough; top right: Justin Tolentino's Lantern, artist Phil Jarvis' Magnolia, Stacy, Violet & Eve.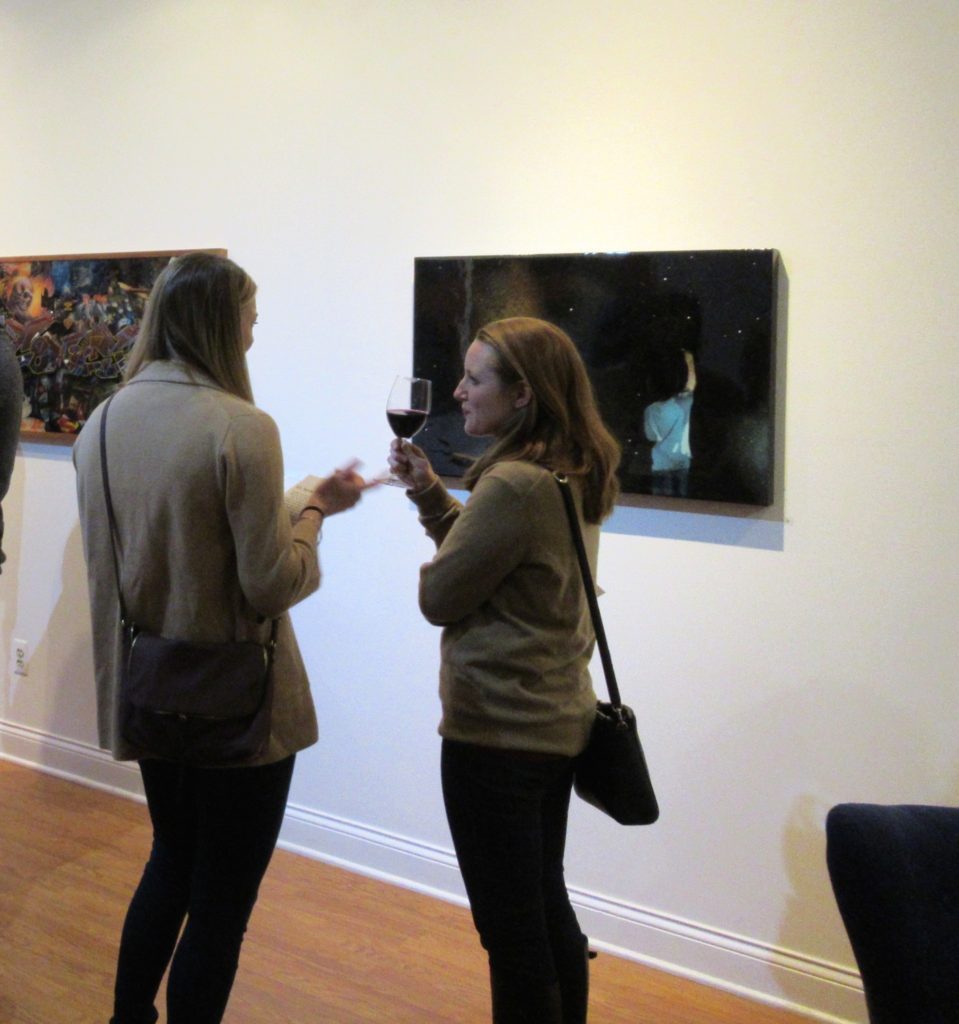 Also at The Vino Gallery, far left, I love Comics by Adam Sherman, and right, creator by Justin Dirks.
At Duane Reed Gallery, 4729 McPherson Avenue, works by Miles Bar, Jeffrey Vaughn, Ahzad Bogosian and Irina Zaytceva will remain on view through May 12.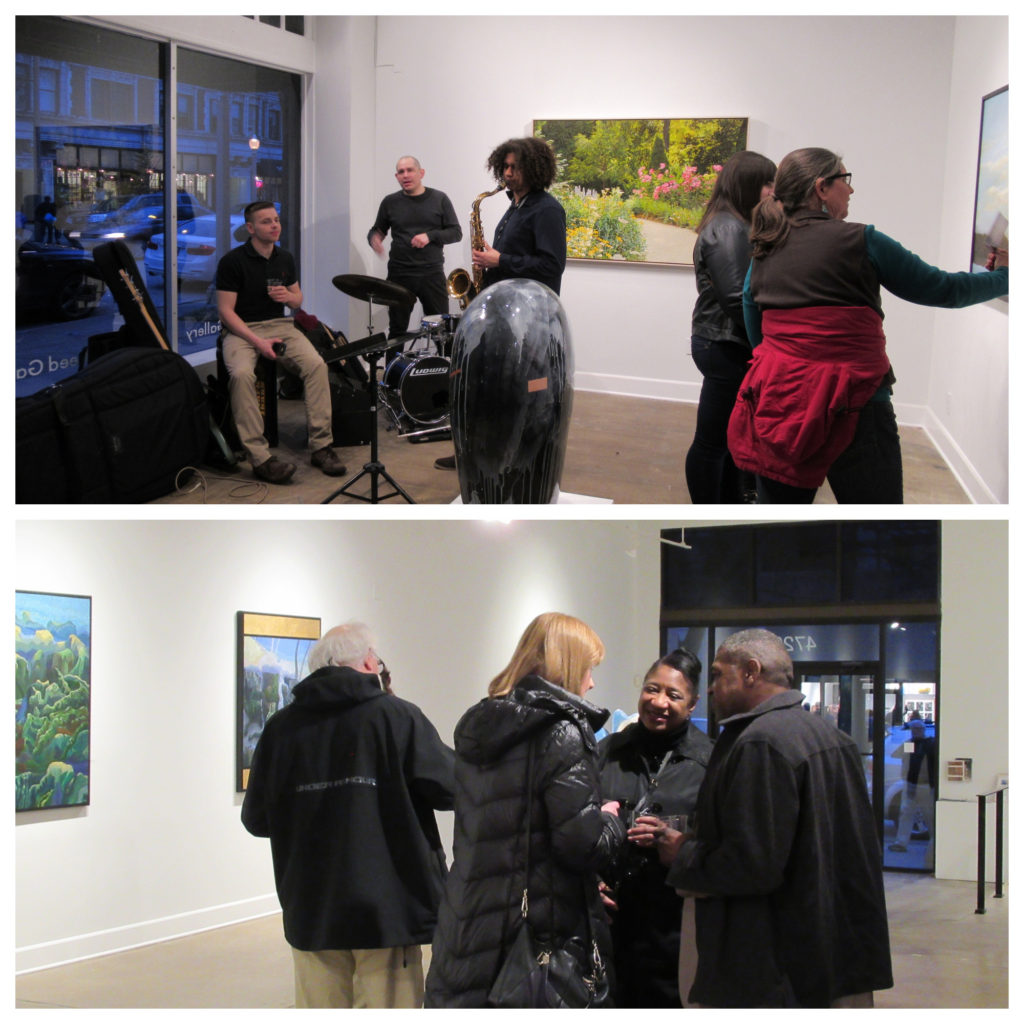 Above: Some of the many art lovers who visited Duane Reed Gallery last Friday evening.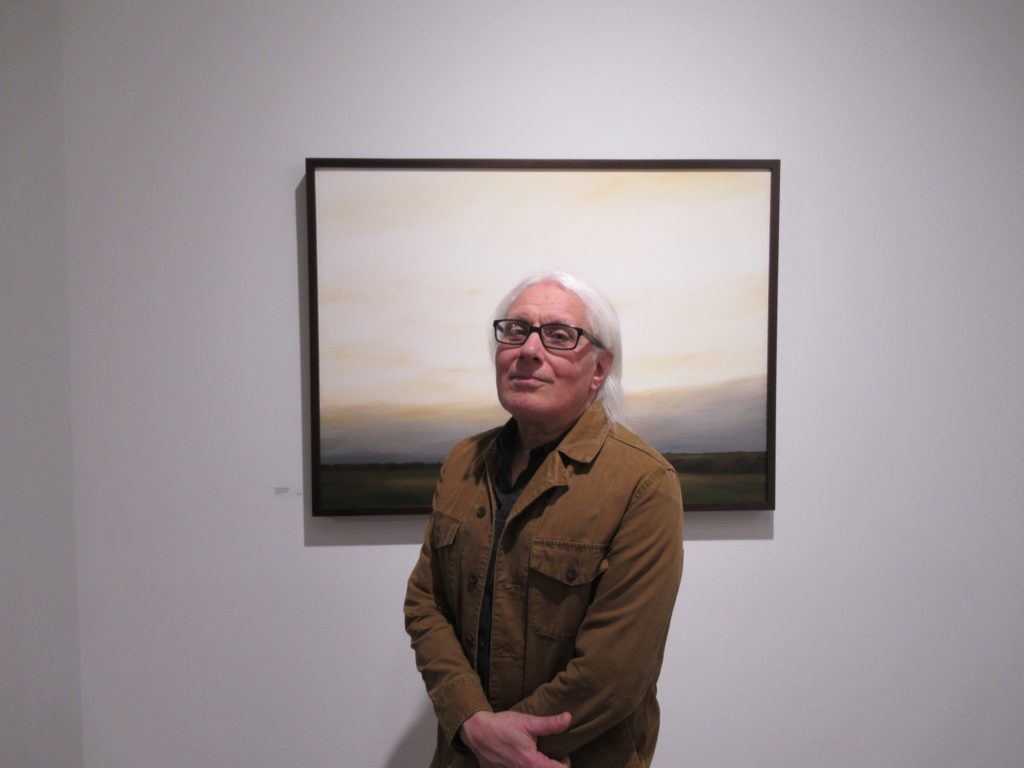 St. Louisan Ahzad Bogosian, above, earned both his MFA and BFA from Fontbonne University. The artist "channels the Midwest and Western landscapes for his mood-rich paintings."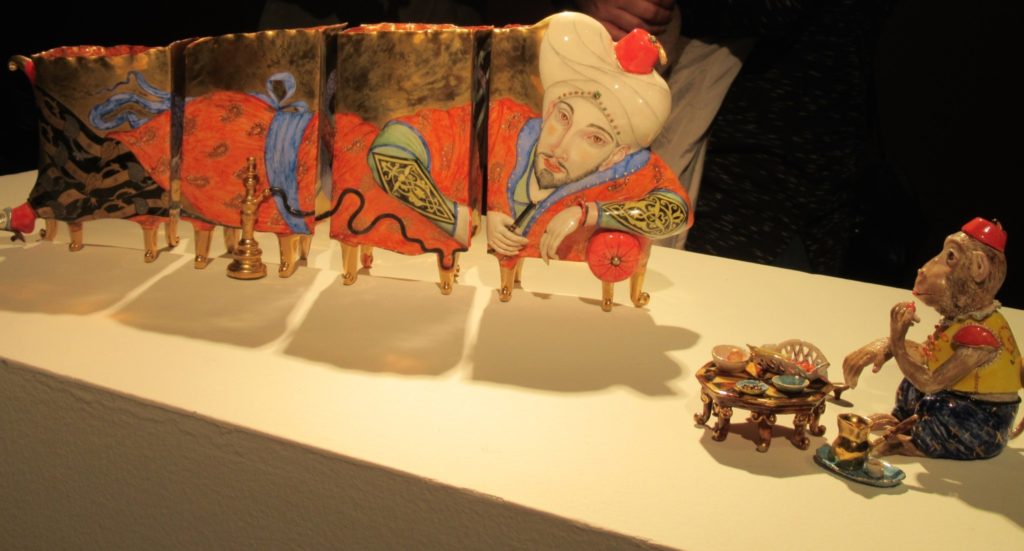 Examples of Irina Zaytceva's porcelains are shown above. The artist was born in Russia and has a studio near Princeton, N. J.
Houska Gallery, 4728 McPherson Ave., is featuring From La Fragua to Vermont: Works on Paper by St. Louisan Peter Manion.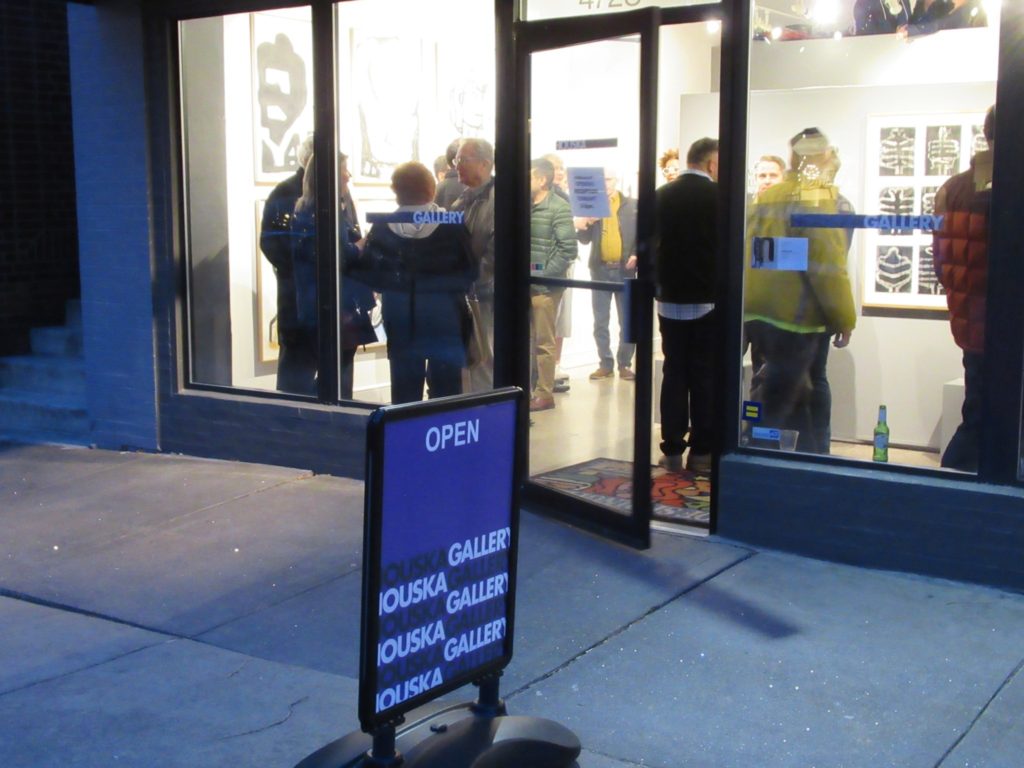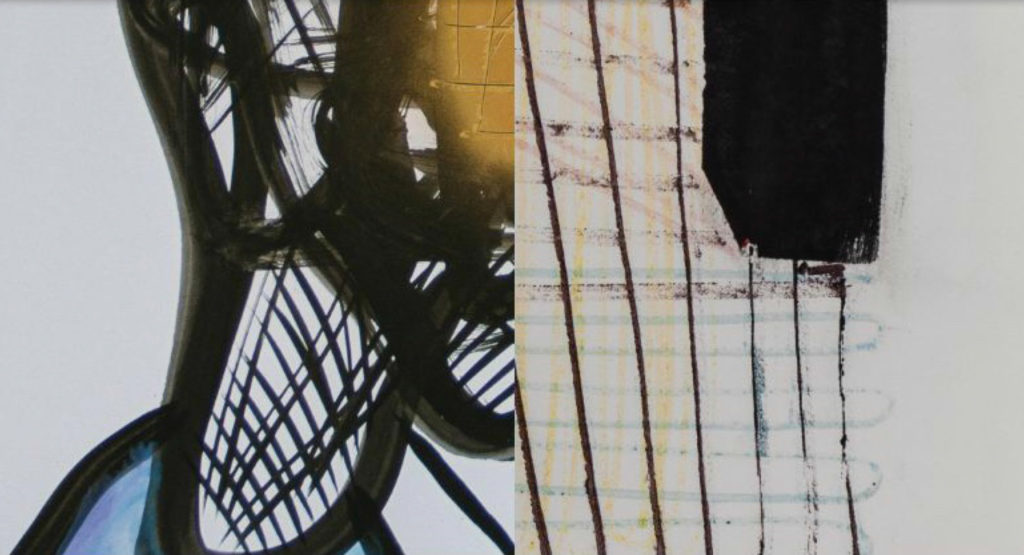 Proprietor Charles Houska emailed that the opening was packed and that Manion's work just about sold out. Email Charlie Houska at charles@houska.com for gallery hours.
Centro, 4727 McPherson Ave., was the site of a gathering for members of Modern STL. The photograph below was taken just after most of the guests had left.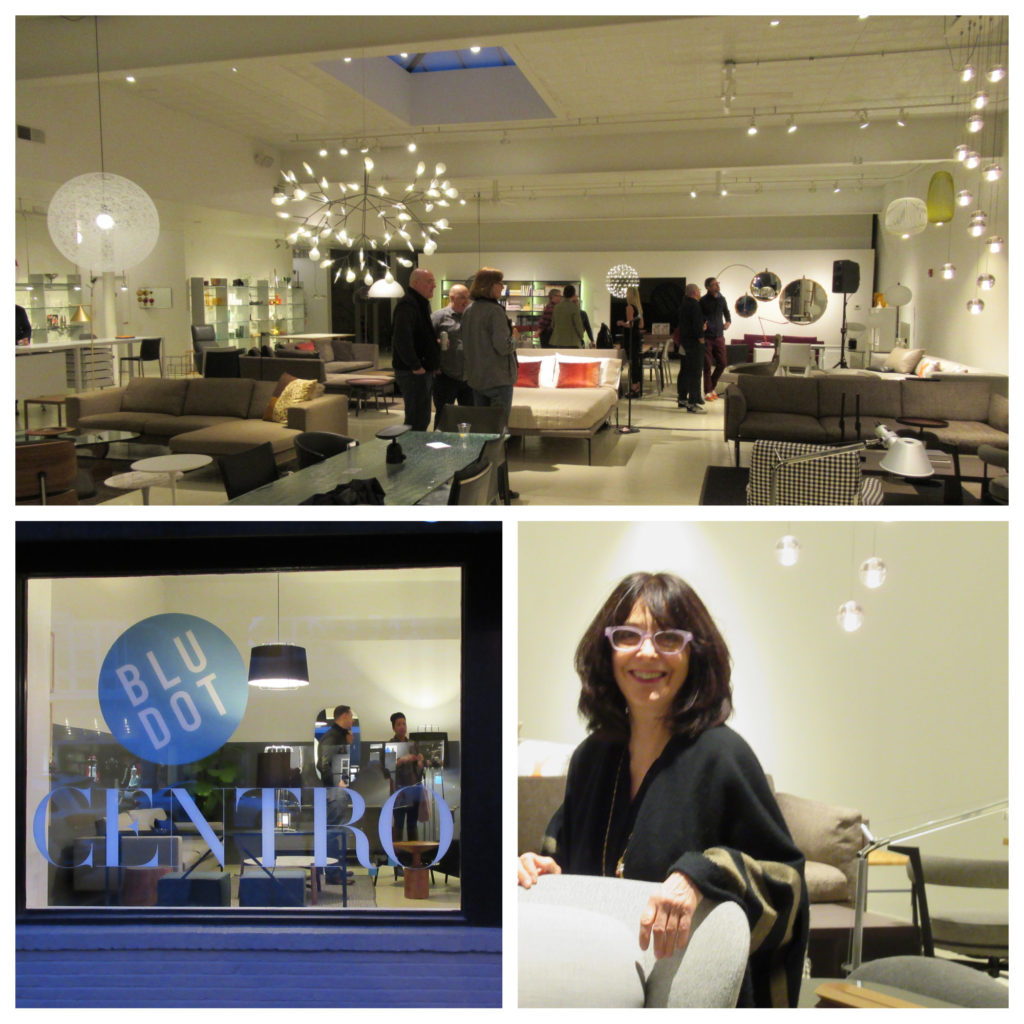 ModernSTL was founded in 2010 to promote the identification, education, preservation, and celebration of Modernism in the St. Louis region. The event featured the 1st St. Louis screening of Le Corbusier 50: Stories of Encounters that have Revolutionized Design.
Bottom left: Centro is now carrying Blu Dot furniture from Minneapolis. Right, Centro's co-owner Ginny Stewart.
There are two additional art openings occurring in April.  On Thursday, April 26 from 5 to 8 p.m. Philip Slein Gallery, 4735 McPherson Ave., is hosting Improvisations and Premeditations, while next door at 4733 McPherson, you can experience Seeing Other People at projects + gallery.
We are fortunate that there always seems to be something interesting to explore in the CWE.