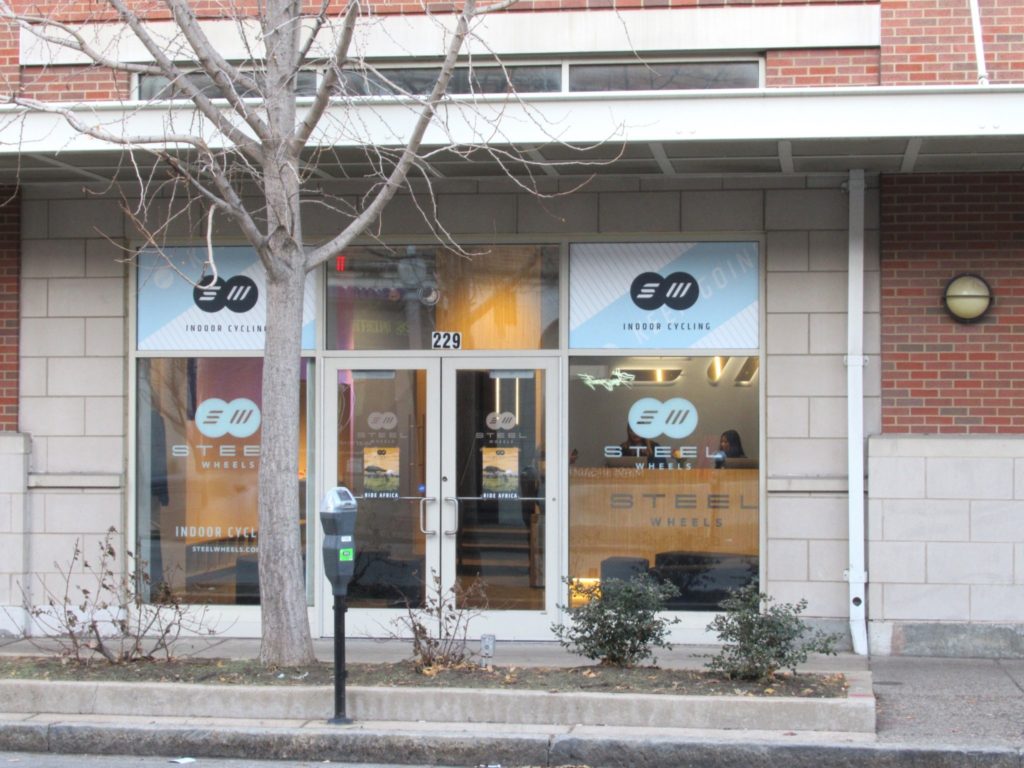 Early Thursday morning I walked over to check out the new Steel Wheels Indoor Cycling, which Bob Koplar of Koplar Properties just opened at 229 N. Euclid between Maryland Ave. and Lindell Blvd.
For some reason I have never really taken to indoor cycling, but that changed yesterday after 45 minutes biking through the streets of London accompanied by music and occasional videos from the Beatles.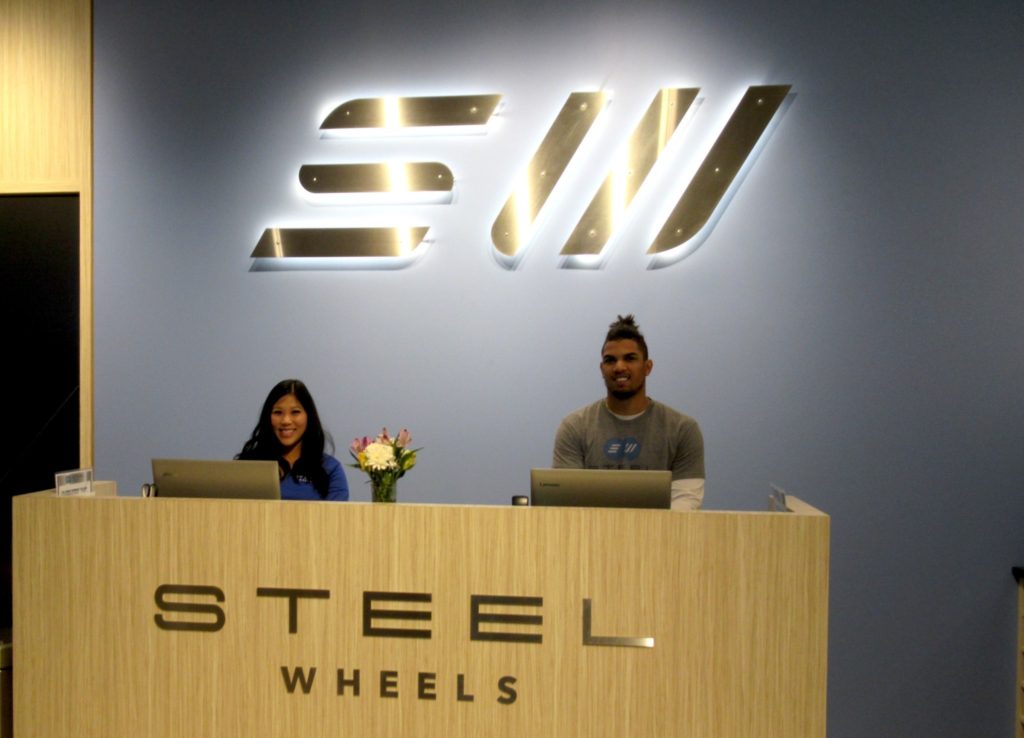 Steel Wheels is a hi-tech operation. Signing up for a class, and then choosing which of 40 bikes you want to ride, is done online in advance (though if you arrive early enough, it's possible to sign-up on the spot for a class, depending on availability of bikes). Early-bird staffers Erica and Nick, above, walked me through the check-in process, which is simply signing in on iPad screens in the sleek, handsome lobby.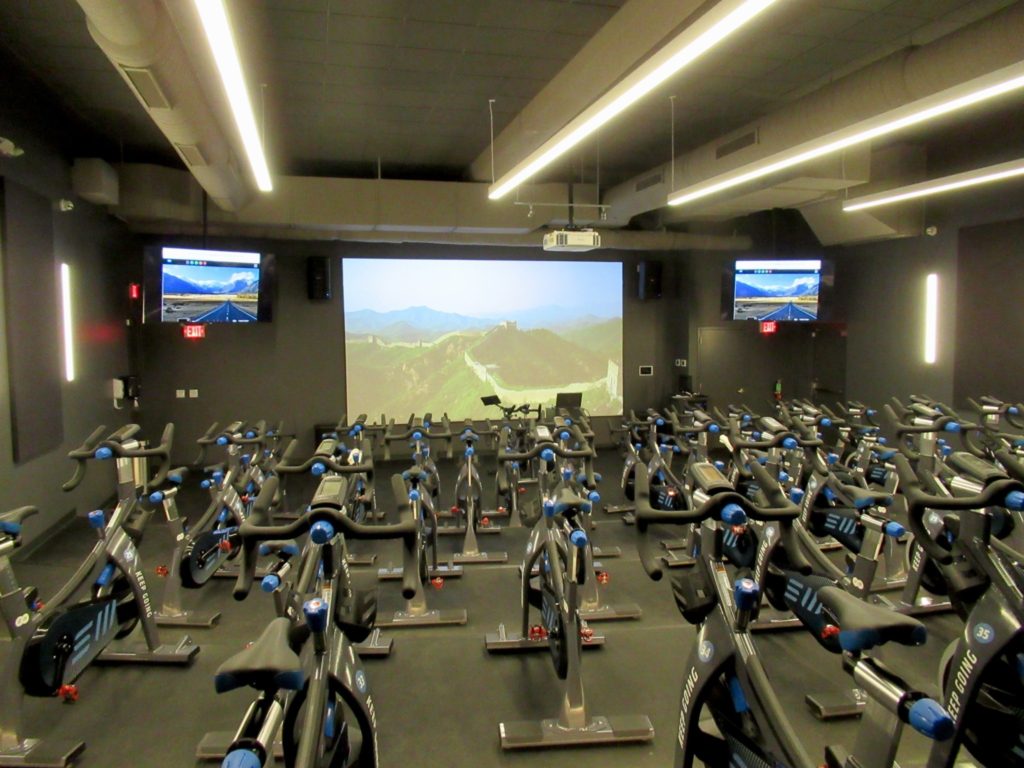 Extensive renovation of the 4500 s.f. space, formerly occupied by Regency Stamps, included the creation of an amphitheater that slopes to a giant HD projection screen. Each day of the week the classes will take you to different parts of the world mixed with music videos to keep the experience both interesting and fun. View the schedule here for more information.
The bikes, equipped with monitors to record how you're doing, require special shoes, which are provided. "Look Delta" and "SPD" cleats are two brands that are compatible with the pedals on Steel Wheel's bikes.
Monitors display the names of each rider so you can see how you're doing compared to the other riders. When I saw my name on the screen, I immediately asked if it could be removed. I was there for the fun, not to compete. Nick, right, is shown helping Stephanie, the instructor, take my info off the monitor.
It's important to note that Steel Wheels welcomes all riders, from racers to novices. "Intensity is up to the individual rider…if you want to coast, coast away. If you want to compete, ride to win." I was definitely in the "coast" category, and happily kept up with the ride at my own pace. After the class, you'll get an email listing your stats, including how far you rode (8 miles!), the pace, etc.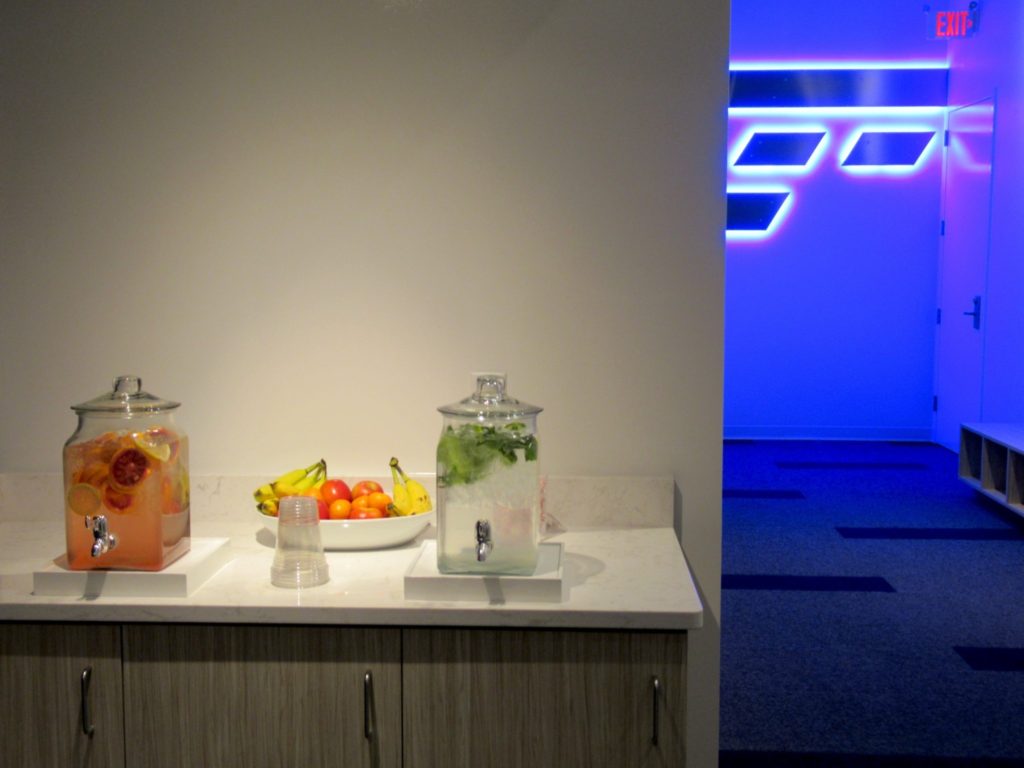 Everything about the design of Steel Wheels is well considered, starting with the choice of colors. The locker room area has complementary fruit waters, fresh fruit, and a water bottle refill station. There are changing rooms,  3 bathrooms, one with a shower, and glass jars filled with complementary hair clips and ear plugs, in case you want to ride in silence. This is also where you change into your biking shoes and pick up a towel for the ride.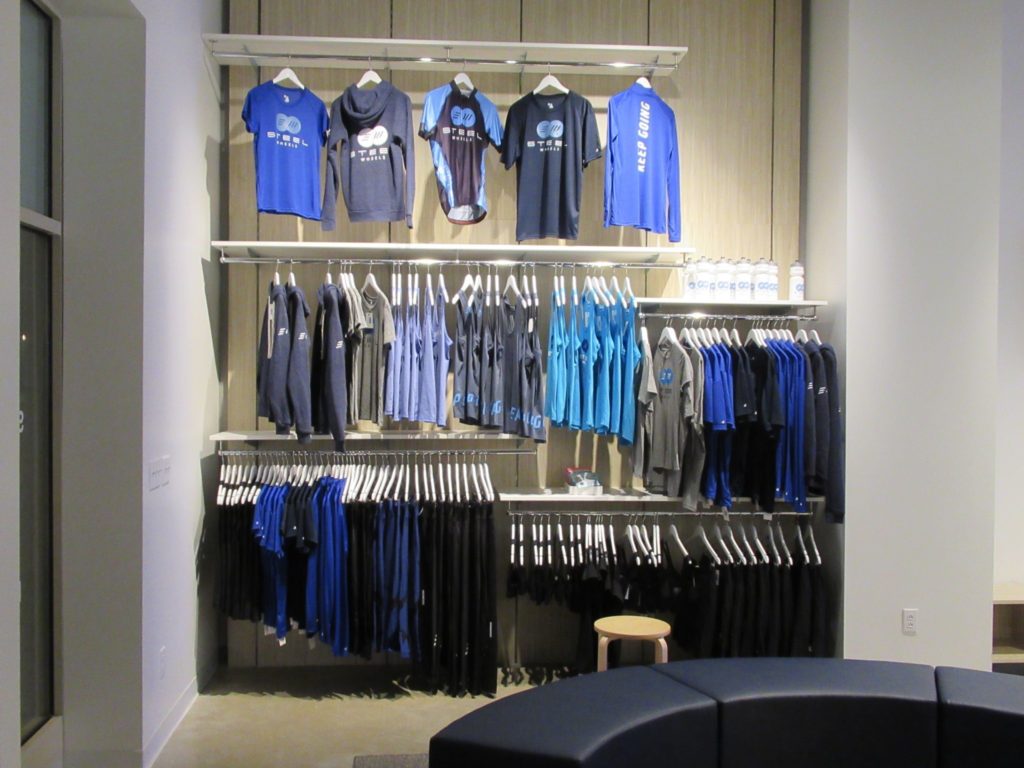 Bob Koplar's wife, fashion designer Emily Brady Koplar, designed all of the Steel Wheels apparel displayed above, which is color-coordinated with the shop's interior.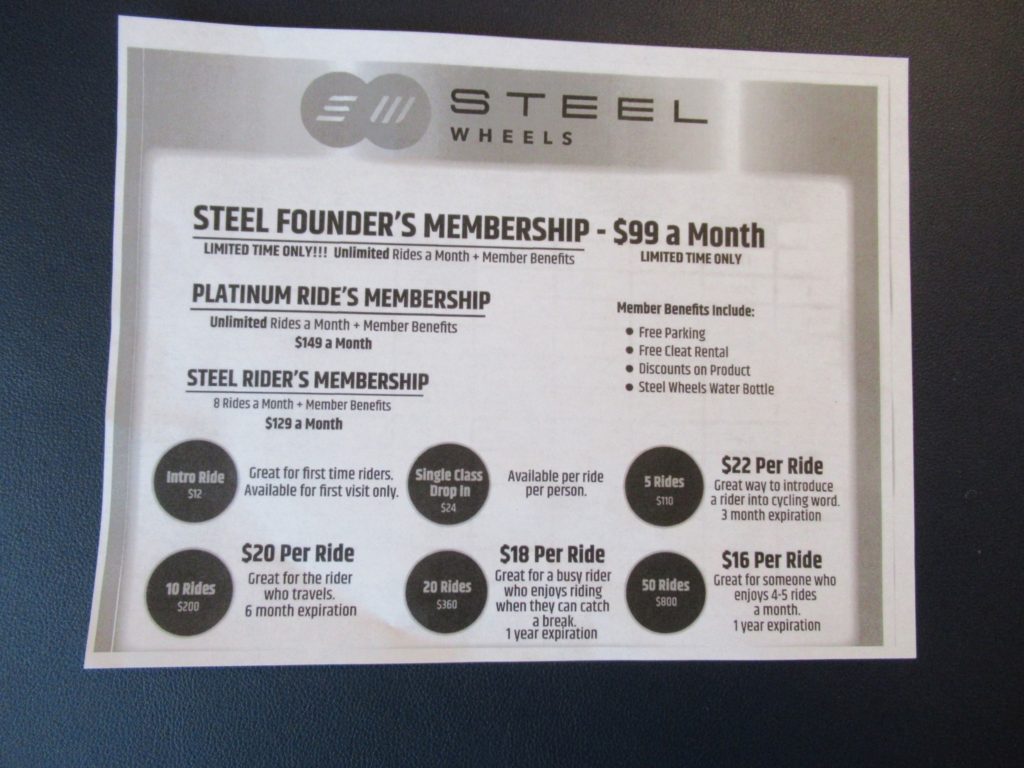 The flyer shows different membership levels at Steel Wheels. The Intro Ride of $12 is not clear in the photo, but it's a great way to check it out. There is also a Founder's Membership limited-time special of $99 per month, which includes unlimited rides and other perks, shown above. Parking is available in the Argyle Garage (Schlafly Branch Library). It's free with membership.
Steel Wheels, 229 N. Euclid, (314) 345-1001. For more information, stop in or visit the website.