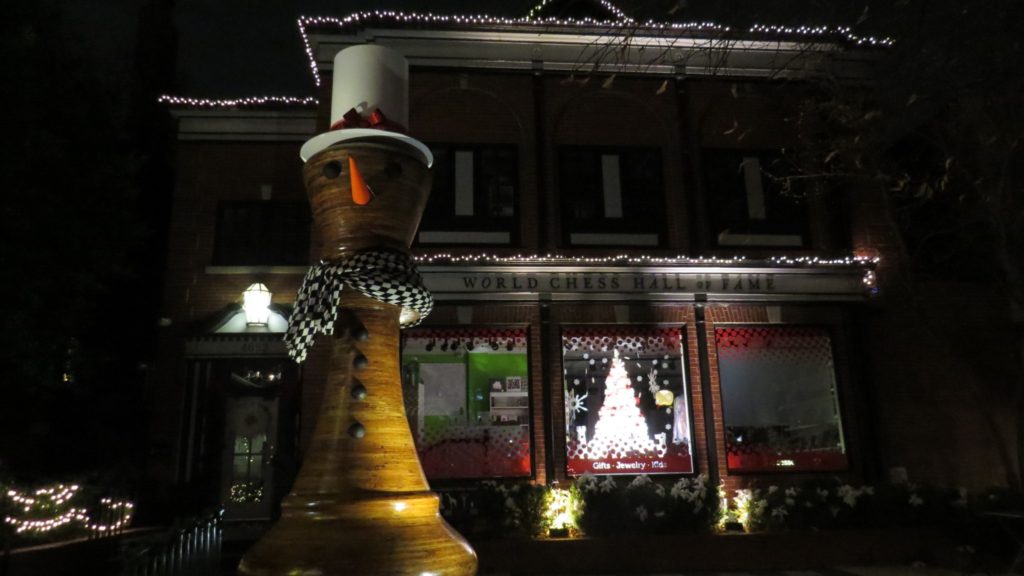 Q Boutique at World Chess Hall of Fame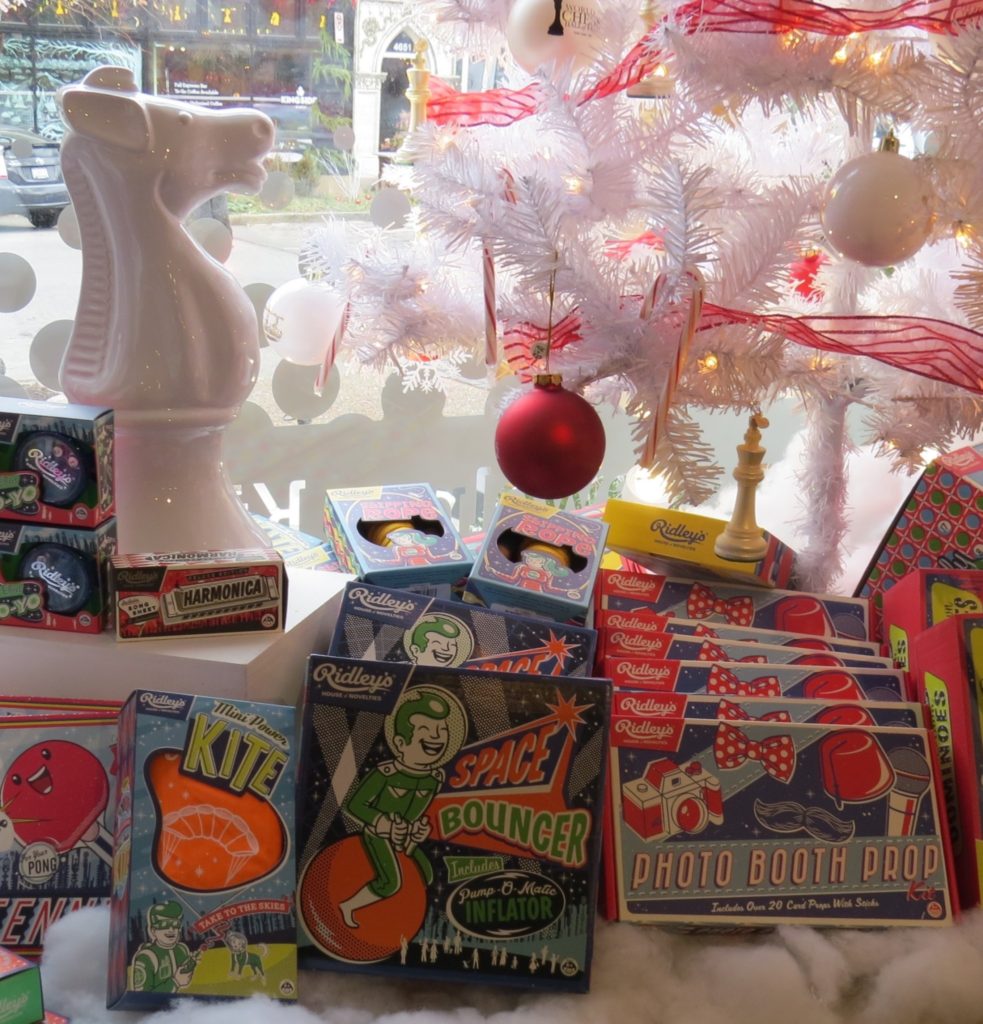 As I looked around for gift ideas at Q Boutique at World Chess Hall of Fame with manager Brian Flowers, it was apparent that this has become the CWE's toy shop.
Consider the great selection of Ridley's vintage toys displayed under the tree, $8 to $25. The packaging and contents should appeal to parents as much as their offspring.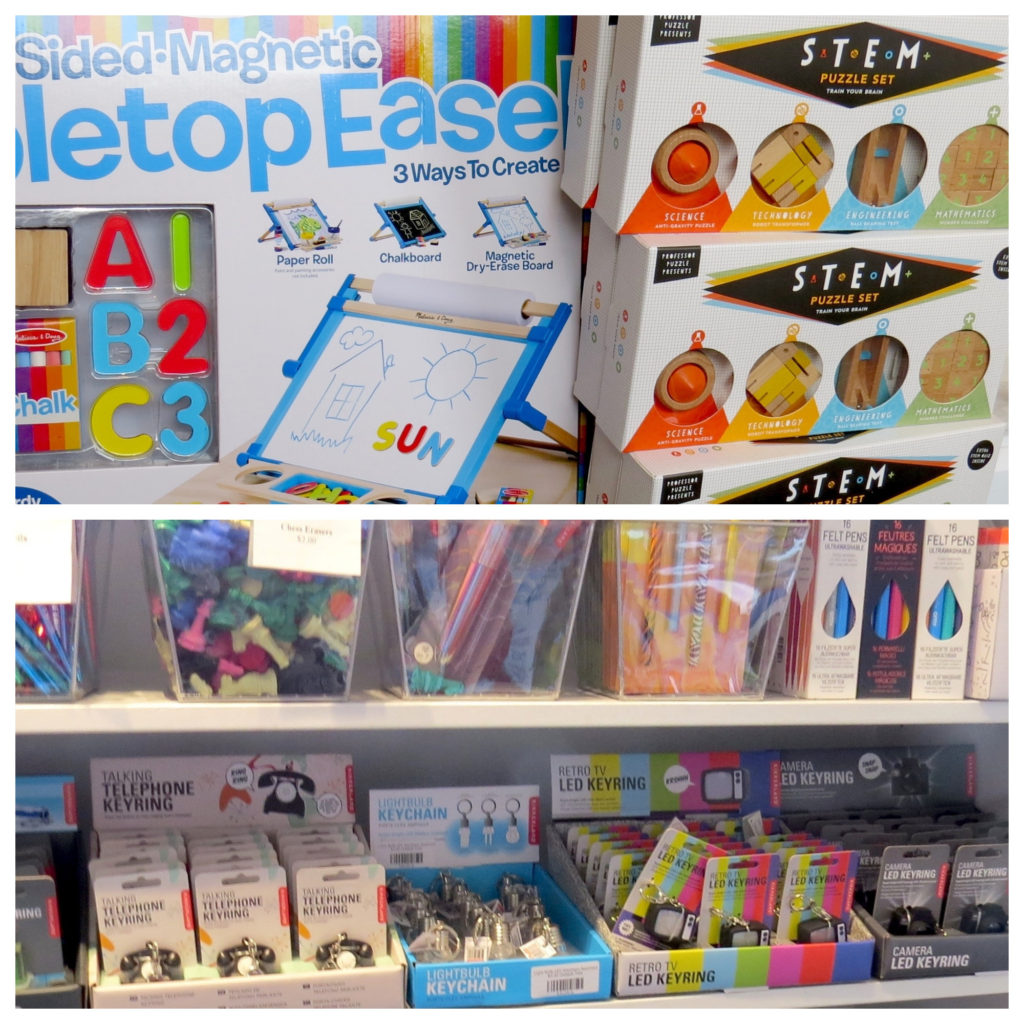 Top photo: A 2-sided Tabletop Easel includes chalk, markers, paper, and magnetic letters, for ages 3 & up, $45. STEM puzzle set, right, is $15.
Bottom photo: Shelves are chock-full of clever stocking stuffers, $1 and up.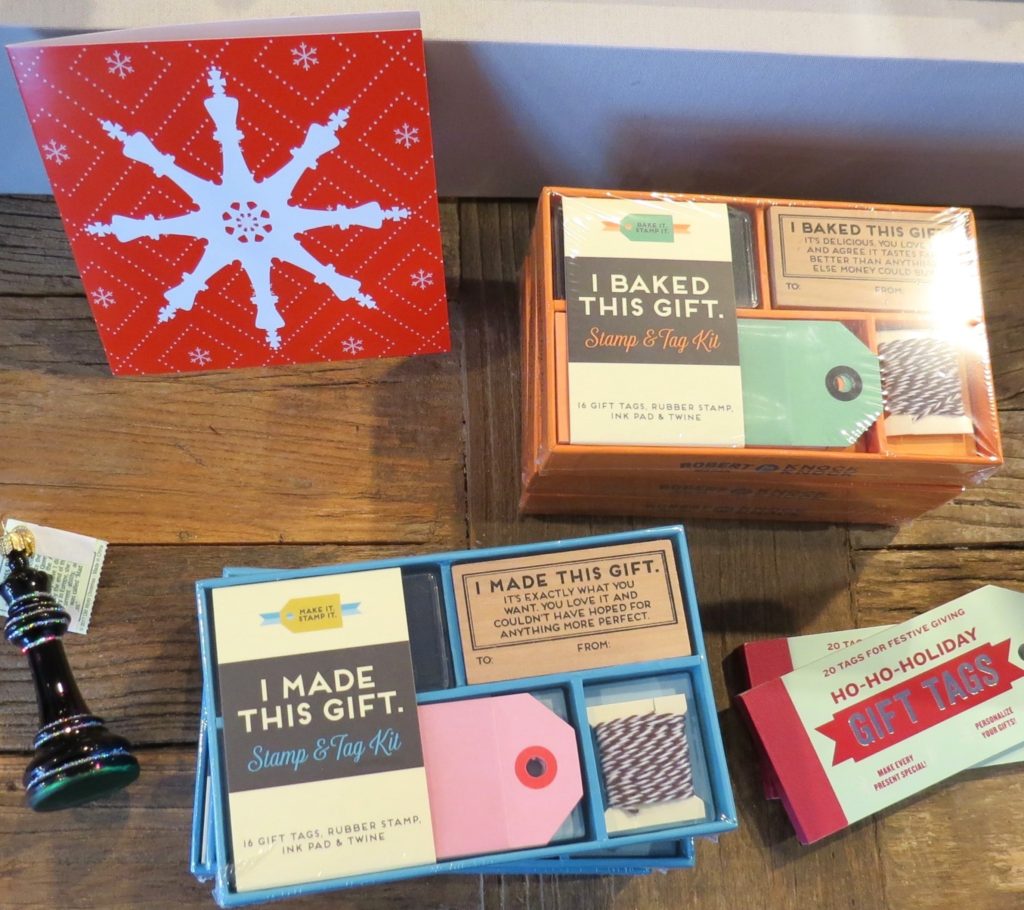 Other holiday necessities you'll find at Q Boutique include from top left: Chess-themed holiday gift cards, $7, Stamp and Tag Kits for your DIY gift: "I Baked This Gift" and "I Made This Gift," $16. Lower left, Chess piece tree ornament, $10, and lower right, a book of Ho-Ho-Holiday Gift Tags, $7.
Top left: Geeky Gear gift set includes lightning charger cord, ear buds, multi-head screwdriver, & collectible wind-up toy, $32. Right: For chess on-the-go a folding magnetic 10″ x 5″ set, $79. Below: Snazzy tee designed by WCHOF is inspired by the Vasarely exhibition currently on view in the museum, $20.
Q Boutique at World Chess Hall of Fame, 4642 Maryland Ave., Mon. & Tues. 10 to 5, Weds., Thurs., Fri., 10 to 9, Sat. 10 to 5, Sun. 12 to 5. Closed Xmas Eve.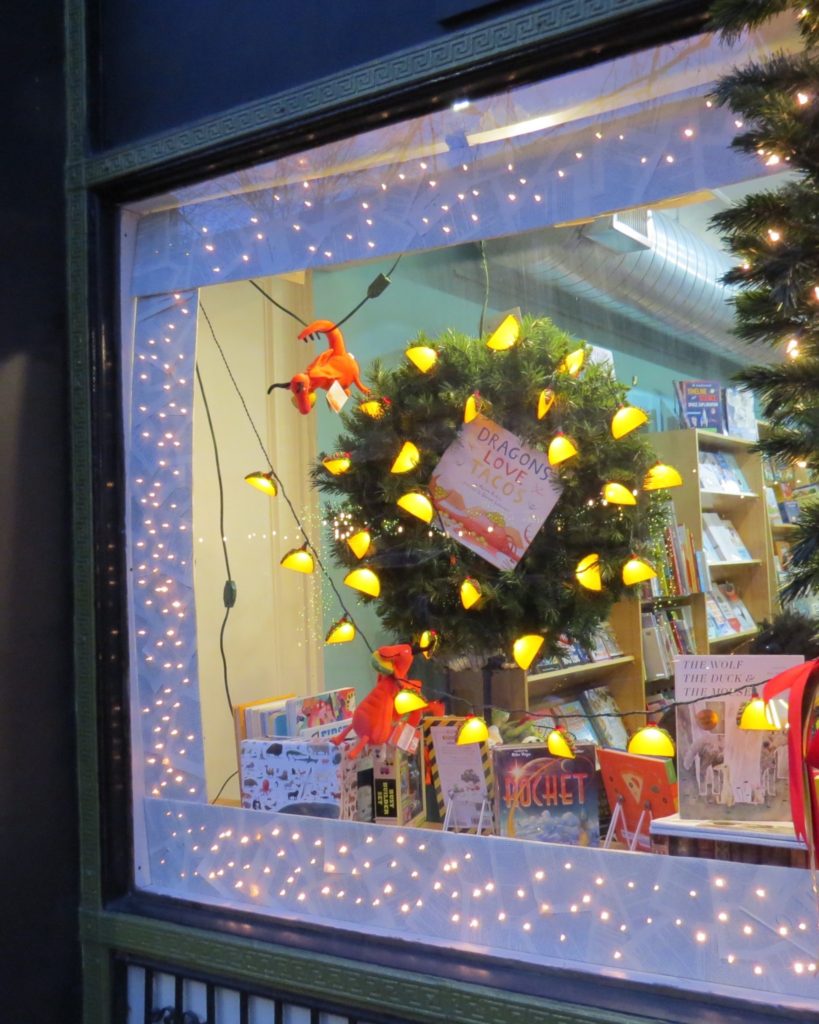 Left Bank Books: Windows designed by Enchanting Embellishments' Michael Shreves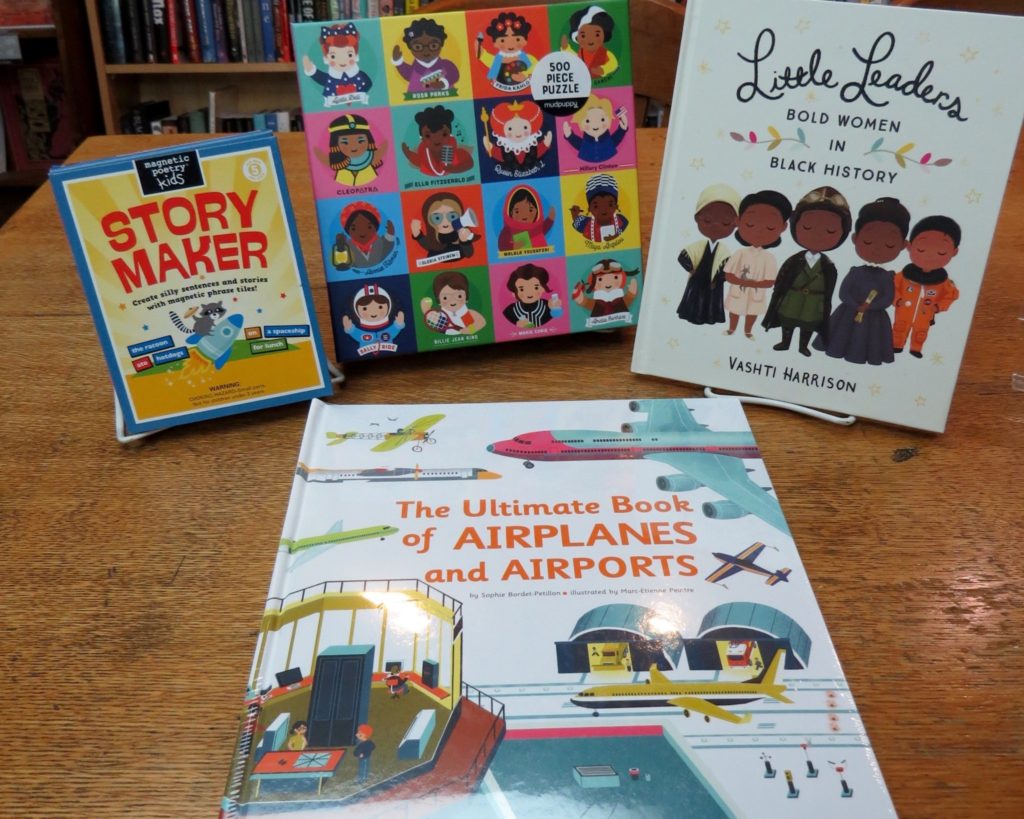 Found in the bookstore's children's section from top left: Story Maker, create silly sentences & stories with magnetic phrase tiles, $18.95, Little Feminist 500-piece puzzle, $13.99, Vashti Harrison's Little Leaders, Bold Women in Black History, $16.99, and The Ultimate Book of Airplanes & Airports by Sophie Bordet-Petillan, illustrated by Marc-Etienne Peintre, $21.99. The book has 50 moveable parts, so is not recommended for those under age 3.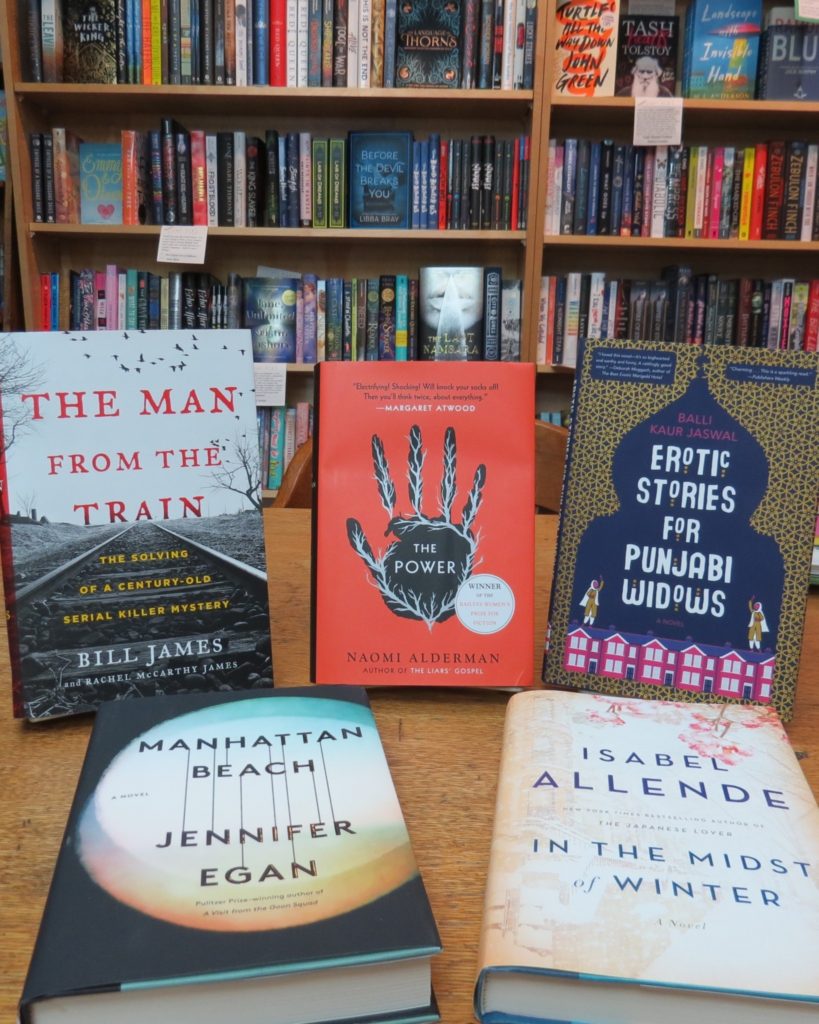 Left Bank Book's staff picks for the season include from top left, Bill James' The Man from the Train, $28, recommended by LBB staffer Shane Mullin's mother, Naomi Alderman's The Power, $26, Balli Kaur Aswal's Erotic Stories for Punjabi Widows (not a 50 Shades of Grey), $26.99, Indie Next Pick Isabel Allende's In the Midst of Winter, $28, and Jennifer Egan's Manhattan Beach. 
Click on each book to read the review.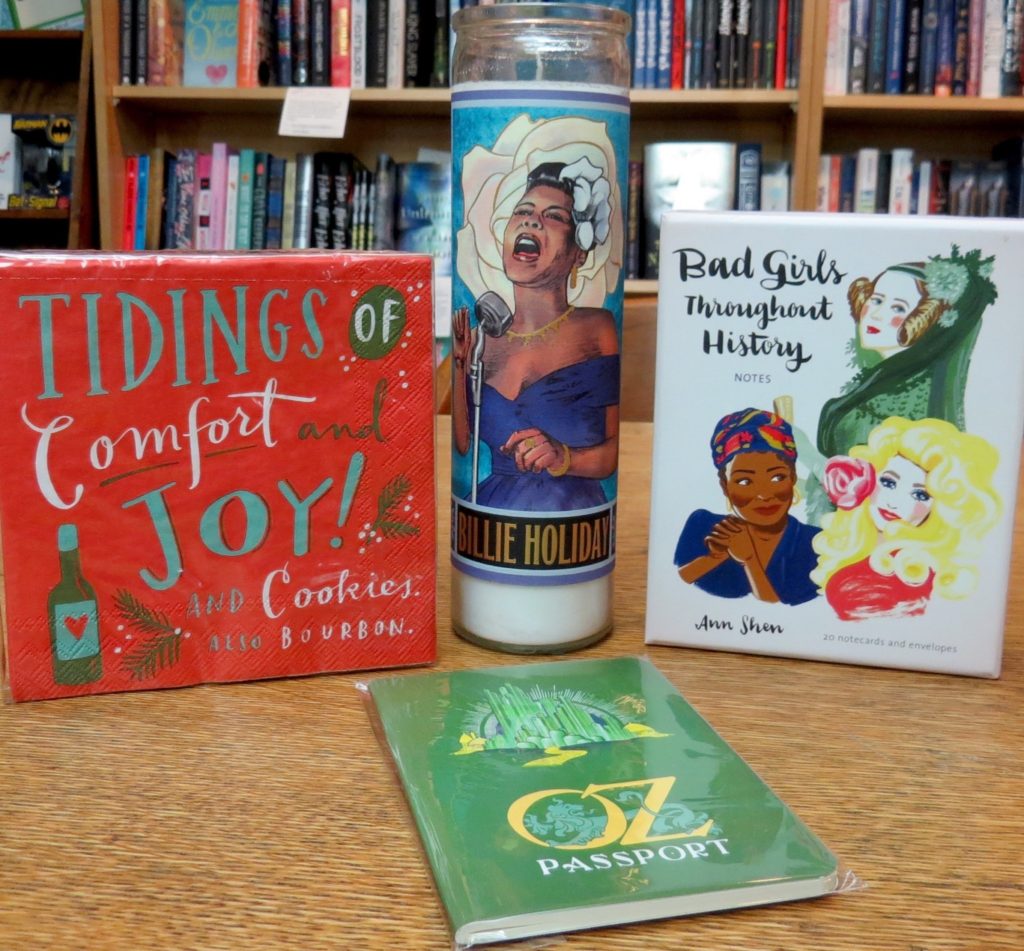 From left, artist Emily McDowell's cocktail napkins, 20 for $6, Billie Holiday candle, $12.95, Bad Girls Throughout History notecards, 20 cards (2 each of 10 designs), $14.95, and Oz Passport pocket notebook, $3.25.
Left Bank Books, 399 N. Euclid, Mon. – Sat. 10 to 10, Xmas Eve, 10 to 6.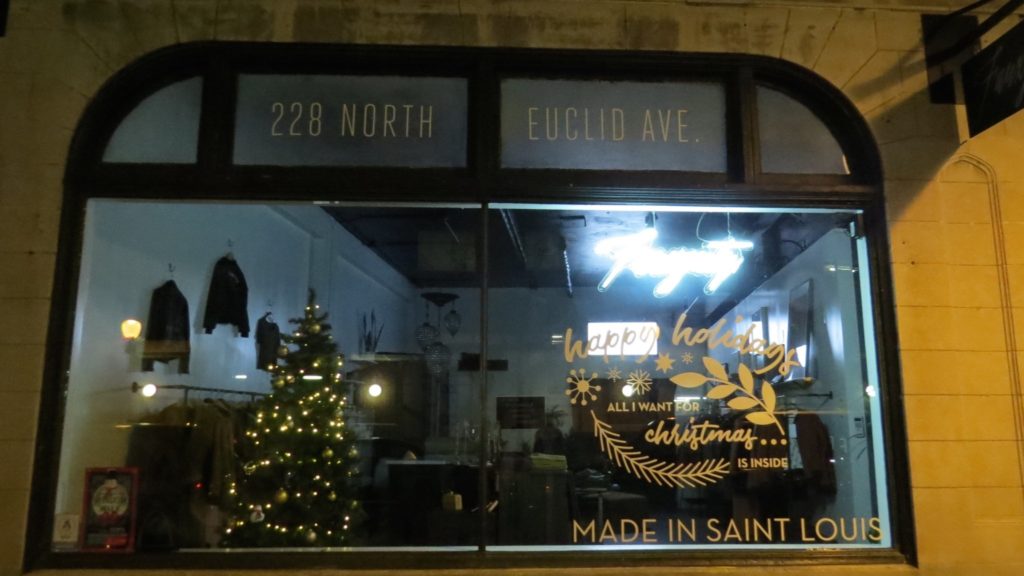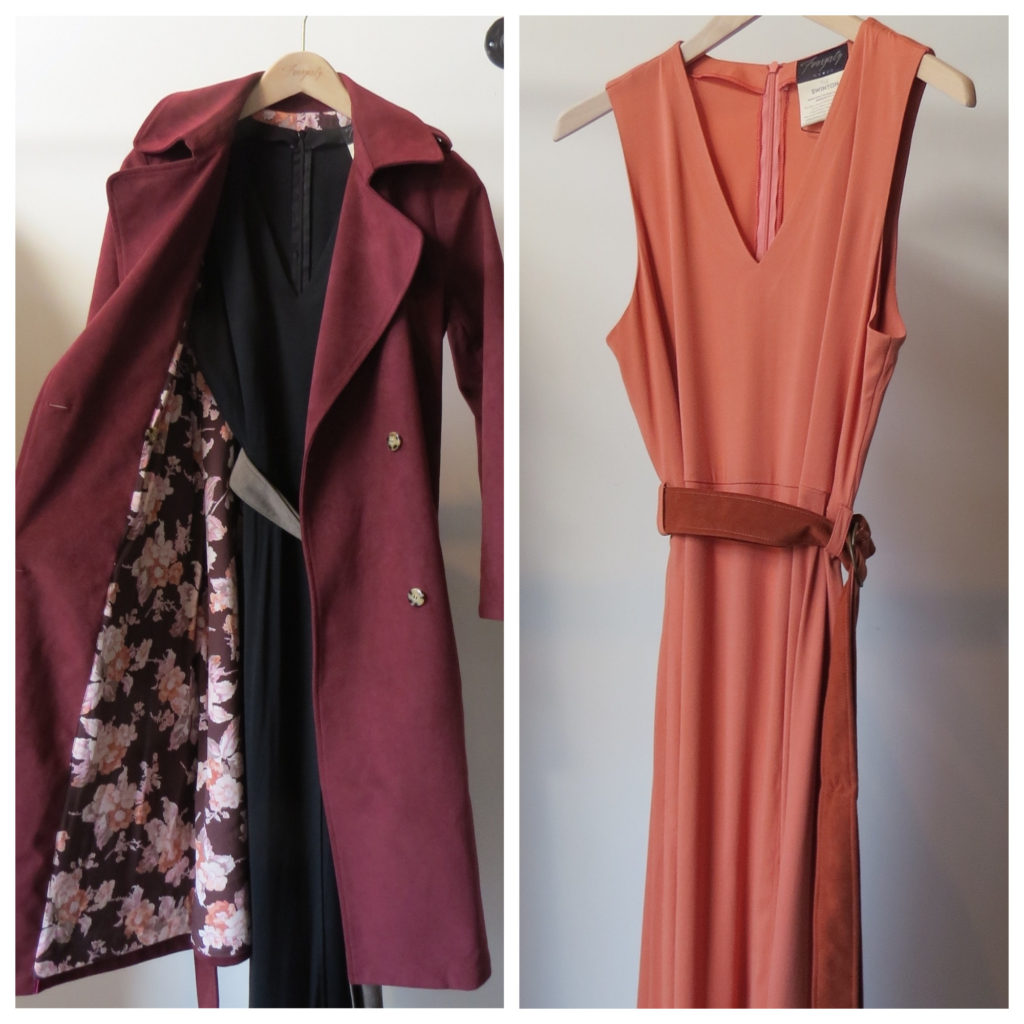 When Chrissy Fogerty first opened Fauxgerty in the CWE, the shop was known for faux suede and faux leather jackets, coats, and accessories.  The entrepreneur's business model focuses "on sustainability through cruelty-free, vintage and natural fabrics like organic cotton and hemp. All of the pieces are made in an ethical factory supporting fair wages."
Last April, the St. Louis-based company expanded its merchandise to include dresses, skirts & tops made of vintage fabrics.
Left: When you wear this faux suede trench coat, flash the fabulous vintage lining whenever you can, $625. The sleeveless vintage rayon Swinton maxi-length dress, shown under the trench and above right, is available in black or coral with faux leather belt, $225.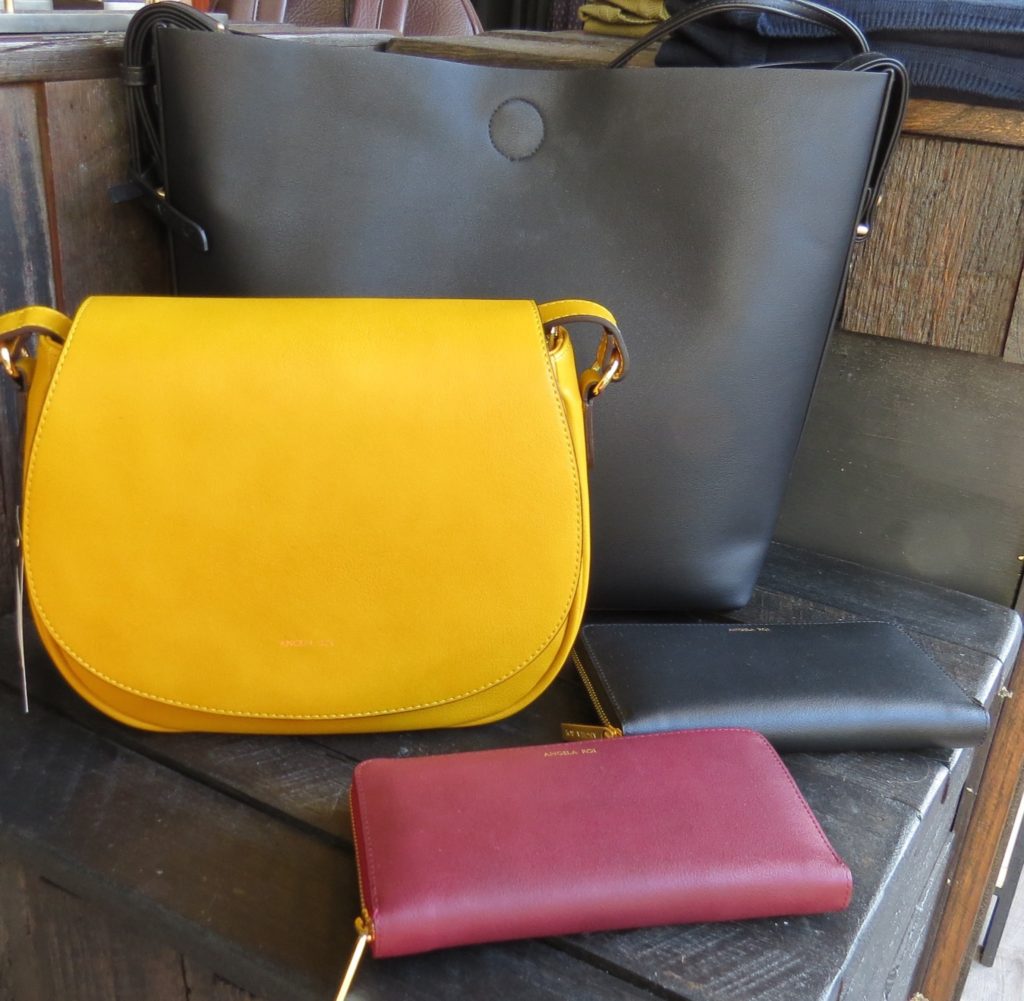 Fauxgerty also carries Angela Roi faux leather bags made in L.A. Shown above: the Morning cross-body bag in mustard,  $145, rose and black Olivia wallets, $105, and the popular Jules Bucket Bag (only 1 left), $195.
Fauxgerty, 228 N. Euclid, Weds. – Sat. 12 to 7, Sun. 12 to 5.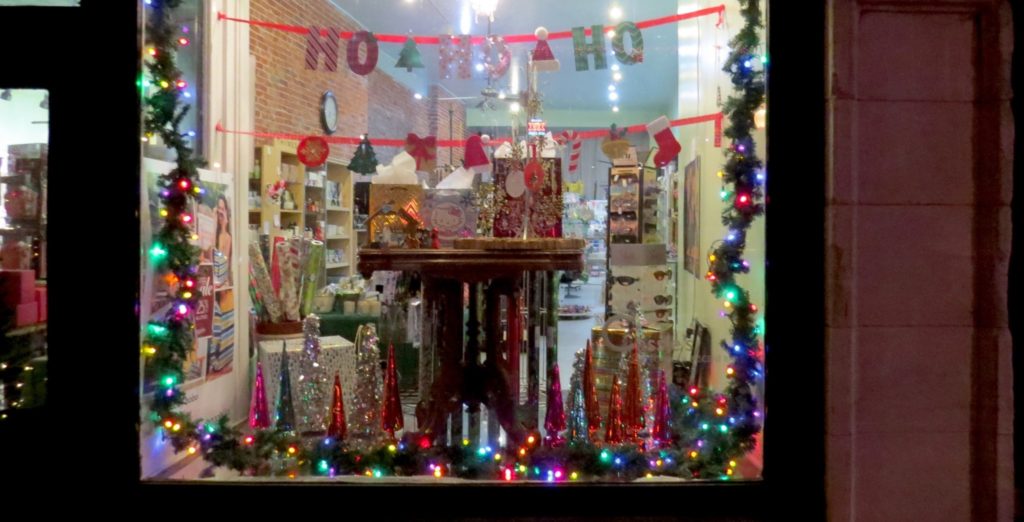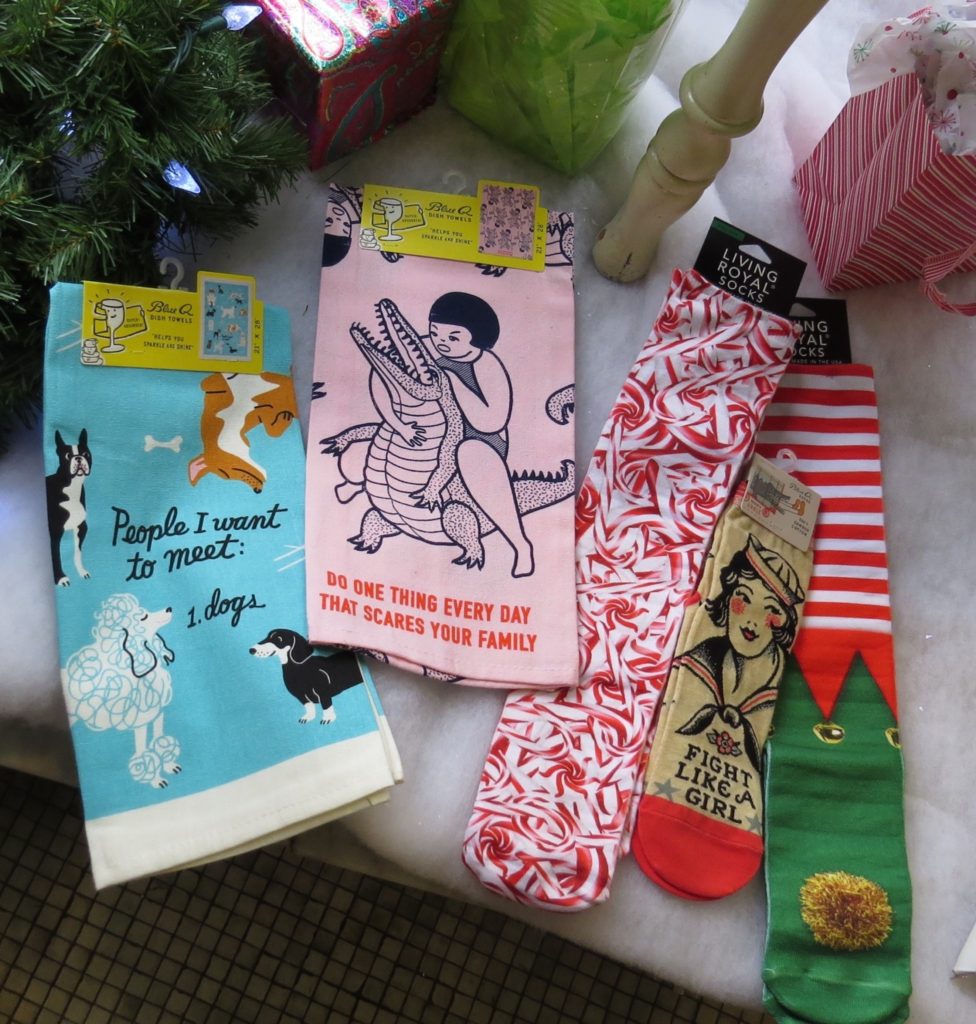 These suggestions aren't what I usually feature in the gift guide from Cassie's (soaps, lotions, room sprays, etc.), but instead offer some unexpected choices you might consider. Dish towels with a dash of humor (always a good thing at this time of year), $9.50, holiday-themed knee socks, $15.50 and in this tumultuous year, "Fight Like a Girl" socks, $9.50.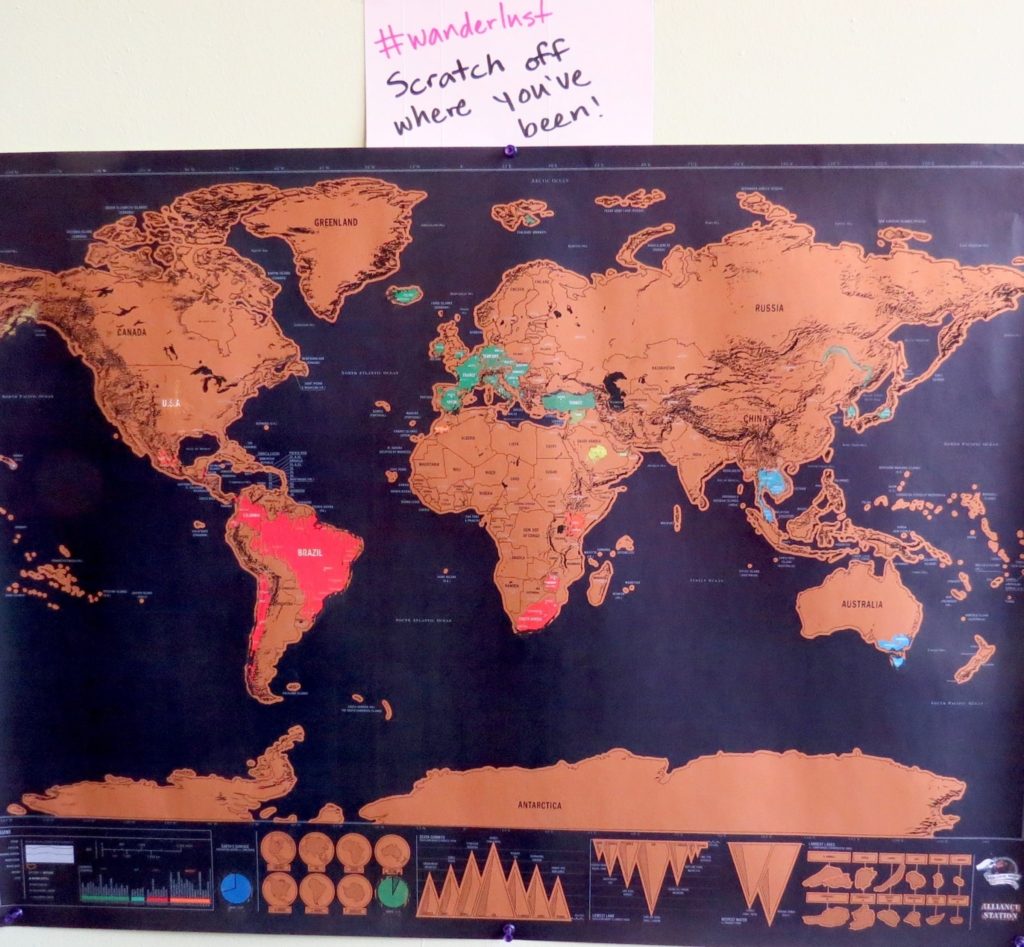 For world travelers, a Scratch Map to show where you've been, or where you'd like to go, $13.75.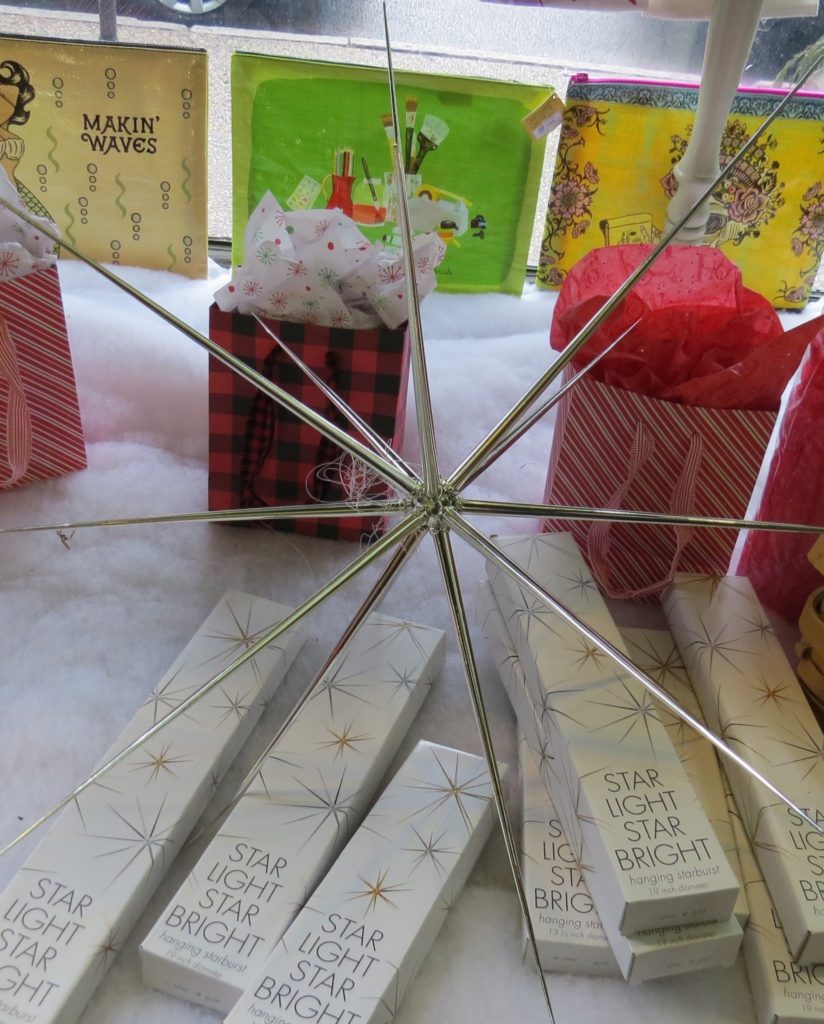 Hang a shining star wherever you please with these lightweight Star Light Star Bright decorations in 3 sizes, 13 1/2″ $10, 19″ $17.50, and 23″ diameter $22.50.
Cassie's, 316 N. Euclid Ave., (314) 454-1010.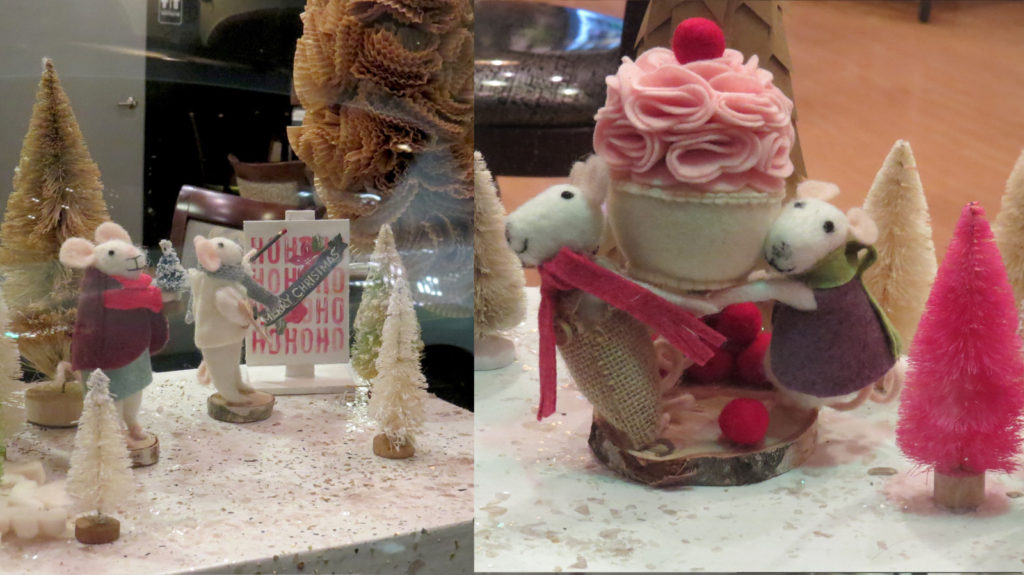 The Cup: Windows designed by Ember Home Studio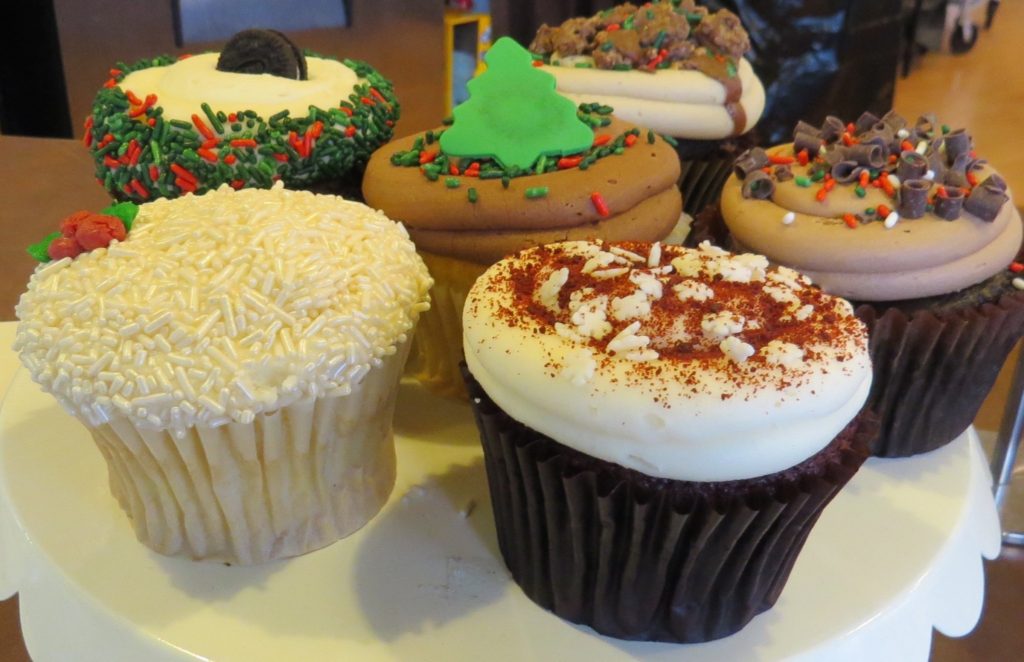 Holiday cupcakes in The Cup's signature Confetti, Tuxedo, Straberries 'n Cream, Double Chocolate, Gold Rush, etc., $2.95 each.
The Cup now offers 9″ cakes, which serve 12, in the same flavors as the cupcakes, $26.95.
The Cup, 28 Maryland Plaza, (314) 367-6111. Delivery available, starting at $15.95, with a minimum order of 2 dozen cupcakes.
Up next: Holiday Shopping/Part III