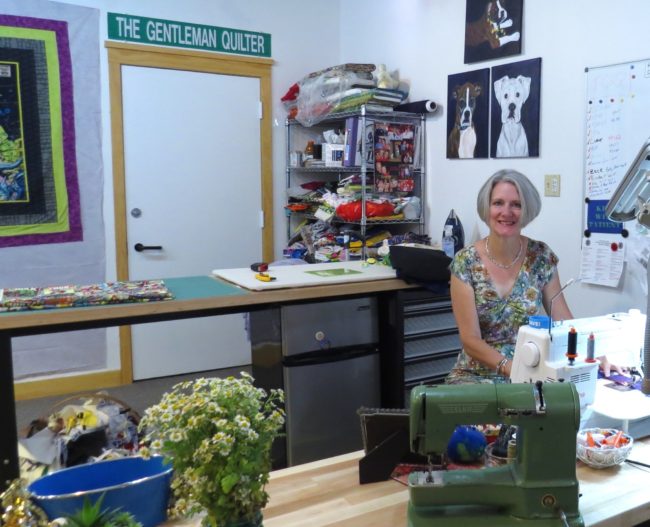 CWEnder K2 (Kristine) Kelley, above, opened The Gentleman Quilter at 4814 Washington Avenue in mid-August. The shop provides finishing services for quilters and custom-made quilts for any occasion.
K2, who retired last year after 26 years at Boeing, earned her nickname from her boss who kept mixing Kristen's name up with Christina, another woman in the same department. To make it easier on himself, he started calling her K2. The nickname stuck.
The Gentleman Quilter is another unusual name, this one for a business traditionally dominated by women. The business website defines the term as a well-to-do man who runs a quilting service for pleasure. K2 decided that the name, which was suggested by her sister-in-law, would set her new business apart from others. Like her nickname, it's also hard to forget.
Last year, while visiting a quilt shop on a trip to Colorado with her husband John, K2 saw a long-arm quilting machine which caused her to imagine that she could capitalize on a passion for quilting by opening her own business now that she was retired. At first she planned on operating the business in her dining room, but changed her plans when she found a studio space within walking distance of her CWE condo. Everything fell into place very quickly and, as K2 said, "When a door opens, you should walk through it."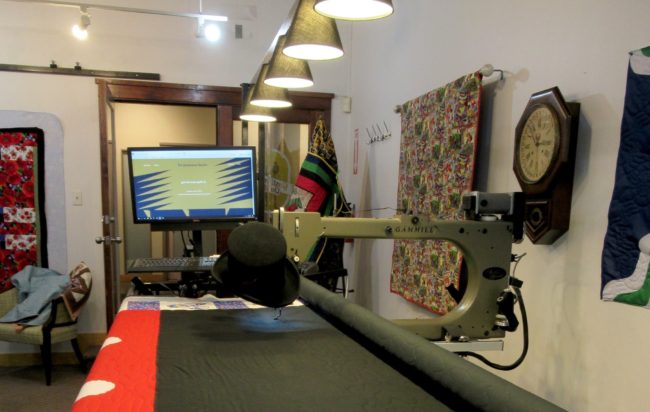 The photo above shows the shop's twelve-foot long Gamill Statler 30″ long-arm quilter, an impressive looking machine made in Missouri by an 80-year-old inventor from West Plains. He saw a long-arm quilter at a state fair and realized he could make it better by adding a computer.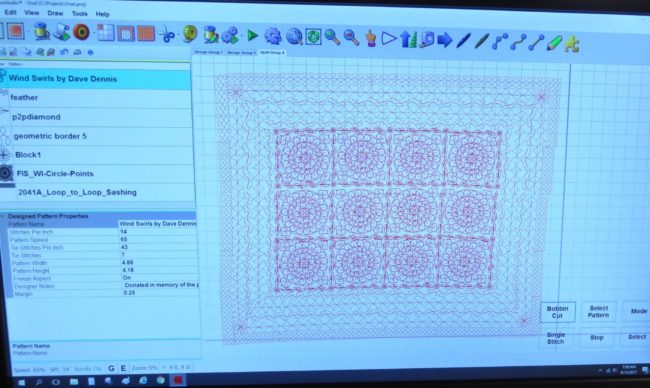 The screen on Gamill's computerized quilter shows one of the patterns that's ready to be stitched onto the quilt that has been placed on the bed of the machine. Pattern design possibilities are endless. Examples of some of the different types available are shown on a sample quilt below.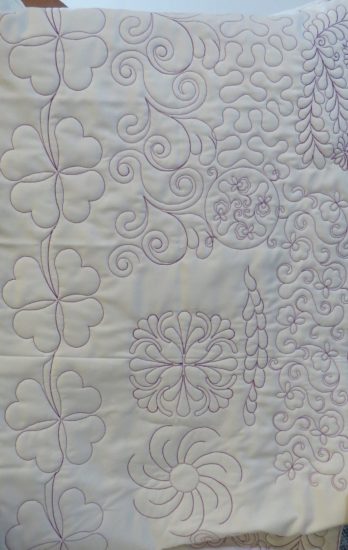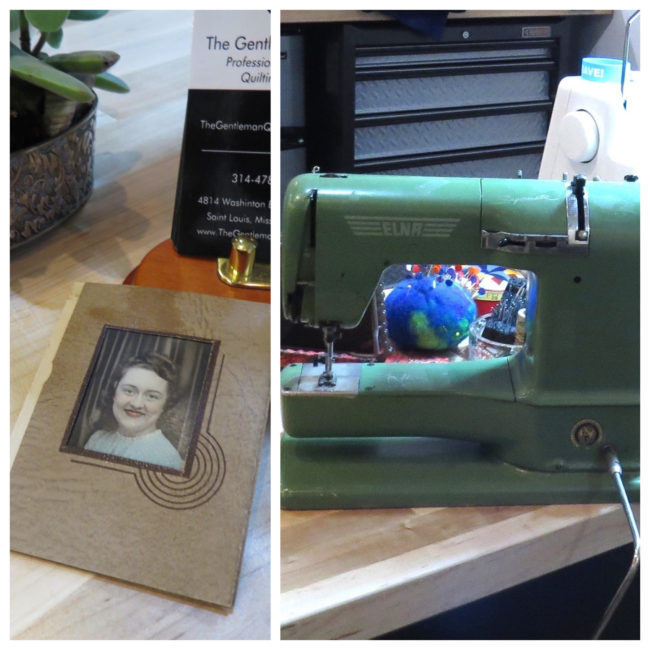 K2, who grew up in O'Fallon, IL,  learned to sew when she was 8-years-old. She traces her love of sewing to her great-grandmother, who immigrated to the U.S. from Germany in the 1880s. Her great-grandmother was a quilter at a time when quilting was a necessity, not a hobby. K2's late mother, Evelyn Riebold (photo above left), loved sewing, tailoring and embroidery. Her 1948 Elna machine, right, which K2 used until recently, is prominently displayed in the shop. Her mother became a "strip quilter" in the 1990s when the rotary cutter was invented.  That made the tedious task of cutting out squares of fabric with scissors unnecessary and a quilt top could be made in a day.
As K2 looked around her studio during the interview, she said she wished her mother could see The Gentleman Quilter, she would be so amazed and proud to see how her daughter has turned a skill that was passed on into a business.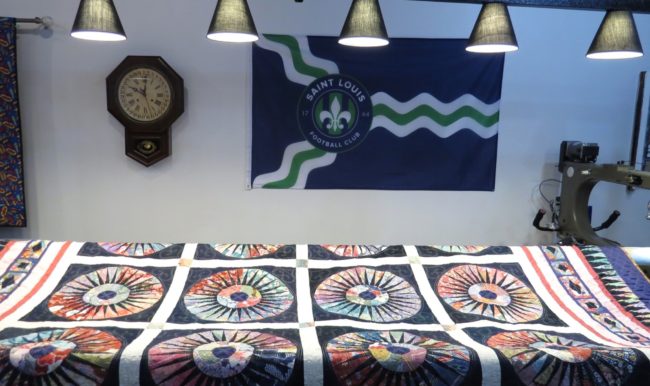 Most of The Gentleman Quilter's business, which to K2's surprise took off almost immediately, has come by word of mouth. Her first customer was a referral who brought in a Mariner's quilt to be finished. Amazingly, this intricate pattern was the 1st quilt she had ever made.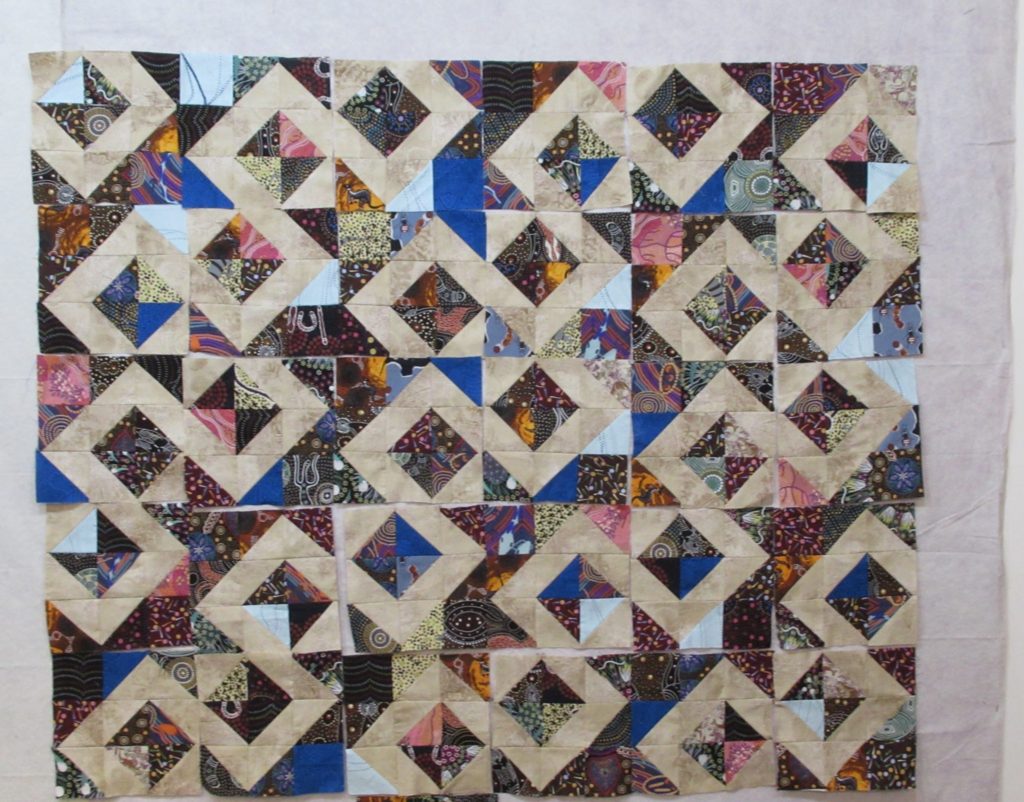 On a design wall in the studio, K2 is in the process of laying out "a road less traveled" quilt patterned after one she made for a girlfriend as a thank you after a 2-week trip touring New Zealand in a camper van years ago. The quilt is being recreated with remnants of 12 different Australian prints used in the original quilt.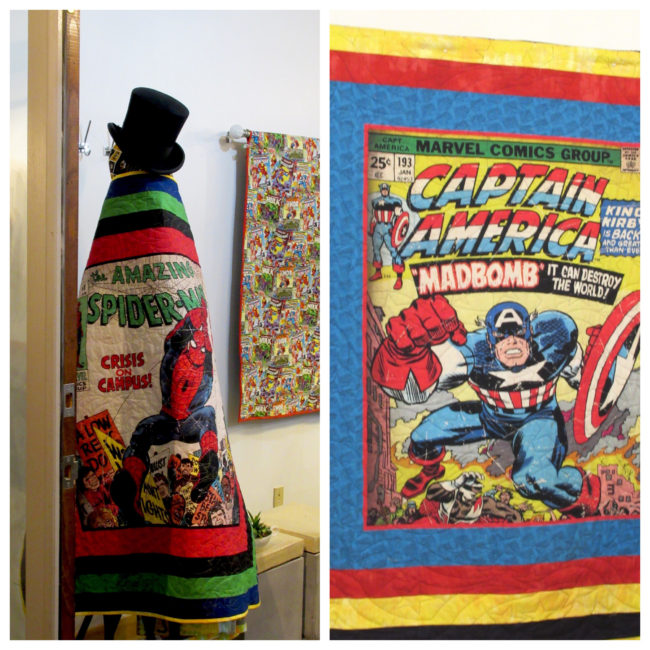 One of K2's sons-in-law is a big Marvel comic book fan, which inspired her to start making quilts featuring The Hulk, Captain America, Spider Man, Thor, and Iron Man, shown above and below. Quilts are the size of a throw,  50″ by 55," and are backed with fabric depicting vintage comic book covers, see below, $145. To order or for more information visit the website.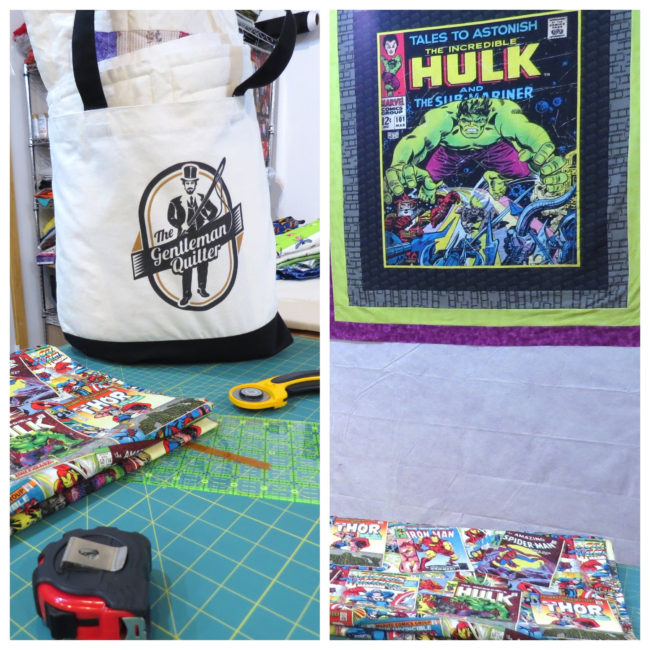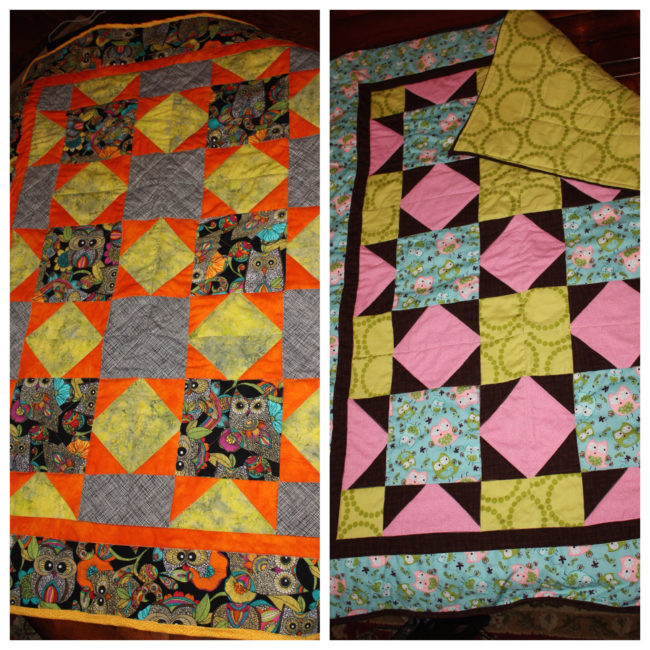 photo above courtesy of The Gentleman Quilter
The cost of finishing a quilt depends on how much work needs to be done. For example, queen-size quilts including batting, quilting, and finishing edges range from $200 t0 $275. Turnaround time is usually a couple of weeks.
For information on custom-made quilts—baby quilts range from $85 to $100 (see boy and girl owl quilts above as examples)—to wedding or "any occasion" quilts, contact K2 for pricing information. The shop stocks some fabrics, or customers can provide their own.
The Gentleman Quilter, 4814 Washington Avenue, Suite 120, (314) 478-9777. Hours are 10 t0 5 Monday through Saturday, though please call or set up an appointment via the website or via email first, thegentlemanquilter@gmail.com. Since K2 lives in the neighborhood, she's happy to schedule appointments on Sundays too.