Here is a synopsis of news items I found of interest, plus a couple of book suggestions you might enjoy.
In case you missed the announcement, The Chase Hotel is under contract to be sold to Boston-based Hospitality Properties Trust for $94 million. Read more in an article by reporter Jacob Barker in Thursday's St. Louis Post-Dispatch. "The complex boasts 350 hotel rooms, about 50 corporate apartments, close to 90 condominiums, meeting rooms, restaurants, bars and a movie theater complex."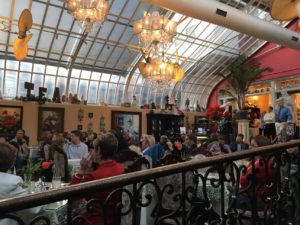 There was a full house for Thursday night's meeting at Mary Ann's Tearoom for those interested in hearing more about Up-Down, an arcade bar which is slated to open at 405 N. Euclid, in the former Herbie's location.
Up-Down business owner, Josh Ivey, and general manager, Joey Akers, gave a power-point presentation about their other locations in Kansas City and Minneapolis and what they hope to bring to the CWE. Ivey described Up-Down as an entertainment destination for those who wax nostalgic for 80's & 90's arcade games. The arcade bar will serve craft beers and have limited food service. pizza, salads, etc.
There were many questions and comments from neighbors- both pro and con – about whether this business is a good fit for that location. The Up-Down owner is seeking signatures in support of a liquor license application to determine whether the business is a "go."
I LOVED reading Diane Cardwell's article titled Solar Experiment Lets Neighbors Trade Energy Among Themselves in the March 13 issue of the NY Times. Will what works in Brooklyn work in the CWE, or for that matter, any neighborhood in the City of St. Louis?
What I've been reading: Author Emily Robbins, who graduated from the writers' program at Washington University, was at Left Bank Books recently to discuss her first novel, A Word for Love. It's a beautifully-written story of language, war, family, and love, set in a Middle Eastern country (Robbins lived in Syria for a time). Also, I just finished the fascinating A Handmade's Tale by Margaret Atwood, who was named by Saint Louis University Library Associates as recipient of its 2017 St. Louis Literary Award in a ceremony scheduled for September. Both books are available at Left Bank Books.
And finally, my dear friend, and friend to many, Martin Schweig, died Thursday at age 93. My favorite photograph of Martin, a photographer, naturalist, bird whisperer, and longtime CWE resident and business owner (Martin Schweig Gallery, Ferrario ) is shown below taken when he rescued a barred owl that had fallen through a chimney on Westmoreland Place.
I consulted Martin frequently about photography and birds, see example here. In addition he shared photographs from his archives from time to time which I loved posting, look here. If you use the search tool on the sidebar, you'll find many more references to Martin.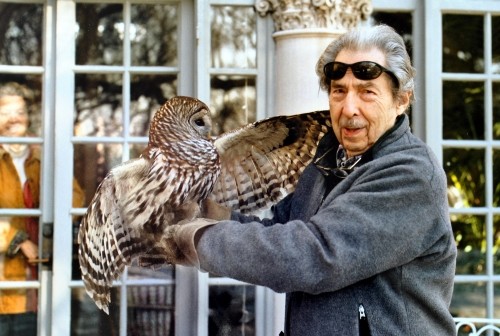 Update: Here is a beautiful tribute to Martin written by CWEnder Robert Duffy and published on St. Louis Magazine's on line publication yesterday.