It's a given that shopping local is vital to a neighborhood's economy. Expanding on that theme, allow me to present 6 charities with ties to the CWE that would benefit greatly from your support this holiday season. 
1. Benefit local food pantries with the purchase of herbal vinegars, dried herbs, and popcorn grown and packaged by CWE farmer Arthur Culbert with the help of New City School 4th graders. Your purchase contributes to both Holy Ground Food Pantry at Second Presbyterian Church and Trinity Episcopal Church Food Pantry.
Culbert began work on the CWE Farm located on Waterman just west of Kingshighway 6 years ago. Over the years, with the help of each year's crop of 4th graders at New City and a team of dedicated volunteers, the farm has donated tons (literally) of fresh vegetables, fruit and herbs to the neighborhood's pantries.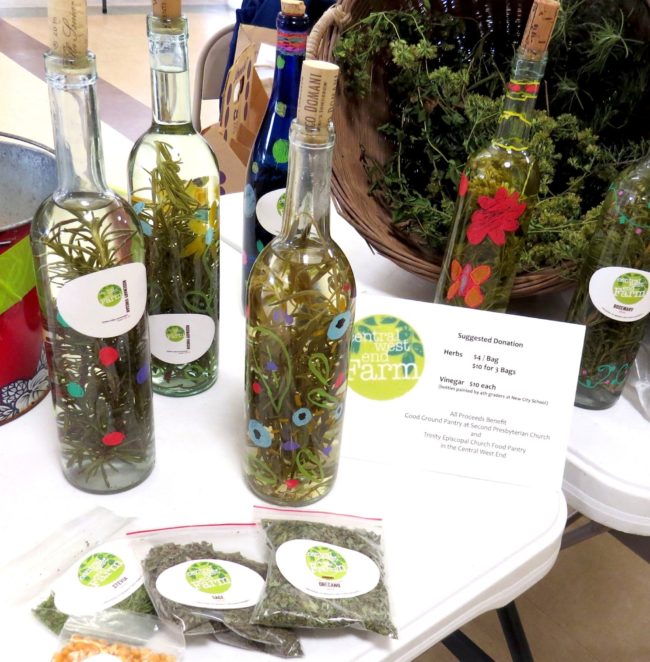 Each holiday season, students pick herbs, decorate and help fill bottles for the herbal vinegar that is sold to benefit clients of the pantries. This year's vinegar selection features rosemary, stevia, tarragon and lavender, $10. There are also packages of dried herbs including oregano, sage, stevia, and rosemary, $4, or 3 for $10. The 4th graders grow popcorn too, lower left, which is also $4.
To purchase, contact CWE farmer Arthur Culbert: arthur.culbert@gmail.com. Orders will be hand delivered if you live close by, otherwise arrange for pick up. The products will also be available at the Crowders' Holiday Pop-up Shop at 405 N. Euclid, Tuesday-Thursday 12 to 6, Friday-Saturday 11 to 8.
2. Help St. Louis Public School libraries at Montessori Elementary School and Patrick Henry Downtown Academy through Left Bank Books.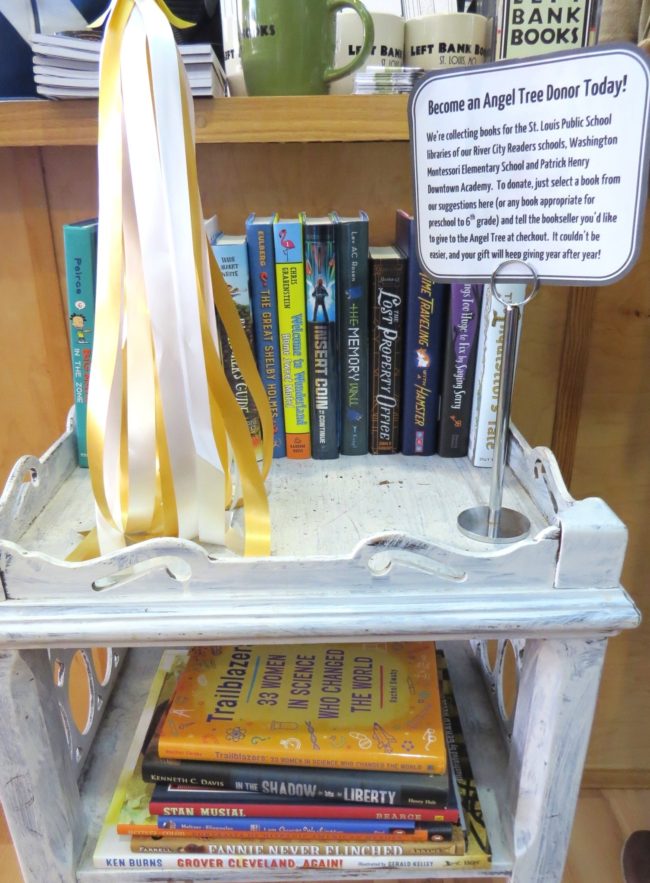 Here's how easy it is to become an Angel Tree Donor: Choose a book from the shelf that's stationed in front of the main desk at LBB or pick one that's appropriate for preschool to 6th grade from the neighborhood bookstore's selection. I would imagine you can place an order by phone too.
Left Bank Books, 399 N. Euclid, (314) 367-6731.
3. GiftaMeal a phone app that makes a difference. Here's how it works: Each time someone takes a photo in one of 10 participating CWE restaurants* (there are 90 restaurants that have signed up in the St. Louis area), GiftAMeal provides a meal to someone in need through Operation Food Search. To boost the donation, when users recommend the restaurant to friends and share their photos on social media, additional meals are provided.  And the GiftAMeal app is free.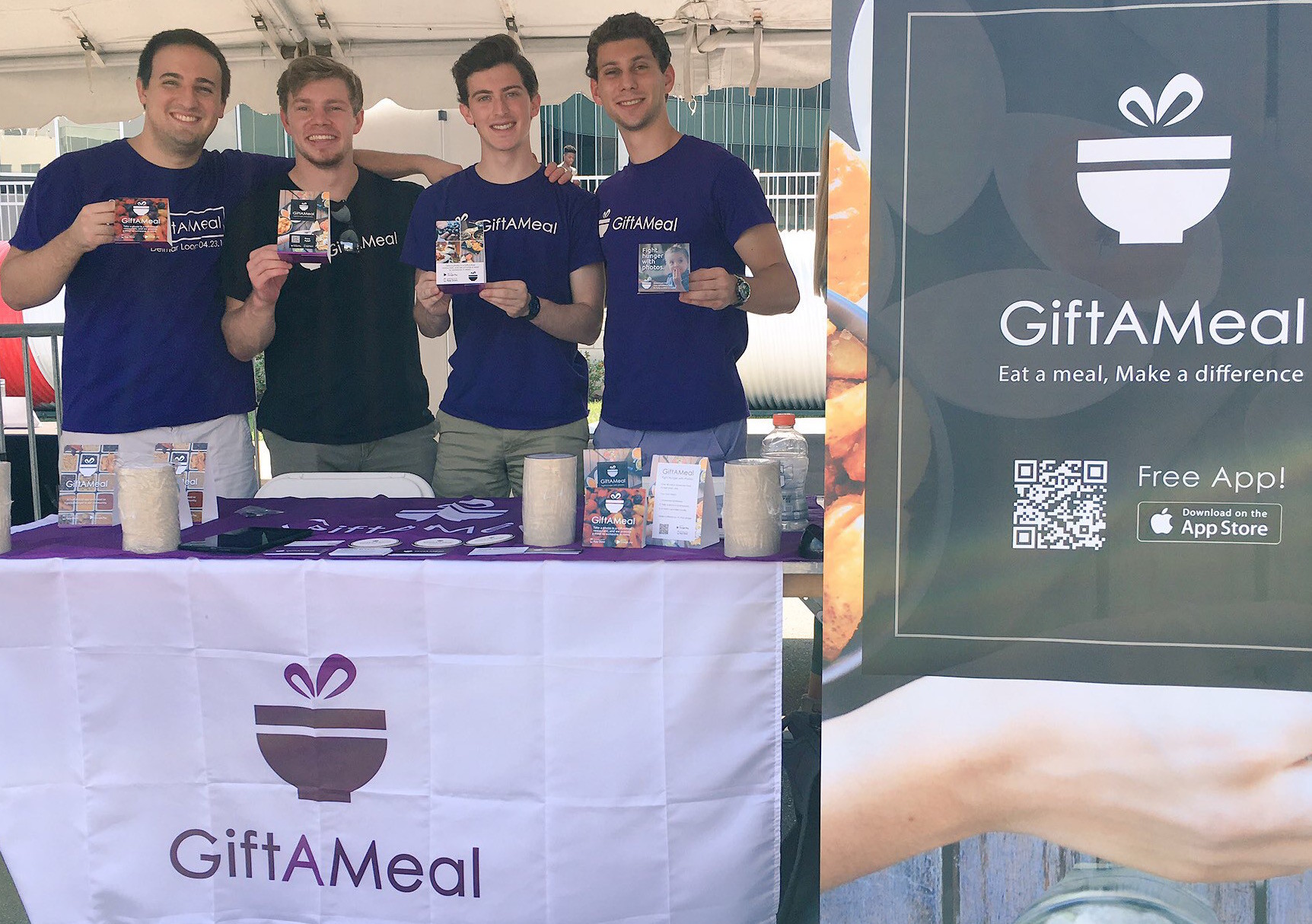 The GiftAMeal team is pictured above, from left: Jacob Mohrmann – CMO, Henry Cummings – Restaurant Relations, Andrew Glantz – CEO, Michael Kaushansky – Head of Business Development.
*Participating neighborhood restaurants include: Northwest Coffee, Gamlin Whiskey House, SubZero, Atlas, The Tavern, Taste of Lebanon, Tom's Bar & Grill, Applebee's, Wild Flower, and BBQ Saloon.
Think of GiftAMeal as "yelp with a conscience" or, how to eat your cake and share it too. Since the launch of GiftAMeal in September 2015, 15,000 meals have been donated in St. Louis and Chicago.  To learn more about how this clever charitable app was launched, read an earlier conversation with co-founder, Washington University graduate Andrew Glantz here.
3. The Central West End Association has partnered with Third Degree Glass Factory to offer an annual, limited edition commemorative holiday ornament celebrating the Central West End's historic architectural treasures.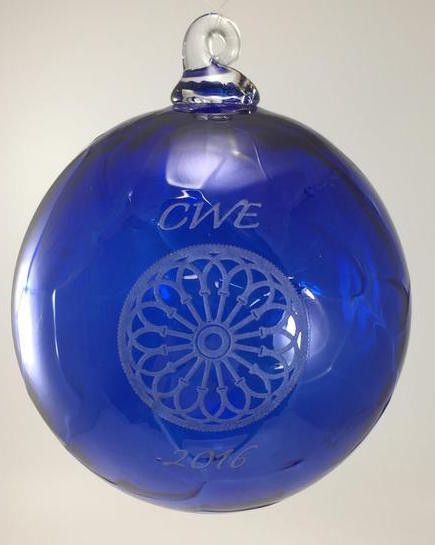 The 2016 ornament pays tribute to the large, rose-stained glass window above the front doors of our majestic Cathedral Basilica. Purchase the ornament, $30, at these neighborhood locations: 10denza, Bissinger's, Enchanted Embellishments, Great Frame Up/Relish Gifts, and Straub's.
All proceeds benefit the Central West End Association.
5. Help farmers in Central America with purchase of Rudolph Gift Box from the CWE's Silo Coffee, 4818 Washington Ave.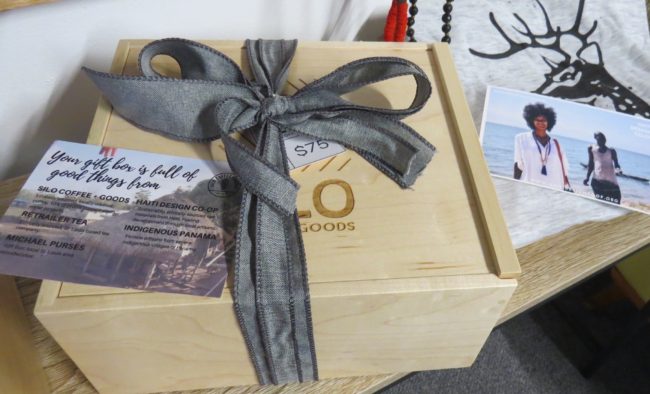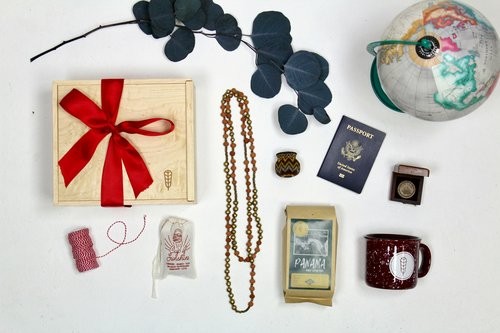 Here's a perfect gift for that special coffee addict. Full of a variety of ethically-sourced items that support indigenous economies around the globe, this is another example of a gift that gives back.
The Rudolph Box, $75, includes: 12 oz Panama Indian Baru Whole Bean Coffee, Silo Coffee + Goods campfire mug, gold & terracotta necklace from Haiti Design Co-Op, woven basket from Panama, and Cup of Sunshine Tea Satchel from St. Louis-based Retrailer Tea. It's all wrapped up in a handcrafted maple wooden box by local designer Michael Purses. To purchase and view other ethically-sourced gift items visit Silo Goods website.
6. CreateaLoop gives kids who may not otherwise have the opportunity, a chance to learn computer coding:
Founders CWEnders Darren and Danielle Jackson have created an innovative solution to one of the problems facing students who live in low-income neighborhoods. Learn how in the following video where you'll meet confident and wise-beyond-his-years Isaiah, who has participated in the program and who shares his skills building a computer with yours truly and my friend Bobby Duffy. The big message here is that this program empowers youths to feel #NeededNotNeedy.

CreateaLoop provides a one-day a week 2-hour after-school code club for kids. CreateaLoop partners with Washington University which provides the CS 131 curriculum (intro to computer science), so each lesson a student receives is inspired by W. U.'s freshmen level course. When a parent purchases a club membership for their child LoopNet in turn provides a free membership to a student who lives in a low-income neighborhood.
*Memberships are $200/month and include a 1-week summer camp. However, donations of any amount are most welcome. Visit the website for more information.