As you might suspect, creativity abounds inside the home of Bob Kramer's Marionnettes, located in the CWE at 4143 Laclede Avenue but, as I recently discovered, there's abundant evidence of imagination outside as well. The puppet theater has been on my radar for years, starting with performances I attended when my children were young, and more recently in the company of  second & third generation family members (see post here). As many times as I've been there however, it never occurred to me to wonder why the front yard is so deep, an unusual situation in an urban environment.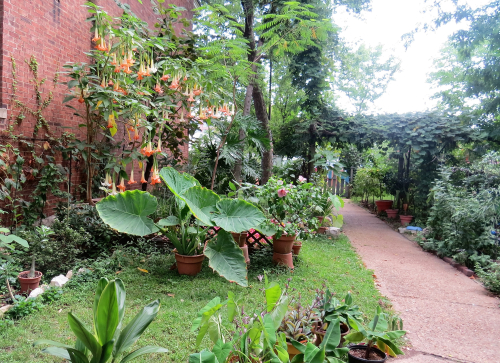 It was when dear friend Bob Duffy suggested I write a blog post about the garden, where angel's trumpets and other tropicals flourish, that I discovered what had been hidden in plain sight.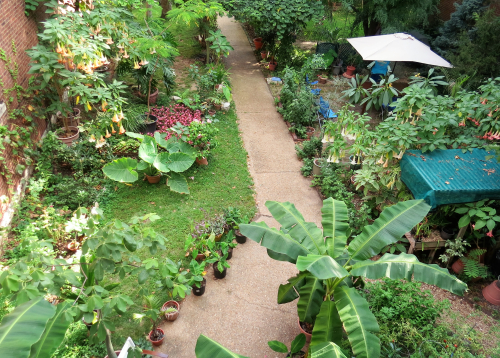 Bob Kramer and Dug Feltch have owned the property for 40 of the 50 years they have been in business. There were three buildings erected on the site in the 1880s, a main house, a 9,000 s.f. factory, and a coach house at the alley. The family that owned the property operated a woodworking business in the factory. When the business became very successful they tore down the main house and moved elsewhere, which is why the yard is so expansive.
The former factory and coach house now contain a theater, a gift shop and puppet museum, as well as a workshop for puppet- and costume-making. The second floor contains living quarters. As Feltch explained: "We specialize in the 3 'ps'—puppets, plants and pastries." It seems that Kramer is a fabulous baker, and the fact that he has a green thumb will be evident as you look through this post.
The pair met when working with the late Bil Baird, a puppeteer who had a marionette theater in Greenwich Village. Baird created the puppet scene in the Sound of Music and, Feltch added, "he invented the Teleprompter too."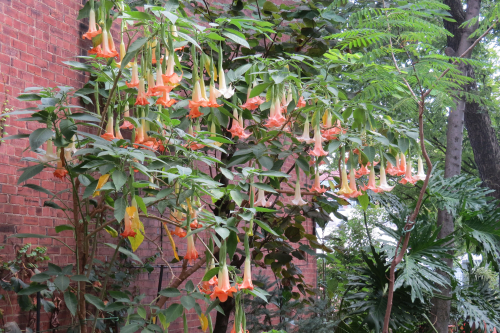 Kramer acquired 2 angel's trumpet plants in 1990 which have been so prolific they are now too numerous to count. The trees bloom throughout the summer, and again when they are brought indoors where they line the staircase to the living quarters during the winter months.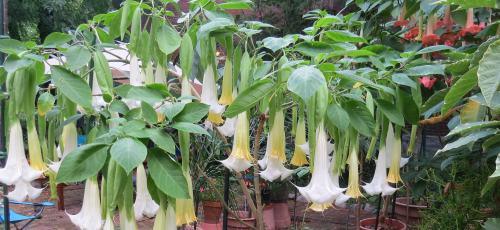 "In the evening," Feltch said, "the flowers give off the heady scent of a Persian garden."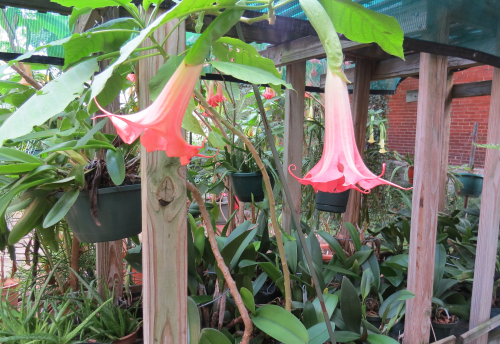 Kramer's plant collection includes many orchids that spend the summer clustered on two large tables covered by a shade.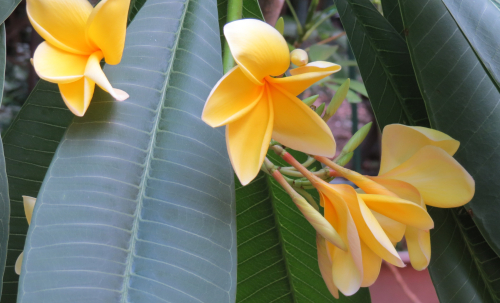 Another exotic beauty in Kramer's collection is the plumeria, above.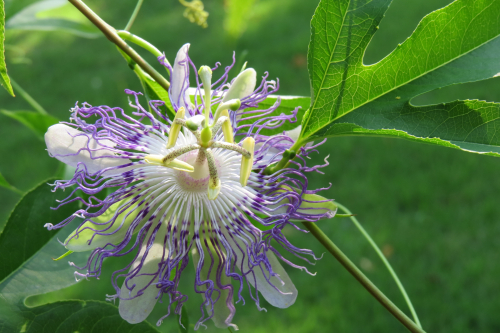 As I was leaving that day, Feltch told me to peer under the leaves of a passion flower vine to see if there were any flowers. Indeed, there were.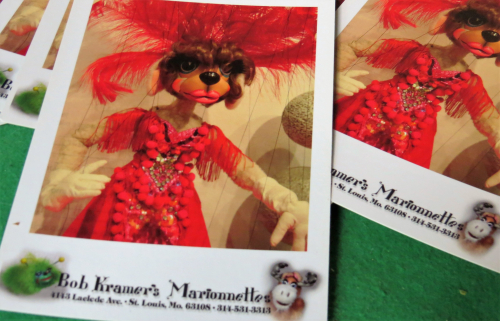 Bob Kramer's Marionnette Theater, 4143 Laclede Avenue. Performances are Mon. – Sat. 10 a.m. and 1 p.m. Sunday performances are at 2:15. Reservations are necessary: (314) 531-3313. Feltch said, "We are big fans of Alexander Graham Bell," so call for information.
The Halloween show will begin October 16 and feature an outer space theme. Christmas in the Toy Shop begins the day after Thanksgiving and runs until New Year's Eve. Bob Kramer Marionnettes will travel for performances for all occasions and age groups.