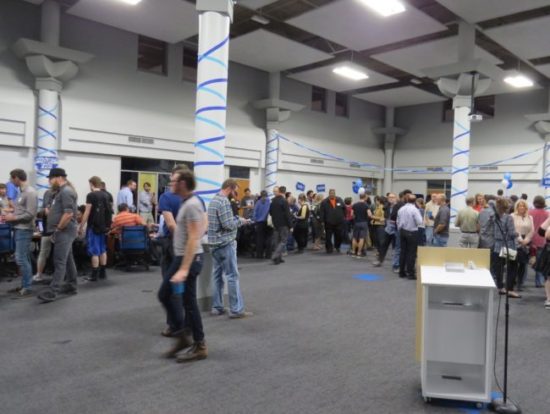 In mid-November LaunchCode Mentor Center hosted a 3rd anniversary celebration in their facility at 4811 Delmar Blvd., just east of Euclid Ave. With more than 800 people in attendance, I was unable to do more than snap some photos and try out the 10-minute coding class. Recently however, I met with public relations manager, Samantha Williams (shown later in this post), to learn more about the CWE-based technology training center.
LaunchCode was founded in 2013 by local entrepreneur and philanthropist Jim McKelvey. The training center's mission is "to create economic opportunity for aspiring developers through job placement and training in technology."
Williams mentioned that "McKelvey sometimes swings by the Mentor Center during the day to work. When he's at a table with students who also come in to work on assignments and projects, they don't know who he is. It's amazing to see how he fits in so perfectly with the students and to witness his continued involvement in LaunchCode."
To date, LaunchCode has placed more than 500 people in tech apprenticeships around the country. Of those, more than 4 out of 5 have converted to full employment. It's possible that others who have completed the course have found employment or created businesses on their own.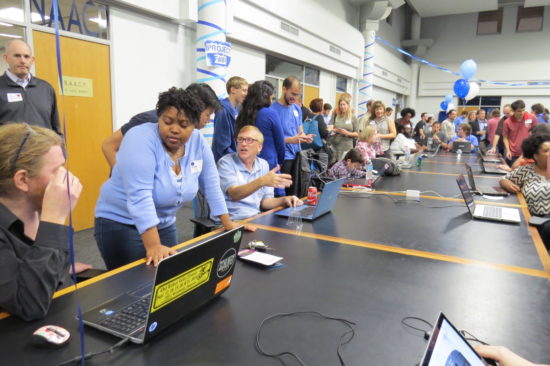 At the celebration, an education table was staffed by LaunchCoders who shared information about what programs are available. If you, or someone you know, likes to figure things out, enjoys doing puzzles and/or sudoku, you may have an aptitude for coding, which has been described as learning a new language.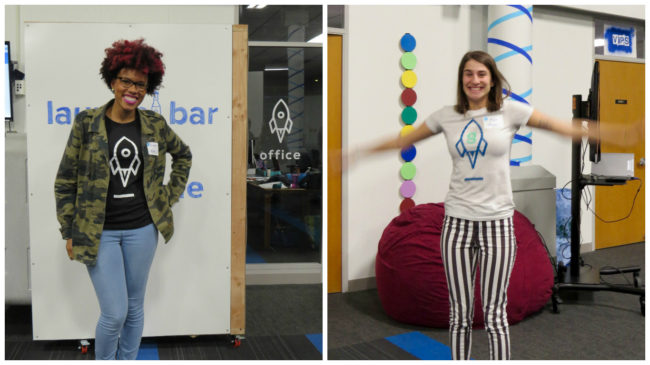 Left: Crystal Martin is the director of CoderGirl, which is designed to attract more women to the tech field. Most of the 50 or so women enrolled in one of two 20-week classes offered each year are looking for a change in career, may want to start a business, or just learn how to code (as did a lawyer enrolled in CoderGirl).
After the St. Louis American and Fox 2 News featured stories on CoderGirl recently, there were 800 applications to the program.
Right: An exuberant Rosa Mayer, VP of Market Expansion, has been traveling over the past year to other LaunchCode locations that  have sprung-up in South Florida, Kansas City, Cape Girardeau, and Providence, R.I. This past January, Portland and Seattle were added to the list. I found it interesting that this sort of training would be necessary in such tech-centric cities, but I learned that HR departments won't consider applicants who are self-taught and don't have formal IT training.