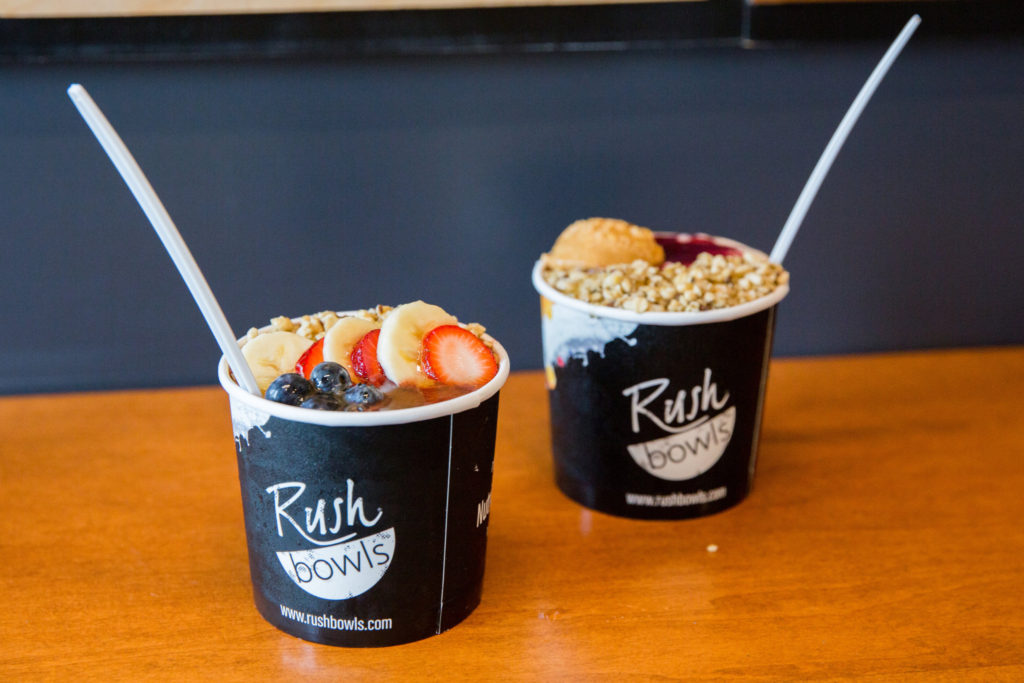 Look for Rush Bowls, a Boulder-based healthy fast-food franchise, to join the neighborhood restaurant scene in late March.  St. Louisans Kim and Ken Moroney have leased a 900 s.f. space at 227 N. Euclid, see below, next to the recently opened Steel Wheels, for what Kim described as a delicious fruit-based meal in a bowl—fresh fruit blended with all-natural ingredients and topped with organic granola and a drizzle of honey.
Kim, an RN at BJC, and Ken, a software engineer, had been searching for a business to call their own, and Rush Bowls seemed the perfect fit. The couple chose to locate the 1st St. Louis Rush Bowls in the CWE—"another perfect fit," according to Kim, "since the neighborhood is a vibrant, active community perfectly situated next to Forest Park, close to BJC, and near both S.L.U and W.U."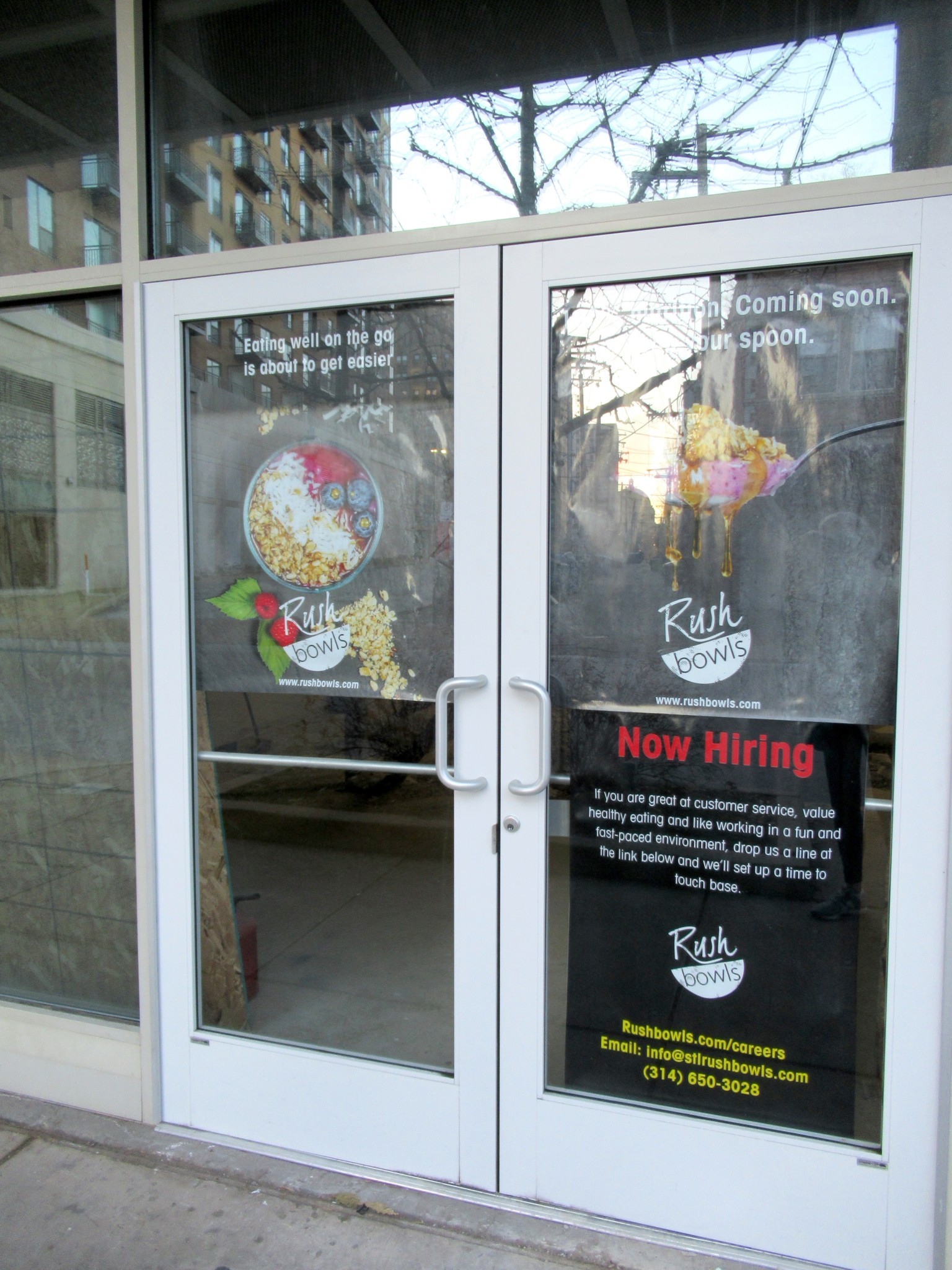 1st photo and all photos below courtesy of Rush Bowls
Rush Bowls, a thick blend of up to 5 servings of fruits and vegetables, nutrients, up to 40 grams of protein and juice or milk, is the brainchild of Andrew Pudalov, a former derivatives trader who left Wall Street after 9/11 and moved his family to Boulder.  Looking for a change in lifestyle, he created a 200-to 400-calorie meal-in-a-bowl that can be eaten for breakfast, lunch, dinner, or any time of day.
Currently, there are 3 Rush Bowls locations in operation (Boulder, Denver and Nashville). Forty-four additional Rush Bowls are in the works, of which 20 are scheduled to open by year's end.

On a recent conference call with Kim Moroney, Rush Bowls' Chief Marketing Officer Mark Kranjcec, and Abbey Horner, Marketing Manager, I asked if Rush Bowls could be considered dessert (look at that photograph above!). I learned that Rush Bowls are intended as a healthy meal substitute, not dessert.  "At our existing locations," Kranjcec said, "our busiest hours of the day are from 7 a.m. to 2 p.m."
That explained why CWE RushBowls will close early. Hours of operation will be Monday thru Friday, 6:30 a.m. to 7 p.m., and Saturday & Sunday, 8 a.m. to 7 p.m.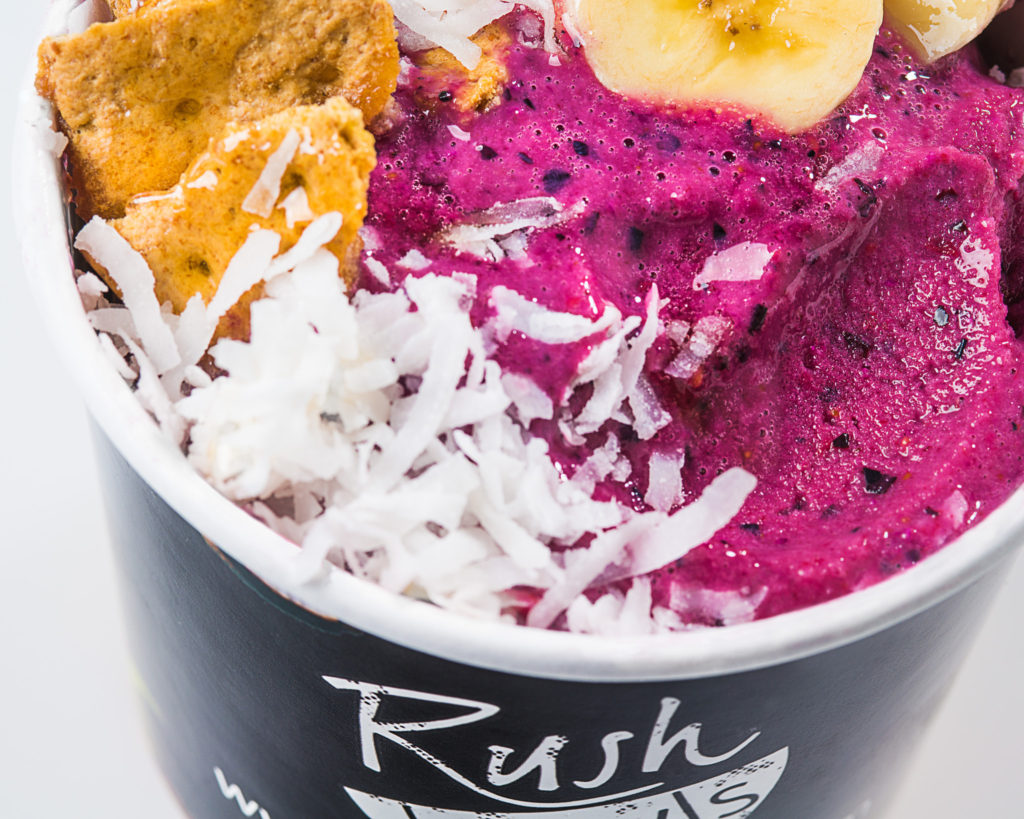 Rush Bowls menu features a selection of "Enlightened Bowls" (Chai's Mystique & a Power Bowl, etc.), "Acai Bowls" (the Beach Bowl is the signature bowl), and "Comfort Bowls" (Chocolate-covered strawberries, etc.).
The photo above of the Rush Bowls in Nashville, about the same size as the CWE location, will give you a good idea of what the interior of the new shop will look like.
Another healthy twist to Rush Bowls' philosophy is giving back to the community. In time, and based on customers' suggestions, Kim Moroney said the CWE store will support a local charity as well.
I expect Rush Bowls will be a popular spot. It definitely sounds compatible with the new mix of CWE residents, as well as those who have been around for a while.
Rush Bowls, 227 N. Euclid, opens March 26. For more information: info@stlrushbowls.com