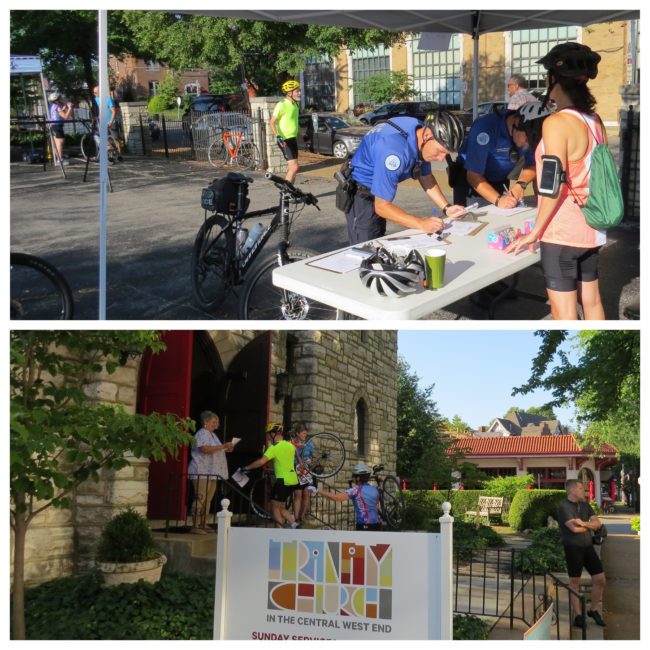 At 8 a.m. last Saturday morning bicyclists, including two SLMPD bike officers, top photo, gathered at the CWE's Trinity Episcopal Church, 600 N. Euclid, for a Blessing of the Bicyclists led by  Reverend Jon Stratton, Rector.  This was the inaugural year for this blessing to be offered and, I would imagine, the 1st time it was okay to ride one's bike in church.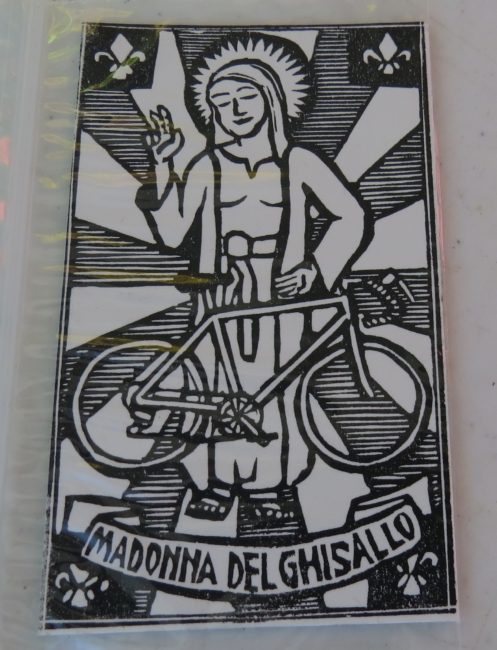 Each participant received a commemorative card made from a woodcut depicting the patron saint of cyclists, Madonna del Ghisallo. Legend has it that in Medieval times one Count Ghisallo was besieged by highway robbers and found refuge in a roadside shrine to the Virgin Mary. The spot, high in the Italian mountains, later became a chapel dedicated to bicyclists. Here is a link to more information.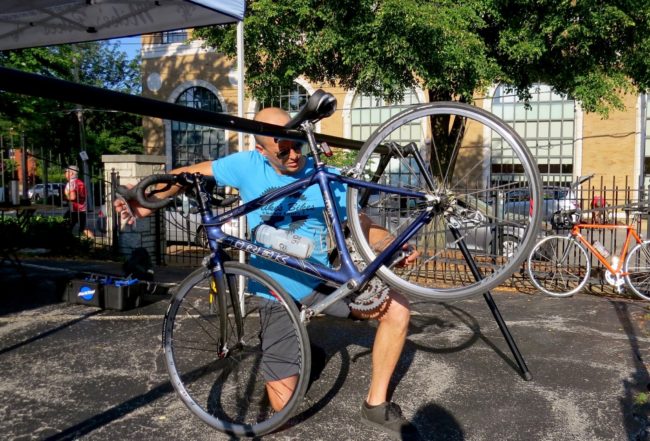 Eric Schlling of Mike's Bikes, a co-sponsor of the event, was on hand to offer tune-ups ahead of the bike ride, which followed the ceremony. The ride, to and from the Mississippi River, was marshalled by the United by Design cycling team.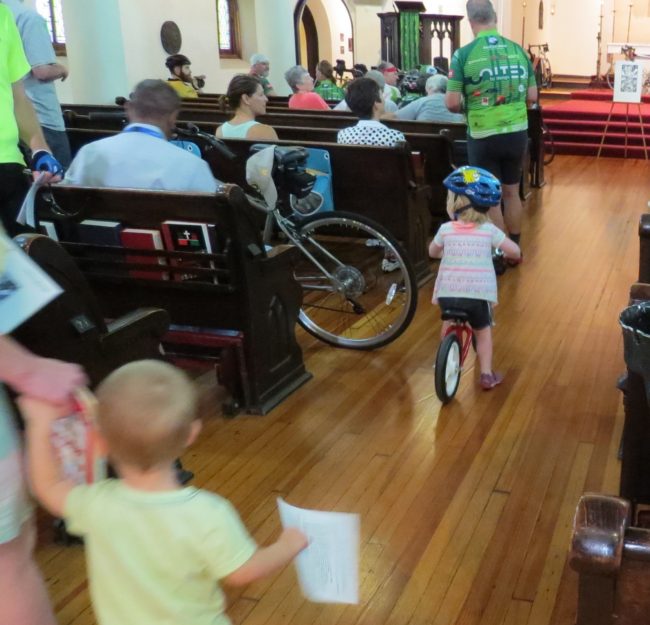 Cyclists of all ages participated in the ceremony.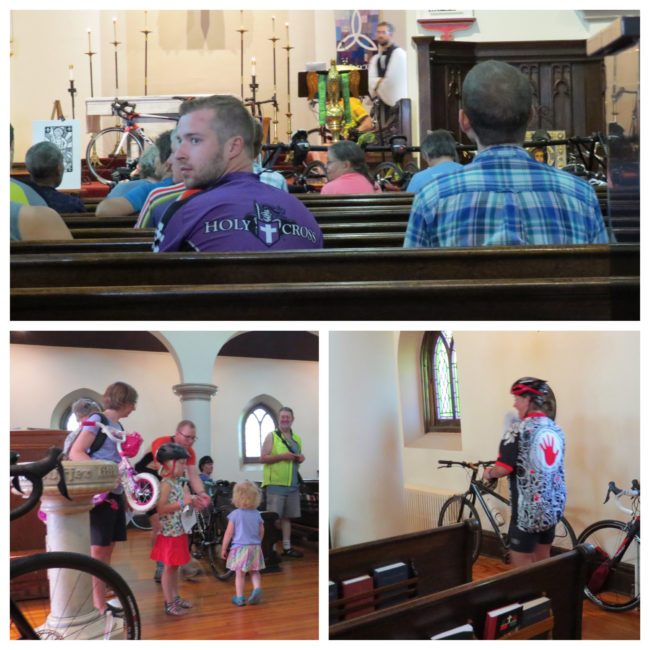 More photos of participants.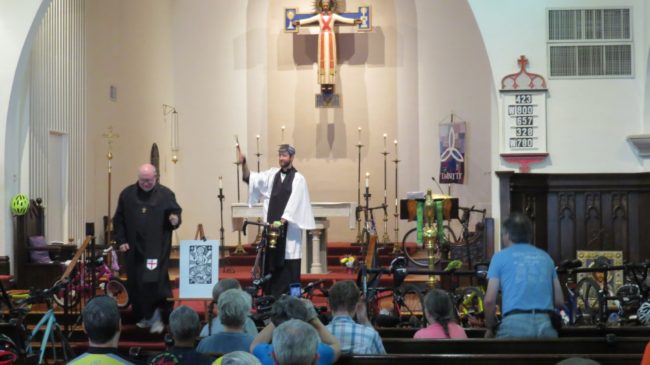 During the brief prayer service Reverend Stratton (wearing his bicycle cap and holding onto his bike while sprinkling holy water on those assembled) explained the reasons why the blessing was being offered. Among them to "….acknowledge the inherent goodness of non-motorized human-powered transportation; to give thanks for the simple beauty of the bicycle; to pray for victims of road rage & bike theft; to ask for the strength to forgive mean people;  and to pray for those who have died while cycling, especially the cycling community's friend Casey Saunders."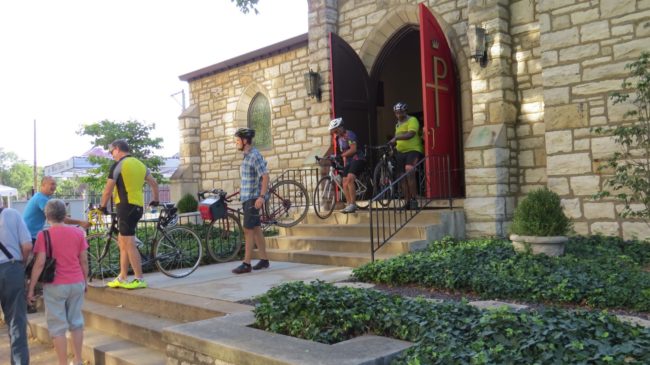 The service ended with a call to "go forth, propelled by the wind of the Spirit."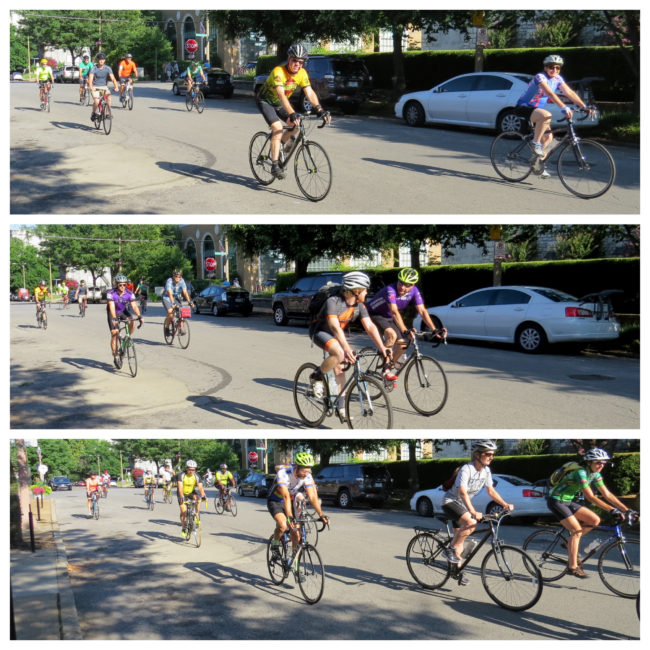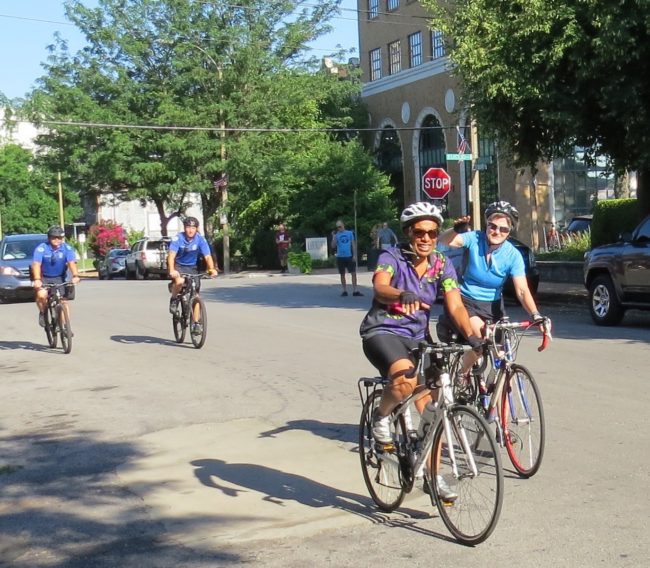 The photos above show some of those who followed the ceremony with a ride to the Mississippi River and then back to Trinity Church for refreshments. It seemed the sentiment of many who attended Saturday morning's event that the Blessing of the Bicyclists should become an annual occurrence.