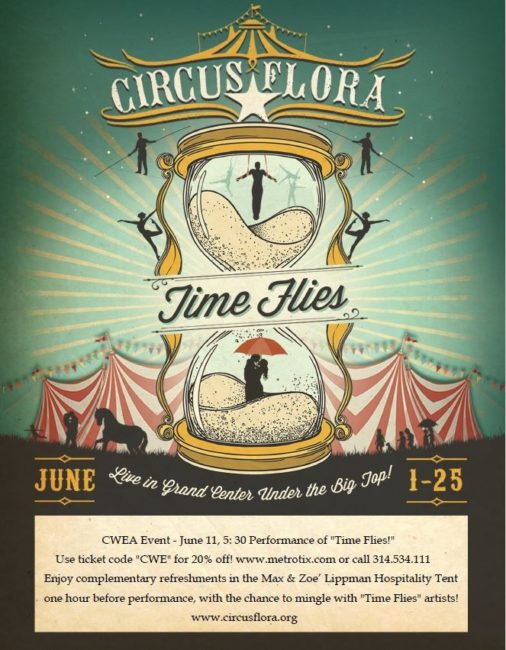 Don't plan on heading out-of-town the weekend of June 9 through 11. Some of the best the CWE has to offer is taking place that weekend. You won't want to miss the CWEA House Tour, the CWE Cocktail Party, and a family event at Circus Flora.
The Central West End Association and CWE Families & Friends have partnered with Circus Flora in Grand Center for a family night on Sunday, June 11.  Tickets, which are discounted 20%, include a special backstage event featuring complimentary refreshments in the Hospitality Tent and a chance to mingle with Time Flies' performers an hour before the performance, which starts at 5:30 p.m.
Purchase tickets at metrotix.com or by calling 314-534-1111 and using code "CWE." This link automatically fills in the discount code. The event is sponsored by the CWEA Events Committee working with  CWE Families & Friends on this and the yearly Easter Egg Hunt in Kennedy Park.
After a year's hiatus, the CWEA House Tour returns from June 9 through 11 featuring the mansions of Fullerton's Westminster Place. Details on the stellar Preview Party, Friday, June 9, and ticket information for Saturday and Sunday's tours from 10 a.m. to 4 p.m. to follow. In the meantime visit the website for more info and to purchase tickets.
And on Saturday night, June 10, CWEScene is hosting the 2nd Annual CWE Cocktail Party from 7 to 10 p.m. on Euclid Avenue stretching from Maryland to McPherson.  There will be entertainment, dancing in the street, and signature cocktails from neighborhood restaurants. People are still smiling at the mention of last year's party, it was so much fun for all ages. The event is free and open to the public.