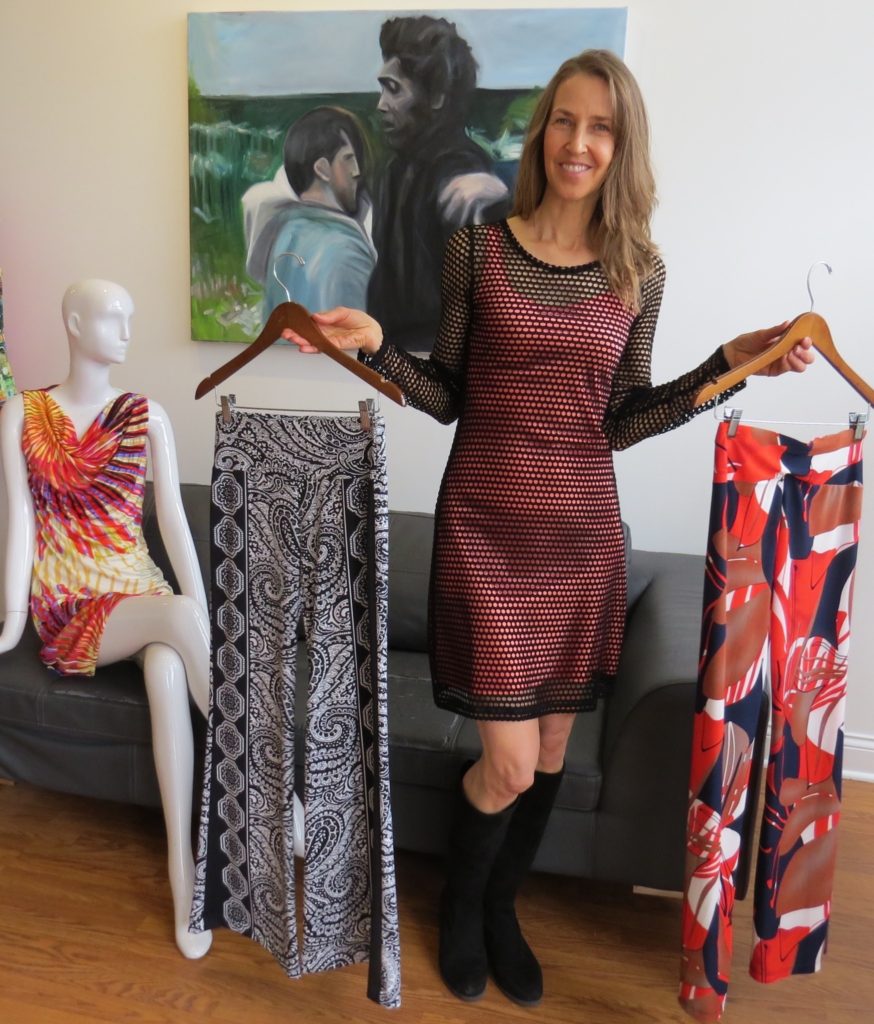 There are several events happening in the neighborhood this weekend that might help you jump into a springtime frame of mind, in spite of the gloomy weather.
Amy Johnson, a former engineer who decided that designing clothing would be much more fun, is celebrating her 10th year in business as KayOss Designs. You'll find her today and tomorrow from 1 to 7 p.m. at The Vino Gallery, 4701 McPherson Ave. After popping up in many CWE locations over the years she now has a permanent showroom at 4530 McPherson Ave., which will be open by appointment after tomorrow. Visit KayOssDesigns for more info.
Amy's wearing what she says is her new favorite design, a black overlay, $149, which is "something you can throw on over anything all year long." She's holding KayOss knit pants, $149, made of viscose, a breathable natural fiber that's comfortable during the summer months.
A painting by artist Elliot Head, the talented brother of Vino Gallery's proprietor Alex Head hangs on the wall above.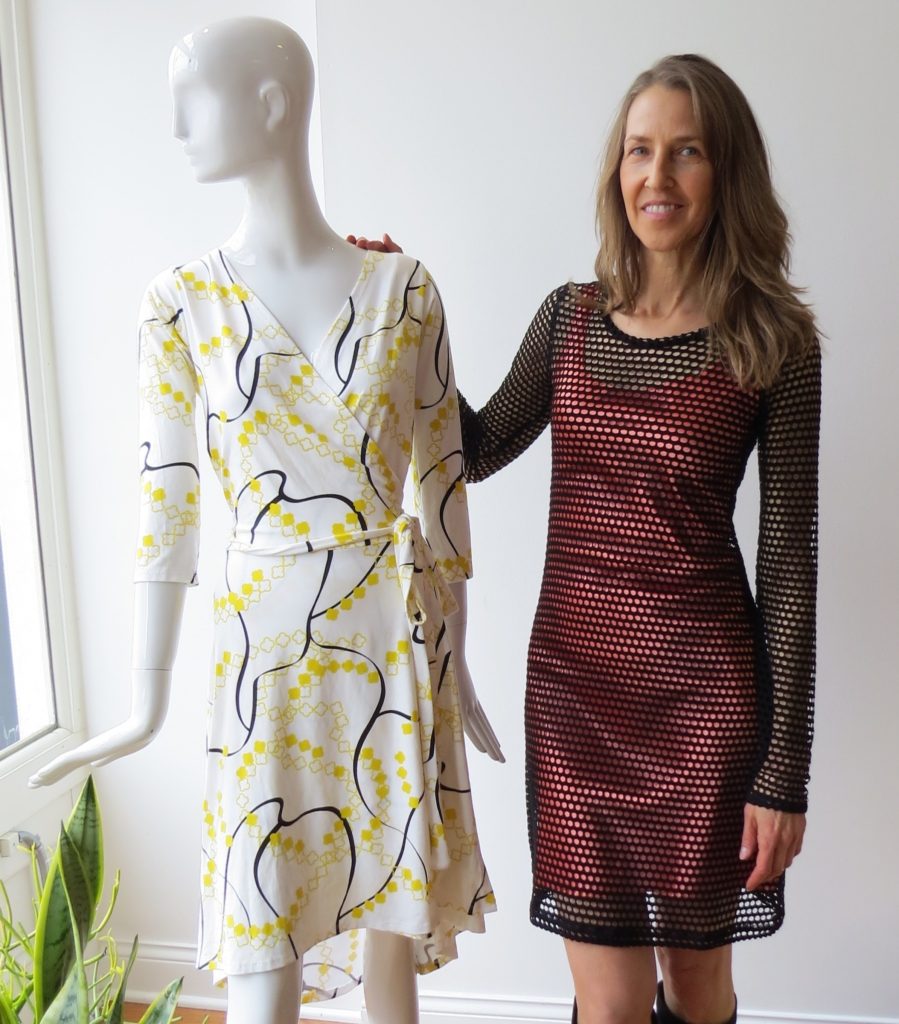 A lovely hi-low "Joey" dress in viscose, $219, is named for a customer who kept asking for a wrap dress.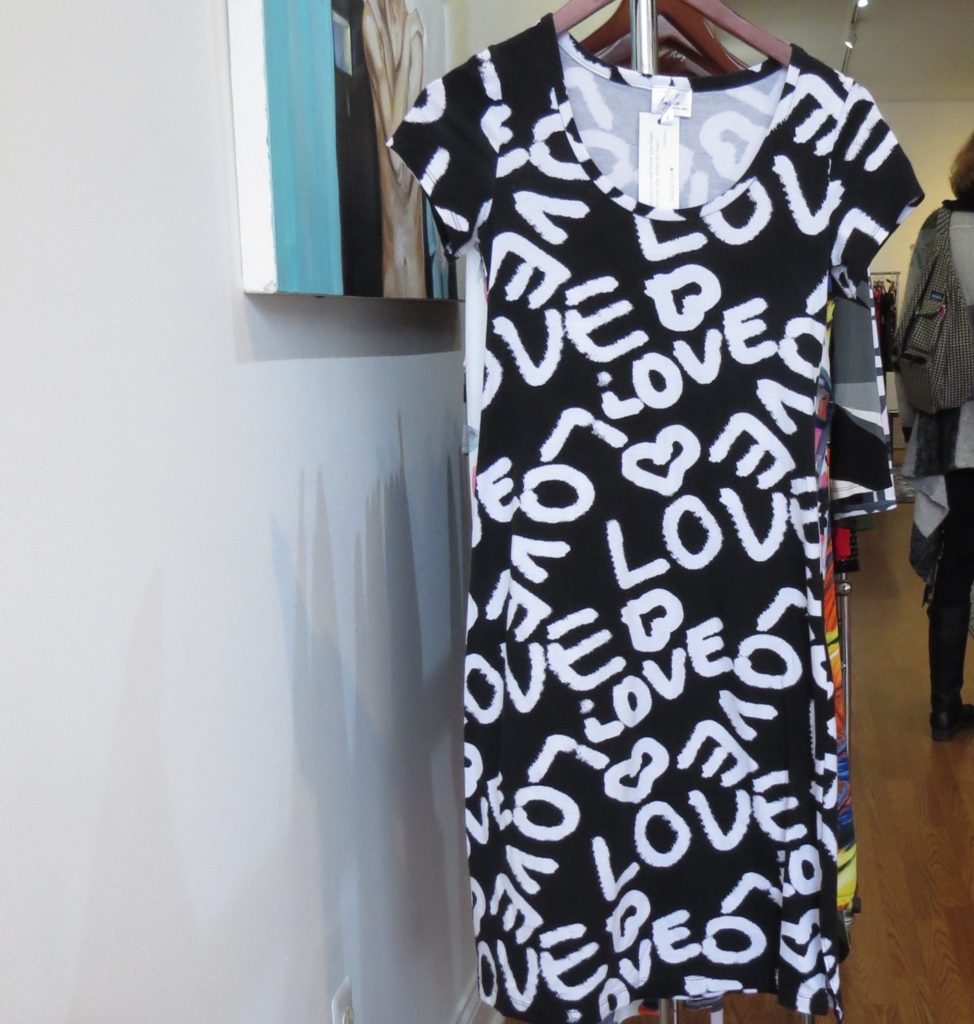 Hearts and love are a theme this season at KayOss—the "love" dress is $139. Love tees with reverse message ,$22.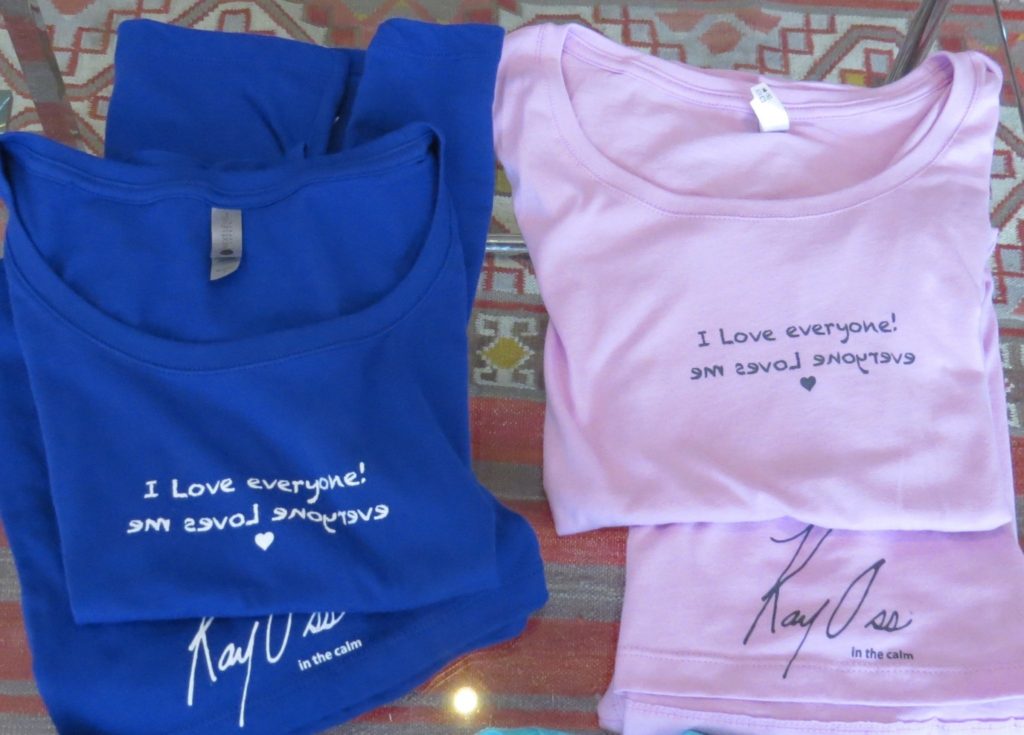 Other choices include a vibrantly striped viscose dress, $169, and right, a sleeveless lined blue floral dress, $139. Other pant selections are shown on the rack above. All KayOss fabrics are sourced from Italy and France.
Amy Johnson's KayOssDesigns at The Vino Gallery, 4501 McPherson Ave., today until 7 p.m., Saturday 1 to 7 p.m. Thereafter by appointment.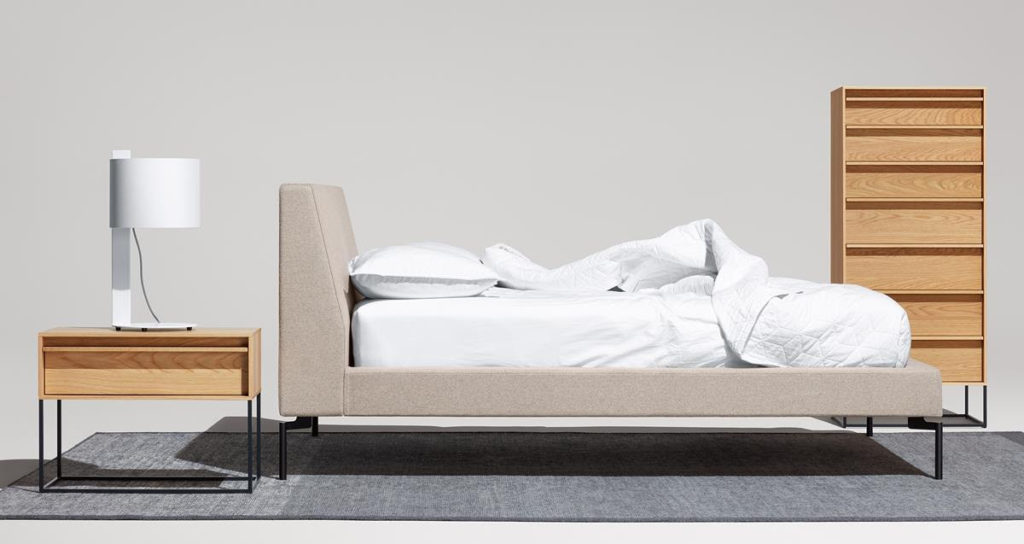 After receiving a press release (below) from Centro, I stopped in yesterday afternoon to check out the shop's new furniture line, Blu Dot from Minneapolis. At the time Todd Lannom and the rest of the staff were putting finishing touches on the display. In lieu then of an actual photograph of the furniture, please view the photograph from the press release and then visit the shop at 4727 McPherson Ave. tomorrow between 10 and 6 to see Blu Dot for yourself.
Lannom hopes that the new more affordable line of furniture (sofas start at $2,000) will attract young apartment dwellers who have moved to the neighborhood following the construction of Citizen Park, The Milton, The Euclid, The Orion and Lofts at Euclid.
Here is the press release with all the details:
Join Centro Saturday, March 24, from 10 to 6 for the St. Louis debut of Blu Dot, an American brand of affordable modern furniture. Blu Dot was founded in 1998 by designers John Christakos, Maurice Blanks and Charlie Lazor, who built their business to support their design habit and to have control of the entire process, from product development all the way through to the customer experience. Everything that Blue Dot makes and sells was designed in their Minneapolis studio.
Enjoy a blue refreshment—blueberry-flavored Champagne and macarons from La Patisserie Chouquette—while you shop over 80 products in an area of Centro's showroom that is dedicated to the Blu Dot brand. Enter to win a NEAT Lounge Chair in Thurmond Marine Blue fabric (view chair on website).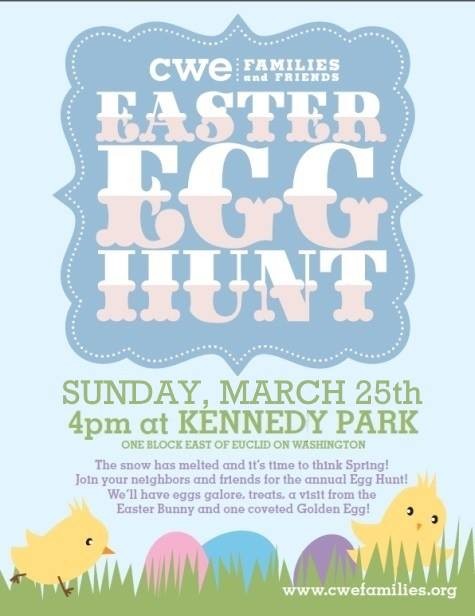 And finally on Sunday afternoon, join CWE Families and Friends for the annual Easter Egg Hunt in Kennedy Park, one block east of Euclid on Washington. Everyone's invited.
Have a wonderful weekend.