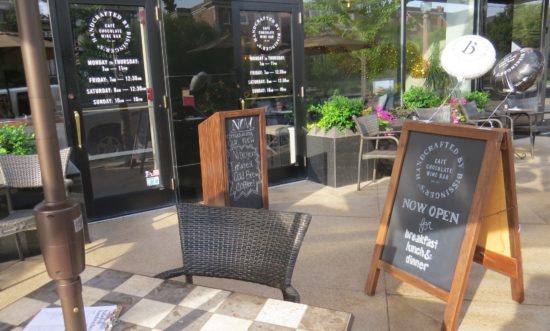 As it celebrates its 95th year in the Central West End, Bissinger's, 32 Maryland Plaza, has expanded its operation to include breakfast, lunch and dinner. "Handcrafted by Bissinger's" is now open 7 days a week, starting at 7 a.m. on weekdays, 8:30 a.m. on Saturdays and 10 a.m. on Sundays.
On a recent visit, manager Matt McCarthy said the company saw an opportunity to showcase its catering operation, 23 City Blocks, by broadening the menu at the CWE location. Nick Miller, formerly of Harvest, is the chef. The website states that 23 City Blocks is the owner and operator of Handcrafted by Bissinger's.
Years ago I wrote a post about a visit to Bissinger's candy-making facility when it was located in The Grove. Here is a link to that post which includes the history of the founding family whom Napoleon Bonaparte named "Candy Maker of the Empire." The original CWE shop was at 4742 McPherson Avenue, where Candle Fusion Studio is now located. At that time, the candies were hand-dipped in the back of the shop and the smell of chocolate as you walked in the door was intoxicating.
In 2014, Bissinger's extensively renovated an industrial building that once housed another St. Louis candy company, Switzer's, at 1600 N. Broadway. The large building now contains corporate offices, a beautiful event space—The Caramel Room—the candy-making operation (which is available for tours), and 23 City Blocks Catering Company.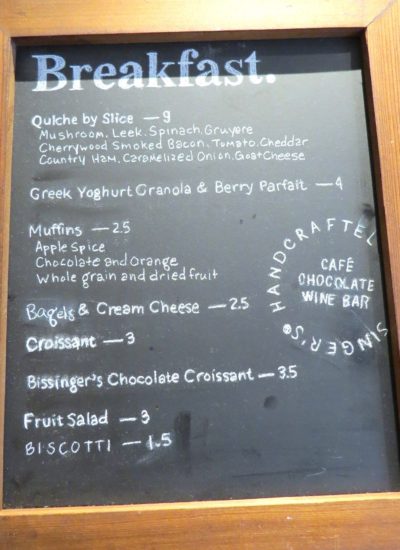 Breakfast offerings at Handcrafted by Bissinger's are baked fresh daily and are available all day, or until they sell out.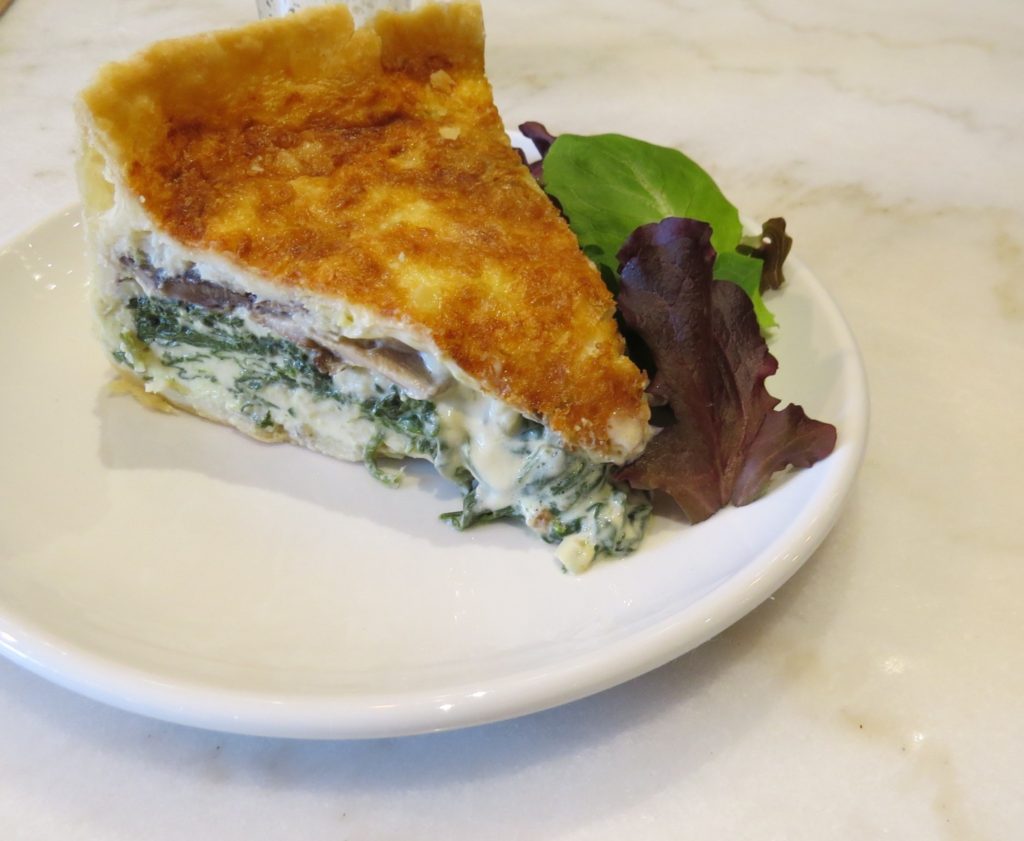 The quiche of the day when I visited was mushroom, spinach, gruyere, applewood smoked bacon, goat cheese, carmelized onion, cheddar and country ham, $9.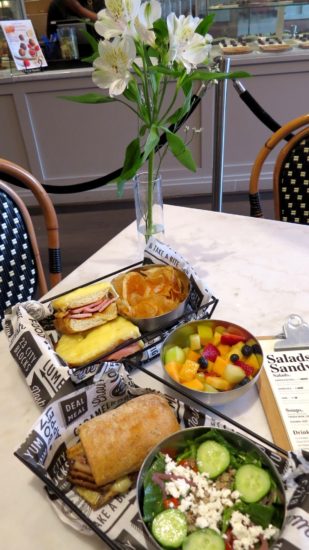 Lunch is available starting at 11 a.m. "Go Havsies" (pick two) features several choices including a delicious brisket sandwich and equally delicious quinoa kale salad, $12.  Croques Monsieur with a side of house-made chips (or fresh fruit salad), top, is $11.50.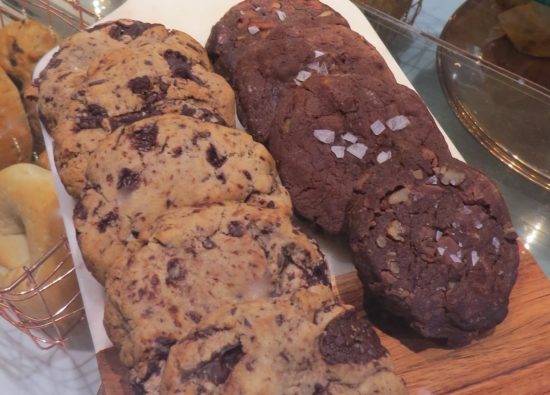 Thick chocolate chunk and chocolate overdose cookies are $2 each.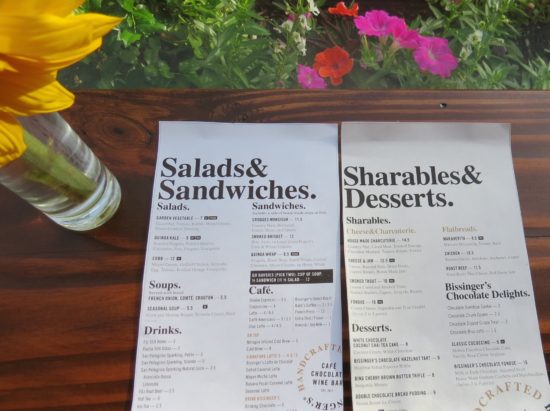 At 4 p.m. stop in for Sharables & Desserts.  That might include a charcuterie platter, $14.50, cheese and jam, $12.50, a selection of flatbreads, $9.50 to $11.50, and desserts.  Bissinger's chocolate hazelnut tart is $9.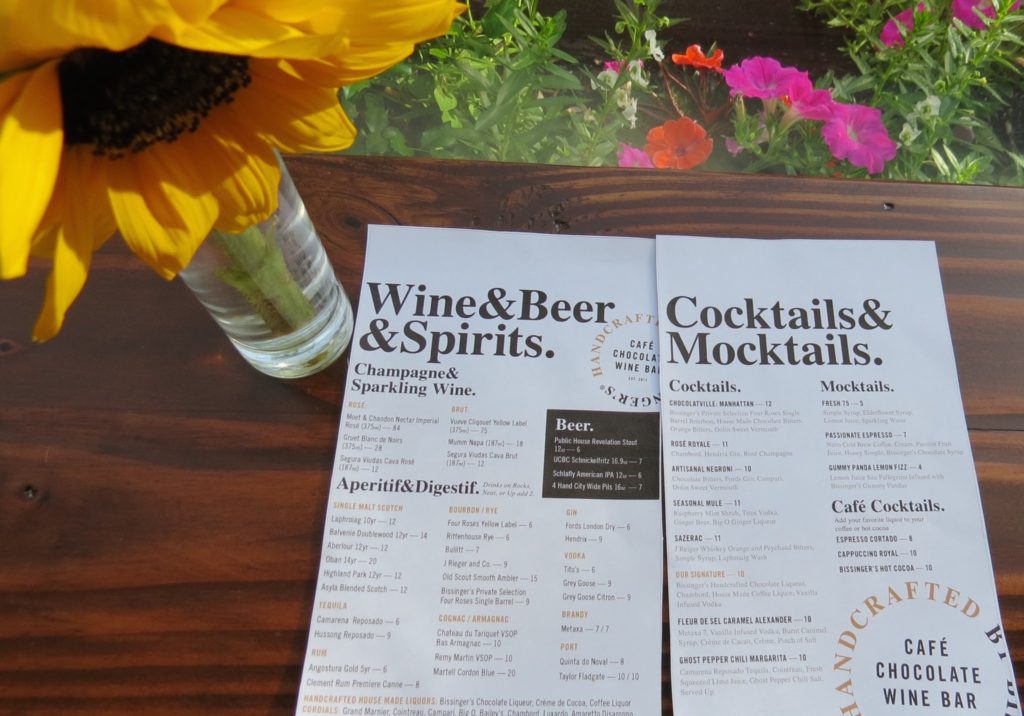 McCarthy said that Cocktails and Mocktails (see menu above) are "prepared 'bottom up' with the same love and care as the handcrafted chocolates." Of course, the world-renowned chocolates are available any time of day at Handcrafted by Bissinger's.
Here is a YouTube video I found on Bissinger's website featuring its chocolate-making operation at 1600 Broadway. CWEnder Dr. Laura Coletti Mann makes an appearance in the section that was filmed in the CWE store.
Handcrafted by Bissinger's, 32 Maryland Plaza, (314) 367-7750, Mon. to Thurs., 7 a.m. to 11 p.m., Fri. 7 a.m. to 12:30 p.m., Sat. 8 a.m. to 12:30 p.m., Sun. 10 a.m. to 10 p.m.