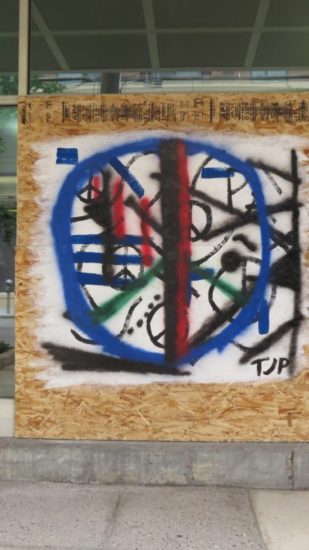 Over the past weekend, it was evident that the neighborhood is rapidly returning to its normal vibrant self following recent protests. Customers returned to sidewalk cafes and many, many book lovers participated in the 1st BookFest St. Louis event Thursday through Saturday.  (More on this to follow.)
After seeing news reports of damage by malicious agitators, generous artists from all over the St. Louis area claimed boarded-up windows along Euclid Avenue and painted messages of hope and love.
Thomas Park, an artist who works as a PTA (personal technical assistant) at Schlafly Library and other branches of the public library system, answered the call to beautify one of several broken windows at the CWE branch. When asked what he hoped to accomplish with his art, see above, Park said:
"In terms of the painting itself, it was a very organic process. I wanted to use peace signs for a basically positive message. I started out with nice simple signs, but it was too pristine and did not capture the vibe of current events…In the end, I was aiming for something that different sides of the recent conflict could recognize as capturing the energy of the past weeks, without being didactic or picking sides. I finished with a large peace symbol over all, since that was the essence of the intended message."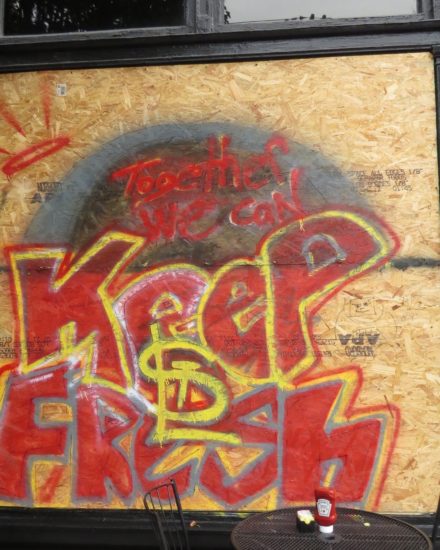 An anonymous artist painted the Euclid side of Culpepper's, 300 N. Euclid Avenue. In a previous post I recounted a conversation with Madeline Crowe and Haley Dieckgraefe who were the first artists to arrive on the scene and chose to decorate the Maryland Avenue side of Culpepper's.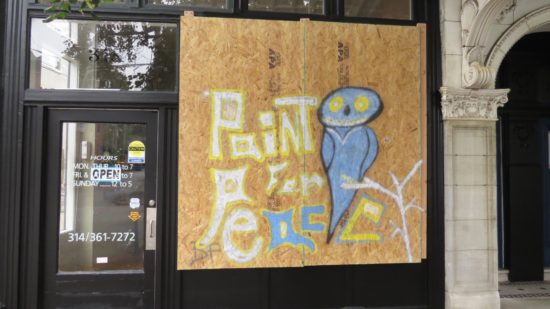 The window at La Petite Salon was another painted by an unknown artist. I hope to dig up more information about these good Samaritans and add names to this post soon.
Kaitlin Page and Chris Clark painted the words of Dr. Martin Luther King alongside one of the neighborhood's Winged Griffin light standards on Thai 202. The pair wanted to be sure to acknowledge Ira and Charles, two homeless people who stopped by to help.
Since I took this photograph the owners of Thai 202 and neighboring BBC Asian Bar & Cafe, have removed the boards, which were in place as a precaution.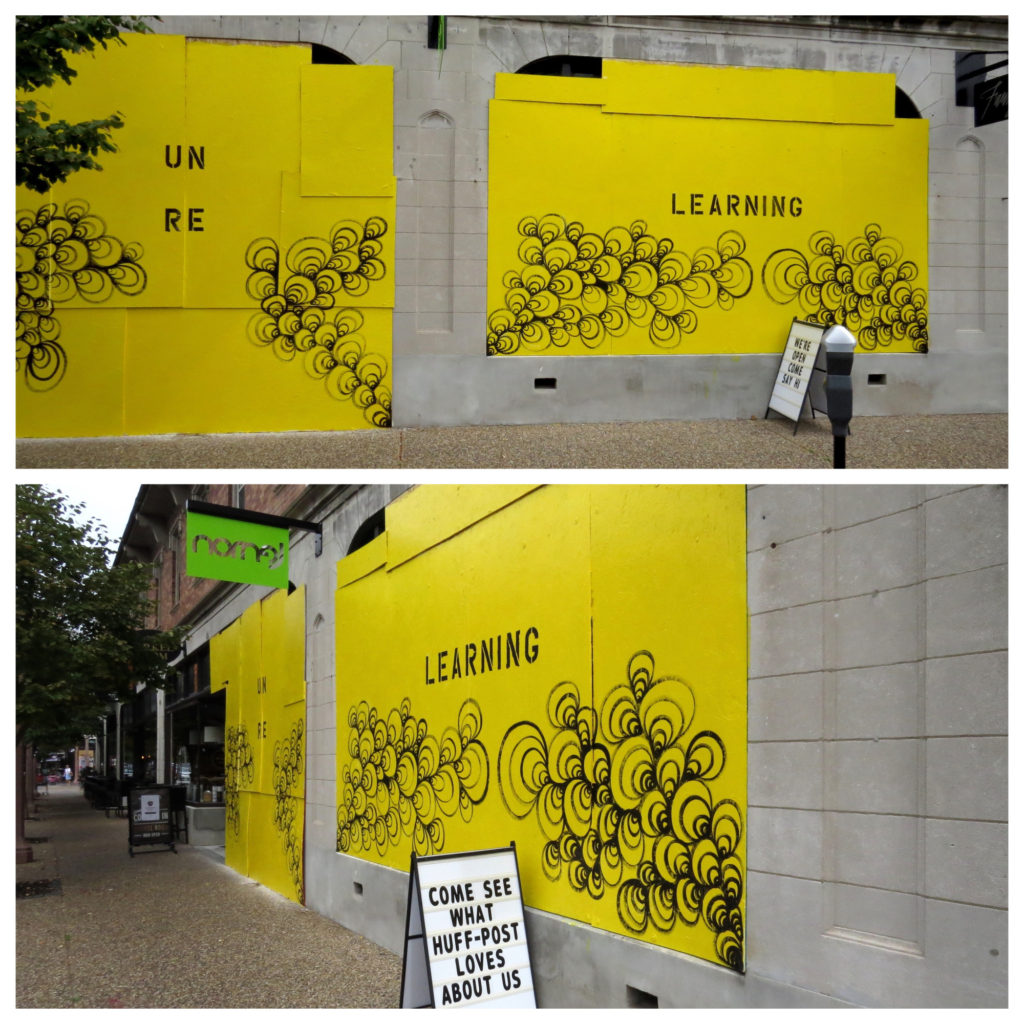 An artist named Zhanna painted both Fauxgerty and Lemon Salon's windows. Lemon Salon, whose windows were also covered as a precaution, had just recently moved to 238 N. Euclid, above left, from a space above Mike's Bikes.
Curious about what the Huffington Post loves about Fauxgerty (see sign above), Julia Navarro sent this link.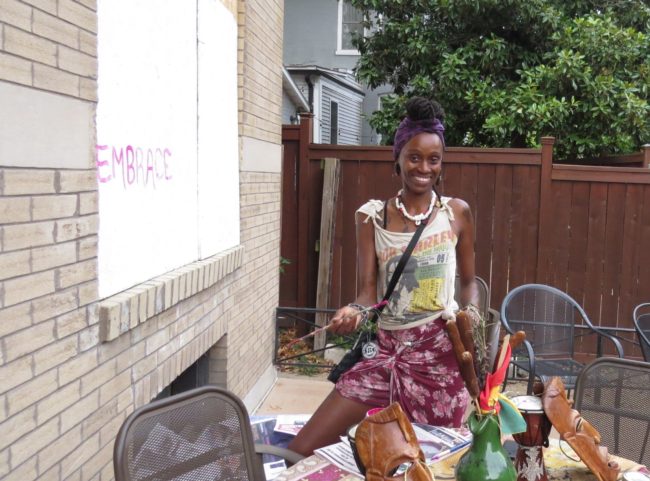 Last Thursday, Sister or Queen Princess—she goes by either 1st name—grabbed a paintbrush and added a message of peace to The Golden Grocer's window. Queen supplies raw & vegan wraps and her own line of skin care products to the neighborhood health food store.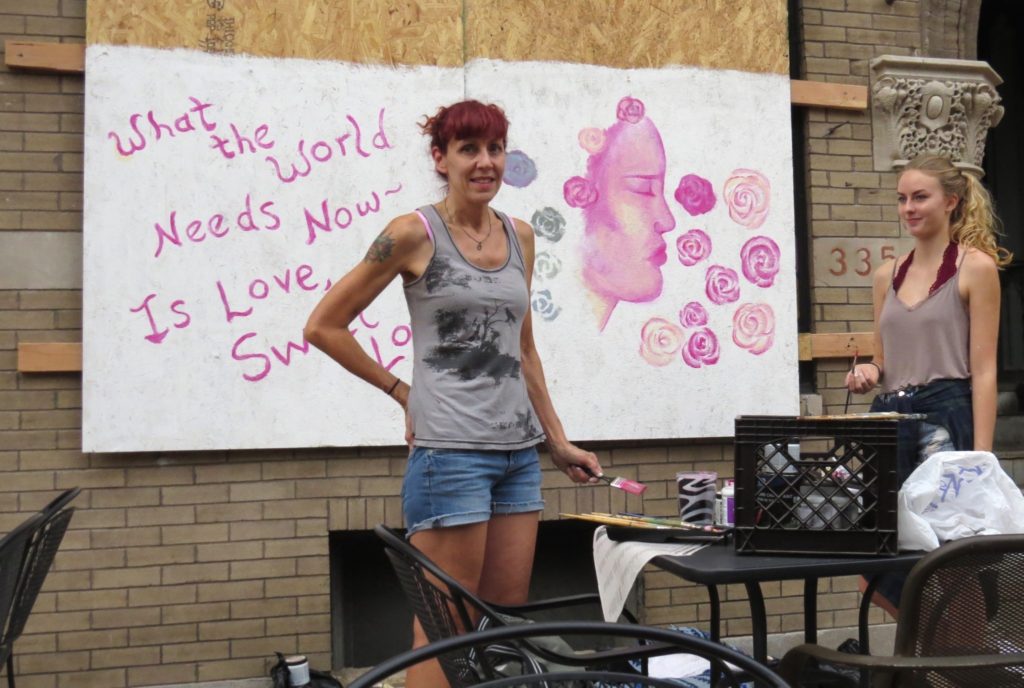 When I asked Cindy Capps, left, a graffiti artist, how she and her daughter wound up at The Golden Grocer, she said they saw the news and didn't want to miss an opportunity to help out.
Here's how she expressed it on her Instagram page: "My super talented kid and I wanted to paint boarded up windows, so we loaded up the paints and started driving around the Central West End. The first place that we saw was this incredibly amazing, all natural grocery store that has boarded up windows that needed some TLC. We met some awesome people who helped, it was a pretty cool day."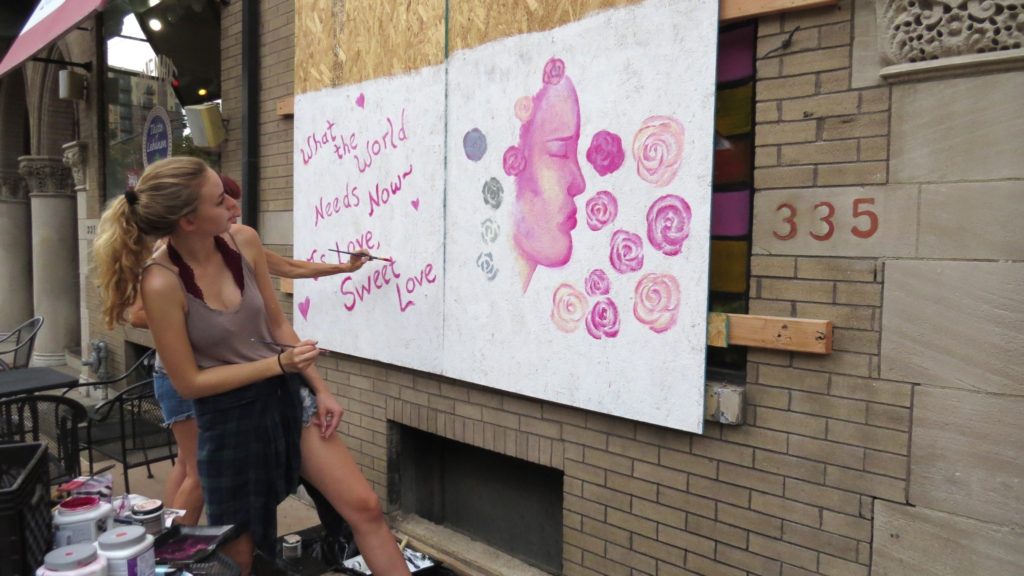 Alison Capps is described by her mother as the real artist in the family. Here is a link to Alison's Instagram page, where you will see more of her art.
With deep gratitude to all of the talented artists who pitched in to help the neighborhood look more welcoming during this challenging time.  Your efforts are very much appreciated.