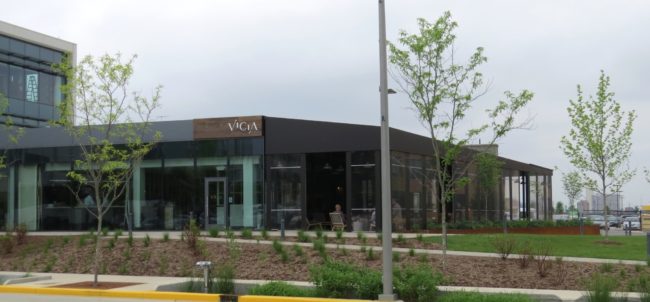 After more than a year's guesswork by local foodies about where restaurateurs Tara and Michael Gallina, formerly of Blue Hill at Stone Barns, would finally settle following a series of pop-up dinners all over town, Vicia, the couple's new restaurant celebrating "vegetable-forward cuisine" opened in the Cortex Innovation District at the end of March. The restaurant's address is 4260 Forest Park Blvd., though it's situated at the south end of the building, near the corner of Boyle and Duncan Avenues, adjacent to the Tech Shop.
As frequently happens when restaurants are new and as buzz-worthy as this one (Eater tagged it one of the most anticipated restaurants in the country), dinner reservations on weekends are hard to come by – they're currently booked 3 weeks out. It's much easier to get into Vicia at lunchtime, when reservations are not required and service is "counter-style" (explanation follows), or for a weekday dinner (this week's menu here).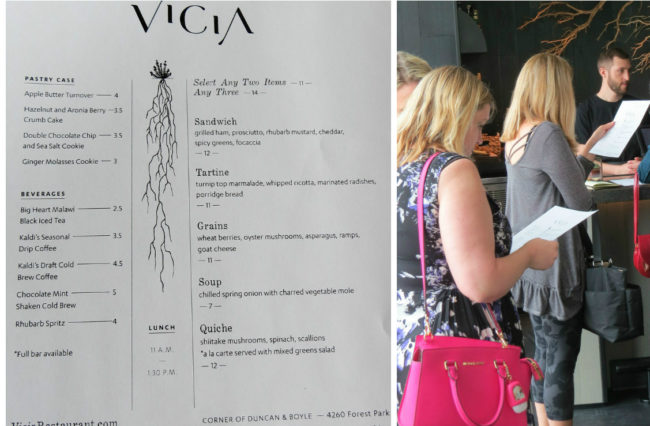 The menu, shown left, changes frequently depending on what's in season. Choices can be ordered singly, $7 to $12, in which case they will be larger portions, or in combinations of two or three items, $11 to $14. Patrons place their order at the bar, above right, pay for it at the same time, and then receive a text message when the lunch is ready for pick up in the kitchen, below right.
The first time I was there I instinctively put my phone away and started visiting with friends, so didn't hear the text. The waitstaff brought our lunches to us, and now I'll remember why they ask for your phone number.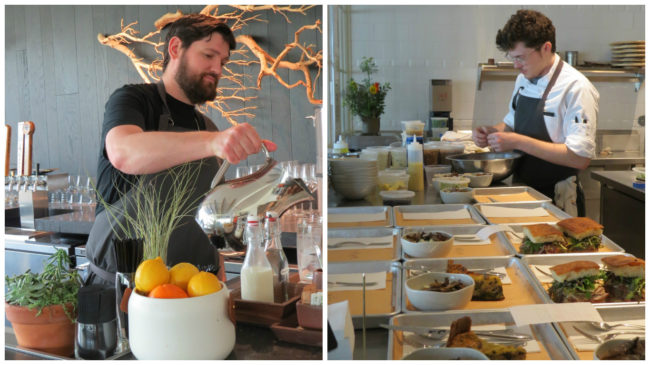 Patrons pick drink orders up at the bar too, above left. Right & below, a view into the open kitchen showing lunch trays waiting for pick-up.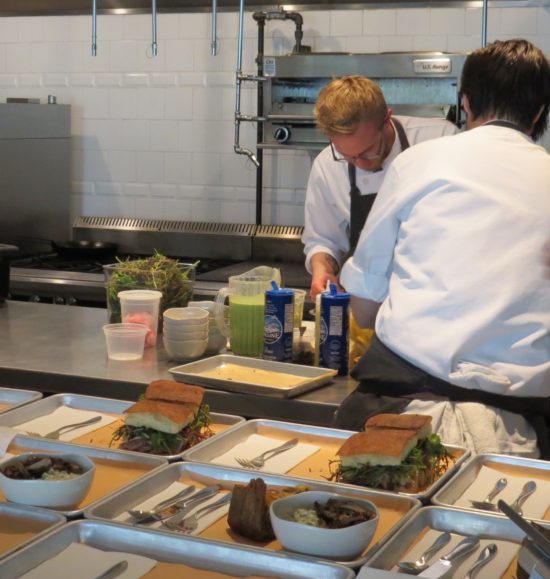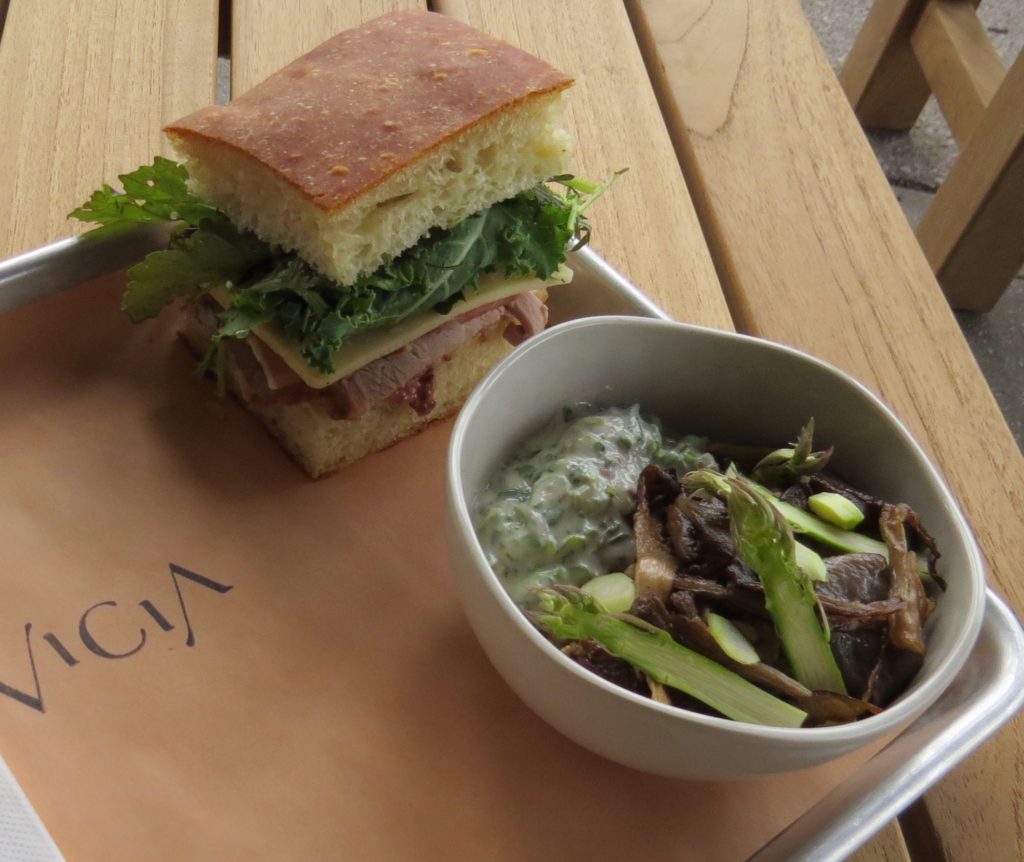 On a recent Tuesday the selections included grilled ham, prosciutto, rhubarb mustard, cheddar, and spicy greens on focaccia, and a grain bowl of wheat berries, oyster mushrooms, asparagus, ramps and goat cheese.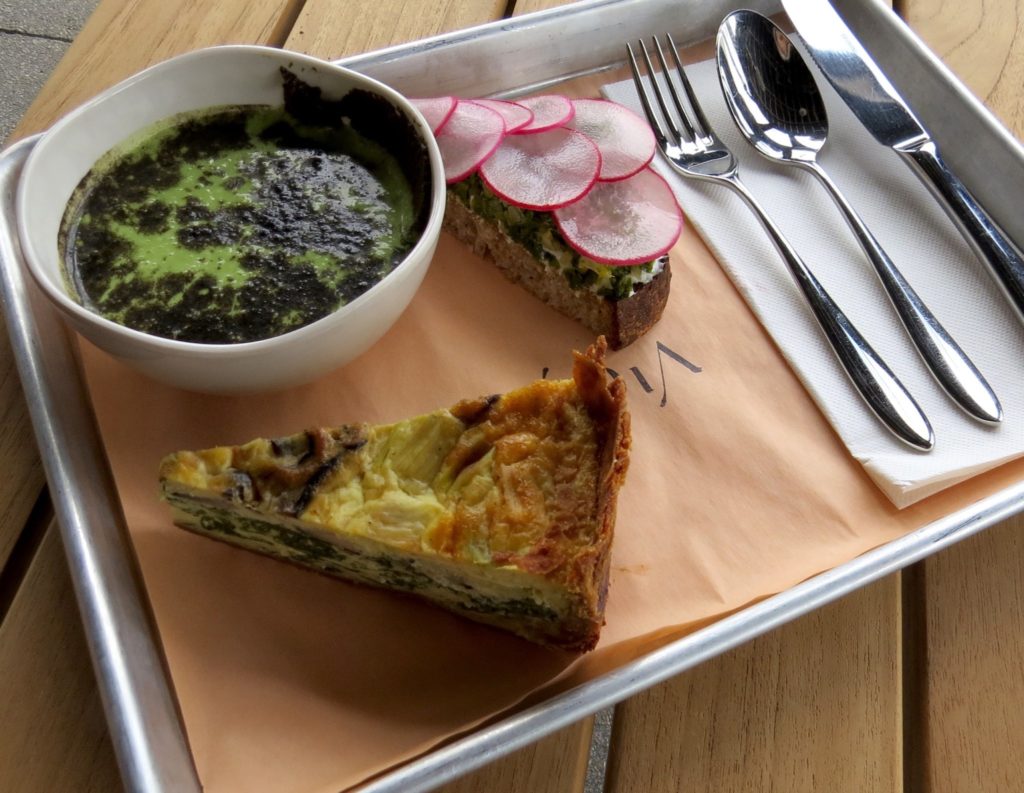 If you chose 3 items that day they might have included a chilled spring onion soup with charred vegetable mole, a tartine featuring turnip top marmalade, whipped ricotta, marinated radishes, on porridge bread, and shiitake mushroom, spinach & scallion quiche. $14, (quiche served à la carte comes with mixed green salad).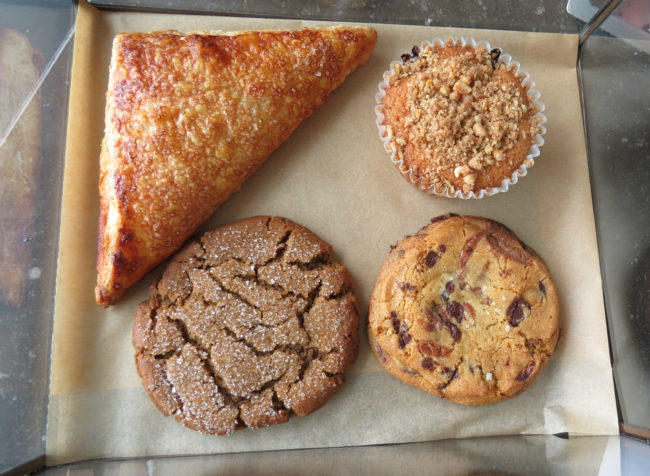 The pastry case held an Apple Butter Turnover, $4, Hazelnut and Aronia Berry Crumb Cake, $3.50, Ginger Molasses Cookie, $3, and Double Chocolate Chip and Sea Salt Cookie, $3.50.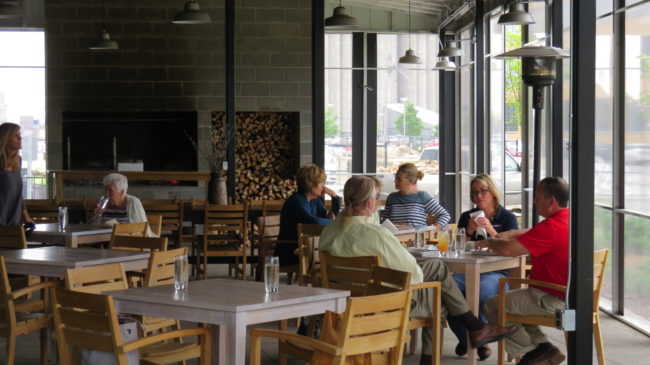 There are two dining areas. The main dining area (not shown) seats 54, and the outside space, a small portion of which is shown above and in the opening photo, seats 34 and has a long communal table in front of the wood-fired grill.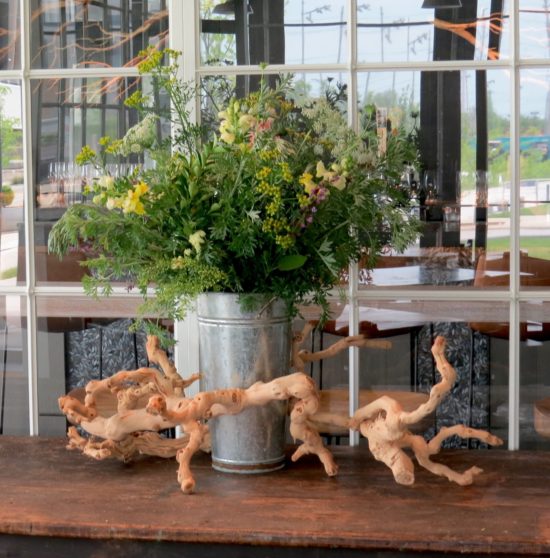 Flower arrangements at Vicia are created by Rebecca Bodicky, proprietor of Alice Blue Collective, 3700 S. Jefferson.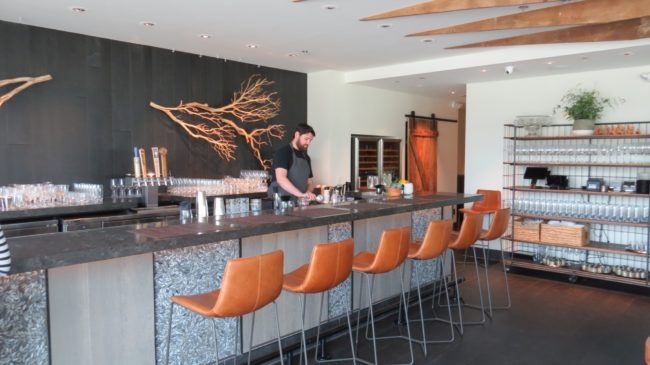 There are two seating areas in the handsome bar, above. If you're lucky enough to find a seat at the bar, you could order dinner there too.
Vicia, 4260 Forest Park Ave. (corner of Duncan & Boyle). Lunch is served Mon. thru Fri., 11 a.m. to 1:30 p.m. Dinner, Tues. thru Thurs., 5:30 to 9:30 p.m., Fri. & Sat. 5:30 to 10 p.m. Walk-in dinner seating more available on weeknights. Reservations online, or (314) 553-9239, info@viciarestaurant.com.