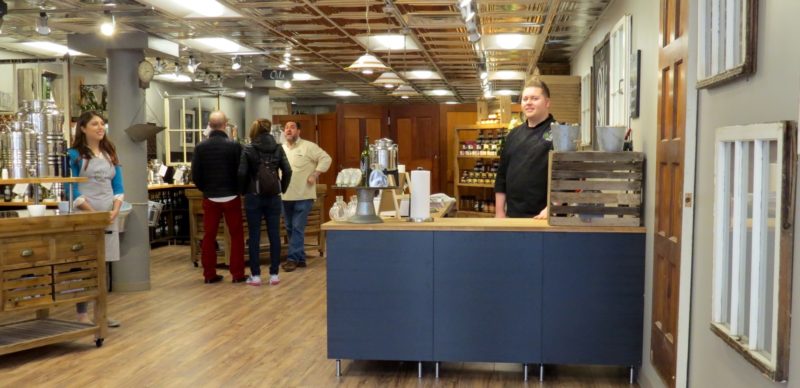 Earlier this week Robert Palleja, proprietor of Di Olivas, an Olive Oil and Balsamic Vinegar Tasting Emporium, opened his third location in the St. Louis area at 115 N. Euclid. His other shops are located in West County Center and on Historic Main Street in St. Charles. Palleja had been looking for a storefront in the CWE for a couple of years and early last November, after returning from an olive oil harvest in Cortona, Italy, he settled on an 1800 s.f. location next to Subway and across from Whole Foods.
The shop is stunning and a fabulous addition to the retail mix of the neighborhood. The photo above shows from left, sales associate Melanie Corwin, proprietor Robert Palleja in white shirt, and far right, store manager Codey Shaffer.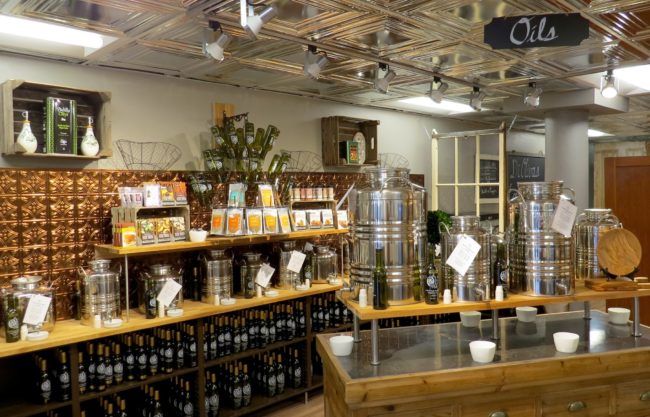 Di Olivas stocks approximately 2 dozen extra-virgin olive oils from Italy, Spain, Greece, Sicily, Portugal, Argentina and Australia. I learned that olives are harvested in October & November in the Northern Hemisphere, and in March and April in the Southern Hemisphere.
"Conventional wisdom is that well-made, well-stored olive oil with good chemistry can be used for anything you want, " Palleja said. "Inferior oils cannot stand up to heat, so always buy the best olive oil you can afford." Olive oils start at $13.99 for 200 ml up to $37.99 and more for a 750 ml bottle.
When I looked at the array of choices, I quickly became a bit overwhelmed. Happily, I found manager Codey Shaffer to be tremendously helpful and settled on the Olio Nuovo from Tuscany. It has a wonderful buttery flavor that's really delicious.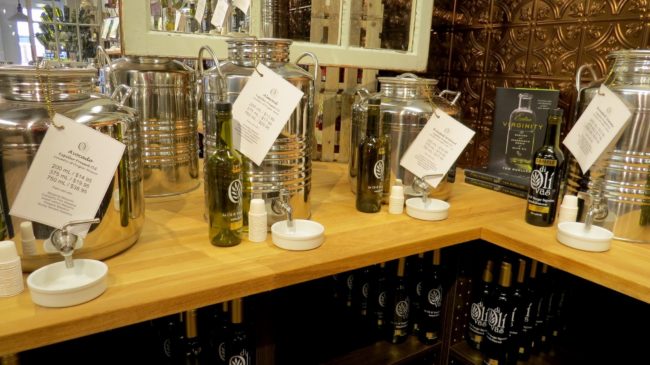 There is also a selection of nut oils – avocado, sesame, walnut and almond – that range from $13.99 to $14.99 for 200 ml.
Another section of the shop is devoted to balsamic vinegars. There are approximately 2 dozen to sample, $13.99 to $37.99. I tried a delicious, syrupy 25 Star Premium Balsamic Vinegar, $15.99 for 200 ml, made by a 3rd generation Italian family who started production in 1889. Other vinegar flavors include Red Raspberry, California Fig, Double-Dark Chocolate, and Amaretto. Di Olivas carries 3 honey balsamic vinegars from Washington State as well.
Bottles can be returned clean and dry for a discount on your next purchase.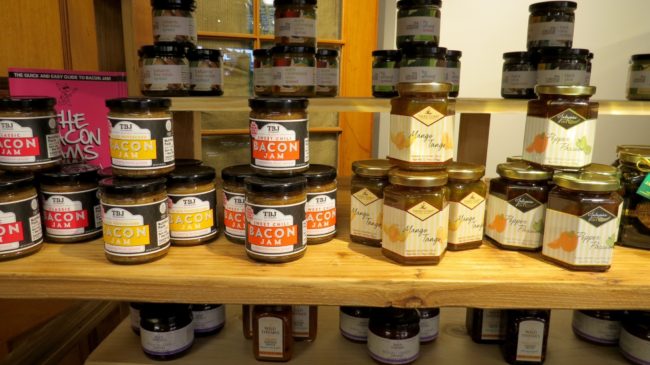 An interesting selection of jams and mustards are $6 to $9.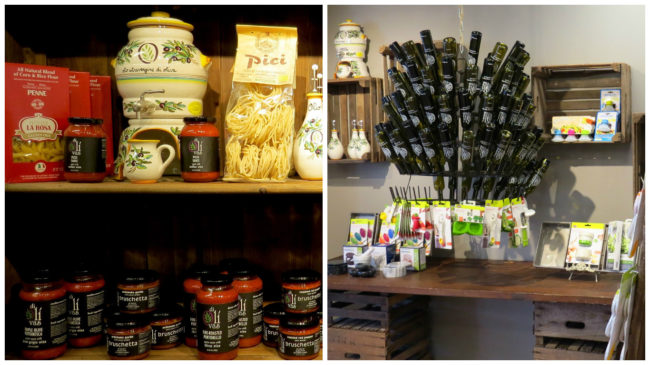 Left: An "a fusti," a ceramic container for olive oil, hand-thrown by a craftsman in Deruta, Italy is exclusive to Di Olivas, $249.99.  Bottom left: Private label pasta sauces, including "the best sauce in the history of pizza sauce," according to manager Codey Shaffer (he got the recipe from The Brick Oven when he was a chef there). The sauces range from $4.99 to $6.99. Right: There is also an assortment of kitchen gadgets, such as cheese graters, at the front of the shop.
I was delighted to learn that Palleja plans to build out a kitchen area at the back of the shop where Di Olivas will host cooking classes. A Grand Opening is planned for the weekend of March 4 and 5. Look for live food demonstrations, olive oil and vinegar give-aways and discounts on purchases over $30.
Di Olivas, 115 N. Euclid, Mon. thru Thurs. 10 to 7, Fri. & Sat. 10 to 8 and Sun. 11 to 6, (314) 367-OILS.